This summer peach panzanella salad is a perfect mix of tart, sweet, and savory. It's a delicious bowl of peaches, bread, and tomatoes that is great for snacking on at home or bringing to a party!
It's summer and that means peach season! That means it's time for a delicious, summery peach panzanella salad.
Have you ever heard of panzanella? It's basically a salad made with stale bread. Last summer, we went to a going away potluck for a neighborhood friend and the host made a peach panzanella salad. I kept going back for seconds, then thirds, then fourths...

So I knew this summer, I needed to make a version of it. And I came up with this one that is a winner! I love the different textures in it. The crunchiness of the bread, the crispness of the tomatoes, the juiciness of the peaches all seem to work together in harmony. The flavors meld so nicely together too. The sweetness of the peaches, tartness of the white balsamic vinegar, slight spiciness of the onions. It really is just the perfect summer salad.
Ingredients for the Peach Panzanella Salad
Peaches - I love using ripe yellow peaches for this recipe. They are just so juicy and sweet. You can also use white peaches, but I prefer the yellow ones.
Stale Bread - Something like a baguette or ciabatta loaf is delicious and winds up having that perfect rusticness you're looking for. You can also use a loaf or round of sourdough bread for something different! What you DON'T want is to use a typical loaf of sliced bread. That's not what you're looking for here. Also, typically you'll want the bread to be several days old so it's starting to get hard and stale.
Tomatoes - I use cherry tomatoes here, so they retain their shape. You can use something like roma or campari tomatoes, but they won't have the same texture that a cherry tomato will.
Red Onion - This recipe doesn't use a lot of red onion, but it uses a bit. Sliced very thinly, it provides a nice flavor to the panzanella.
Basil - Use fresh basil here! I personally always try to keep a basil plant around. And if I kill it, I buy another. It's a lot cheaper for me to have a whole plant than to buy those little packets that only have a few leaves in them.
Olive oil - Olive oil is so perfect in this recipe to add that savory decadence. You can use regular or extra virgin.
White Balsamic Vinegar - I like the tartness that white balsamic vinegar gives this dish. If you don't have white balsamic vinegar, you can use regular balsamic vinegar as well.
Salt and Pepper - The seasoning powerhouses!
Instructions
To make this peach panzanella salad with tomatoes, first you'll tear (or slice) the stale bread into chunks. The more rustic, the better. Some recipes will just have you use the stale bread as is, but I like to toast it to get a little extra crunchiness. Also, if your bread isn't quite stale enough, this helps it reach that stage. To make the crunchy bread, you'll toss it in a bit of olive oil, then bake it for a few minutes.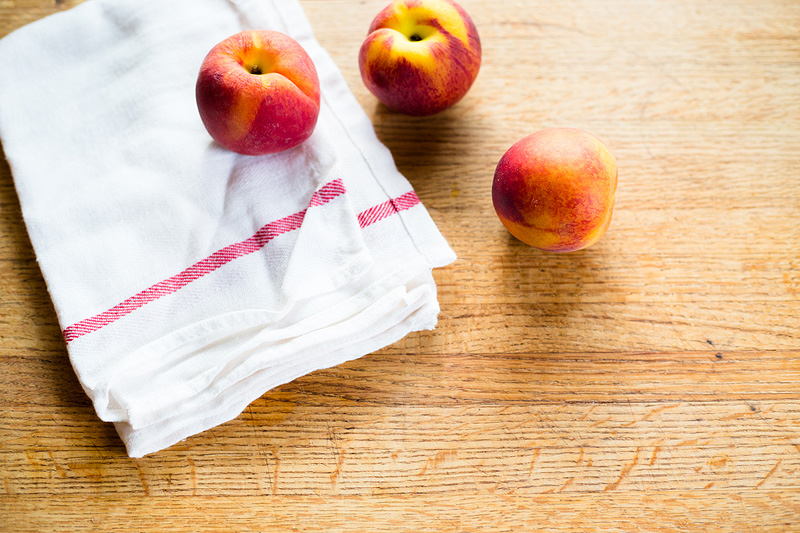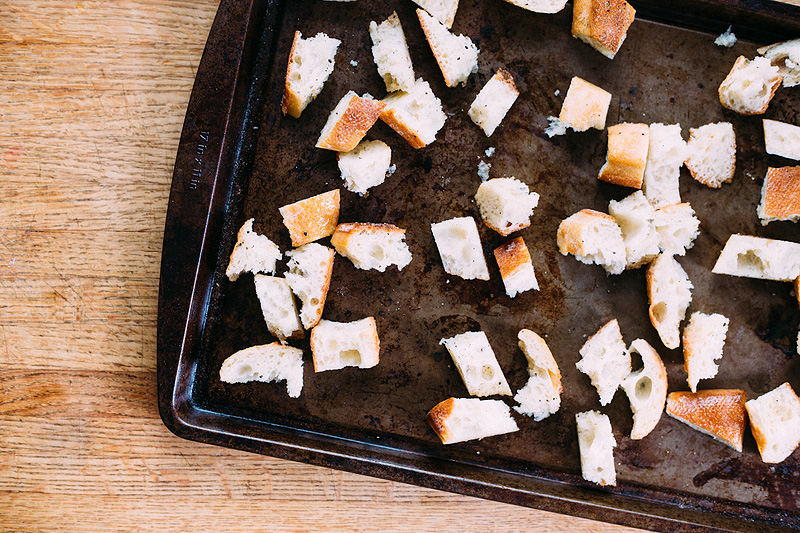 While the bread is toasting, you can take the time to prepare your other ingredients. That means you'll pit your peaches and cut them into chunks. I like to leave the skin on, but it's up to you! You will also slice the cherry tomatoes in half, cut thin slices of red onion, and cut your basil into strips.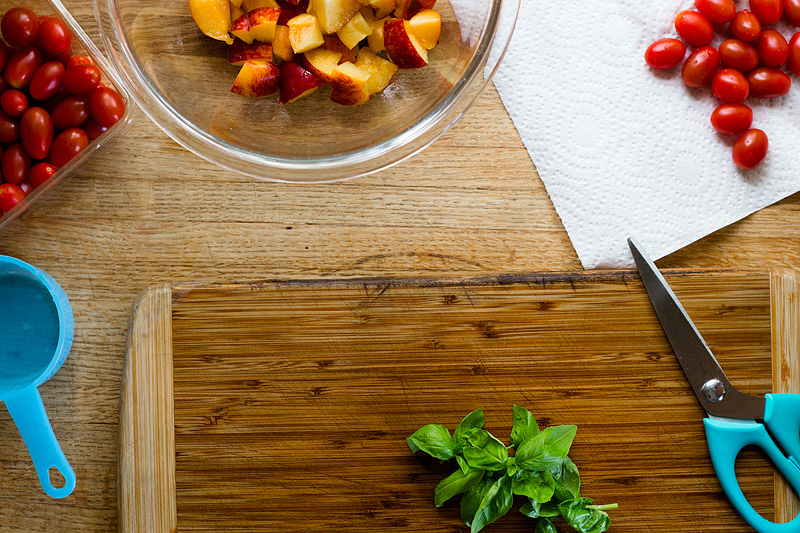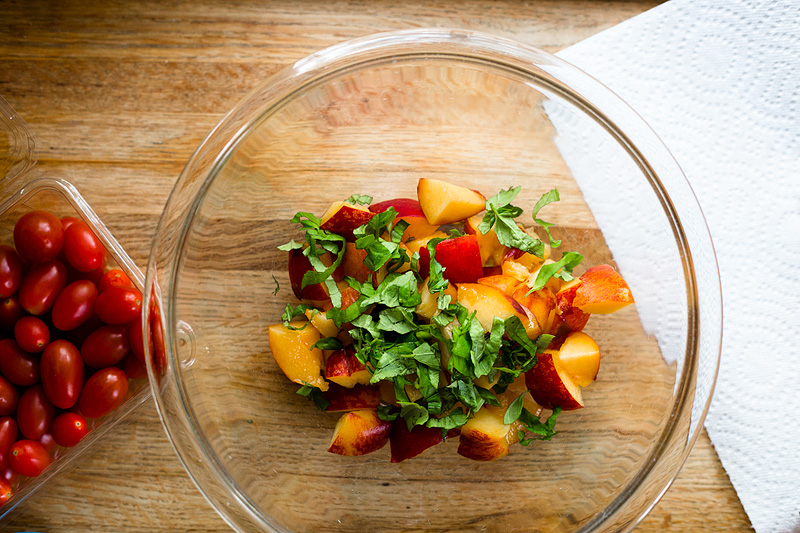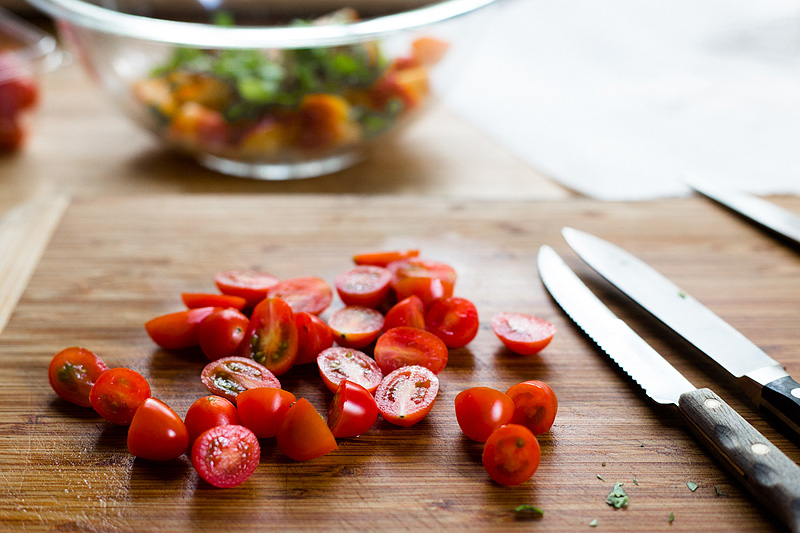 Once you have your ingredients prepped, you'll add them to a large bowl, add the olive oil, vinegar, and salt and pepper and then toss to combine.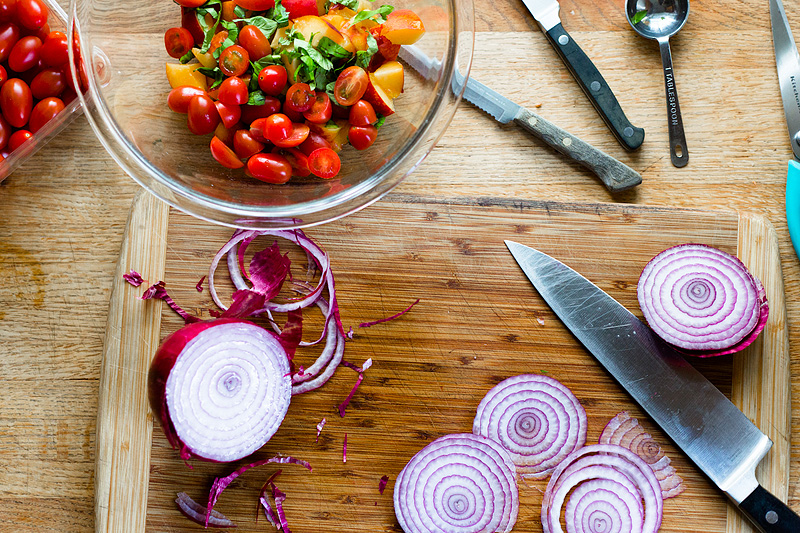 About 5 minutes before serving, add the bread cubes to the bowl and toss to combine. This peach panzanella is best eaten shortly after combining.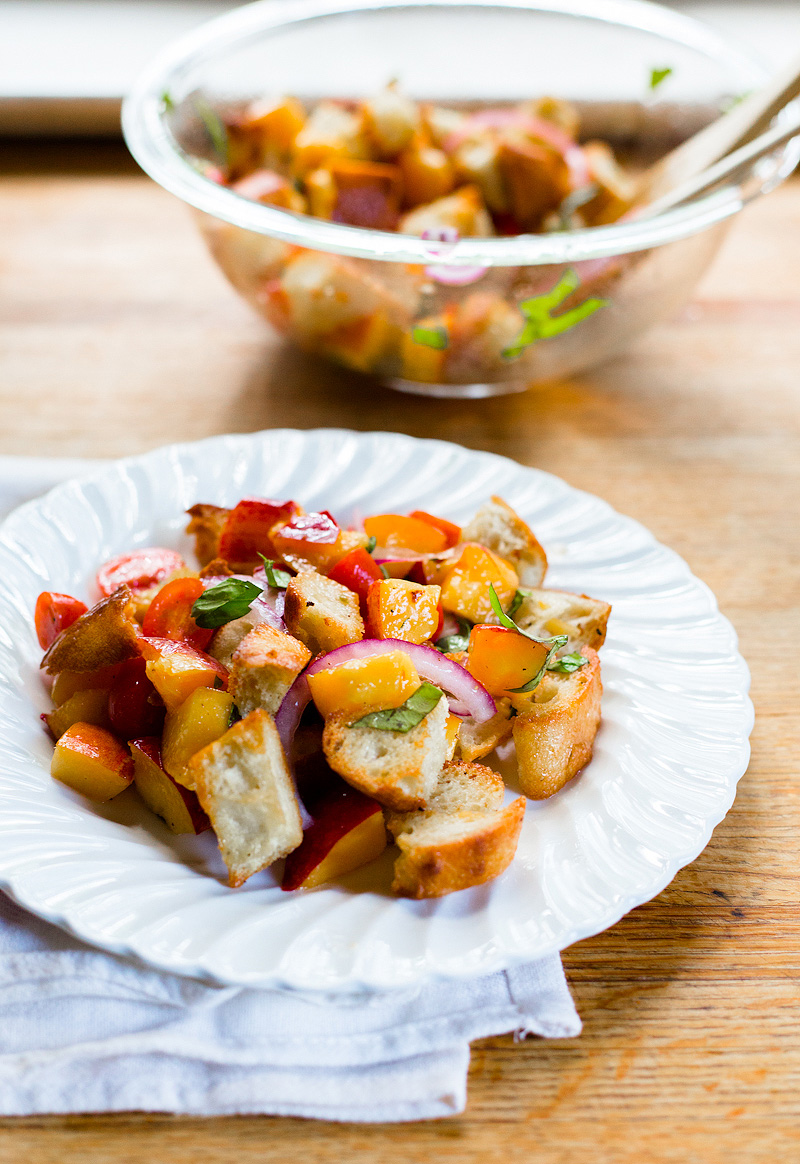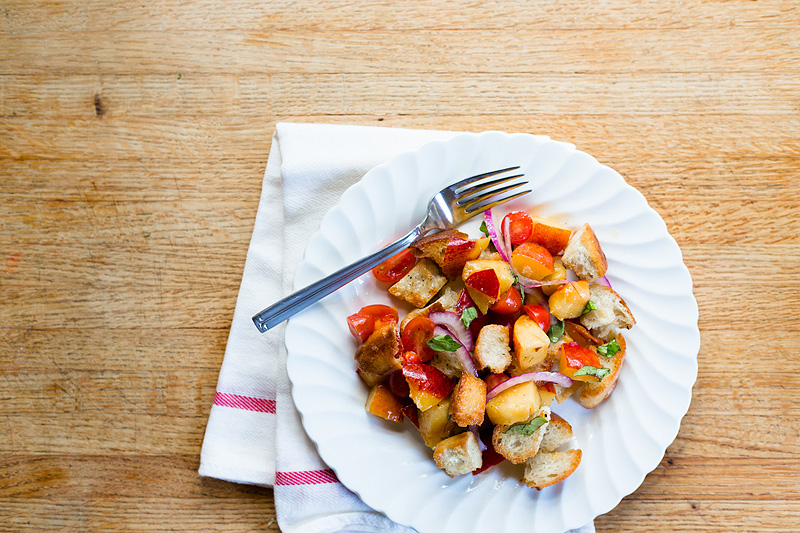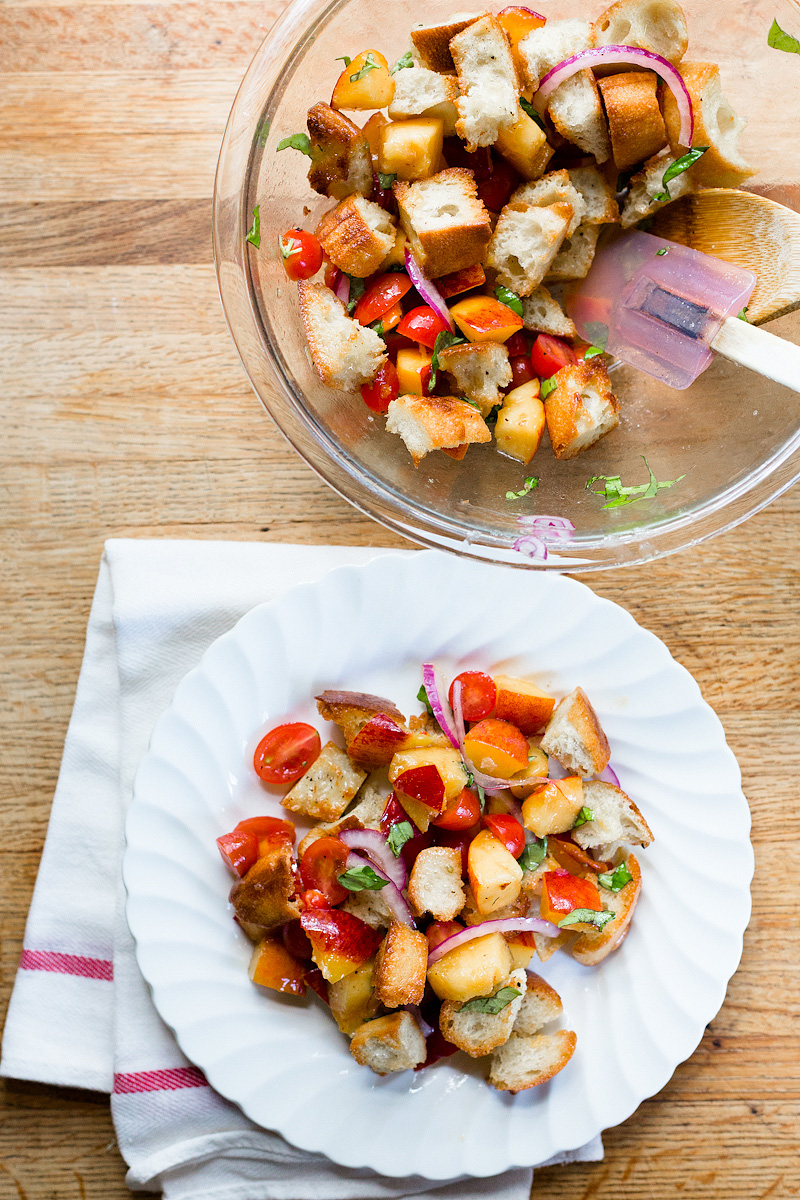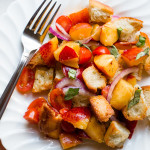 Print Recipe
Summer Peach Panzanella
Ingredients
⅓

stale baguette or ciabatta loaf

4

tbsp

olive oil

3

small peaches

pitted and cubed

½

cup

cherry tomatoes

halved

2

tbsp

freshly chopped basil

⅛

cup

thinly sliced red onion

1 ½

tbsp

white balsamic vinegar

Salt and pepper to taste
Instructions
Preheat the oven to 425 degrees

Cut/tear the loaf into small cubes. Toss together the bread cubes with 2 tbsp olive oil in a bowl and a light sprinkling of salt and pepper. Spread onto a baking sheet and roast until crisp, about 5-7 minutes.

Prepare and cut the peaches (small cubes), tomatoes (halved), basil (chopped into ribbons) and red onion (very thinly sliced).

In a bowl, combine the peaches, tomatoes, basil, red onion. Add 2 tbsp olive oil and 1 ½ tbsp white balsamic vinegar. Add salt and pepper to taste.

Add the bread cubes to the bowl and toss to combine.
Looking for more entertaining recipes? Check out these: