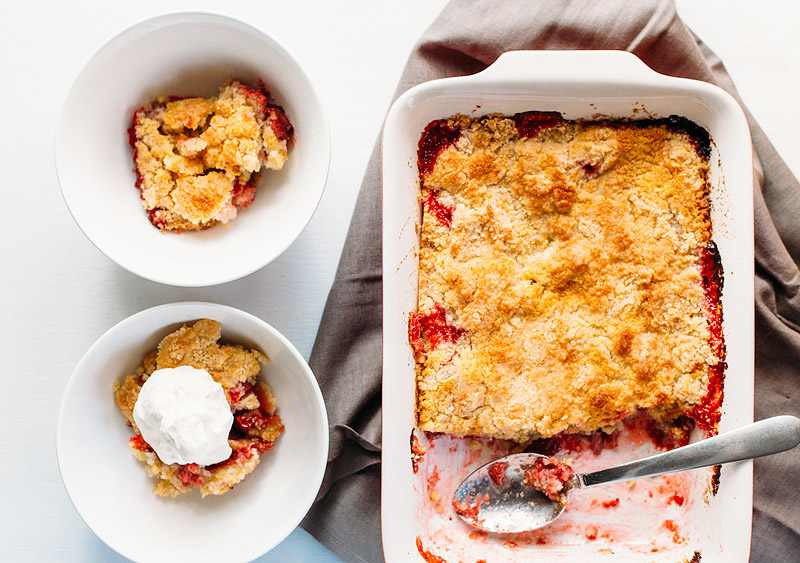 A few years ago, Josh and I took a road trip with some friends out to the town of Marble Falls. There are some strawberry growers out there, and we stopped off at one where people can walk around and pick strawberries fresh from the vines. It was SO fun and we wound up with a ton of strawberries. While I don't think we'll make it out there this year, I still want to make all the strawberry desserts! I love strawberries.

I found a recipe in my grandma's recipe box for a fruit cobbler. And with a giant carton of strawberries in hand, I whipped up this fresh strawberry cobbler. So sweet and tasty. This recipe uses four cups of fruit, but if you like your cobbler with even more fruit, feel free to add another cup.
Also, thankfully it's almost the weekend! I feel like this has been quite the week, and I'm ready for a break. So time to do some therapeutic cooking and indulge in dessert. Enjoy!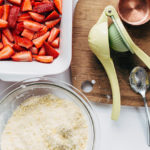 Print Recipe
Fresh Strawberry Cobbler
Ingredients
4

cups

sliced strawberries

1

Tbsp

lemon juice

1

cup

flour

¾

cup

sugar

1

tsp

baking powder

pinch

of salt

1

egg

beaten

6

Tbsp

melted butter
Instructions
Place fruit in an 8 ½ x 11 baking dish. Sprinkle with the lemon juice and stir to combine.

In a medium bowl, combine flour, sugar, baking powder, salt, and egg. Stir until it is like a coarse meal. You may need to knead a bit with your fingers to get it to this consistency. Add this over the fruit, like a topping, making sure to cover the fruit evenly.

Drizzle the melted butter over the top.

Bake at 350 degrees F for 40-45 minutes until baked through.

Serve with whipped cream or ice cream.