Walnut crescent cookies are a buttery shortbread-like cookie that is topped with powdered sugar. It's an easy to make, lightly sweetened cookie that is crumbly and delicious!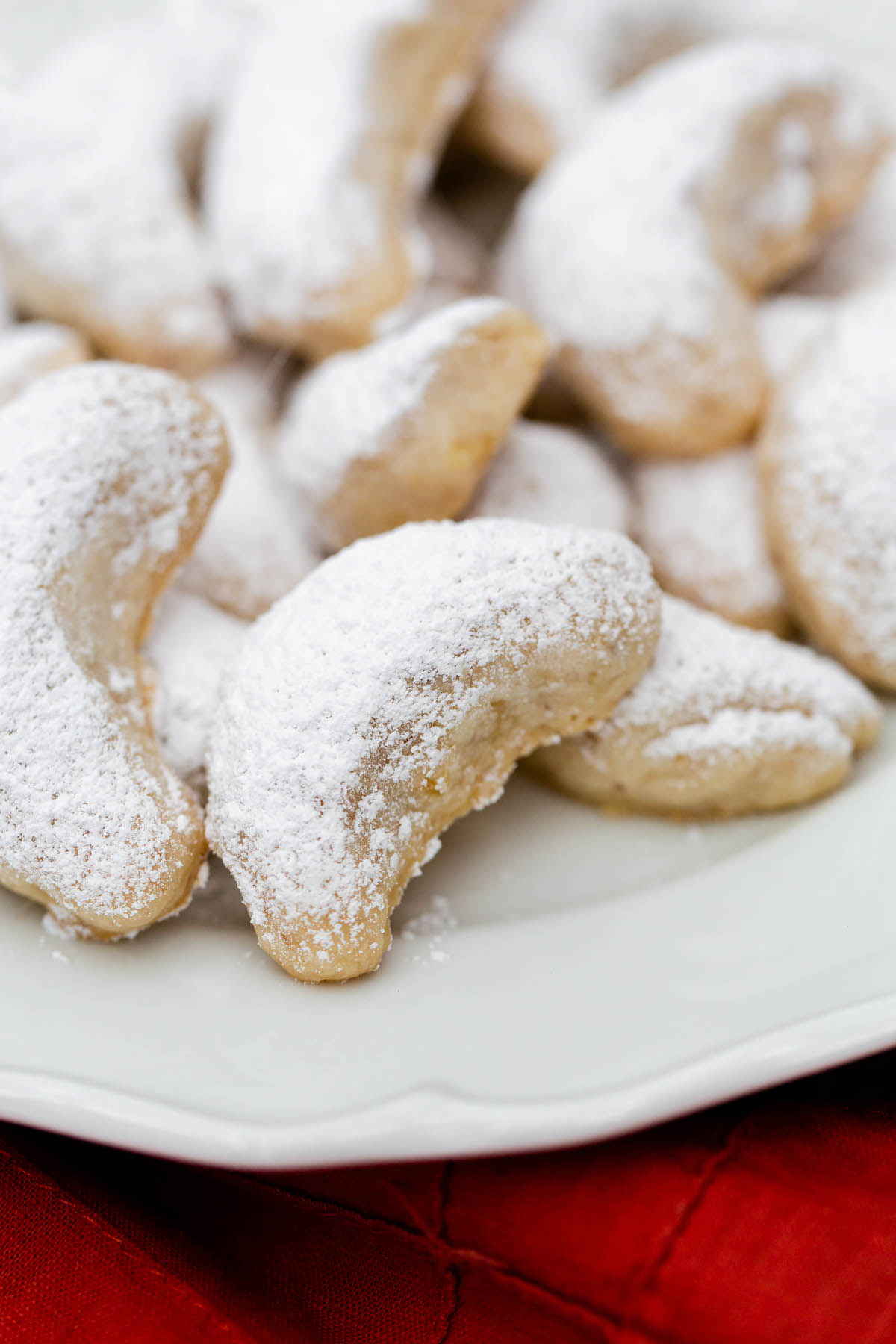 Walnut crescent cookies have their origins in Europe. I always thought they must be Czech, since my grandma made them every year (around Christmas, usually!), and she was of 100% Czech ancestry.
However, come to find out these buttery walnut cookies are also Hungarian, Austrian, German, Slovak, etc. So I guess they have a lot of Central and Eastern European country origins! In fact, some countries do a similar version with different nuts. Hazelnuts, almonds, walnuts. All of them seem to be used in crescent cookies! And I guess pecans are a nice Texas thing to use instead.
These walnut crescent cookies are a family favorite around here. My grandma would make them for Christmas every single year. And I can see why!
First of all, they are so easy to make! Even though they do call for a bit of chilling, these cookies are not at all difficult and only require a few ingredients.
Second, they are delicious! The nuttiness of the walnuts pairs nicely with the other ingredients to produce a lightly sweetened, crumbly cookie.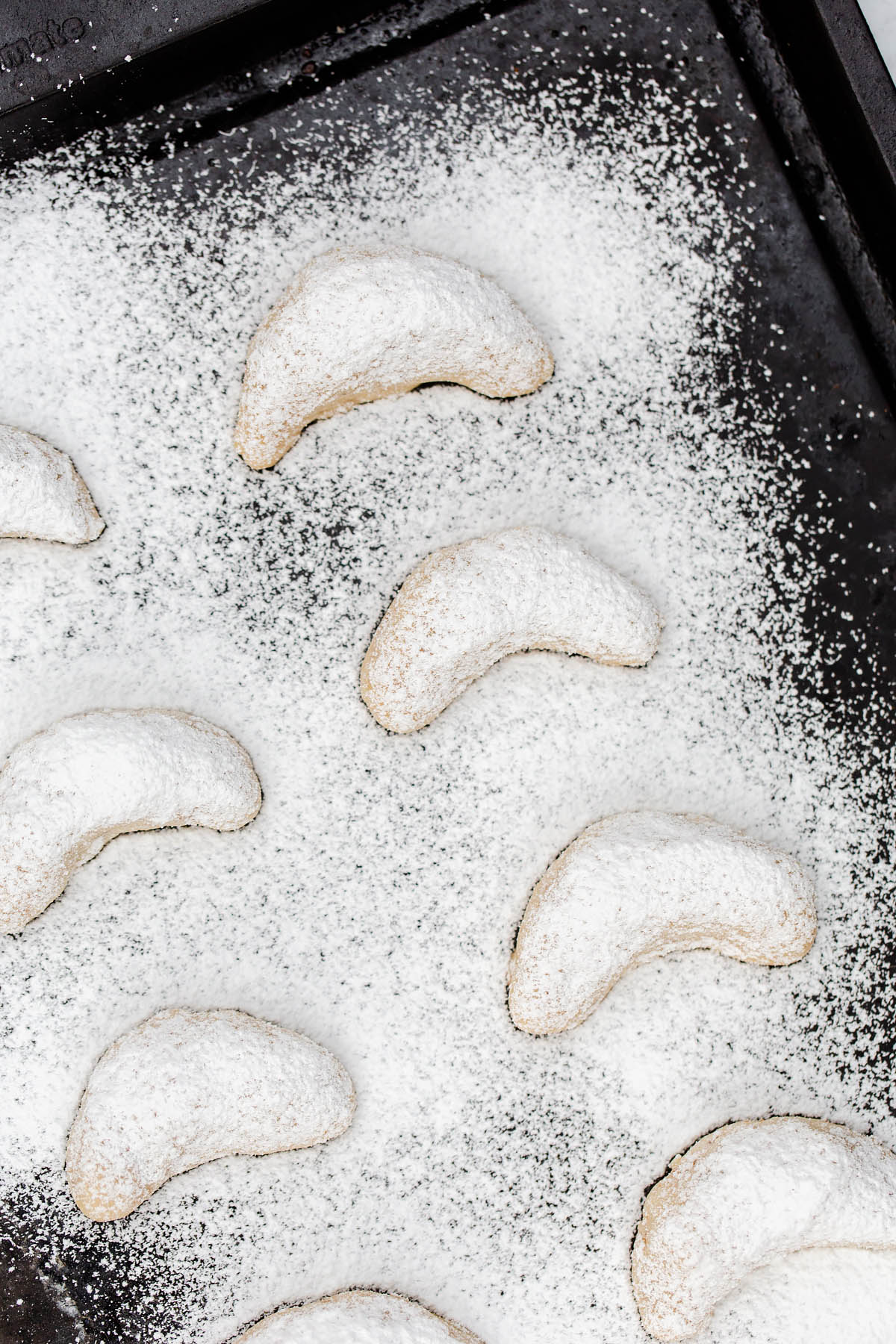 What to expect in flavor and texture:
If you're going to make (or eat) these cookies, it's important to know what to expect.
These cookies are very similar to shortbread in that they have a buttery, crumbly texture inside, It shouldn't be doughy or too soft.
And the flavor is slightly nutty and lightly sweet. This is not an overly sweet cookie. The sweetness comes from the bit of powdered sugar added to the dough and then the powdered sugar to dust onto the cookies after baking.
Because it's not too sweet, I feel that this cookie pairs so nicely with other Christmas cookies! It allows for a cookie that can balance out the sweetness of other cookies. Also, because it's not super-sweet, I don't mind giving my toddler a few of these.
I love serving with either tea, or a homemade cappuccino or homemade latte.
Can you swap out pecans?
Yes! Chopped pecans would go great in this walnut crescent cookie recipe, if that's what you have. They are equally as delicious. As mentioned above, there are also versions that use hazelnuts and almonds, so those are also great options!
Should you toast the walnuts before chopping?
You can, but it's not necessary. However, if you want a slightly more pronounced walnut flavor, you can toast your walnuts a bit in a pan.
Make sure to do this before chopping. Just heat a pan over medium heat and toast for about 3 minutes, stirring often. You don't want them to really get browned. Just get a little heat on them to toast them and enhance the flavor.
How to make the cookies:
First, chop up your walnuts! You can either use a knife or a food processor for this. Your goal is to get finely chopped walnuts, but not completely ground into a powder. You still want a bit of texture.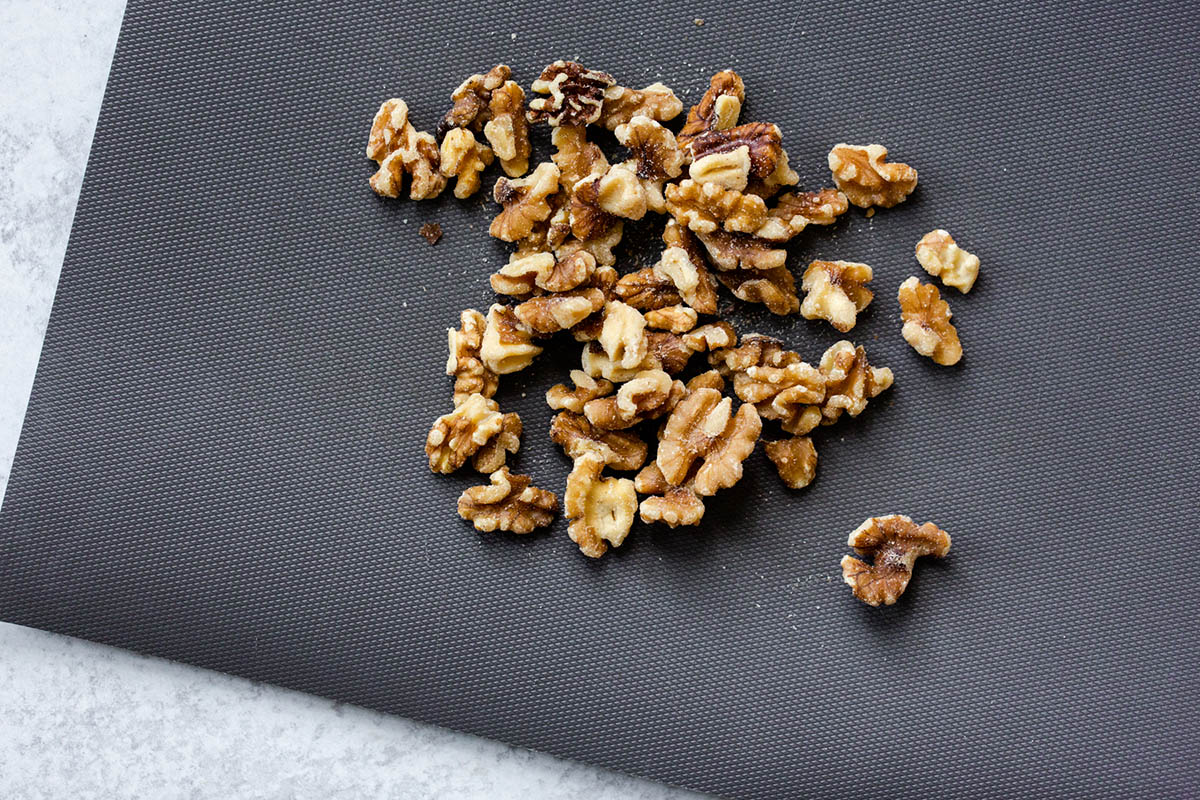 They should look a little like this. Nicely chopped, but still with some texture.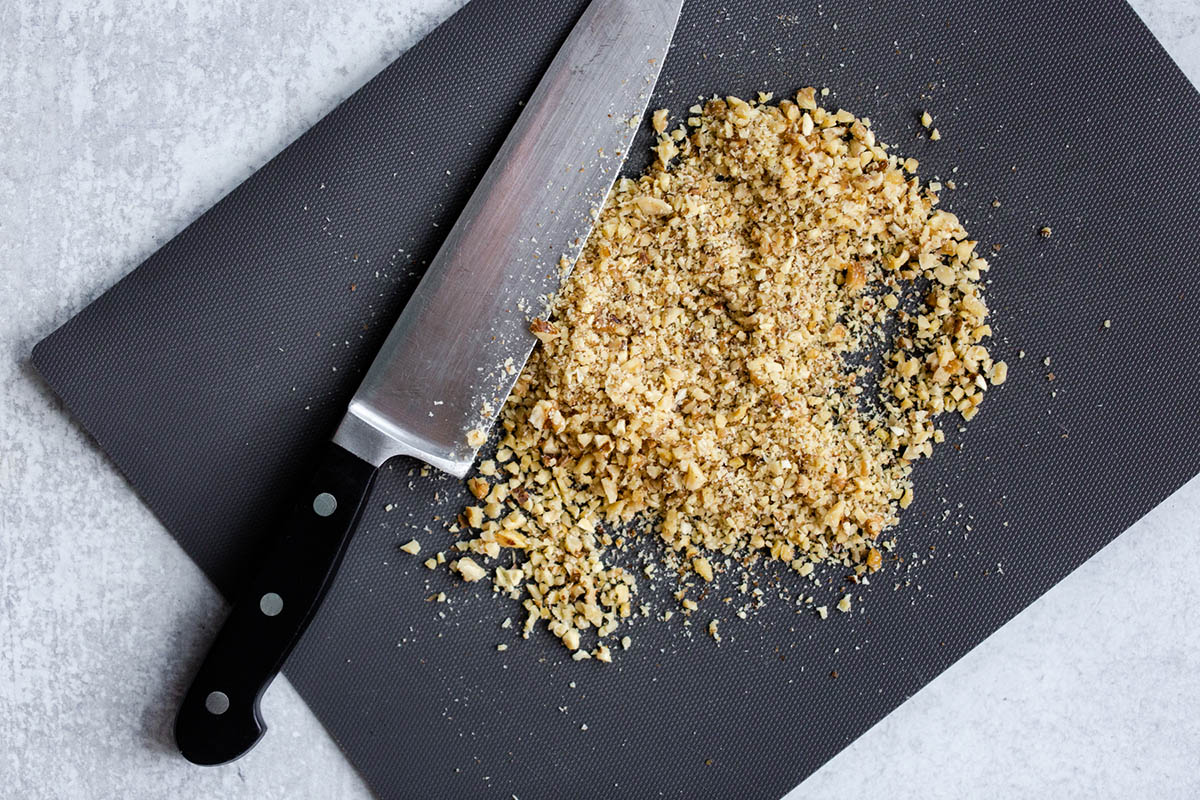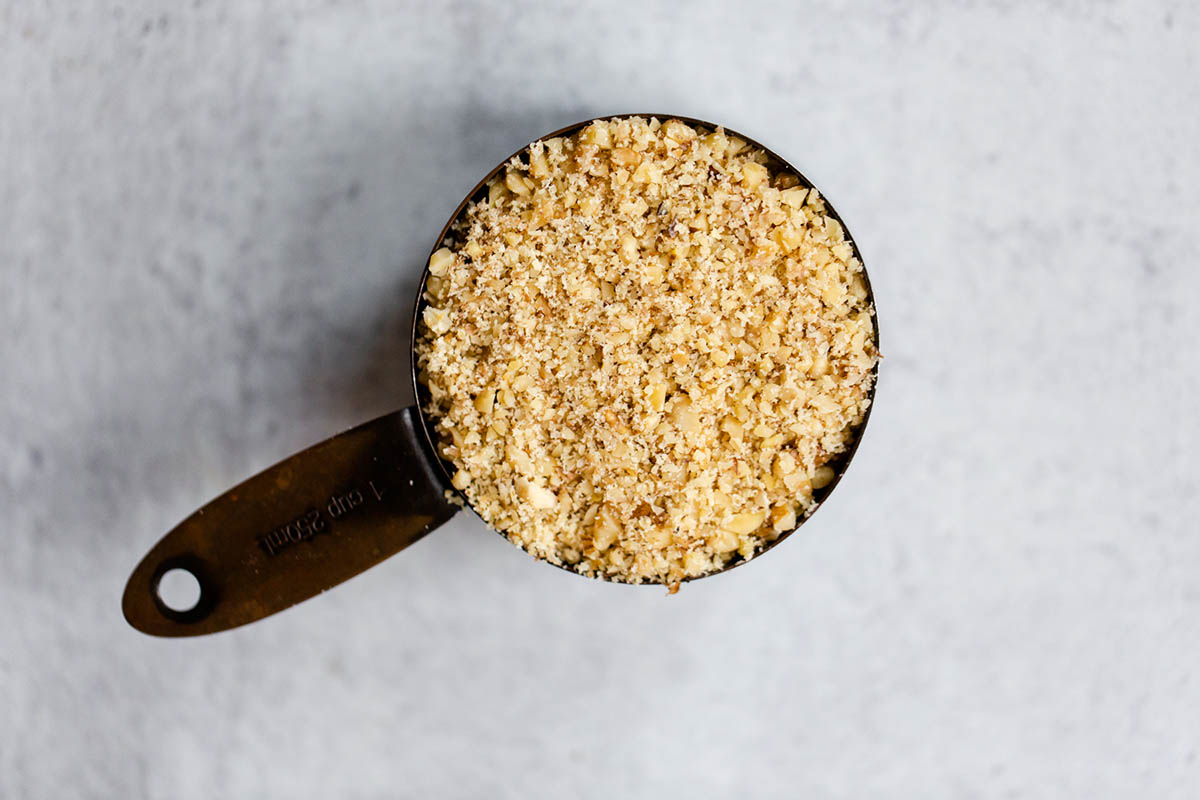 Then, make the walnut crescent cookie dough! Cream your butter, then add the powdered sugar, vanilla, and salt and mix until light, scraping the sides of the bowl as needed.
Then, add your chopped walnuts and your flour and stir or mix over low speed until combined, scraping the sides of the bowl as needed.
Once mix is combined, place in wax paper and put in the refrigerator for at least 1 hour to chill. The chilling helps the dough be easier to handle when forming the crescents and helps the butter solidify.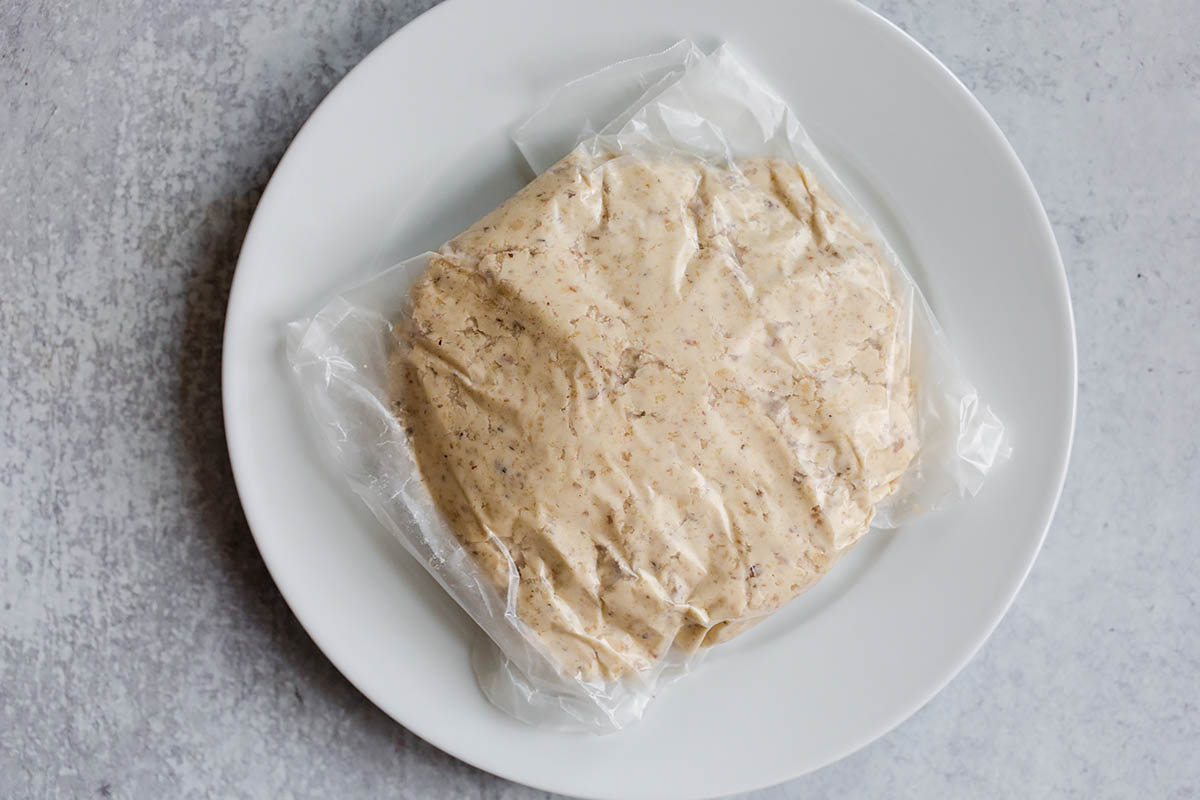 Remove the dough from the fridge, and cut into eight sections. If dough is too hard to handle, let thaw for 5-10 minutes before trying to form the cookies.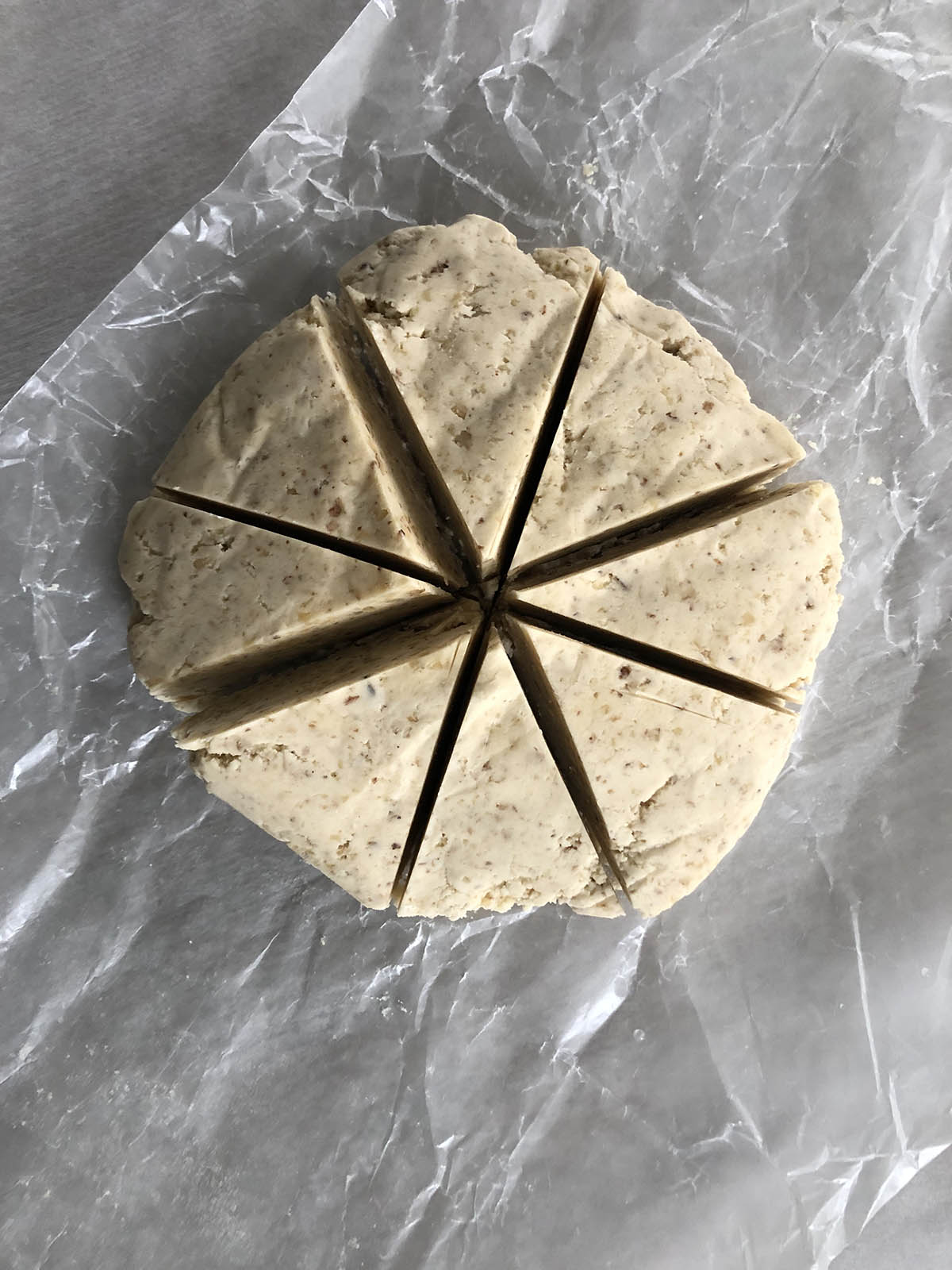 Next step is forming the cookies! For each section, I typically can form 5 crescents, so that means about 40 cookies in total. Take a section of each triangle, roll it into a ball between your hands, and then roll into a slight sausage-like shape. Try to taper the ends a bit, then shape into a crescent. Place on a cookie sheet to bake.
Protip: It's okay if your crescents aren't perfect. Just try to get them a similar size for baking. The powdered sugar you'll dust on will cover mistakes!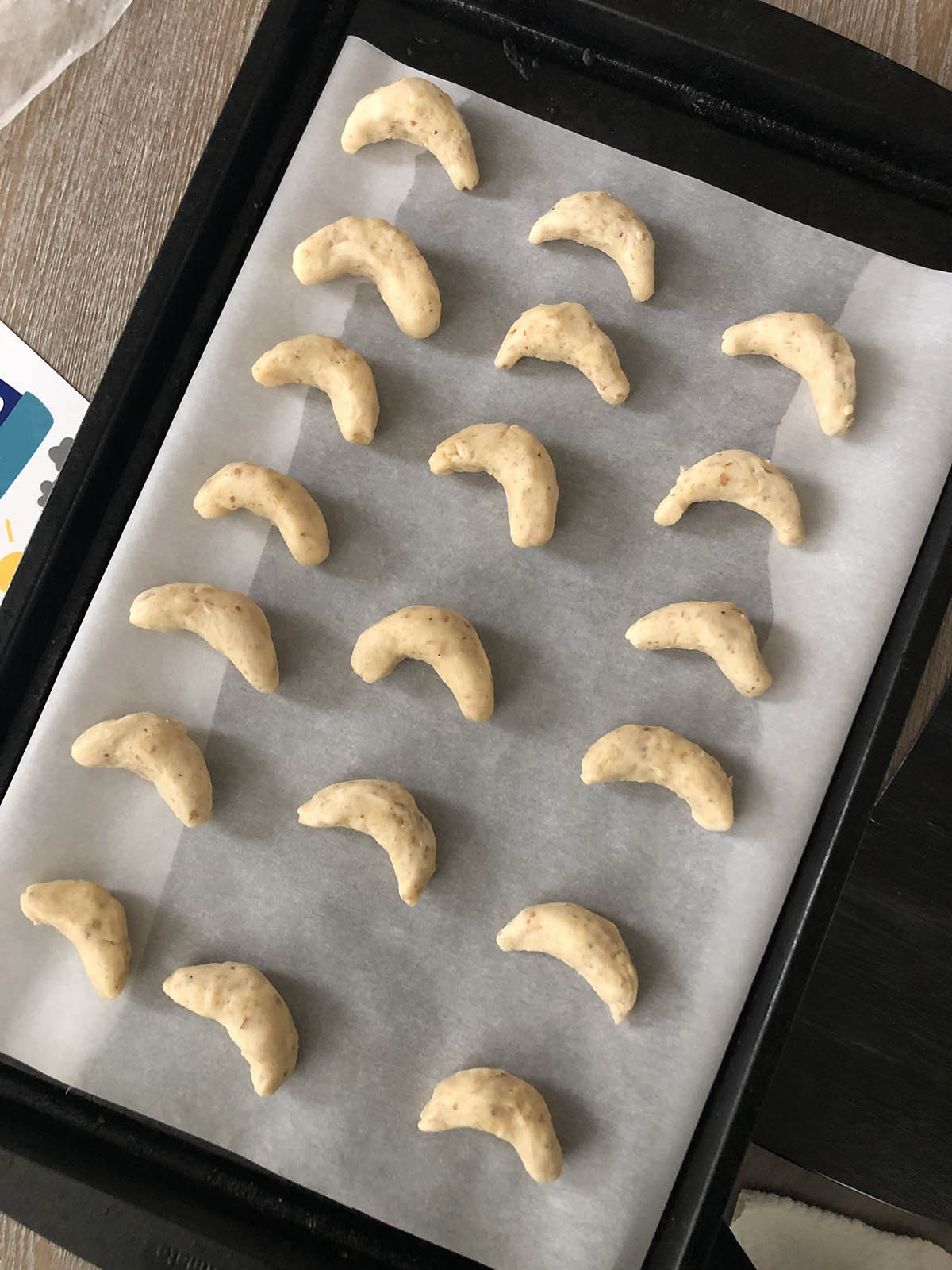 Bake the cookies on 350 degrees F for 12-16 minutes. It's honestly hard to tell when the cookies are done. You don't want them doughy, but also don't want them browned. So just keep an eye on them and touch them before removing from the oven. For me, I cooked them for about 15 minutes.
Once removed from the oven, let cook on the cookie sheet before transferring to a rack (otherwise they will fall apart!)
Then, dust with powdered sugar!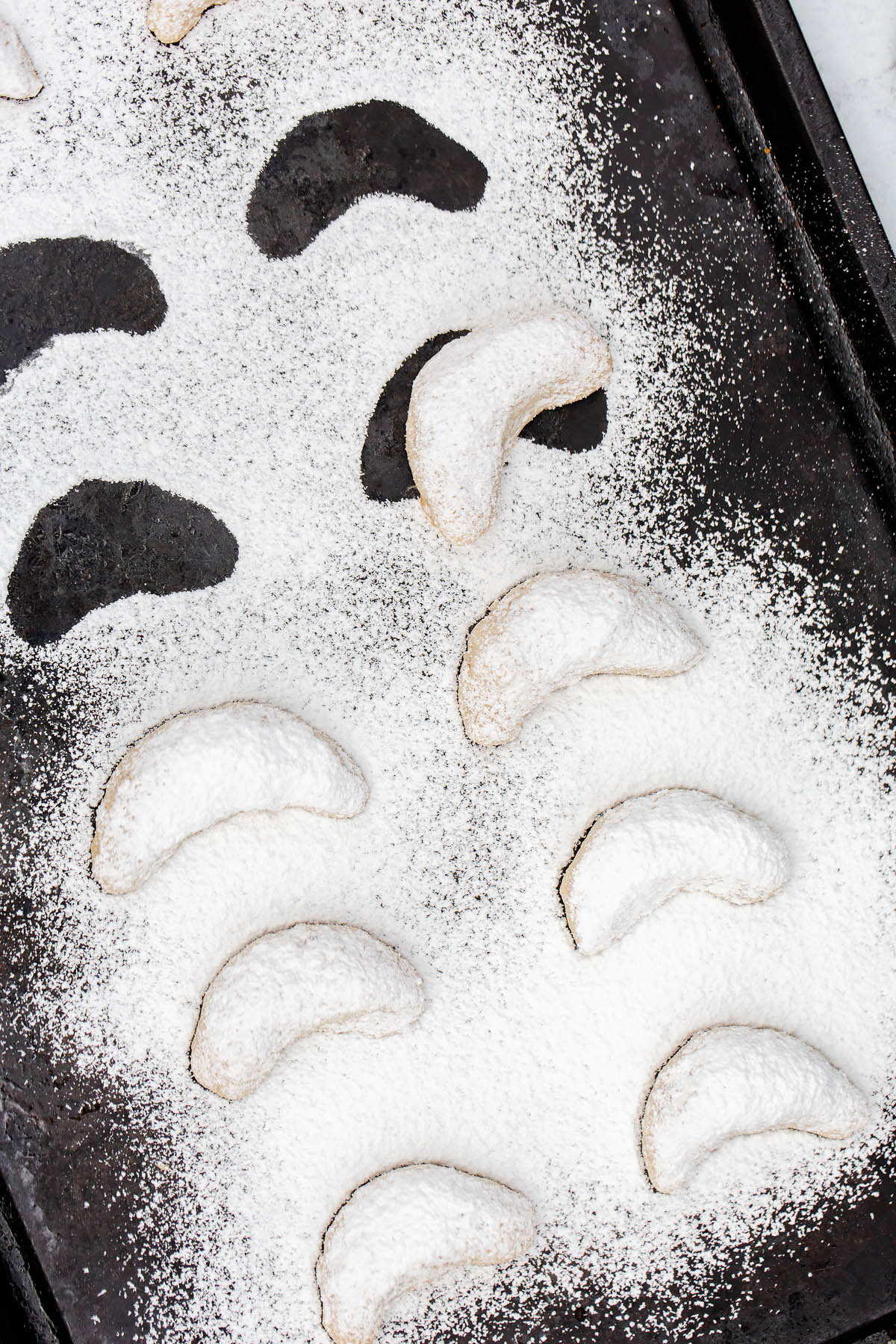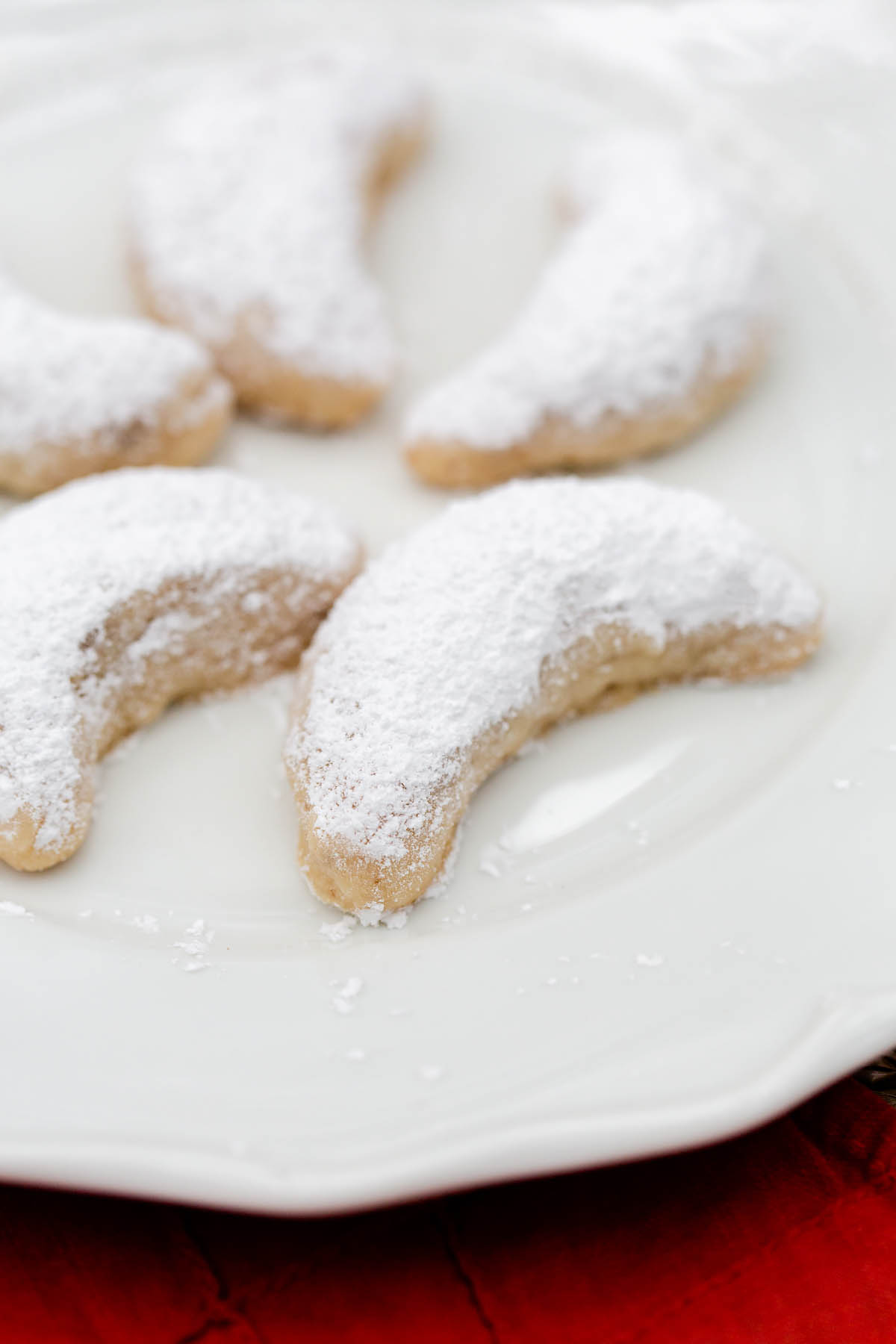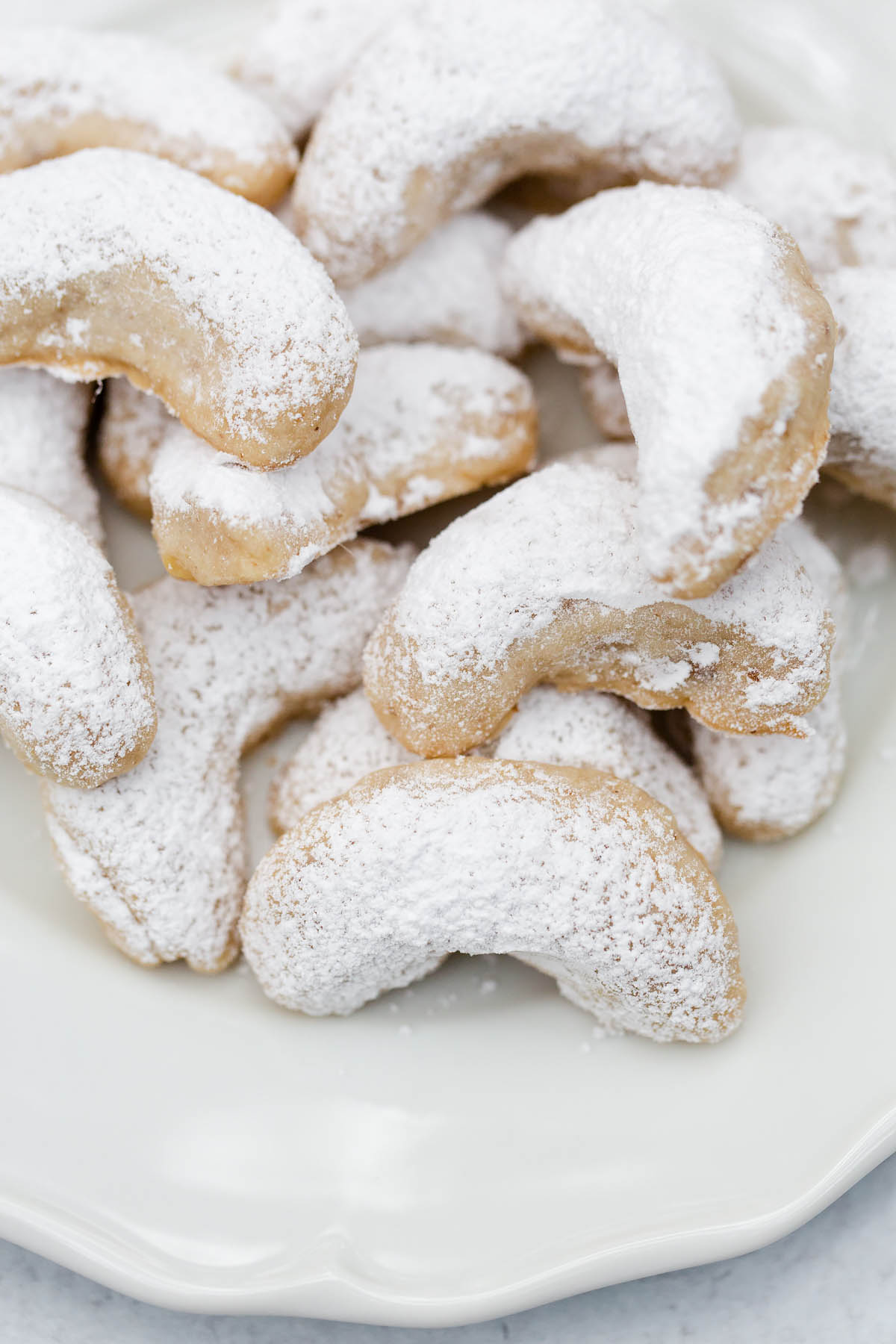 More easy desserts: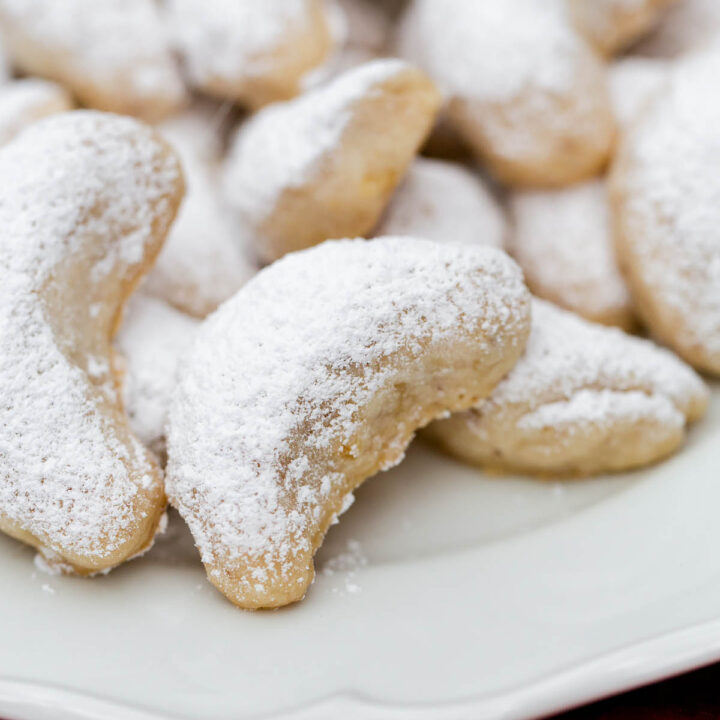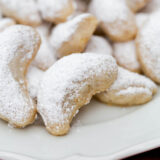 Print Recipe
Walnut Crescent Cookies
Walnut crescent cookies are a buttery shortbread-like cookie that is topped with powdered sugar. It's an easy to make, lightly sweetened cookie that is crumbly and delicious!
Ingredients
1

cup

butter

softened to room temperature

½

cup

confectioner's sugar

plus more for dusting

1

tsp

vanilla

¼

tsp

salt

1

cup

finely chopped walnuts

1 2/4

cups

flour
Instructions
In a stand mixer, or with a handheld mixer, cream the butter until light.

To the bowl, add the powdered sugar, salt, and vanilla. Mix with the butter until light, about 3-4 minutes, scraping the sides of the bowl as necessary.

Add the flour and chopped walnuts. Mix on low until combined, scraping the sides of the bowl as necessary.

Place the dough in wax paper and chill in the refrigerator for 1 hour.

Take the dough out of the refrigerator and divide into 8 sections. Each section should make about 5 cookies.

Heat the oven to 350 degrees F.

To shape the crescent cookies, take a little dough from each section and roll into a small ball between your hands. Then roll into a sausage shape, trying to taper at the ends. Form with your hands into a crescent shape, then place on a cookie sheet to bake.

Bake for 12-16 minutes. Cookies should feel slightly firm (but will firm up more as cooling), but not browned.

Let cool on the cookie sheet, and then transfer to a cooling rack or a plate.

Dust with powdered sugar.
Notes
Some notes on making the cookies:
Let cool completely on the cookie sheet. If you try to transfer to a plate or rack before cooling, the cookies may fall apart.
The cookies have a shortbread-like, crumbly texture.
The cookies can be stored in an airtight container for a week.
Cookies can be dusted in powdered sugar after cooling or just before serving. If you dusted the cookies after baking and the powdered sugar got messed up after placing in a container, simply dust more powdered sugar over the cookies before serving.