An affogato is an Italian coffee dessert using espresso and ice cream. It's easy to make, delicious, and the perfect afternoon or post-dinner treat. You can customize it with different flavors.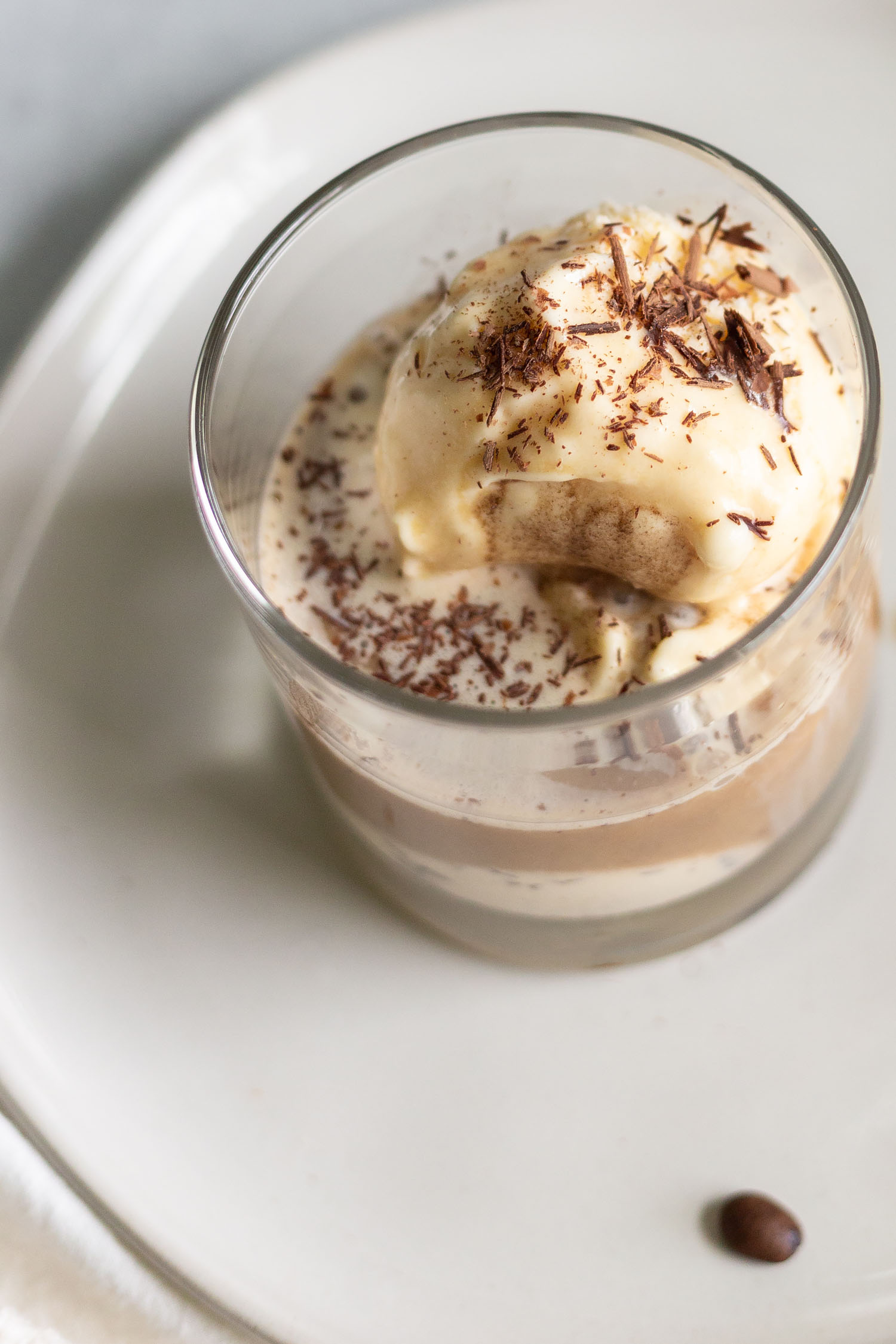 This post contains some affiliate links, which means that I make a small commission off items you purchase at no additional cost to you.
Recently, I've been all about desserts and also coffee. By the time afternoon naptime arrives for the kids, I need some coffee to make it through the rest of the day and knock out some work. So dessert plus coffee? This delicious and easy to make affogato! I've made it twice in the last week, and it may become my go-to afternoon treat. So now let's get to why you're really here... to learn how to make it.

What type of coffee to use in an affogato?
In an affogato, you'll want to use either espresso or strongly brewed coffee. If you want to go decaf, you can use decaf espresso or decaf coffee.
How to make espresso coffee
It's easy to make espresso coffee at home! There are three easy methods. You can do it in the French Press, in a Moka pot, or in an AeroPress. We have an AeroPress and LOVE it. That's how we typically do espresso for things like this AeroPress cappuccino that Josh drinks every single morning. For detailed instructions on each method, check out this post from DrippedCoffee.
How to make strongly brewed coffee
To make strongly brewed coffee, you'll just want to increase your coffee grounds to water ratio. So add more beans, and less water, and end up with a more strongly brewed coffee.
Do you put hot coffee on an affogato?
Yes! You don't wait for the espresso/coffee to cool down. You can pour the espresso right over the ice cream, and it gets melty. Eat it right away, and then drink any of it after it is all melted. So tasty and delicious.
How to top an affogato
Chocolate shavings - Some of the photos I posted here are of an affogato topped with chocolate shavings. It's a nice way to get a little chocolate into your treat.
Chopped pistachios - Chopped pistachios would add a nice salty balance and a crunchiness to the affogato.
Chopped hazelnuts - I love the taste of hazelnuts. They are a bit nutty, sweet, and creamy. Delicious as a topping!
Drizzle of chocolate syrup - I mean, come on. Chocolate syrup is GREAT on ice cream. Chocolate syrup is delicious drizzled over an affogato. Do what you love.
Chocolate sprinkles - Same as the chocolate syrup. I mean, it may not be traditional... but if you love it, go for it.
Affogato variations
Use hazelnut ice cream instead of vanilla ice cream.
Use chocolate ice cream to make it more mocha-like.
Make it boozy! Add a tablespoon of amaretto. Yum.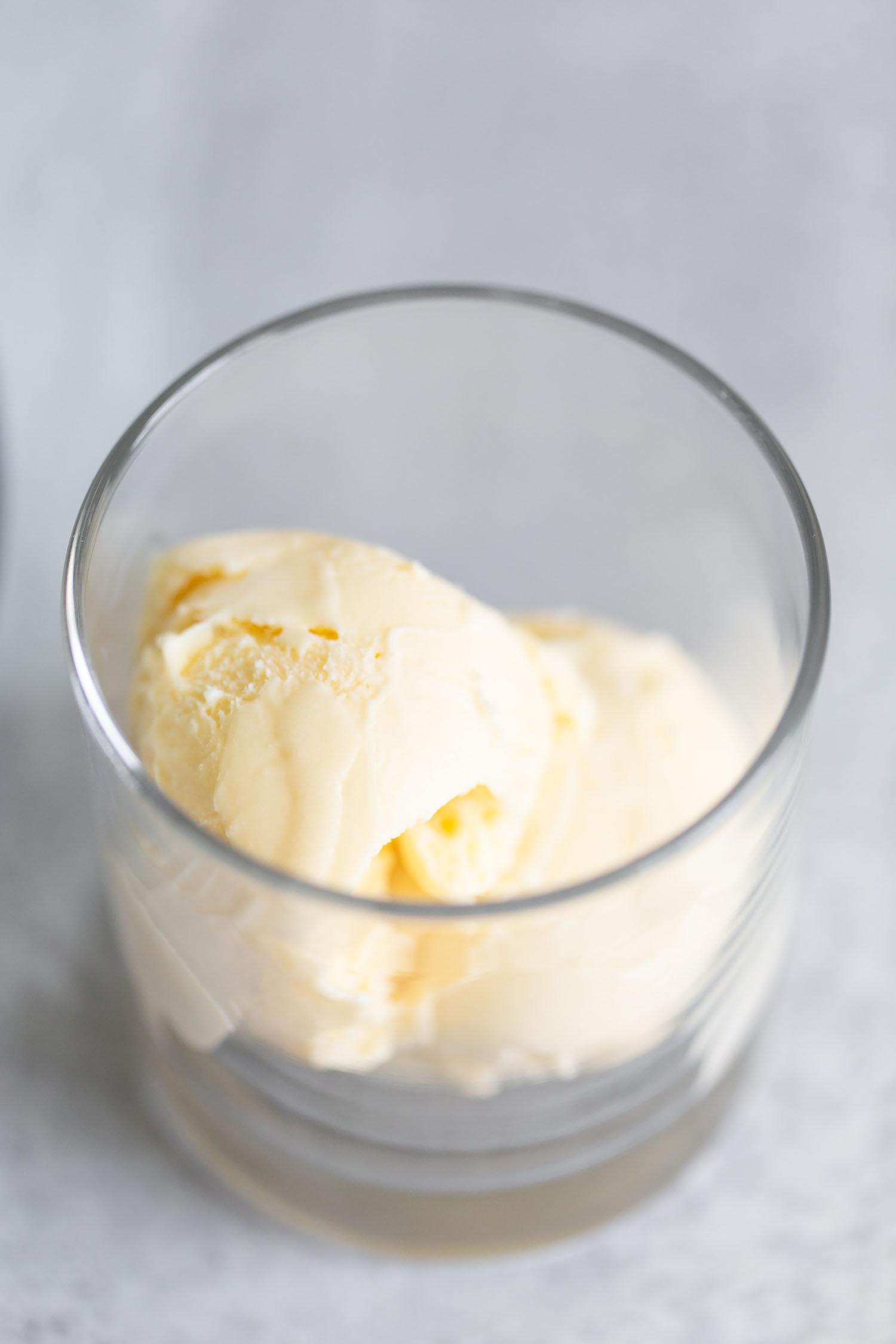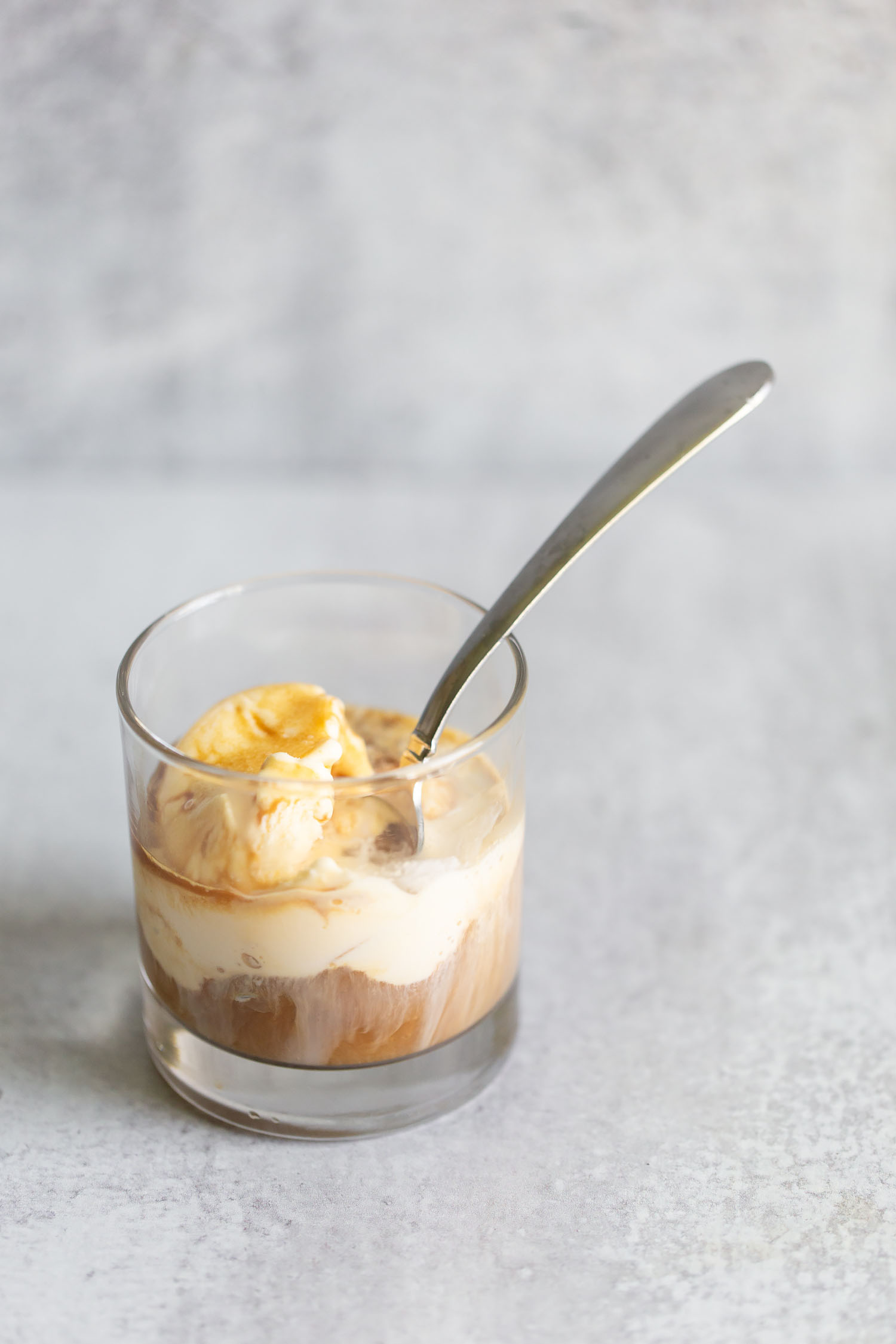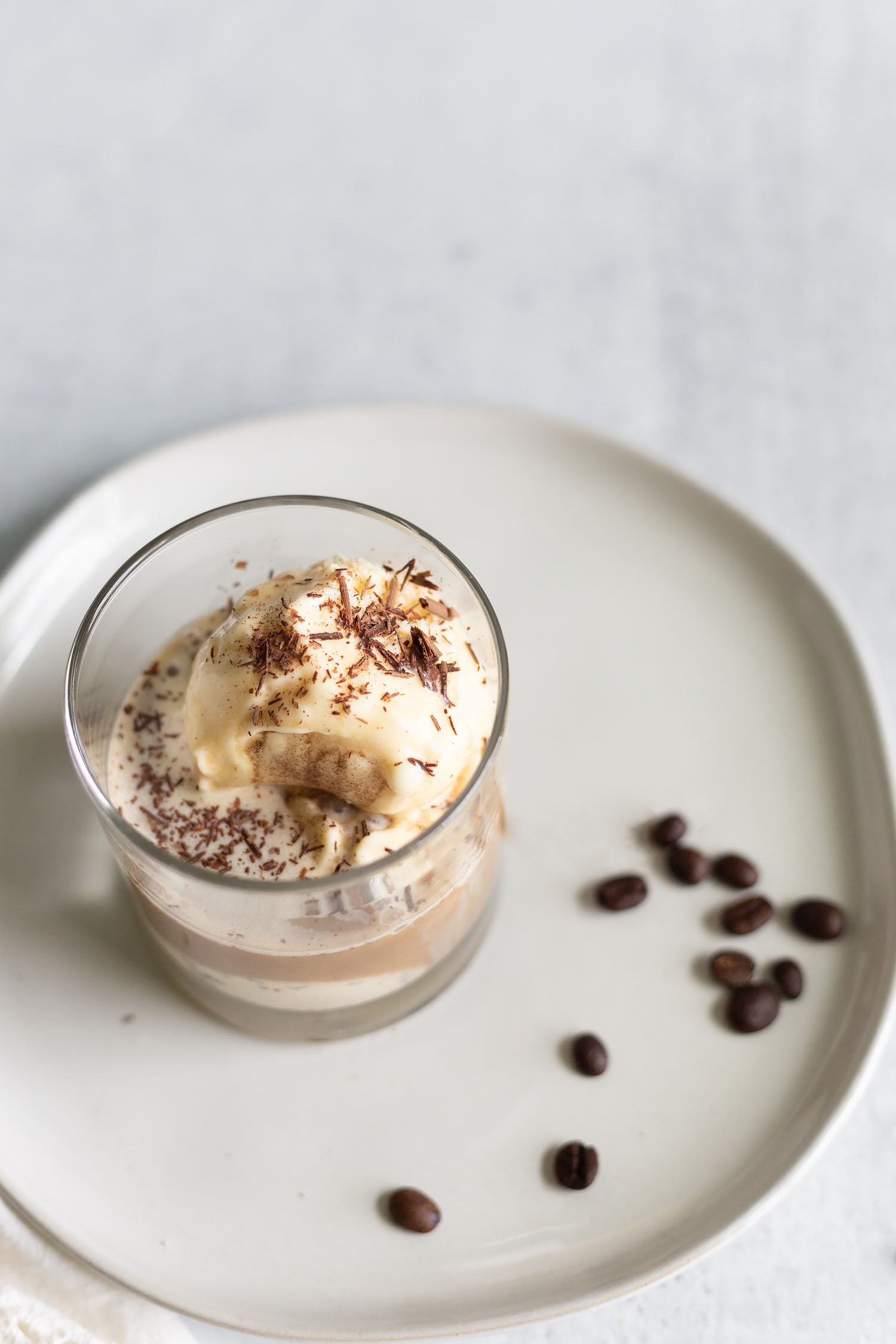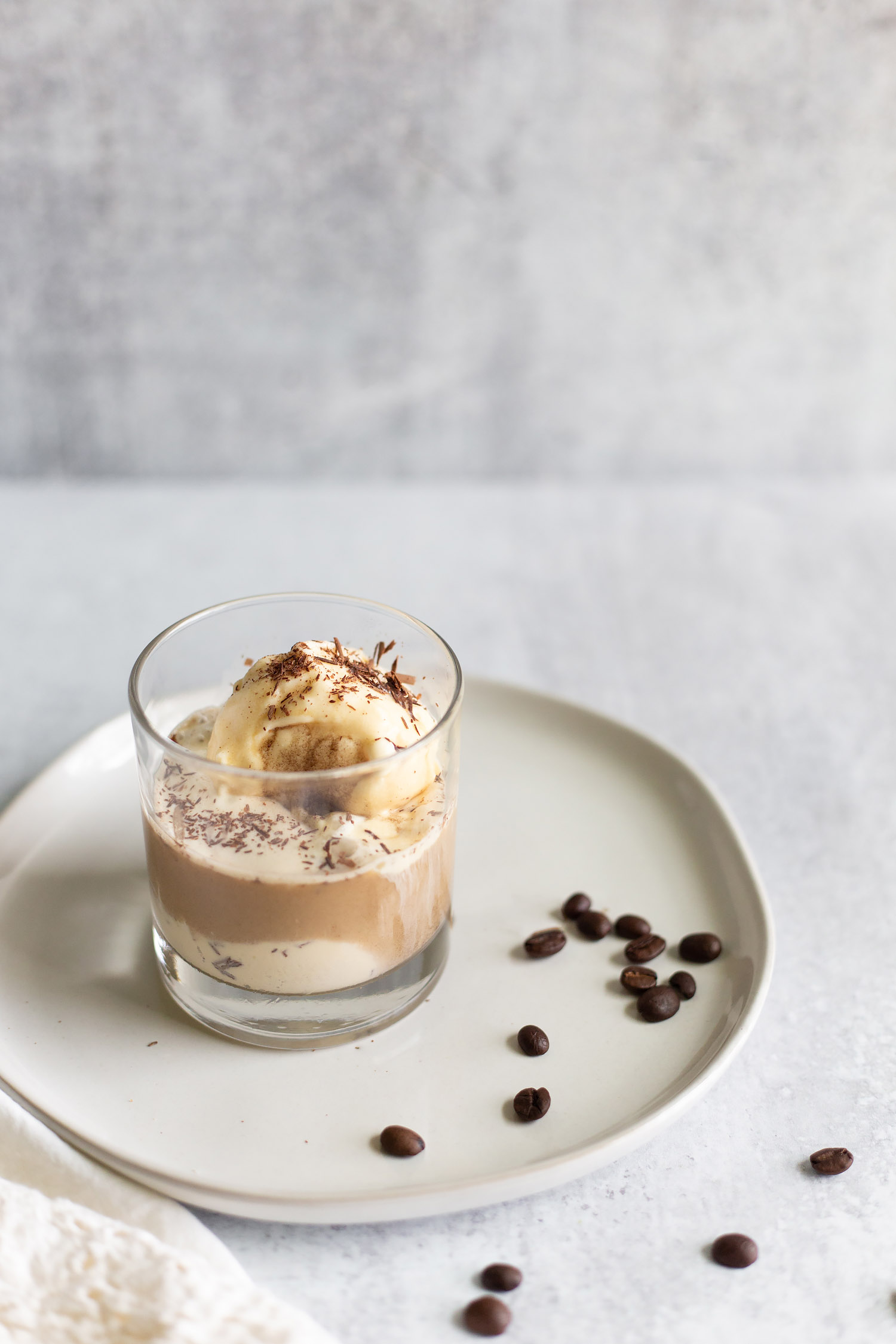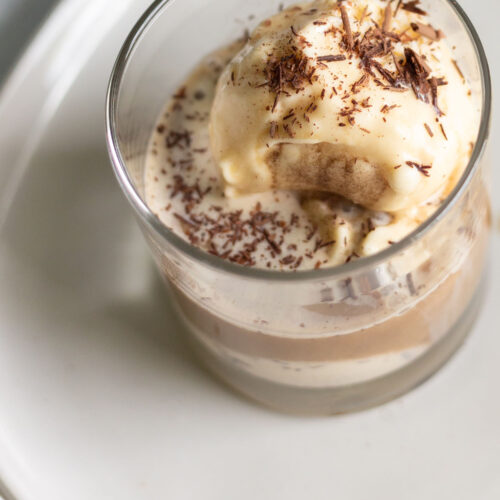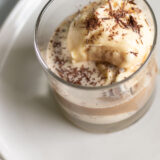 Print Recipe
Affogato
This Italian dessert is easy to make with only two ingredients.
Ingredients
2

scoops

vanilla ice cream

2

oz

freshly brewed espresso or strongly brewed coffee
Instructions
Brew the espresso or coffee.

Into a glass, add two scoops vanilla ice cream.

Pour the hot espresso/coffee over the top.

If desired, top with chocolate shavings, chopped pistachios, or whatever you like!