This 5 ingredient no-bake limeade pie is as simple as mixing ingredients together, pouring into a pie crust, and sticking into the refrigerator to set. It's the perfect pie for summertime or when you don't have a lot of time!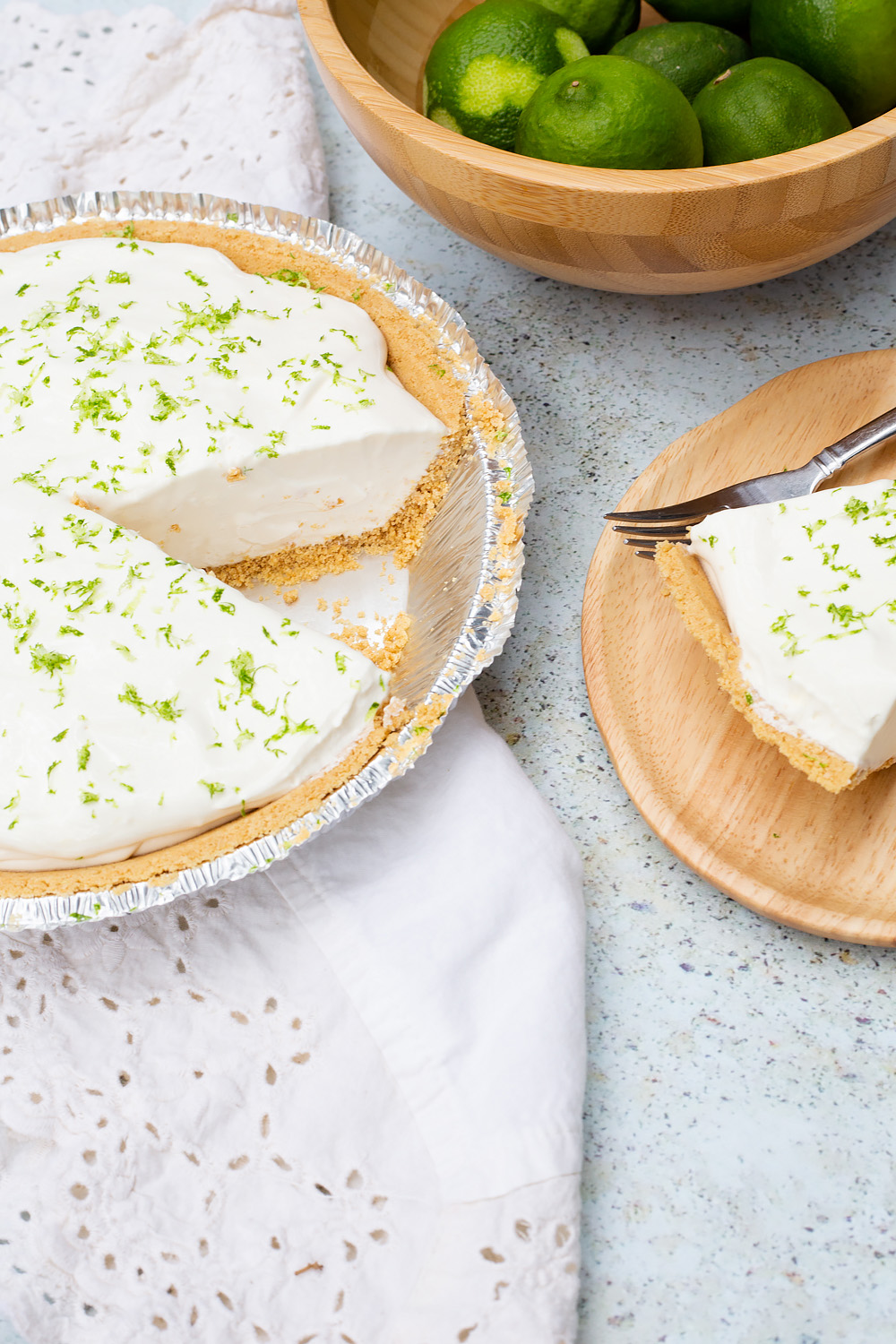 It's really hot in Austin. That means it's time for cool desserts that don't require any baking. Bonus points if they are easy and delicious. This limeade pie checks all the boxes. Even better? It's only FIVE ingredients, including the crust!
Basically, that's because you just buy 5 ingredients, then you mix four of them together and pour them into a store-bought graham cracker crust. Is the limeade pie impressive? Meh. I mean, there are fancier desserts. But is it delicious? Yes? Is it easy? Yes. Is it cooling? Yes.

My grandma used to serve a version of this that was a lemonade pie. And we would eat it all the time during the summer. I have the recipe for that lemonade pie on the blog too! But I decided to make a limeade pie version. And I added the juice from a lime and topped it with lime zest to give it that extra bit of lime flavor.
Ingredients for the Limeade Pie:
Cool Whip - The Cool Whip helps the pie stabilize and provides that creamy, whipped texture. A reader suggested using Cocowhip, and while I haven't tested it, I love the idea of it as a potential vegan substitute!
Frozen Limeade Concentrate - The recipe only uses 6 oz, which can be hard to find. If you find a larger container of limeade concentrate, make sure to only use 6 oz! If you use more, your pie will end up liquidy and won't set properly. Limeade concentrate can be found in the freezer sections of grocery stores!
Sweetened Condensed Milk - Find this in the baking aisle!
Limes - You'll use a little of the juice and a little of the zest.
A ready-made graham cracker pie crust - This is also easy to find in the baking aisle. Try to find one that isn't broken, as they can break really easily.
Some tips for making the pie successfully:
You do need to thaw the Cool Whip in the refrigerator (at least 5 hours) before using. Don't try to do it straight from freezer. It won't mix properly with the other ingredients.
Thaw the limeade. The recipe uses 6oz of limeade, but I can only seem to find 12 oz containers, so I just measure out 6 oz with a measuring cup after it's thawed. DO NOT use the whole thing of limeade. Your pie will most likely come out too watery and won't set properly.
Be sure to refrigerate the pie AT LEAST 8 hours before cutting and serving. While this isn't a super-firm pie, you still want it properly set before you try to cut and serve. I also like to stick the pie in the freezer for about 10 minutes before serving. It makes it much easier to cut (especially those first slices!)
How to make the no bake pie:
First, make sure you have all the ingredient properly prepared. Thaw the Cool Whip and limeade well in advance of using.
Once your ingredients are thawed, into a large bowl, add the Cool Whip, limeade (only 6 oz!), fresh lime juice, and sweetened condensed milk. Stir until well combined.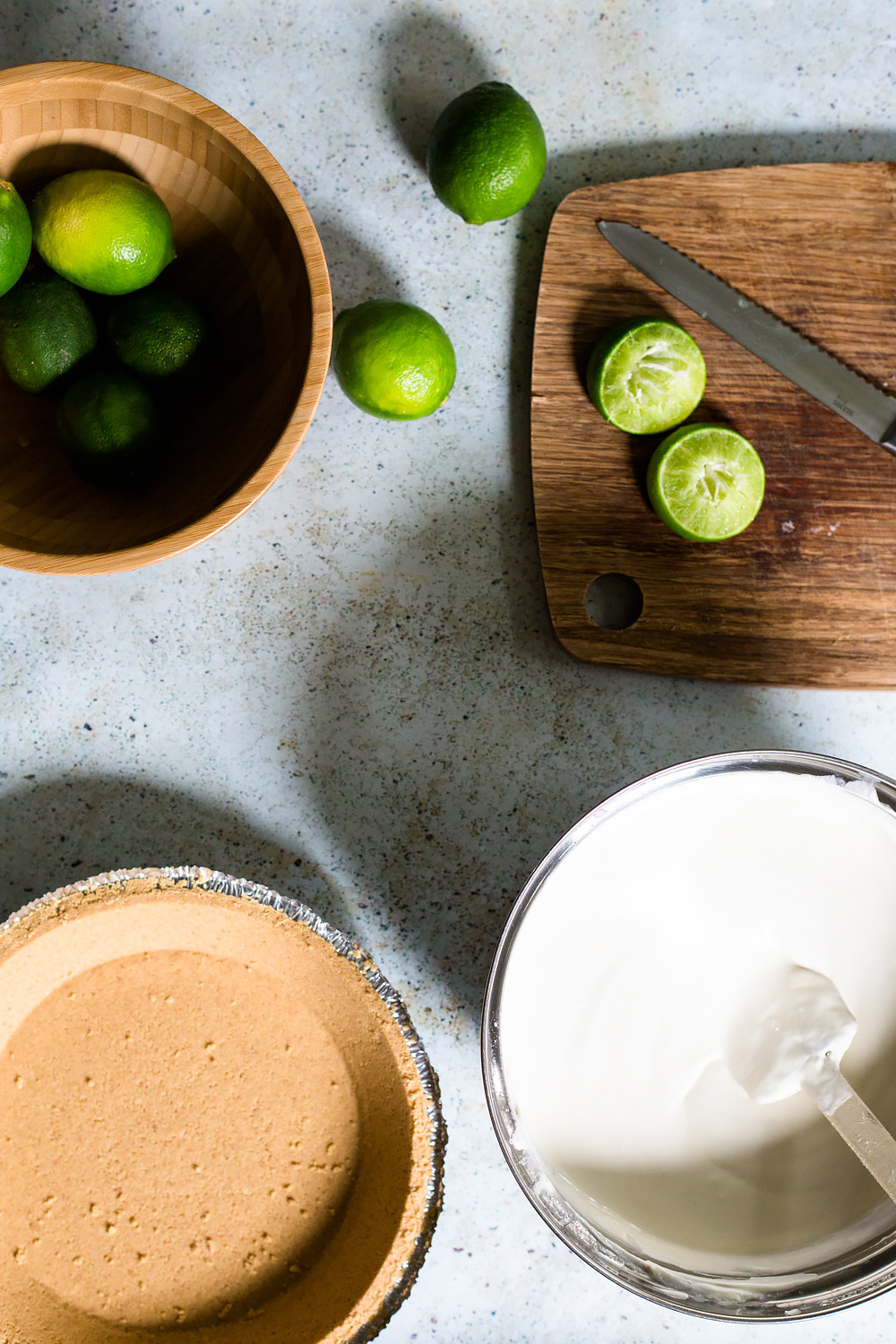 Pour into the ready-made graham cracker crust. Add the plastic lid to the top of the pie container, and refrigerate for at least 8 hours, until well-set.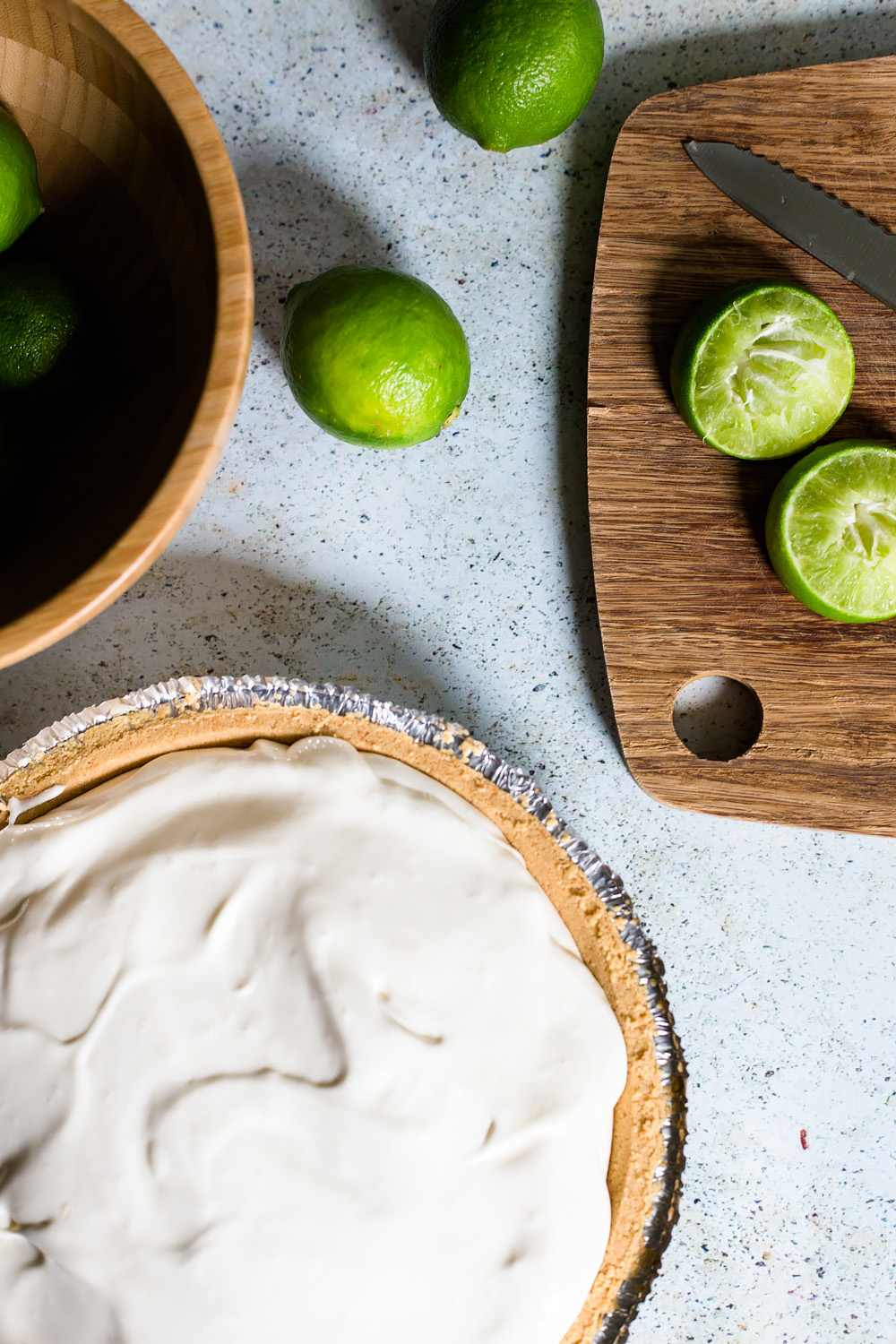 Before cutting, place the pie in the freezer for 5-10 minutes for easier cutting. Top with fresh lime zest and enjoy!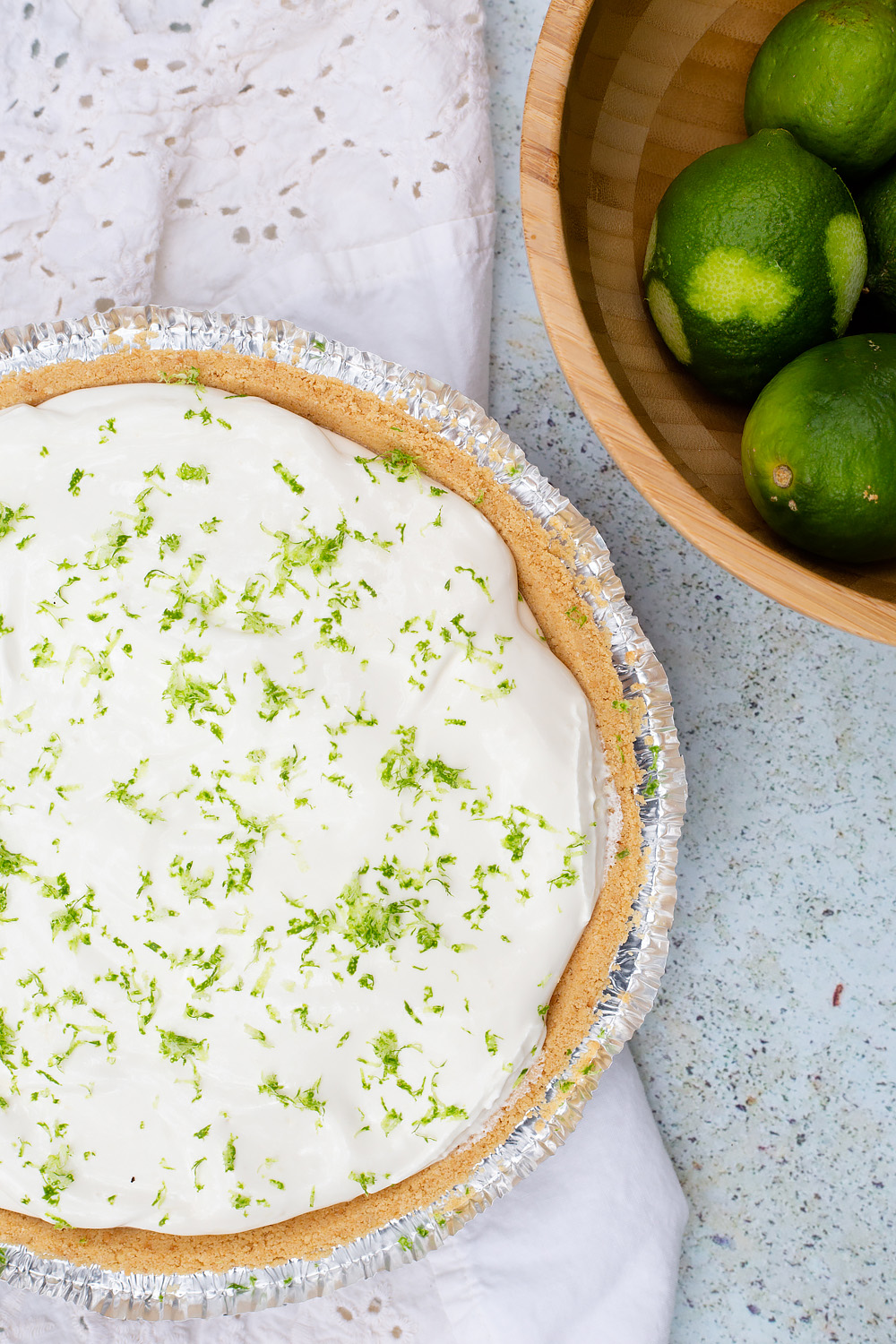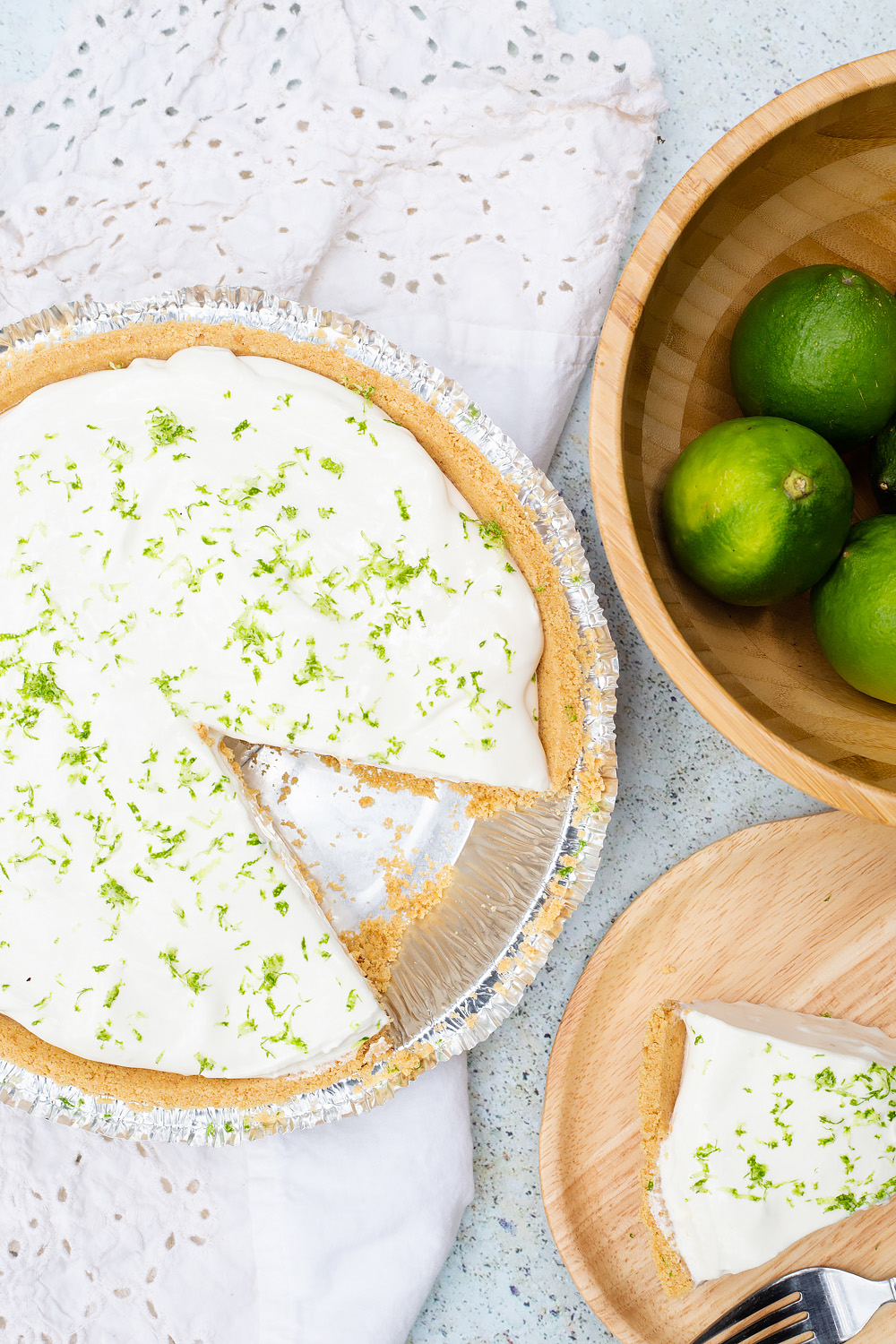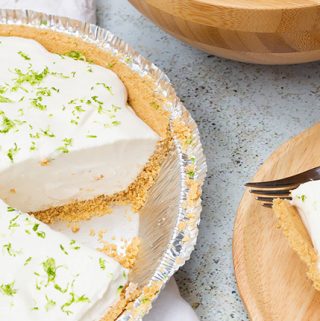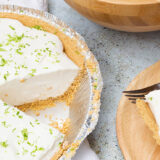 Print Recipe
Five Ingredient Limeade Pie
Ingredients
1

graham cracker crust

6

oz

frozen limeade concentrate

thawed

1 8

oz

container Cool Whip

thawed in refrigerator

1 14

oz

can sweetened condensed milk

1

lime

zest and juice
Instructions
Mix the limeade, Cool Whip, sweetened condensed milk, and juice of 1 lime together in a large bowl. Stir until completely combined.

Pour into the pie crust and cover with the plastic lid.

Refrigerate overnight, at least 8 hours, before serving.

Before serving, stick pie in freezer for 5-10 minutes for easier cutting.

Top with lime zest, if desired.
Love this easy dessert? Check out these!