This roasted thin asparagus is the perfect side dish! It's the easiest way to cook asparagus in the oven. It roasts up so easily and is healthy and bright from the lemon.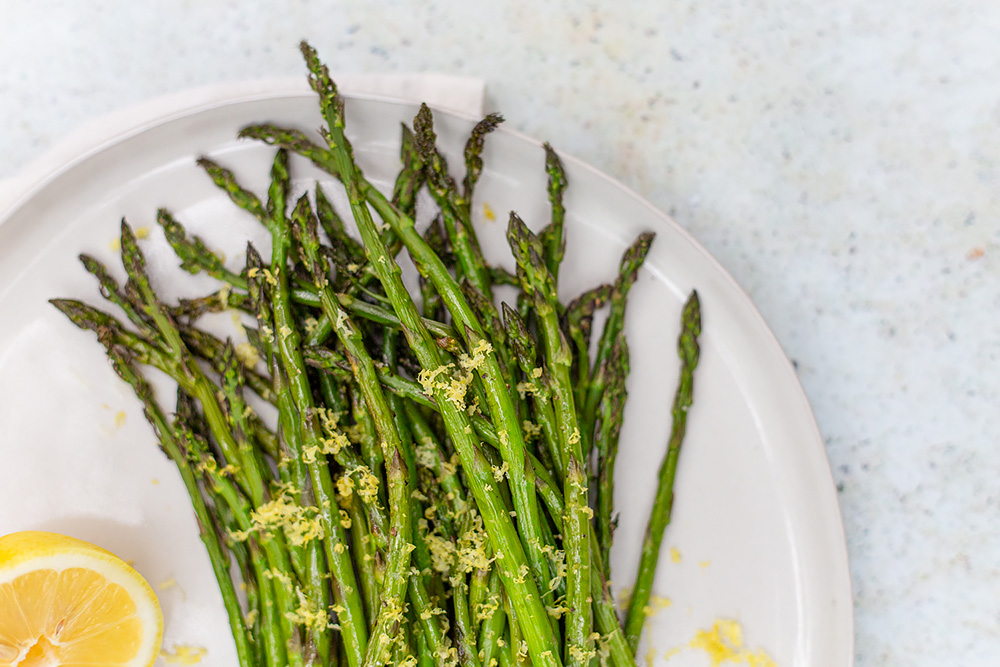 This time of year is amazing for fresh produce like asparagus. And when it's in season, that usually means it's inexpensive too! A win-win.
I picked up a bunch of thin asparagus at the grocery store and roasted it in the oven alongside some fish the other night for dinner. It was SO good. Added a bunch of lemon zest right on the top, and served it with a couple of lemon halves.
The lemon zest really adds something special. It will definitely be something we'll make again and again while asparagus is still in season.
Serving size tips
This recipe serves 2-4 people. When I made it, Josh and I ate it all (so 2 servings). But if you're serving to younger kids, or you're serving with another side, it will serve 4 people instead of 2.
Ingredients needed
Thin asparagus - This recipe works best with thin (aka skinny) asparagus. If you're using thicker asparagus, make sure to cook it a bit longer until tender.
Olive oil - I use regular olive oil for this recipe. No need to use extra virgin olive oil.
Lemon zest - I love lemon zest! It's so fresh and wonderful. It adds a nice lemony flavor to it. Save the lemon so you can squeeze a bit over the asparagus once it's done cooking if you like.
Salt
Pepper
What is lemon zest?
Lemon zest is the outer rind of the lemon shaved into tiny pieces. To zest a lemon, you'll want to use a microplane like this one. The lemon zest is the yellow part of the lemon peel. Don't zest the white part! That is called the pith, and is bitter.
Can you find lemon zest in the grocery store?
So the reason I bring this up is that one time my sister was making a recipe for school and it called for lemon zest. We looked ALL OVER the grocery store for lemon zest and asked an employee who had no idea where to find it either.
This was before the days of the internet and easily searching for this information.
So, can you find lemon zest in the grocery store?
No, not really. (If you do though, LET ME KNOW). Really you just buy lemons and zest them yourself! The zest is best fresh, when it has all those great lemony oils in there.
You can get something like a lemon peel which may be with the spices. But really. Just buy lemons. Zest them yourself.
Thick or thin asparagus?
This recipe uses thin asparagus.
If you're using thicker asparagus, you'll need to cook it longer, maybe more like 25-30 minutes. You'll know it's done when it looks slightly charred, and is no longer stiff.
Don't let the asparagus burn though! Keep an eye on those tips, because those tend to cook more quickly than the other parts.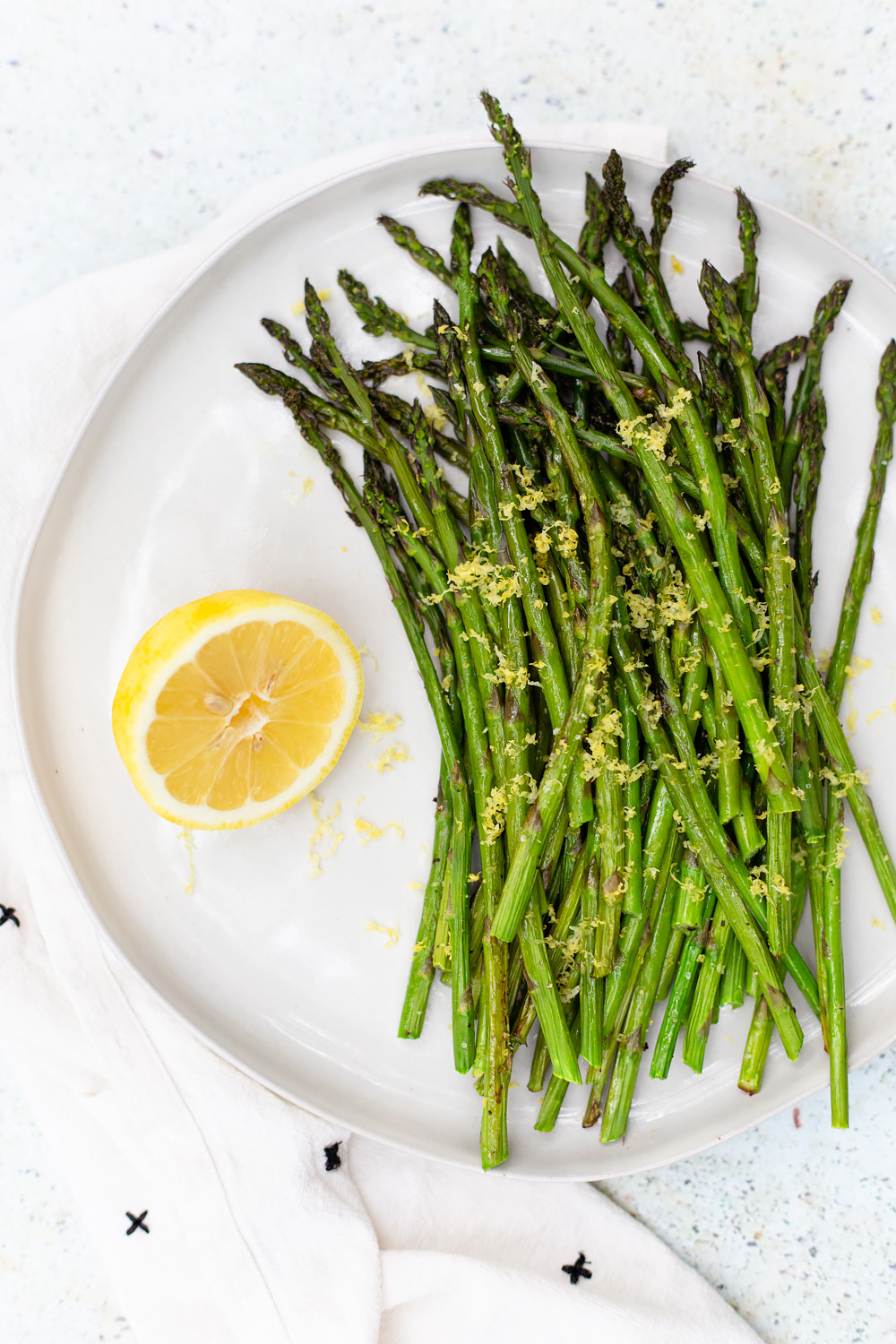 Recipe variations
Don't want lemon zest? Here are some other things to try!
Garlic - You can throw some garlic on there for a different vibe. I personally like to mince the garlic, then cook it in a touch of oil or butter in a pan on the stove. That way I have full control over making sure it gets cooked, but not burned. Then I top the asparagus with the garlic.
Tomatoes - Asparagus is delicious served with tomatoes! You can toss some cherry tomatoes in olive oil and roast them at the same time as the asparagus in the oven and serve all together. You can also roast up some cherry tomatoes in an air fryer, if you have one.
Parmesan - I love asparagus with parmesan cheese! You can top with some freshly grated parmesan cheese. I keep a block of parmesan cheese around my house for occasions just like this!
Breadcrumbs - want a crunchy dish? Top the asparagus with some toasted breadcrumbs or panko for a bit of crunch.
How to trim asparagus
Sometimes it's hard to know how or where to trim asparagus.
Rumor has it snapping isn't the best method.
Using a knife and a cutting board is the way to go. To know where to trim the asparagus, trim them where the white turns into green. That way you're keeping as much of the tender asparagus as possible while getting rid of the woody, tough ends.
However, I've also found that snapping it is so easy, and usually winds up working for me too. So it's really up to you!
What to serve with the asparagus
How to make roasted thin asparagus
First, you'll preheat your oven to 400 degrees to prepare the asparagus for roasting.
Then, trim your asparagus, removing any of the woody ends.
Place the asparagus on a baking sheet (you can use parchment to make cleanup easy), toss with olive oil and a little salt and pepper, and then roast for about 20 minutes (or more, depending on the thickness of your asparagus).
Top with fresh lemon zest and enjoy!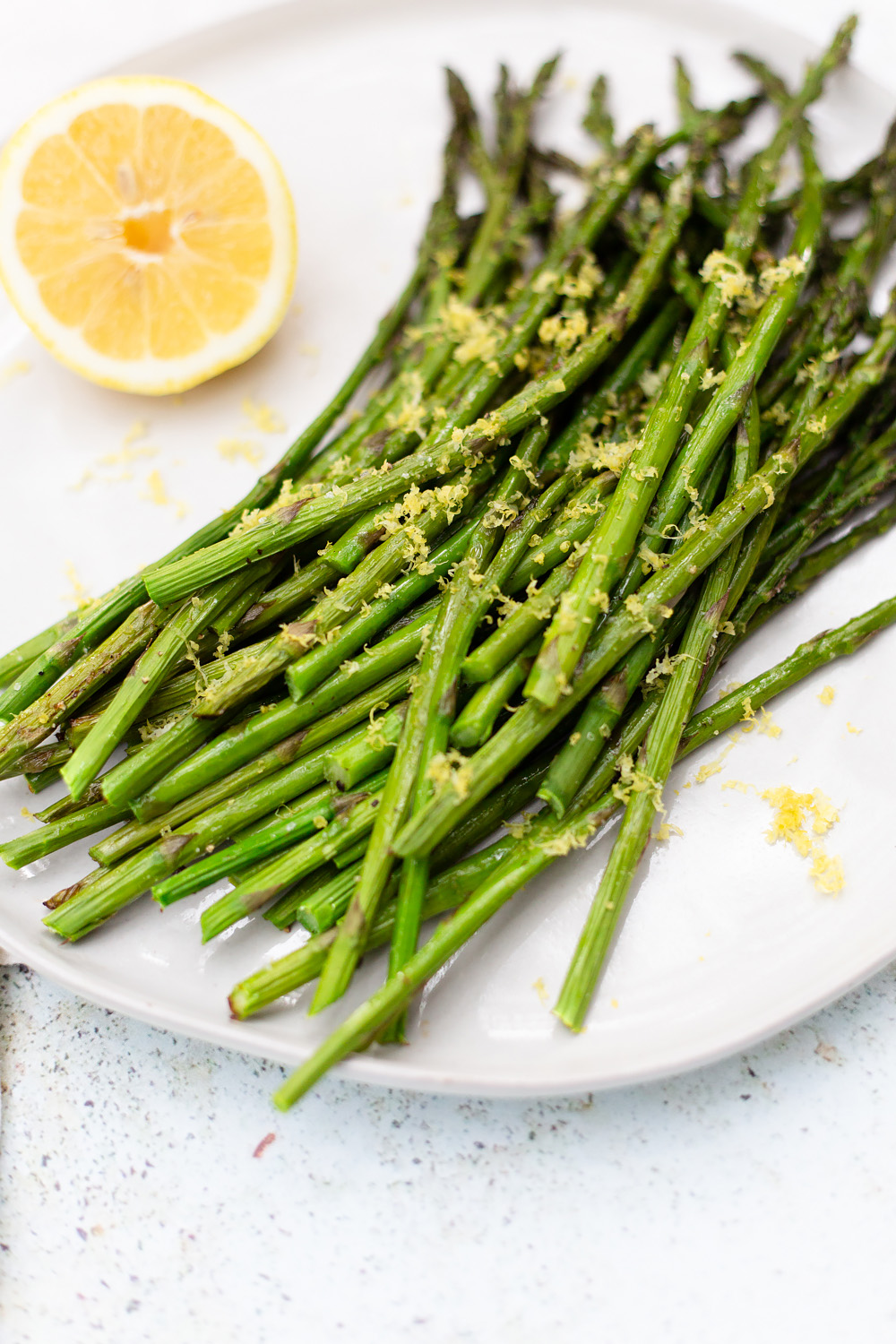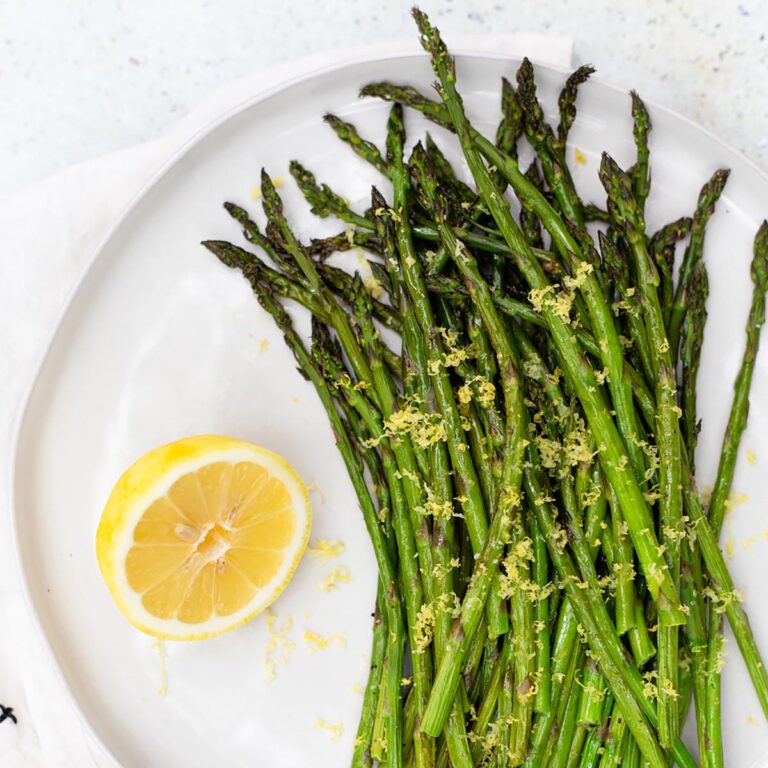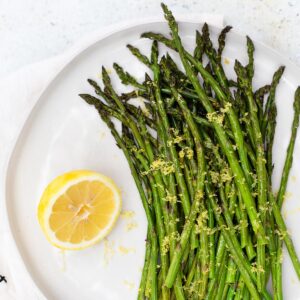 Roasted Thin Asparagus
This roasted asparagus with lemon zest is the perfect side dish! It's the easiest way to cook asparagus in the oven. It roasts up so easily and is healthy and bright from the lemon.
Ingredients
1

lb

thin asparagus

2

tablespoon

olive oil

1

lemon

zest and juice

salt

pepper
Instructions
Preheat oven to 400 degrees F.

Take the asparagus, and cut off the tough ends (where the woody part ends).

Place asparagus on a baking sheet and toss with the olive oil, a sprinkle of salt and pepper.

Cook for 20 minutes, or until tender.

Once done, plate and top with lemon zest from one lemon. Serve with lemon halves for additional lemon flavor, if desired.
Notes
If you're using thicker asparagus, you'll need to cook it longer, more like 25-30 minutes.
Nutrition
Calories:
139
kcal
Carbohydrates:
5
g
Protein:
1
g
Fat:
14
g
Saturated Fat:
2
g
Polyunsaturated Fat:
2
g
Monounsaturated Fat:
10
g
Sodium:
1
mg
Potassium:
75
mg
Fiber:
2
g
Sugar:
1
g
Vitamin A:
12
IU
Vitamin C:
29
mg
Calcium:
14
mg
Iron:
1
mg
If nutrition info is shown, values are based on an online calculator and are estimates. Please verify using your own data.
Tried this recipe?
Tag @foodbanjo on Instagram and share your photos!