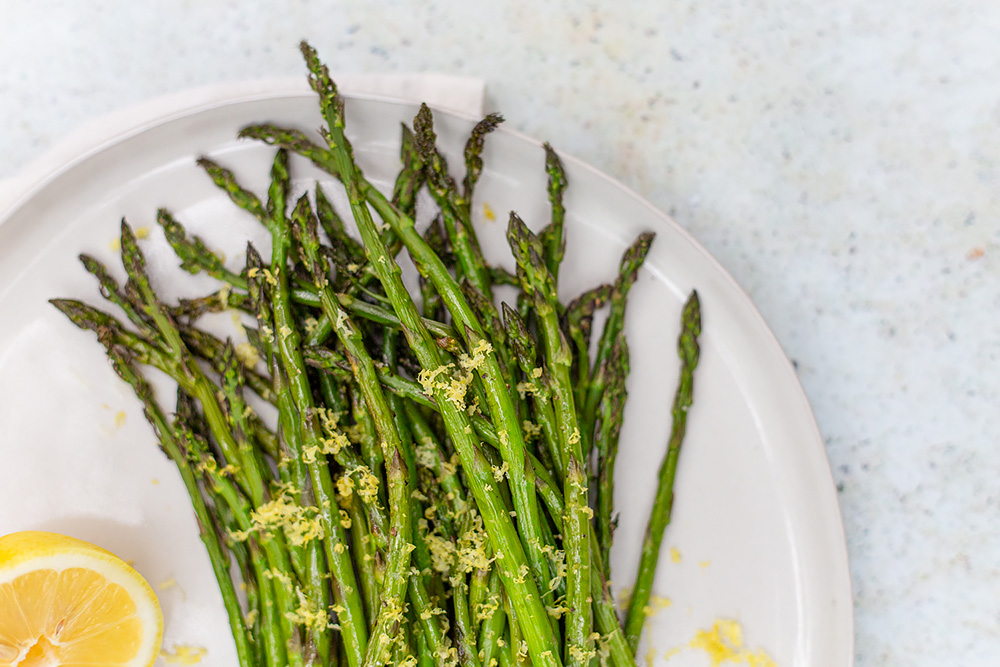 This time of year is amazing for fresh produce like asparagus. And when it's in season, that usually means it's inexpensive too! A win-win. I picked up a bunch of thin asparagus at the grocery store and roasted it on up alongside some fish the other night for dinner. It was SO good. Added a bunch of lemon zest right on the top, and served it with a couple of lemon halves. A side of roasted asparagus that is tasty and oh-so easy.

If you're using thicker asparagus, you'll need to cook it longer, maybe more like 25-30 minutes. So make sure to check often! You'll know it's done when it looks slightly charred, and is no longer stiff. Don't let the asparagus burn though! Keep an eye on those tips, because those tend to cook more quickly than the other parts.
This recipe is SO easy too. My favorite kind. We had just come back from Disney World when I made this (and if you've ever been to Disney World with a one-year old, you know that it's not really a vacation). So we were exhausted. And I needed an easy side. One that didn't require much chopping or prep. One that could just go into the oven and cook quickly. This asparagus checked those boxes.
I always know a recipe is a winner when Josh says, "I wouldn't change a thing. It's perfect." So this one is a winner. I hope you guys enjoy this roasted asparagus with lemon zest as much as we did! It will definitely be something we'll make again and again while asparagus is still in season.
Some tips:
Sometimes it's hard to know how or where to trim asparagus. Rumor has it snapping isn't the best method. Using a knife and a cutting board is the way to go. To know where to trim the asparagus, trim them where the white turns into green. That way you're keeping as much of the tender asparagus as possible while getting rid of the woody, tough ends.
This recipe serves 2-4 people. When I made it, Josh and I ate it all (so 2 servings). But if you're serving to younger kids, or you're serving with another side, it will serve 4 people instead of 2. Enjoy!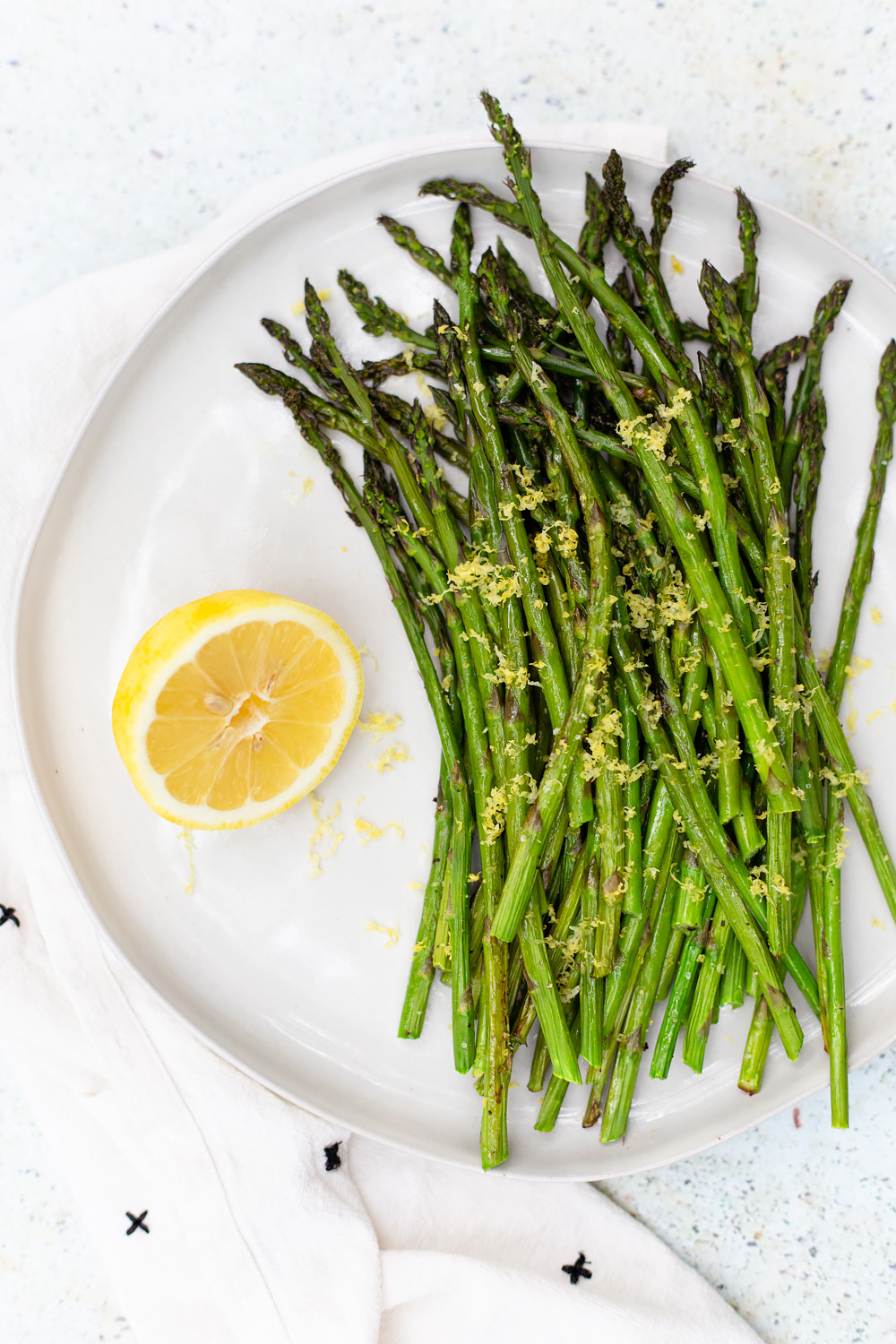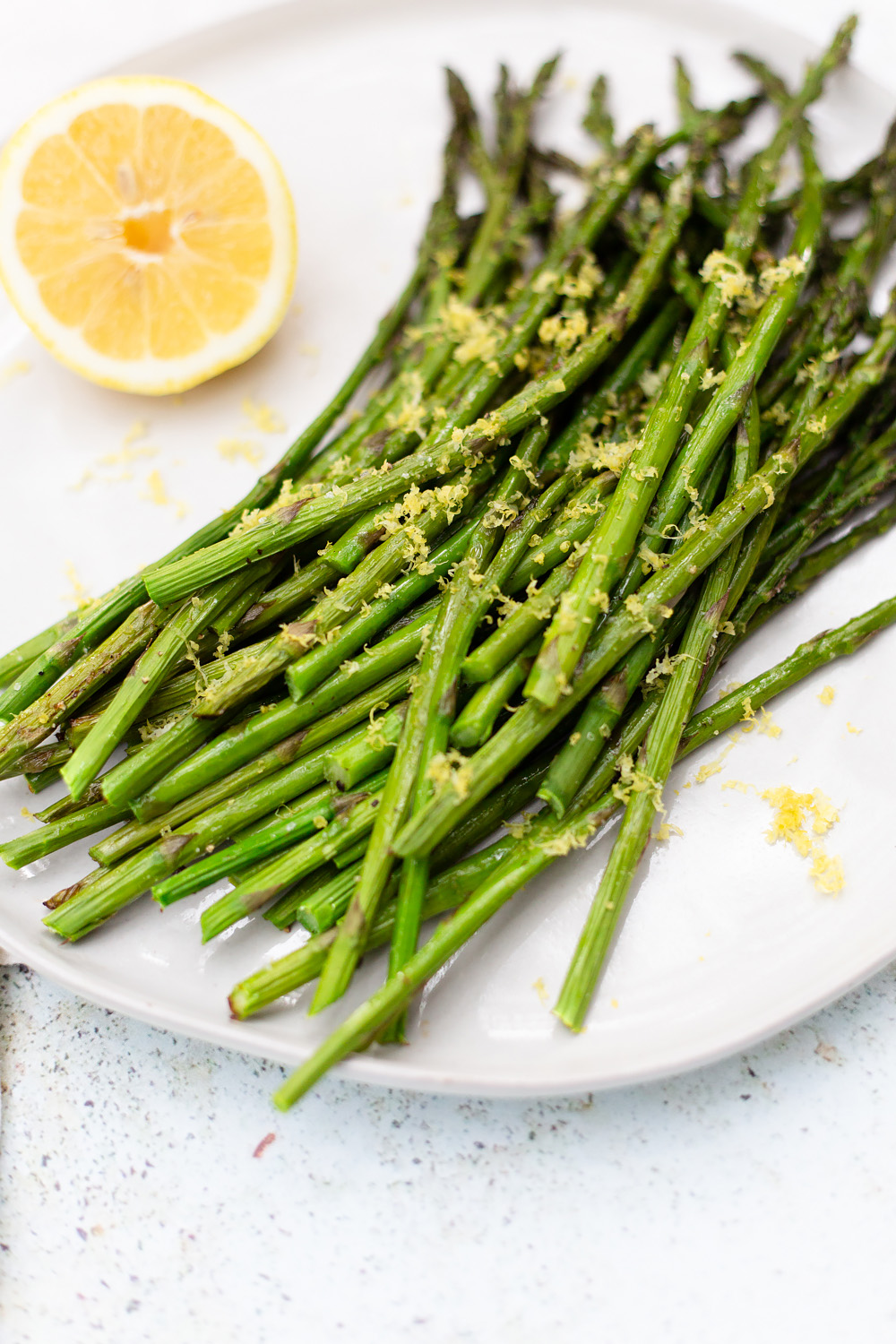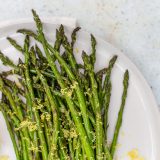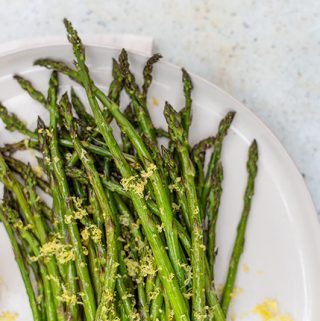 Print Recipe
Roasted Asparagus with Lemon Zest
Ingredients
1

lb

thin asparagus

2

Tbsp

olive oil

1

lemon

zest and juice

salt

pepper
Instructions
Preheat oven to 400 degrees F.

Take the asparagus, and cut off the tough ends (where the woody part ends).

Place asparagus on a baking sheet and toss with the olive oil, a sprinkle of salt and pepper.

Cook for 20 minutes, or until tender.

Once done, plate and top with lemon zest from one lemon. Serve with lemon halves for additional lemon flavor, if desired.