What is the difference between honeynut squash and butternut squash? Learn how these winter squashes are different, when and where to find honeynut squash, and the best ways to cook honeynut squash.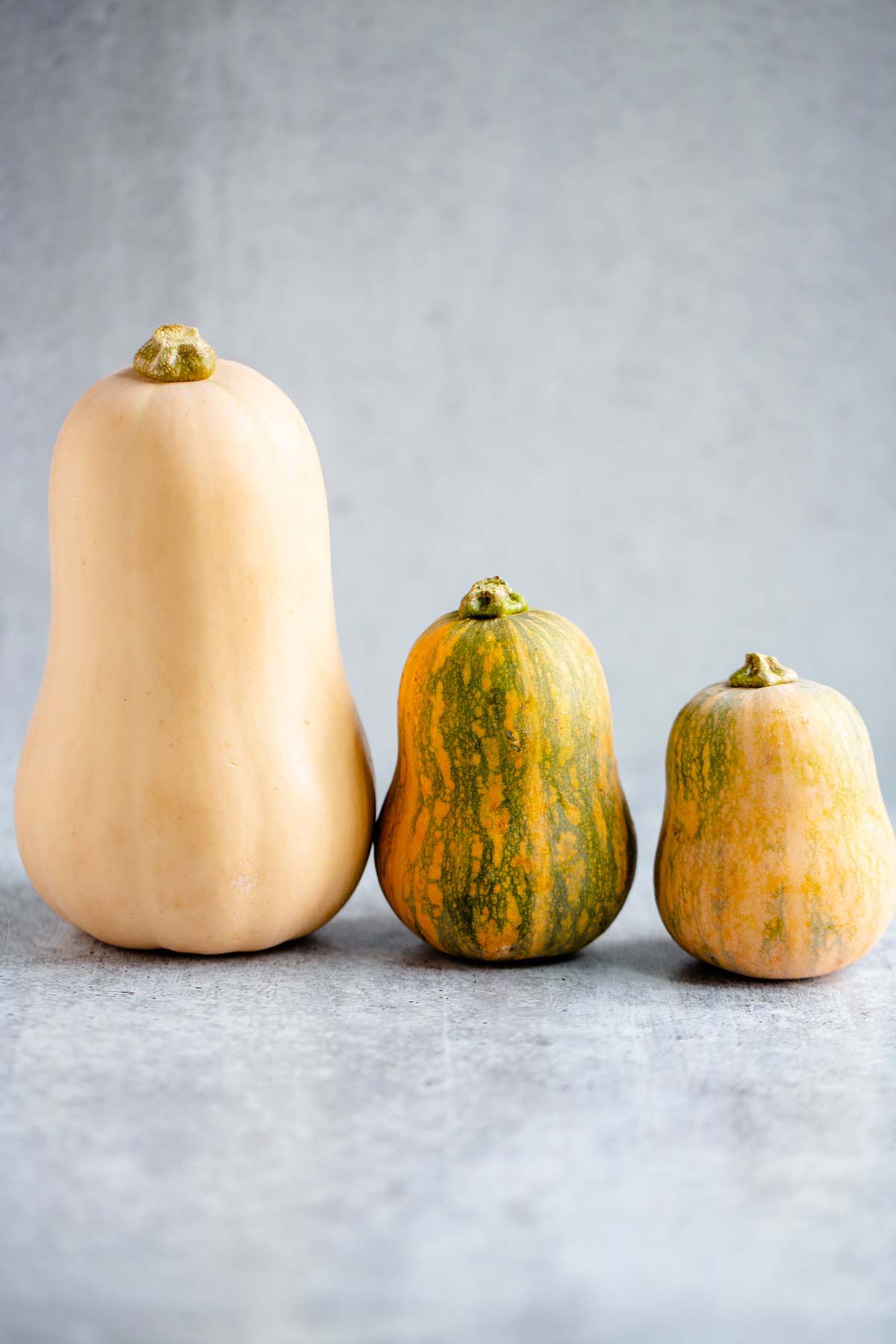 What is honeynut squash?
Honeynut squash is a type of winter squash that was formed by making a hybrid of butternut squash and buttercup squash.
It was introduced in just 2017 and was developed as a collaboration between Michael Mazourek, an associate professor in Plant Breeding and Genetics at Cornell University, and Dan Barber, a chef. (Note: They've also recently developed a new squash, called Honeypatch Squash or 898 Squash).
Their goal with honeynut squash was to make a more flavorful and smaller squash, and they succeeded! It also has a thin, edible skin and the outside is golden orange when ripe.
You can roast it, air fry honeynut squash, eat it in soups, and even roast the seeds!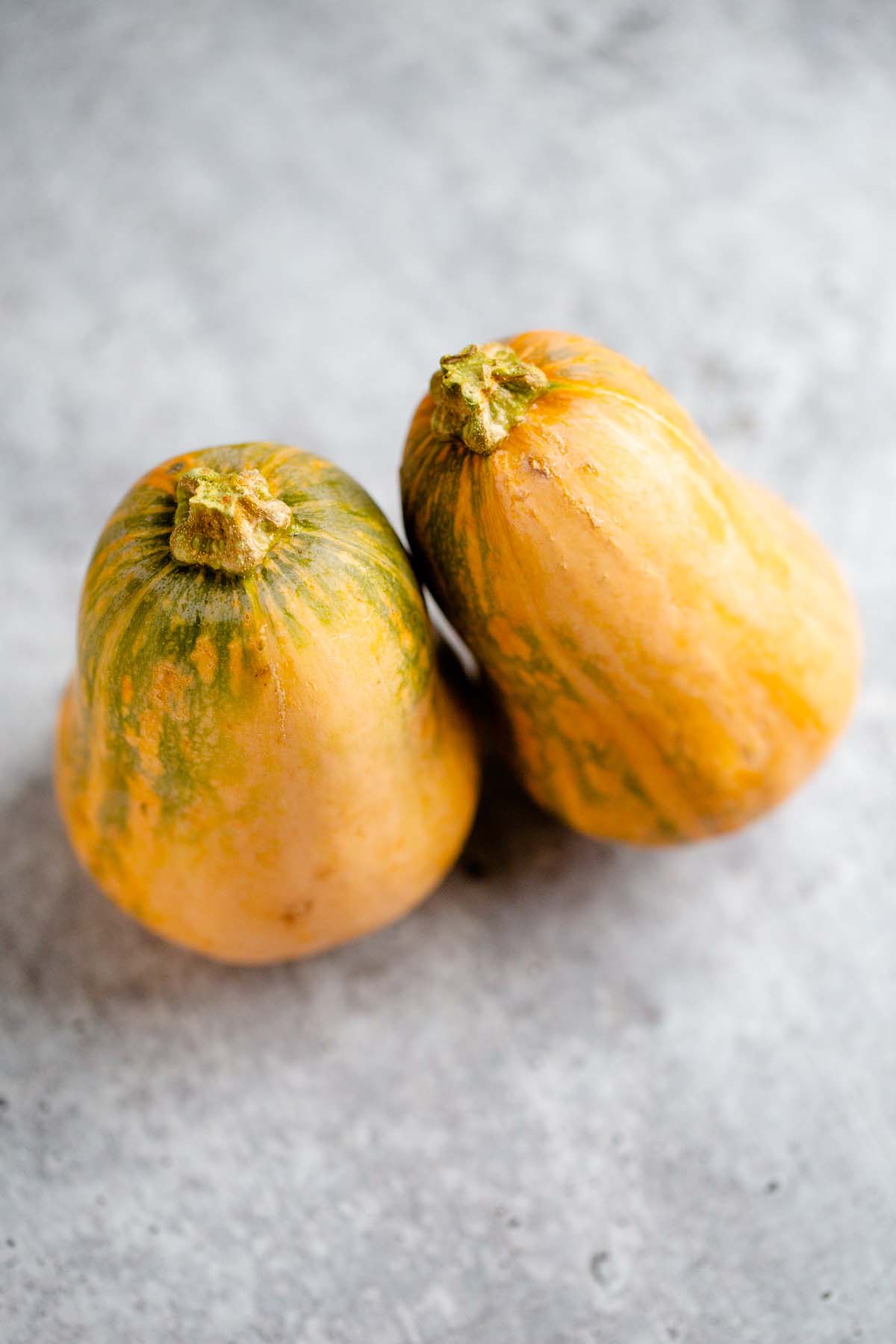 What is butternut squash?
Butternut squash is a winter squash that can be found in fall and winter months. It has a tan, tough skin and orange flesh. It is typically peeled before eating, and the seeds are scooped out and removed.
It's commonly used to make butternut squash soup, can be diced and roasted, or is many times used as a puree and served with pastas or to make lasagna.
What are the differences between honeynut and butternut squash?
Size - If you noticed in the top photo, butternut squash is much bigger than honeynut squash. Honeynut squash might grow to be 6 inches versus 8 to 12 inches big for butternut squash.
Flavor - Honeynut squash has a more concentrated flavor than butternut squash. It's a bit nuttier and sweeter.
Skin - The skin of butternut squash is a pale tan, but the skin of honeynut squash is a golden orange when ripe (but green when unripe). The skin of honeynut squash is also thinner, so it can be eaten (and it is delicious!)
What does honeynut squash taste like?
Honeynut squash has a rich flavor. It's sweet, nutty, and even has a slight malty flavor. It's delicious and like a more concentrated version of butternut squash.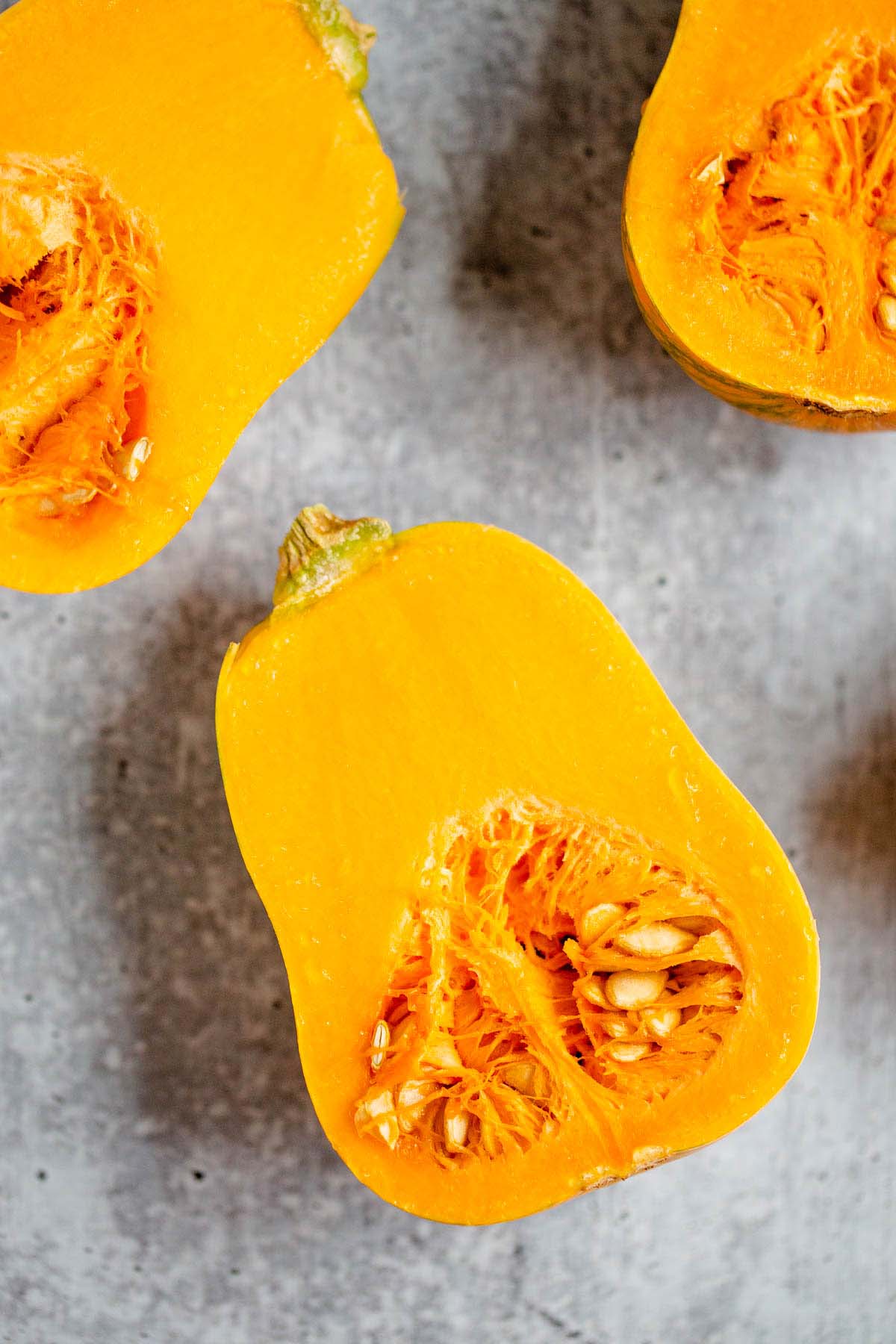 How do you know when honeynut squash is ripe?
When unripe, the peel of the honeynut squash is a green color. As it ripens, it changes to a golden orange color and loses the green streaks.
If you purchase them in the store, you might find them still unripe. Wait until they ripen before using.
If the skin starts to get wrinkly, they are past their prime and should be thrown away.
Where can you find honeynut squash?
Honeynut squash is popping up in more and more grocery stores!
They can be found at Sprouts, Trader Joe's, Whole Foods, and others. You can also try seeing if your local farmer's markets have them.
When is honeynut squash in season?
Honeynut squash is typically harvested late September through early October. You can find honeynut squash throughout the fall season up through Christmas.
When choosing one at the store, choose ones that have the least amount of green (especially if you want to cook with them right away!)
How do you cook honeynut squash?
Honeynut squash can be cooked in so many ways!
To prepare, you usually slice in half and then scoop out the seeds and then cook as desired. It has a thin skin that is edible, so you can leave the skin on and eat it.
You can roast honeynut squash in the oven with some simple olive oil and seasonings, or lean into the sweetness with some maple syrup or brown sugar and cinnamon.
I also love sticking honeynut squash in my air fryer to make easy air fryer honeynut squash.
You can also use the honeynut squash to make a soup or stuff the honeynut squash for a delicious side dish.
Want to roast up the seeds from honeynut squash? They are delicious. Roasted Honeynut Squash Seeds.