Cleaning grease and stuck on food from an air fryer basket can seem daunting and challenging at first. Luckily, it's actually pretty easy to remove any grease from an air fryer basket with soap and water. We've broken it down step by step for you.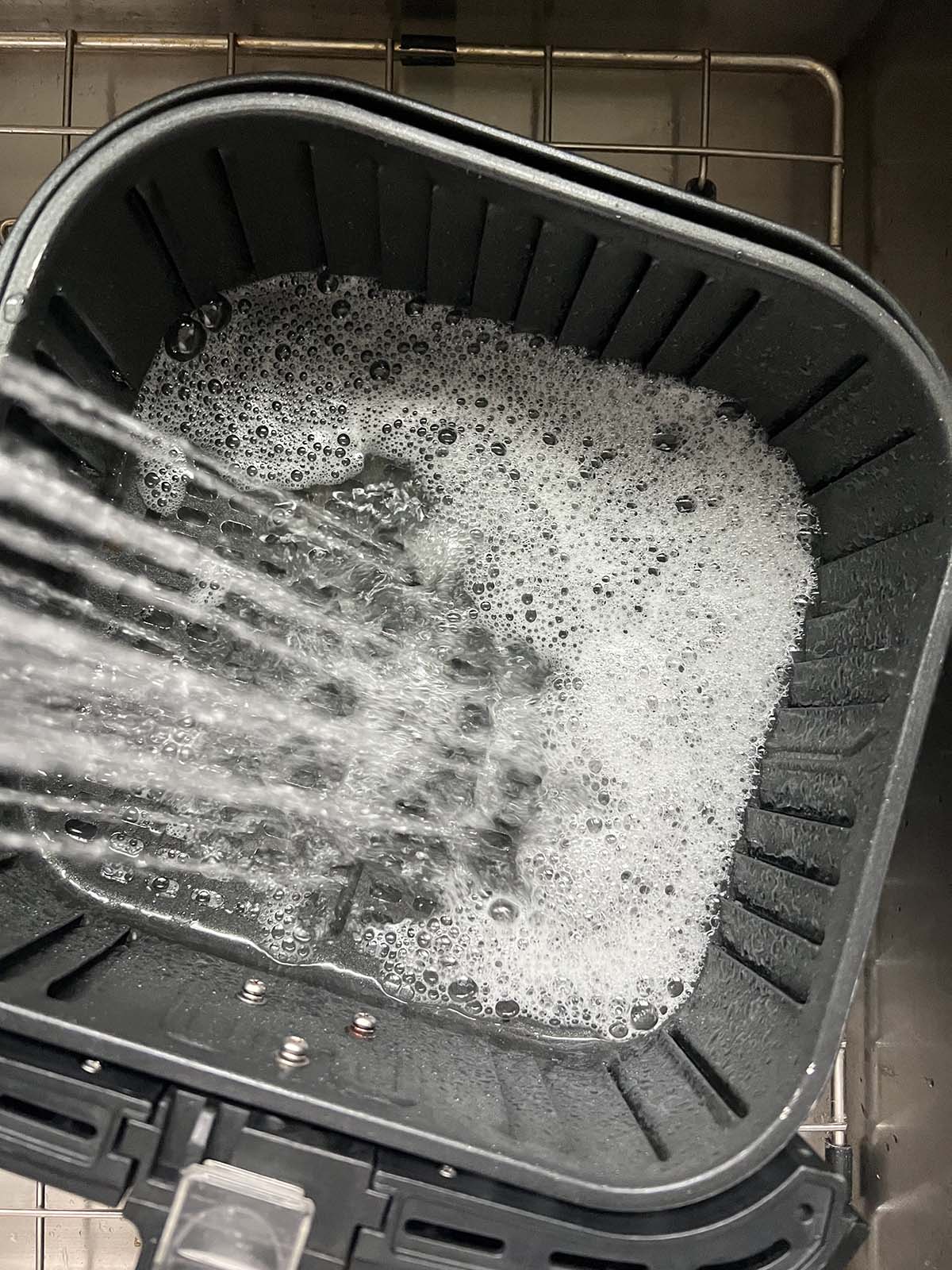 If you have an air fryer, you've probably been in the situation where you have a lot of food stuck to the basket. This happens to me when I make air fryer cinnamon apples, or any sort of air fried chicken thighs.
And you think to yourself... should I put this in the dishwasher? Will this ever come off? Will I have to throw this away?
Good news, air fryer baskets are actually pretty easy to clean. And there is one specific way that doesn't damage the coating and is pretty easy.
The best way to clean an air fryer
Use warm, soapy water. One of the easiest and safest ways to clean an air fryer basket is to simply soak it in warm, soapy water for 10-15 minutes (or longer, if needed).
Yup! Just cleaning an air fryer with soap and water is pretty simple.
This will help loosen any grease and make it easier to clean. You can then use a sponge or brush to scrub away any remaining grease.
If you have a basket air fryer, this is so easy to do. Simply leave the top and bottom parts of the basket connected. This allows you to let the basket "soak" in the soap.
Add dishwashing soap to the air fryer basket, then add hot water covering any of the surfaces that you need to clean.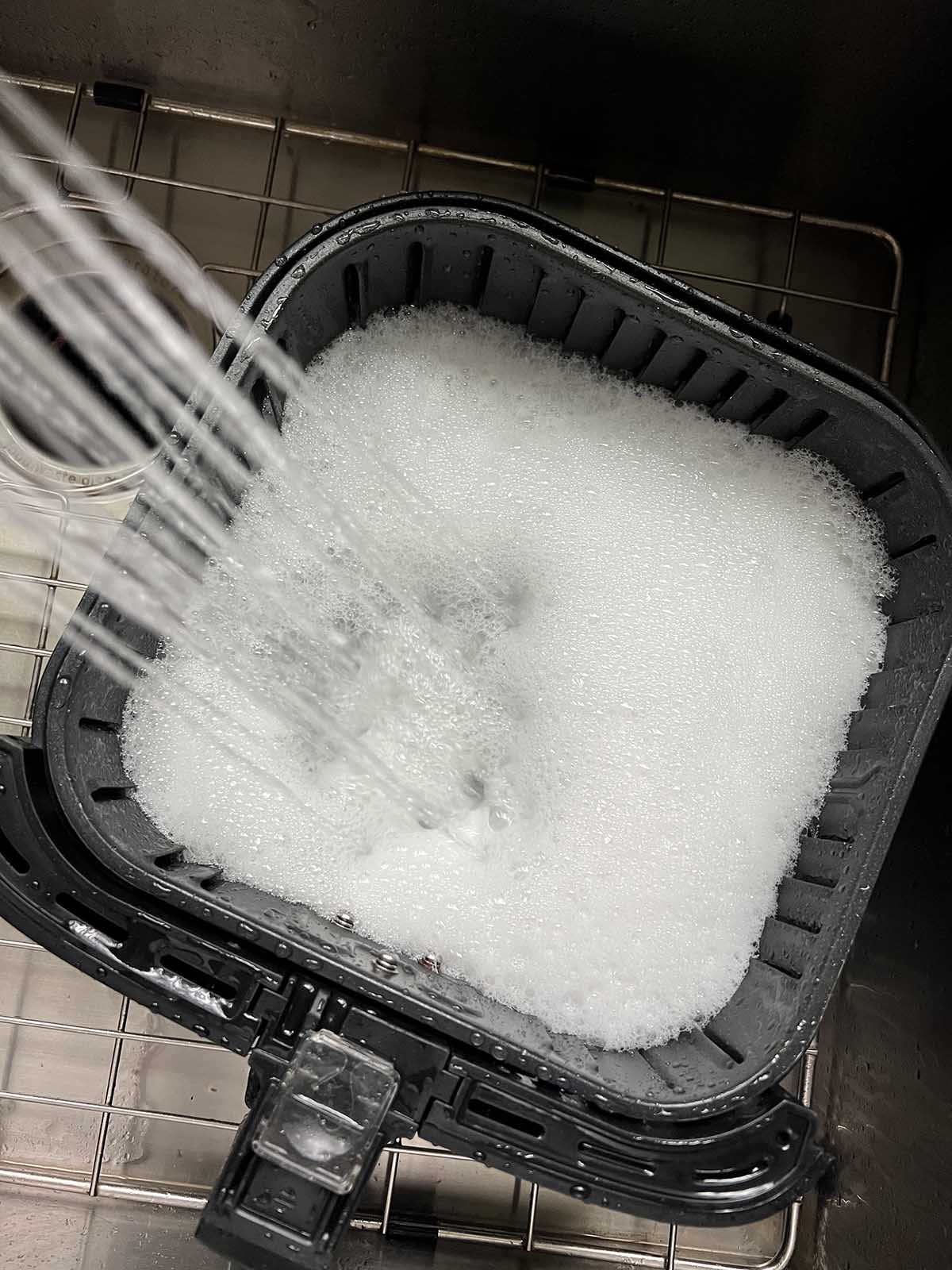 Let soak for awhile. For some foods 5 or 10 minutes may be fine, but sometimes soaking for an hour is best.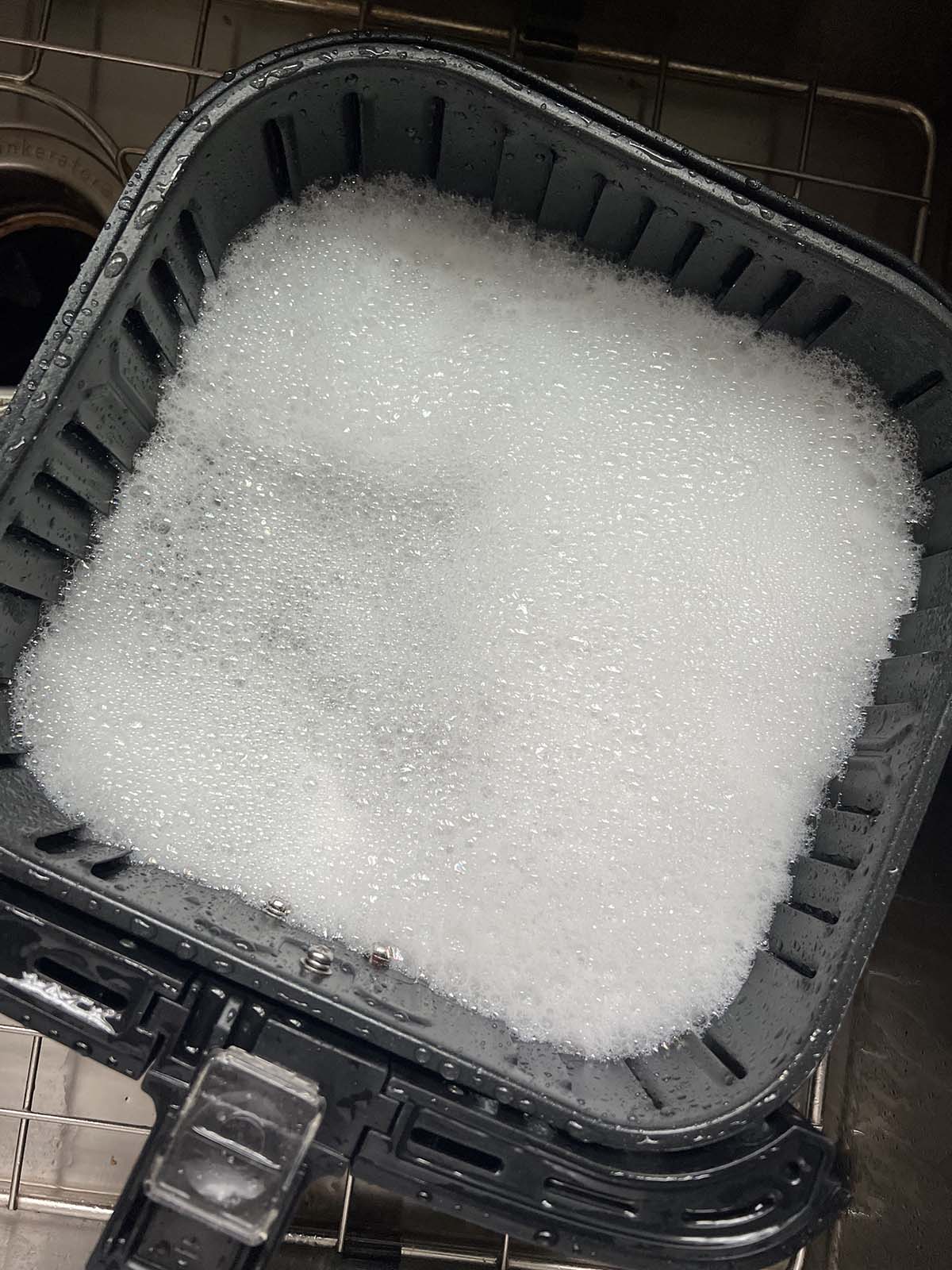 Unattach the top part of the basket from the bottom part. Dump out the dirty water from the bottom part.
Use a brush to scrub both parts of the basket.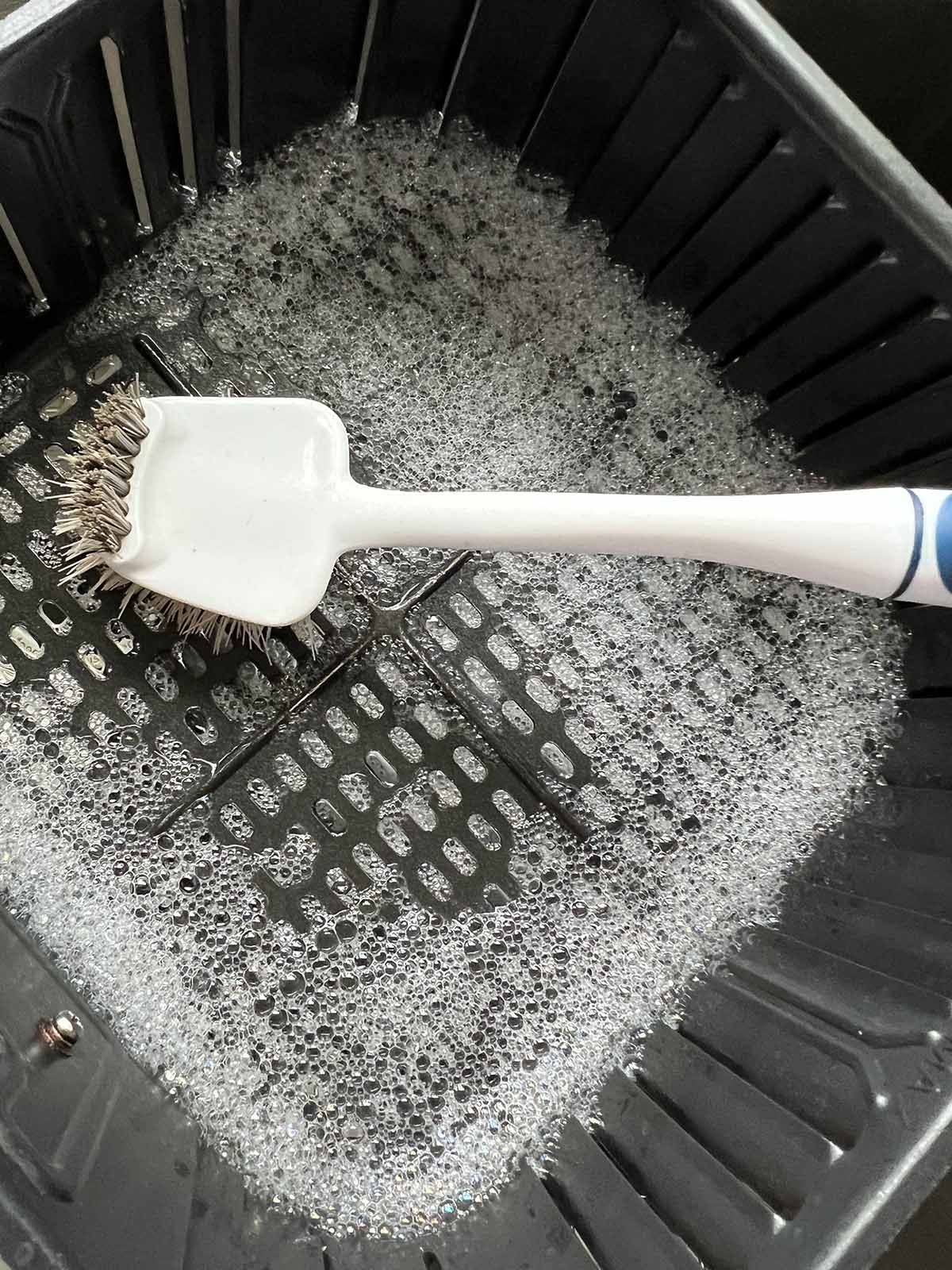 If this removes all the food and grease, great! Simply rinse and dry completely.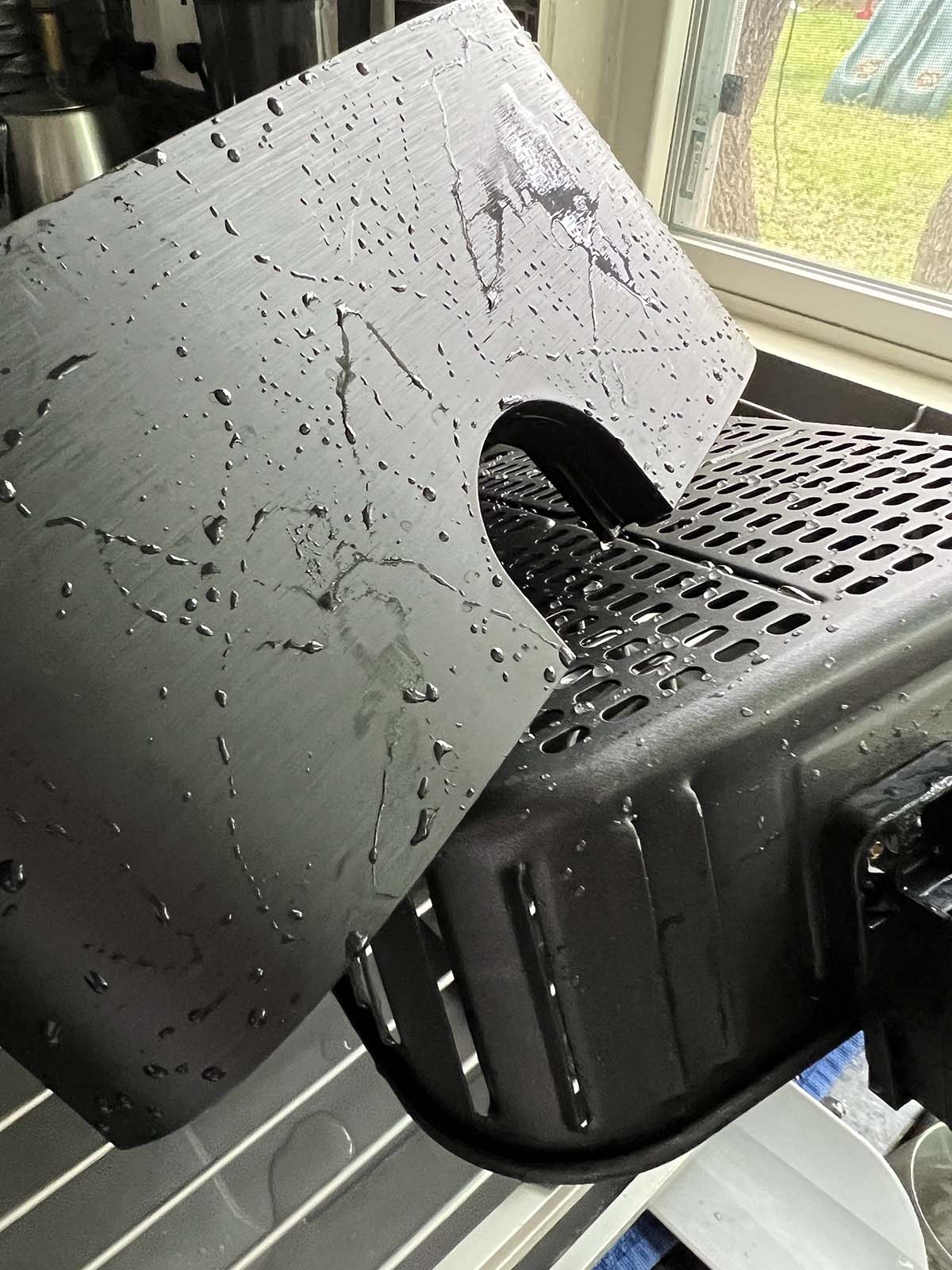 If there is still food stuck to the air fryer basket, repeat the process once more. In most cases, this should take care of any final food stuck to the air fryer basket.
Make sure to rinse the basket thoroughly with water and dry it completely before using it again. Also, avoid using abrasive sponges or harsh chemicals that can damage the air fryer basket.
Also, while some air fryer baskets say you can put them in the dishwasher, we don't recommend it as it can damage the coating over time.
More air fryer tips