Ever wonder if you can freeze onions? Yes, you can! Learn how to freeze onions and tips and tricks for doing it properly! Reduce food waste and save money by using up all your onions and freezing them.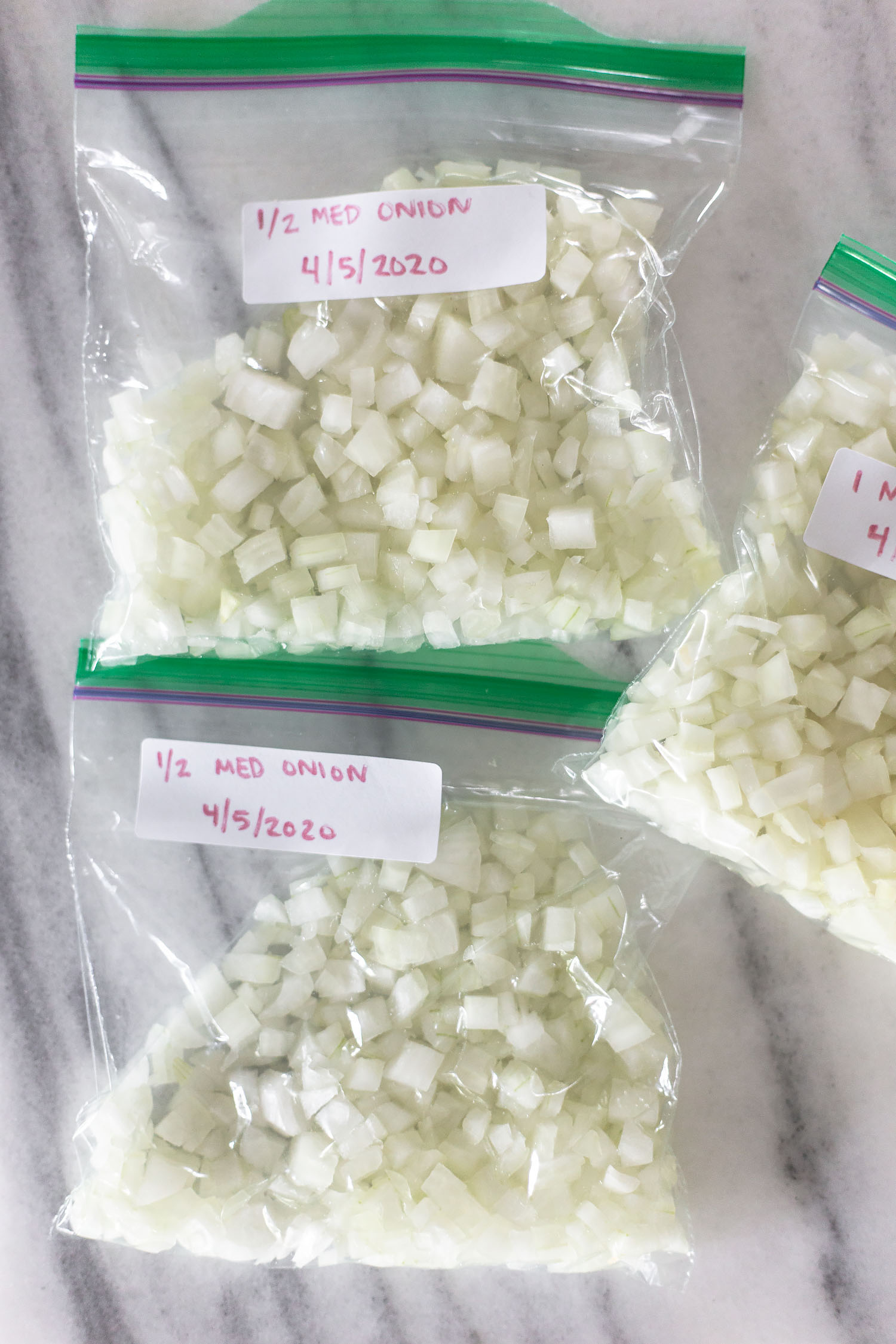 I recently found myself with an oversupply of onions. I did a grocery pickup, but I couldn't order individual onions. I could only order a bag. And even though we use a decent amount of onions in our house, I knew I probably wouldn't use them all before they started to go bad.
So, of course I decided to freeze them so I could use them later! And that way I didn't have the dreaded food waste.
Freezing onions is actually SUPER easy. And pretty intuitive. But read on for some tips and tricks!

Steps to freeze onions:
Take onion and place on cutting board. Remove the skin and chop into pieces.
Place onion in a bag (ideally freezer-safe!)
Label bag so you know how much onion is in there.
Place in freezer.
How to cut onions for freezing:
How should you cut your onions for freezing? Cut them how you plan to use them! While you don't want to freeze an onion whole, you can cut your onion into a small dice, medium dice, strips, etc. How do you commonly use onions? Keep that in mind when you decide how to freeze them! I primarily use diced onions, so I diced my onions for freezing.
Pro tip on freezing onions:
Freeze in different quantities, and write the quantity on the bag! For example, I froze both a whole diced onion, and froze into bags that just had half of a diced onion in there. That way when I just needed part of an onion, I could pull out one of the smaller bags.
Also, I highly suggest freezing onions in freezer-safe bags. Take it from me, onions can be pungent! So putting in freezer-safe bags not only helps cut down on any freezer burn, but also the smell!
How to use frozen onions:
You can use onions fresh out of the freezer! You can always thaw in the fridge if you want, but they are fine to use right out of the freezer too. Just note if you're throwing into oil (like I do a lot), frozen onions may splatter a touch more than freshly cut.
How long do onions last in the freezer:
Chopped onions can last in the freezer for eight months! Of course, they probably won't last that long before you need to use them. Definitely write the date on the onions so you know when you put them in.
Recipes we love that use diced onions: