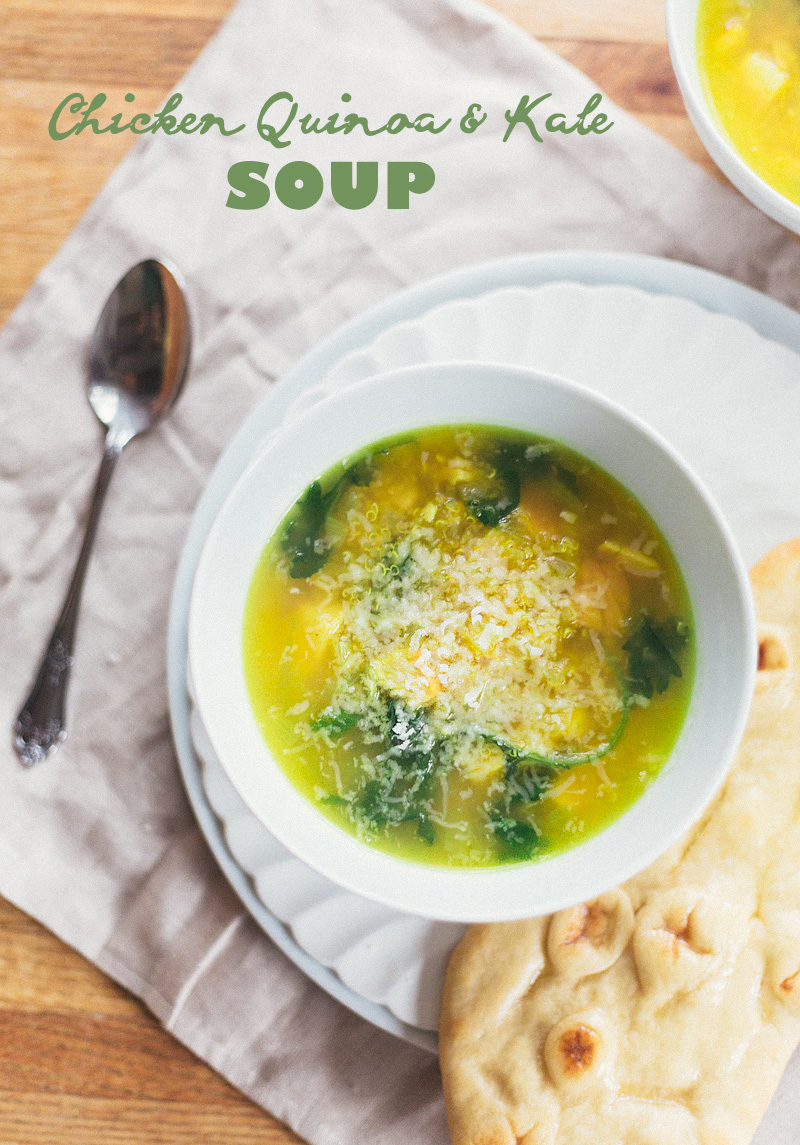 It's that wintery time of year... kind of. After some pretty cold days a few months ago, we've had a really mild winter here in Austin. But then, the last few days have been cooler again! Which makes me think of this soup I made on one of those colder days. It's a perfect winter soup, warming you up instantly. I also like it paired with some warm bread, like this buttery naan. Yum!

This recipes uses baby kale, and I know there are probably some kale haters out there, but in this soup you barely notice it, but it adds that healthy veggie element. Also, as with most food I love, some freshly grated parmesan adds that additional flavor punch. So if you haven't been convinced yet, go buy yourself a wedge and grate it right over the top of your soup bowl!
If you live in a place experiencing cold weather, go make this soup and warm up! If you live in Austin like I do... well, just make this soup and turn on your air conditioner.
Print Recipe
Chicken Quinoa & Kale Soup
Ingredients
1

cooked chicken breast

1

cup

cooked quinoa

1/2

white or yellow onion

2

cloves

garlic

1

tbsp

olive oil

1

tbsp

dry sherry or white wine

4

cups

chicken stock

1/2

tsp

turmeric

1/2

tsp

black pepper

1/2

tsp

salt

1

bay leaf

2

tsp

coconut oil

2

cups

baby kale

1

lemon

freshly grated parmesan
Instructions
Cook chicken and quinoa if needed

Peel and dice onion

Peel and mince garlic

Heat olive oil in large pot

Add onions and garlic and sauté over medium heat until onions are translucent

Add sherry and cook until absorbed (30 seconds - 1 minute)

Add chicken stock, black pepper, salt, turmeric, and bay leaf

Bring to a boil, then reduce heat to medium-low

Cover and simmer 30 minutes

In a skillet, heat coconut oil

Cut up the chicken breast and sauté in the coconut oil until slightly browned (if using pre-seasoned chicken breast, this step can be skipped)

Add the kale, chicken, and pre-cooked quinoa to the soup

Stir and let the kale wilt

Season the soup with salt and pepper to taste

Squeeze in the juice of one lemon

Ladle into bowls and grate parmesan over the top of the soup

Serve on own or with bread