This Instant Pot Potato Leek Soup is an easy weeknight dinner. This pressure cooker soup is creamy, hearty, and delicious. It's perfect for when you want a comforting soup that will warm you up!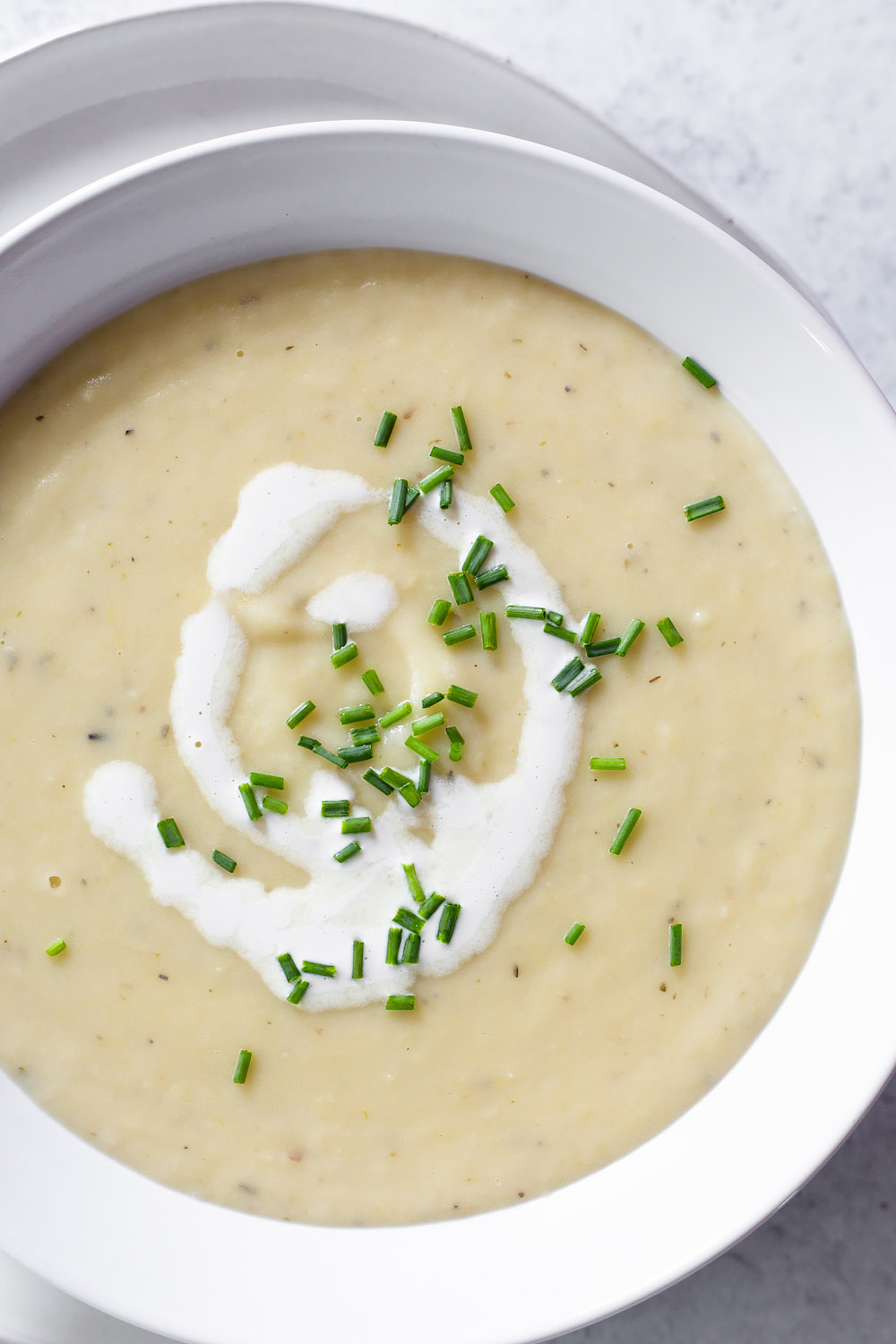 This post contains some affiliate links, which means that I make a small commission off items you purchase at no additional cost to you.
I was trying to think of soups to make in my Instant Pot now that it's cooler, and the first one that came to mind was a potato leek soup. So I did some research, made sure I could find leeks at the store, and voila! Here it is. An Instant Pot potato and leek soup that is creamy and delicious.
When I think of potato leek soup, one of my big memories is sitting in a museum cafe on a cold Seattle day. Josh and I had just explored the museum exhibits and wanted something warming to eat before we headed home. So we split a bowl of potato and leek soup. It was delicious, and I think the first time I had ever had tried the soup. Since then, I've had potato and leek soup too many times to count. I've even done potato, cauliflower, and leek soup. But for this recipe, I just decided to stick with the classic and leave the cauliflower out.
The flavor of the leeks can be mild, but delicious. And they are perfect blended up with the potatoes. It allows for a flavorful, warming soup.
This recipe is for the Instant Pot, but if you don't have one, you can just simmer for a lot longer on the stove, giving the leeks and potatoes a chance to soften before blending it up. The Instant Pot DEFINITELY speeds up the process, and I recommend using it if you have one!
Ingredients for the soup:
Russet potatoes
Leeks
Onion
Butter
Garlic cloves
Chicken stock (or vegetable stock if making vegetarian)
Heavy cream
Herbs (herbs de provence and dried thyme leaves)
Salt and pepper
Chives (for garnish)
Tools needed:
What are leeks?
If you haven't had leeks before, leeks are in the onion family. They are long and green, and when you cut them up, you can see all the different layers. You typically leave the dark green parts behind, and just use the light green and white parts. Dirt can get caught in the layers, so you always cut the leeks up and then swish them around in a bowl of water, making sure any dirt has a chance to get free and escape.
How to cut leeks:
Leeks tend to have some dirt inside. So you want to make sure to cut them and get them all cleaned out. You can do this in two ways. You can cut the leeks into rounds, and then put them in a bowl of water and try to push them all around and separate the rings so you get any dirt cleaned out. Then drain them, rinse them, and use them!
You can also slice them lengthwise, and then cut them into smaller pieces. This helps the rings separate (since they aren't rings any longer, just half circles). You still put them in water, swish them around so any dirt comes out, drain then rinse.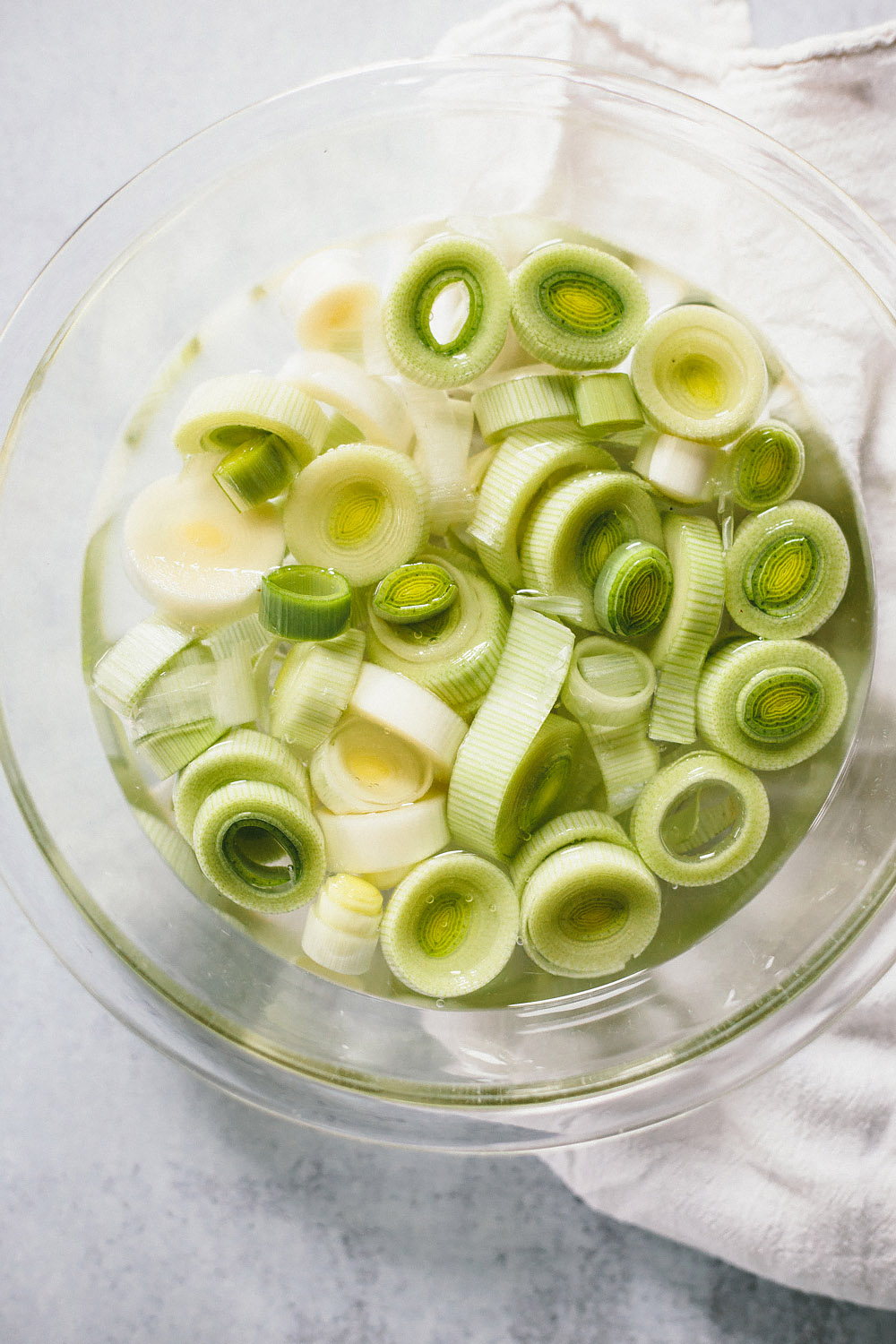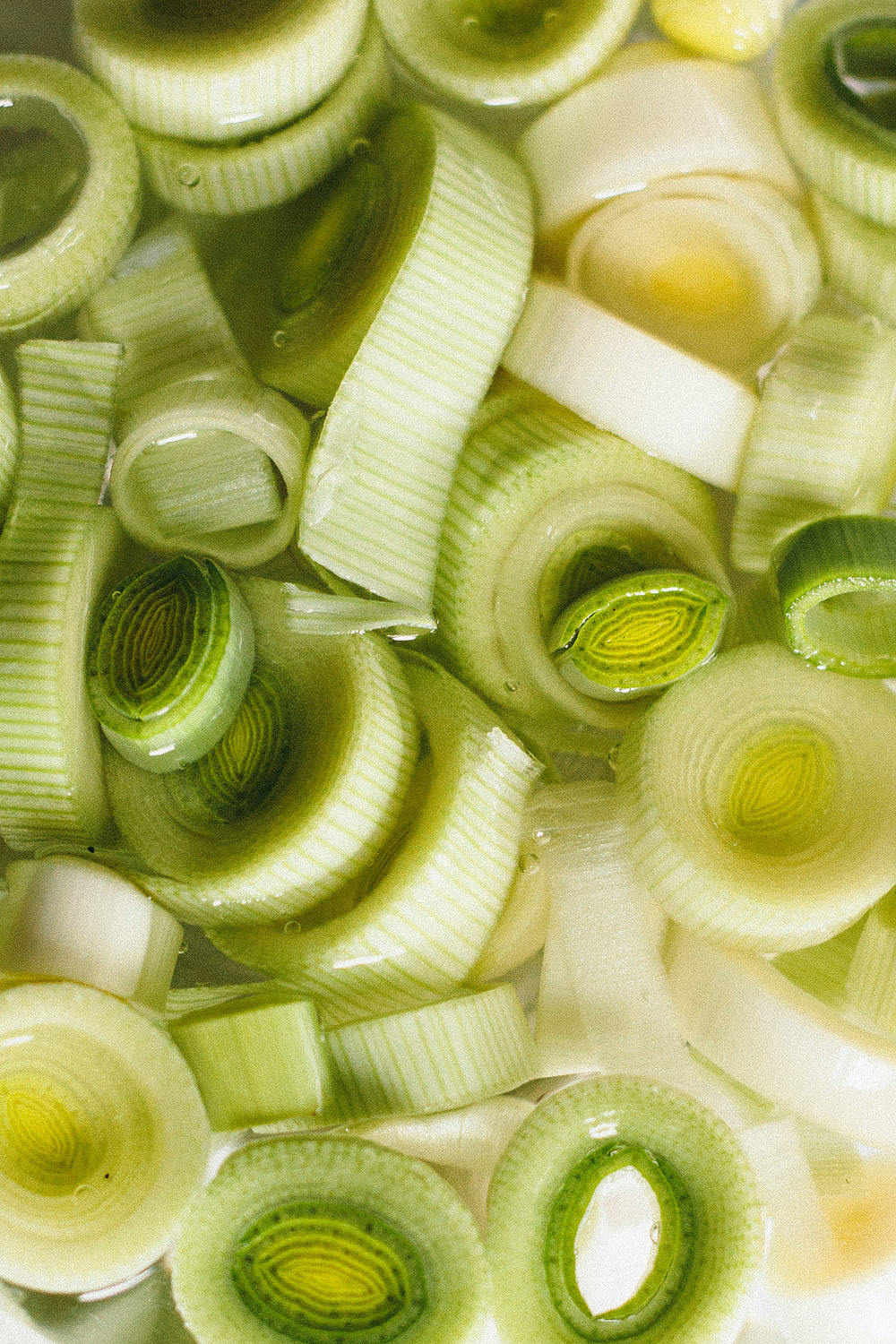 How to make the potato and leek soup:
First step, prep your ingredients. Cut up your potatoes (put them in cold water once they are cut) and dice your onions into chunks. Mince your garlic.  And prepare the leeks! Cut them up and soak them to remove the dirt and then drain them.
Then turn your Instant Pot onto saute mode. Add the butter, let it melt, then add the leeks and onions and saute for 5-7 minutes.
Then add the garlic, herbs de provence, and dried thyme leaves and saute for 1 minute.
Press the cancel button on the Instant Pot. Then drain the potatoes from the cold water and add the potatoes to the Instant Pot. Also add the chicken (or vegetable stock), salt, and pepper.
Put on the lid and make sure the valve is set to the sealing position. Set for 6 minutes. Once the Instant Pot has cooked and the 6 minutes are up, quick release the pressure by turning the valve to release the steam. (Remember that the Instant Pot may take 10-15 minutes to come to pressure before it starts counting down the time).
Once steam is released, remove the lid and add the heavy cream. Either put into an blender (we have this one and LOVE it), or blend with an immersion blender (I have this one and love it) until smooth.
I like to top the soup with a swirl of cream and some chives, but you can always use green onions, croutons, or even bacon to garnish the soup with.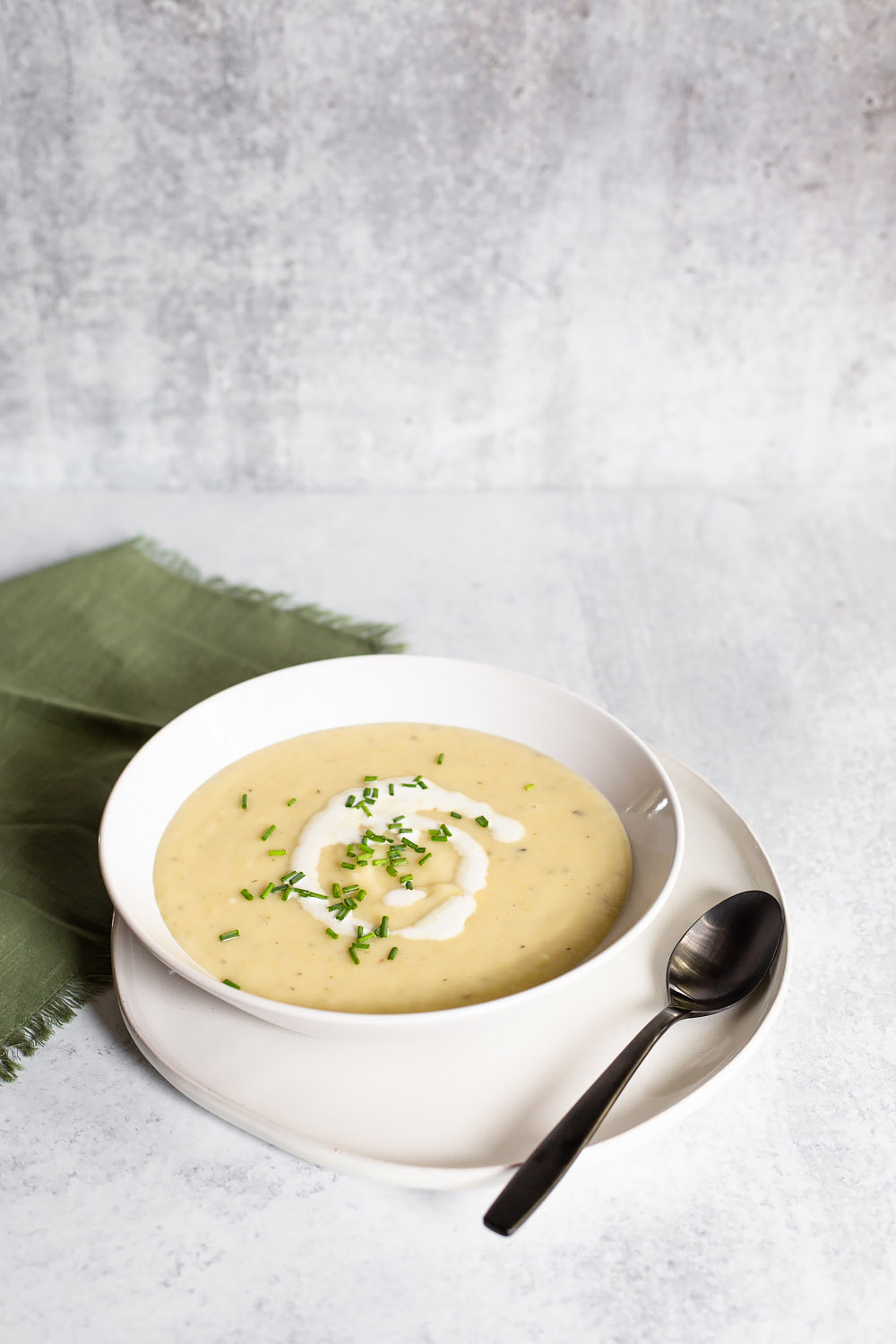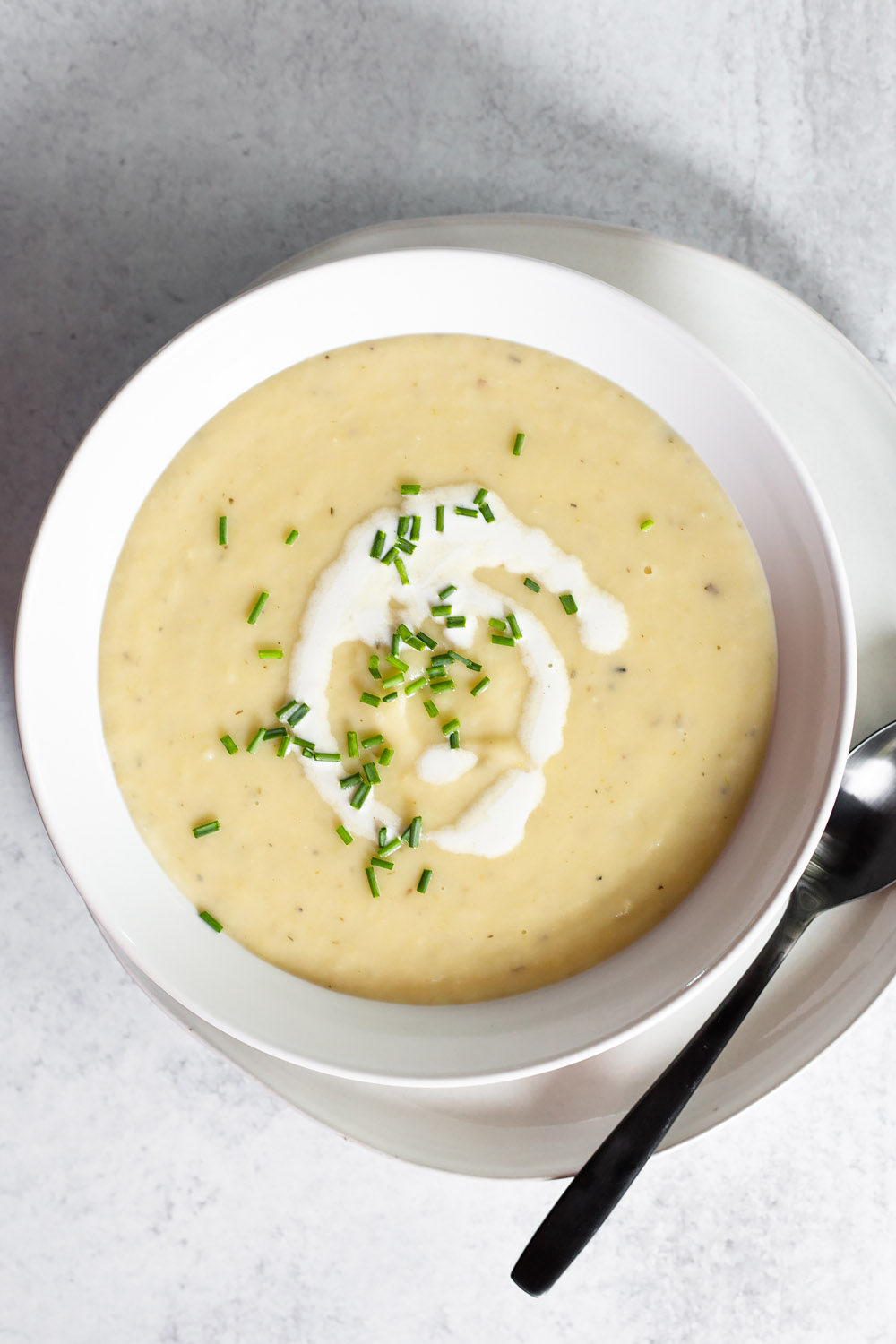 Looking for more Instant Pot recipes? Check these out:
Here's more of our favorite soup recipes:
This recipe is adapted from the Vegan Instant Pot Potato Leek Soup on Vegan Huggs.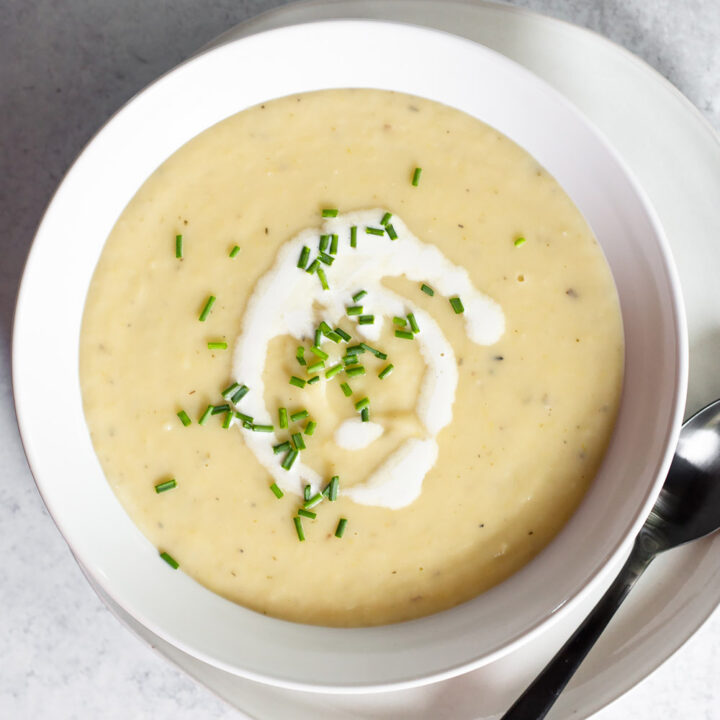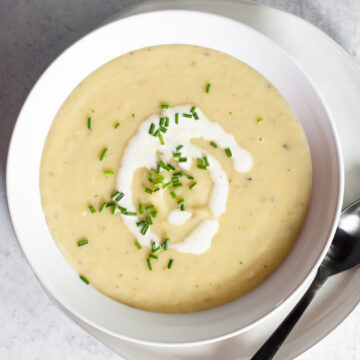 Instant Pot Potato Leek Soup
This potato and leek soup comes together so quickly in the Instant Pot! Perfect for any night of the week.
Equipment
Pressure Cooker or Instant Pot

Immersion blender or regular blender
Ingredients
2

tablespoon

butter

½

yellow or white onion

medium

3

leeks

medium to large

3

cloves

garlic

minced

1

teaspoon

herbs de Provence

dried

½

teaspoon

dried thyme leaves

2

lbs

russet potatoes

peeled and chopped

4

cups

chicken or vegetable stock

1

teaspoon

salt

¼

teaspoon

ground pepper

1

cup

heavy cream

chives

for garnish
Instructions
First, prep the ingredients. Cut the onion into chunks. Peel and cut the potatoes into chunks and put in a large bowl of cold water. Mince the garlic.

For the leeks, use only the white and light green parts. Discard the dark green part of the leek. Cut the leek into rings and then put into a bowl of water. Push the leek rings apart so any dirt that is caught in there can be removed. Then drain the water out and rinse the leeks one more time to make sure all dirt is removed.

Turn the Instant Pot onto SAUTE mode. Add the butter and let melt. Then add the onion and leeks and saute for 5-7 minutes, until leeks and onion are softened.

Add the garlic, herbs de Provence seasoning, and dried thyme leaves to the pot. Stir and saute for another minute.

Press the CANCEL button. Drain the potatoes and add them to the Instant Pot. Add the broth, salt, and pepper.

Close the lid and make sure valve is in the SEALING position. Push the Pressure Cooker (Manual Setting) button to high pressure and set the time to 6 minutes by using the + or - button.

Once Instant Pot is done, QUICK RELEASE the sealing valve. Let all the steam come out, and once the steam is completely done being released, you can open the lid. There will still be a bit of steam inside, so open the lid carefully.

Add the heavy cream and either use an Immersion Blender to blend the soup or blend in batches in a regular blender.

Serve in bowls and top with additional cream and chives if desired.
Notes
After peeling and dicing the potatoes, I put them in a bowl of cold water so that they don't oxidize and turn brown while I'm prepping and cooking the other ingredients.
If you don't have herbs de provence seasoning, you can instead use more dried thyme leaves and dried rosemary leaves.
If your leeks have a lot of dirt, I'd recommend slicing them lengthwise before cutting them into rings. That will help them come apart even more easily in the water and help any hidden dirt come out.
Nutrition values are based on an online calculator and are estimates. Please verify using your own data.
Tried this recipe?
Tag @foodbanjo on Instagram and share your photos!