Roasted acorn squash is an easy and healthy side dish that is Whole30-friendly. It's also delicious in salads and grain bowls!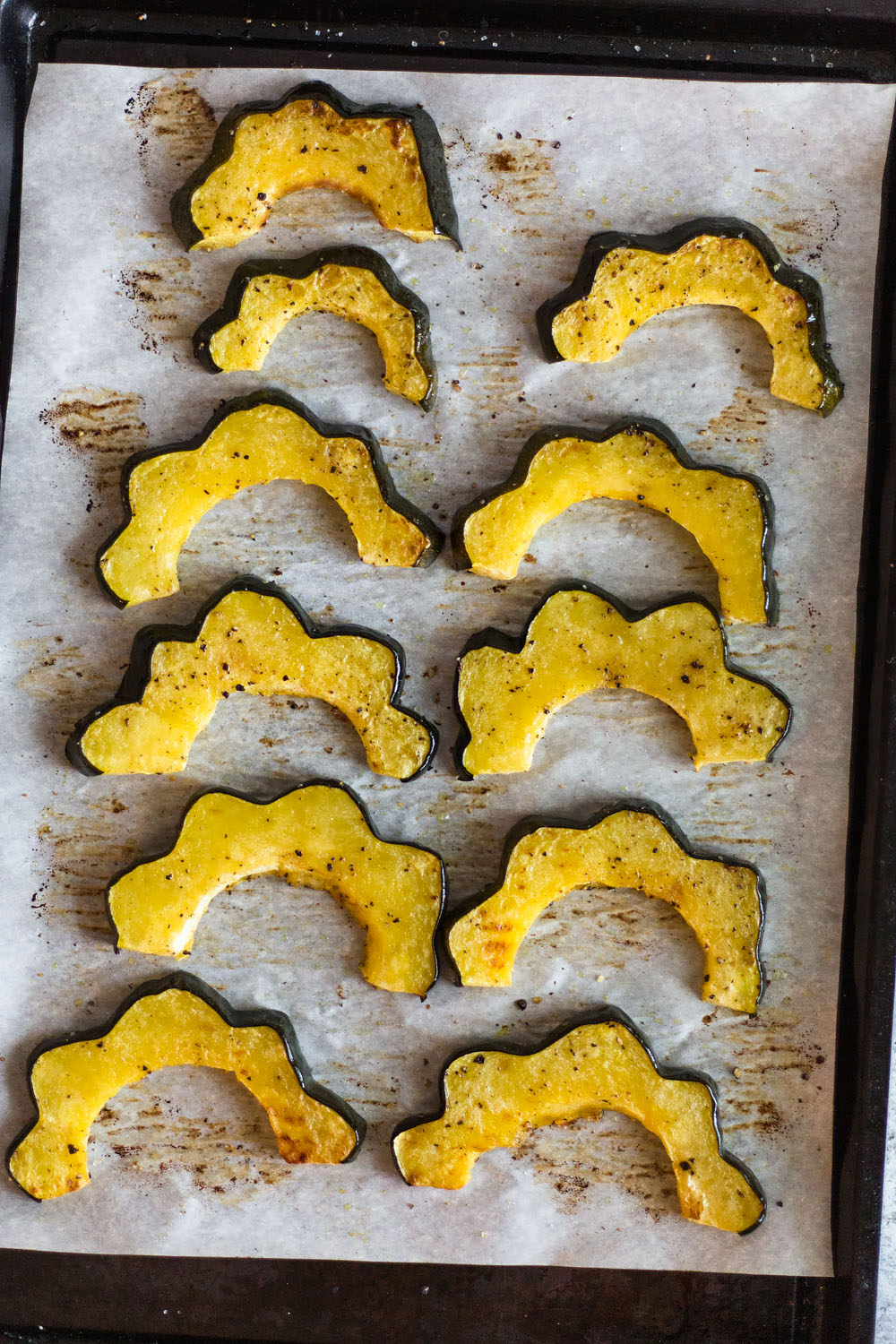 I recently discovered the beauty of acorn squash. It's a great fall and winter squash. It's so easy to roast and it tastes delicious! I've seen a ton of recipes online that roast it with maple syrup or other sweets, but I wanted to let its natural sweetness come out in roasting and keep it simple. So I made roasted acorn squash with olive oil, salt and pepper and it came out perfectly!

The beauty of acorn squash is that you don't have to peel it like you do butternut squash. And it's much easier to cut! I also love how pretty it looks all cut up with its scalloped edges. It looks impressive and fancy. You'd never know how easy it is to cut and make.
I love eating it on its own as a side dish, but you can also have it for a snack, or as part of a salad or grain bowl.
Ingredients:
Acorn squash - the key ingredient! In my grocery store, these are right next to the butternut squashes. They are roundish and a dark green.
Olive oil - I use regular olive oil when I roast veggies like this (save your extra virgin olive oil for things like salad dressings).
Salt and pepper - Simple seasonings like salt and pepper allow the acorn squash to shine.
How to make the Roasted Acorn Squash:
To make the acorn squash, you'll preheat your oven and then while it's preheating you'll slice up your acorn squash! I like to wash the outside. Then cut in half and scoop out the seeds. You can use a spoon, but my secret weapon is an ice cream scoop. After that, you just slice into one inch thick slices.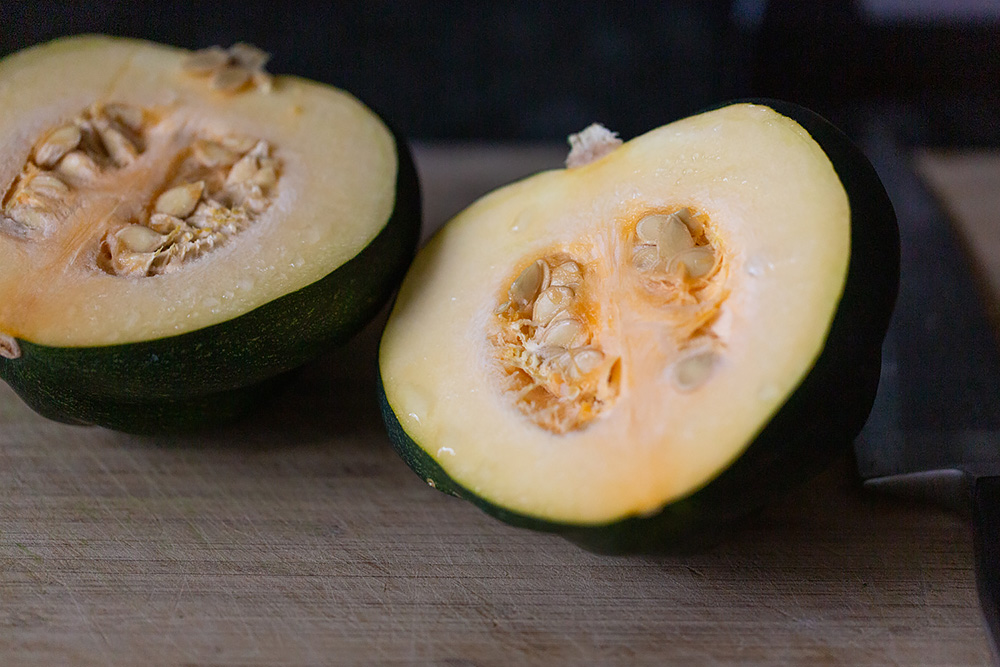 To prep your baking sheet, you can roast right on the sheet, use parchment paper, or a silpat mat (I recently got one of these and LOVE it).
You'll place the acorn squash pieces on the baking sheet, then rub olive oil onto each piece, sprinkle salt and pepper over the top, then flip them over and do it again.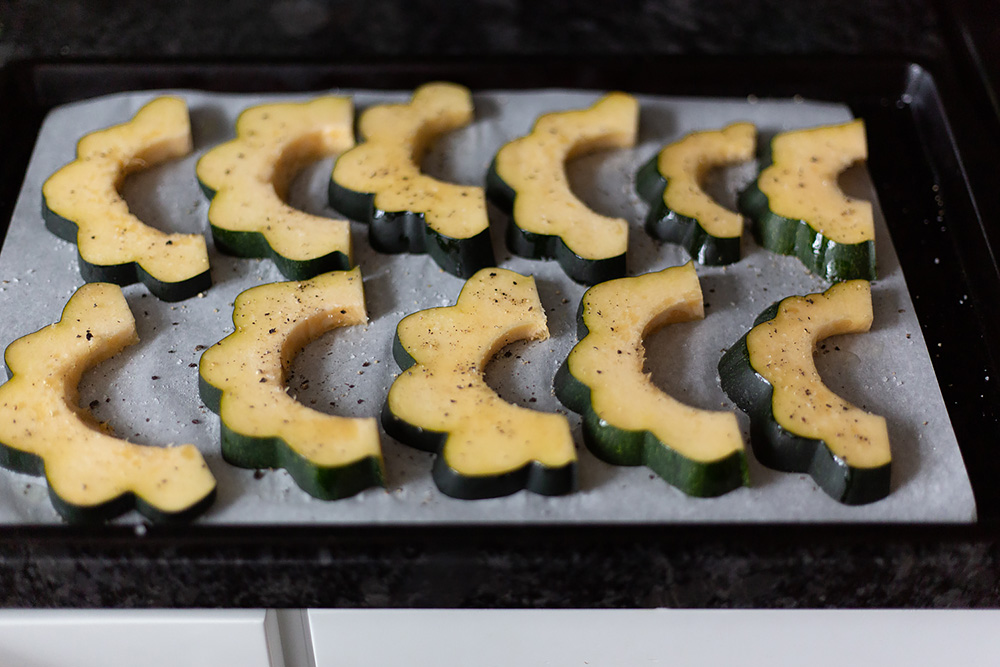 And then it's as simple as popping them in the oven and cooking, flipping once.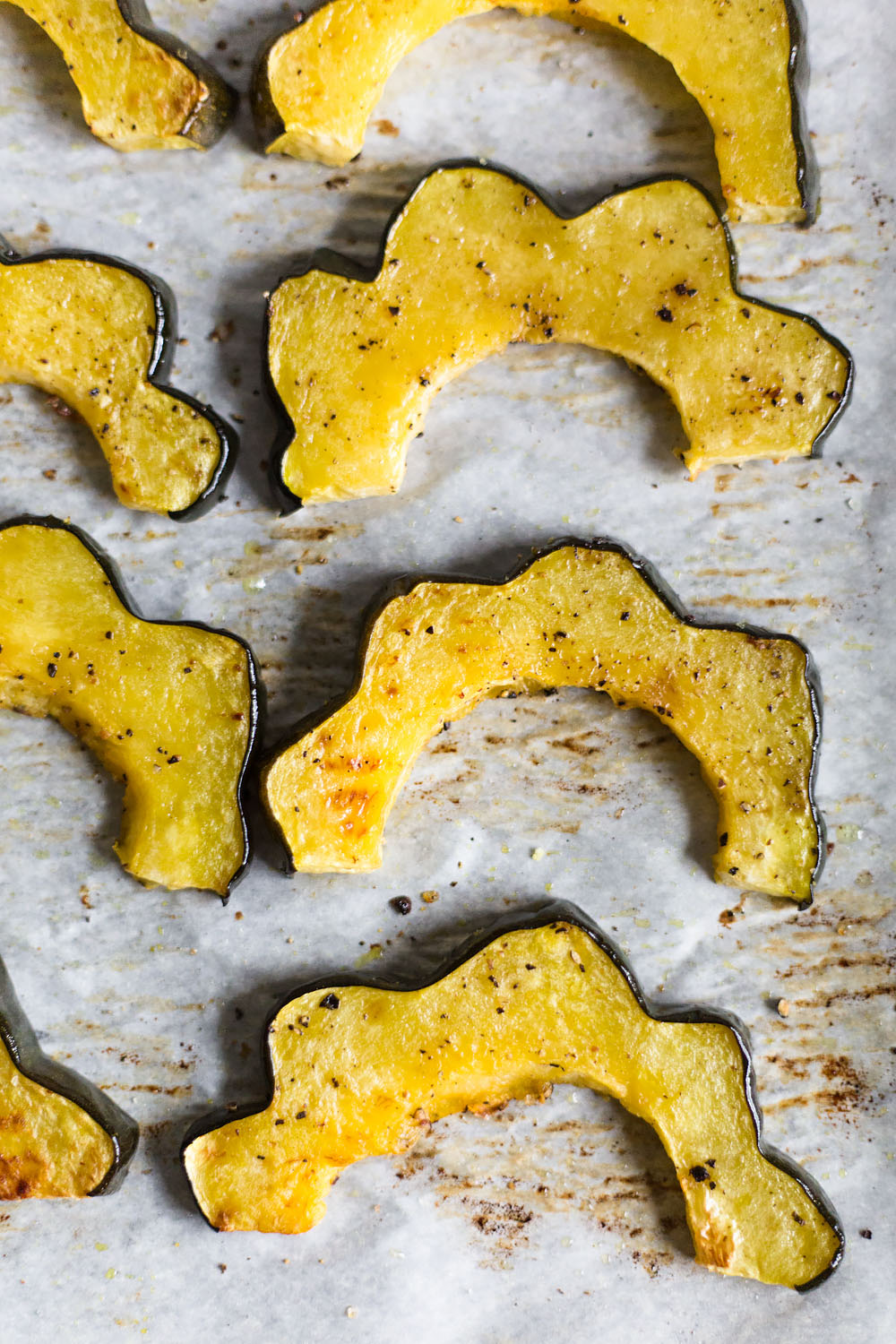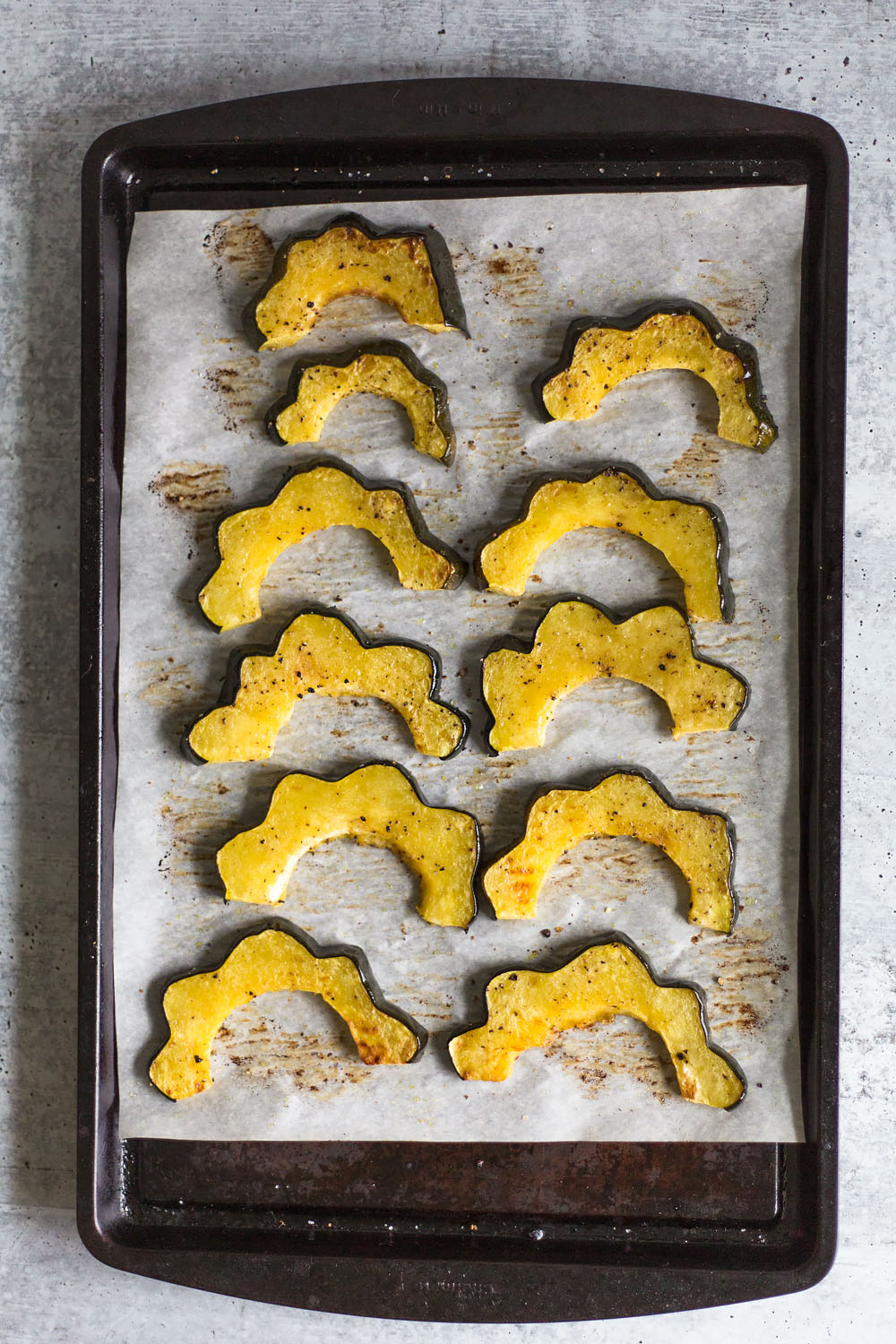 Print Recipe
Roasted Acorn Squash
This roasted acorn squash is a quick and easy healthy side dish to make any night of the week!
Ingredients
1

acorn squash

2

Tbsp

olive oil

salt

black pepper
Instructions
Preheat oven to 400 degrees F.

Place the olive oil in a small bowl.

Wash and dry the outside of the acorn squash.

Cut the acorn squash down the middle, cutting through the stem. Then, scoop out the seeds of the acorn squash with a spoon or an ice cream scoop. Discard the seeds.

Slice the acorn squash into one inch slices. Place the slices on a baking sheet (can be lined with parchment paper or a silpat mat).

With a pastry brush or your fingers, rub olive oil onto each slice. Sprinkle salt and pepper over the slices. Flip each piece of acorn squash and repeat on the other side.

Place in the oven and cook for 25 minutes. Then flip each piece of acorn squash and cook for another 20 minutes. If you'd like your acorn squash a little more brown, you can broil for a couple of minutes at the end (watch closely to make sure it doesn't burn!)
Notes
When slicing, you'll discard the top and bottom slices that have the stem pieces.
I like to remove the seeds with an ice cream scoop. I find it works incredibly well.
All ovens heat differently. Check your acorn squash to make sure it's done to your likeness before removing from the oven. You can always broil it for a couple of minutes at the end. (Note: I did not in these photos).
Love this recipe? Then try these!