This watermelon cucumber cooler uses fresh fruit and no sugar added for a drink that is healthy and refreshing!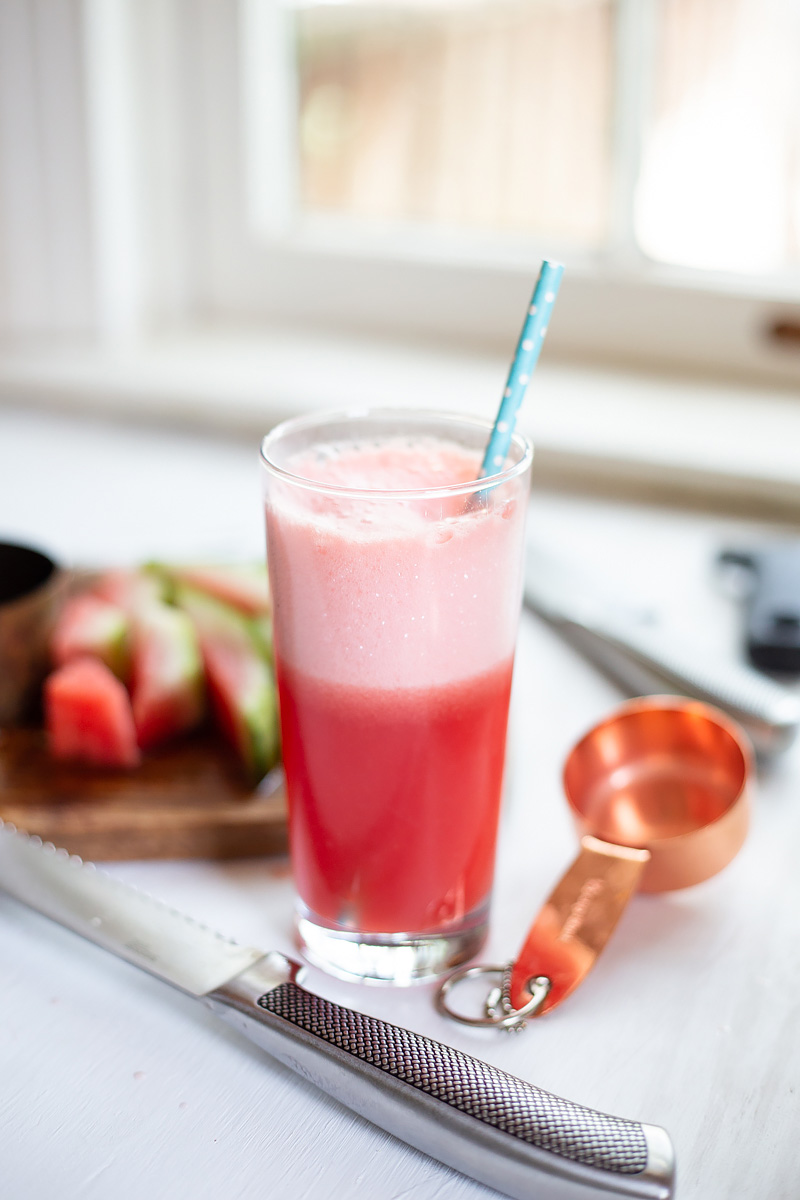 It'a hot here in Texas. Just like every other summer. So we've been trying every possible thing to stay cool. Trips to the pool, staying in air conditioning, and cool drinks.
We wound up getting a small seedless watermelon for snacks for our daughter, but baby's not gonna eat a whole watermelon by herself, no matter how small it is. So I cut up a bit to turn into this watermelon cucumber cooler. And I'm so glad I did! It was so refreshing and healthy. Tasted like summer. Reminded me of a cocktail without alcohol. Of course, you could always add a splash of rum, tequila, or vodka if that's what you're craving.
One of the great things about this watermelon cucumber cooler is that there is no sugar added! It just uses fresh fruit (and sparkling water), so it's healthy and Whole30-compliant. Perfect when you need a summer Whole30 recipe.

Ingredients to make the Watermelon Cucumber Drink:
Watermelon cubes - Try to get a seedless watermelon, then cut into cubes. If you can, freeze or refrigerate so they are cold before you make the drink with them. This keeps you from having to serve over ice!
Cucumber - You'll need part of a cucumber for this, peeled and cubed. Don't leave the peel on, as that will make for a weird texture in your cooler.
Salt - A slight sprinkling of salt helps bring out the flavors.
Sparkling water - Sparkling water tops of the drink to make it extra-refreshing. You can use club soda or just plain sparkling soda like La Croix, Waterloo, Top-chico, or any other sparkling water you prefer.
How to make the Watermelon Cucumber Cooler:
This watermelon cucumber drink is so easy to make! I especially like to use watermelon cubes I have leftover in the fridge from cutting up a giant watermelon.
Once you have the cubes, just throw the cubed watermelon, some peeled and cubed cucumber and a sprinkle of salt in the blender and blend until smooth. Pour over ice cubes (if needed), top with sparkling water and enjoy!
Print Recipe
Watermelon Cucumber Cooler
Ingredients
2

cups

cubed seedless watermelon

cold or frozen if possible

1/3

cup

peeled and cubed cucumber

sprinkle of salt

sparkling water
Instructions
Add the watermelon, cucumber, and a sprinkle of salt to a blender. Blend until smooth.

Add a few ice cubes to a glass, and pour the watermelon-cucumber mixture over the ice. Top with sparkling water.
Love this recipe? Try these drinks: