This creamy espresso milkshake is creamy, but full of that delicious coffee flavor (and caffeine!) This milkshake is even more delicious topped with freshly whipped cream and chocolate shavings or sprinkles.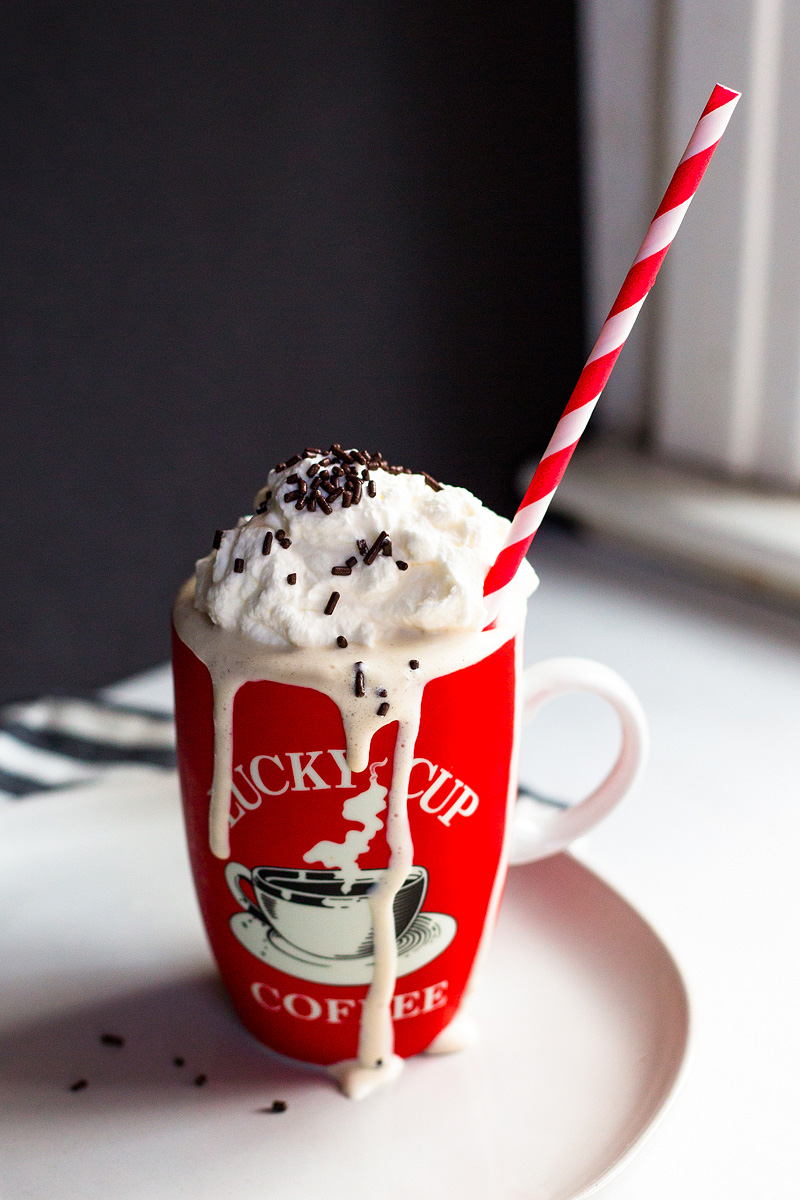 Ahhh...the coffee shake: milky ice cream deliciousness combined with the thunderous jolt of the gods. It reminds me of how yummy beverages with medicinal benefits were common, like when the OG Coca-Cola contained cocaine. This homemade coffee milkshake is a delightful treat carrying a much needed kick of caffeine.
How to prepare the coffee for the milkshake:
There are several options for making this coffee milkshake recipe. Choose the one that works best for you! This recipe used "espresso" from an AeroPress, but you can use strong coffee (double the coffee to water ratio) as well.
For a quicker, easier version you can replace the espresso with 2 tablespoons of powdered Instant Espresso (found in the coffee aisle); it's a tad bitter but super easy, and still pretty tasty!
What type of ice cream to use:
We also found French vanilla ice cream to be denser than regular vanilla ice cream and made for a thicker shake, especially useful if you are following the liquid espresso recipe. A thicker coffee milkshake means richer, creamier, and more decadent. Just how we like it!
So grab your blender (we have this Blendtec and LOVE it) and enjoy this delicious, creamy coffee milkshake!
Ingredients:
Finely ground espresso - You'll use finely ground coffee to make espresso for this coffee shake. Alternately, you could use Instant Espresso powder instead.
Hot water - Hot water is needed to make the espresso. If you're using the Espresso powder, then you won't use the hot water.
Ice cream - We love French vanilla ice cream, but you can use regular vanilla or vanilla bean ice cream if you prefer.
Optional ingredients: whipped cream, chocolate sprinkles, crushed oreos
Can I use coffee or chocolate ice cream instead of vanilla ice cream?
Absolutely! For an extra coffee flavor in your shake, you can definitely use coffee ice cream if you prefer.
And if you're going for more of a mocha espresso coffee milkshake flavor, you can use chocolate ice cream.
And for more Peppermint Frappuccino vibes, go with a peppermint ice cream.
What if I want a thinner milkshake instead of a creamy one?
If you don't want a thick espresso milkshake, then we suggest using a bit of milk in the recipe when you're blending it. You can use regular dairy milk, almond milk, or even oat milk.
How to top the espresso shake:
With chocolate sprinkles (or rainbow sprinkles)
With chocolate shavings
Recipe tips:
For a thinner milkshake, you can use a splash of milk. (This is also helpful if your blender is having issues blending the espresso milkshake).
Make sure you chill the coffee or espresso before adding to the milkshake! This will help keep it from melting too much while blending.
Love this coffee milkshake? Check out these recipes:
How to make the coffee milkshake:
Making the coffee milkshake is so easy. You'll make the espresso coffee and then chill in the refrigerator (or freezer for quick cooling)!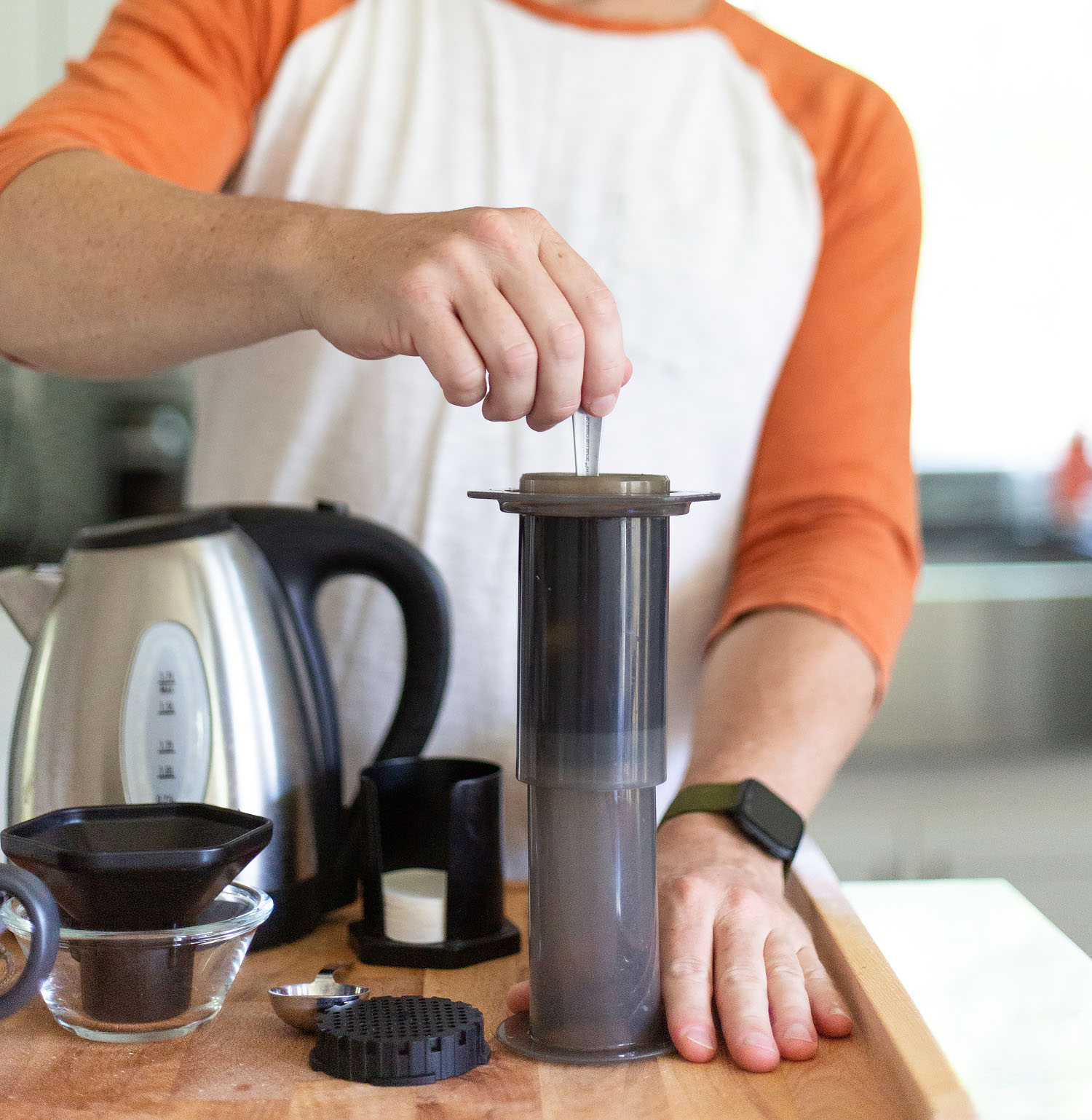 Next, you'll add the ice cream and espresso to a blender and blend until smooth and creamy. Pour into mugs or glasses and top as you desire. We love topping with whipped cream and chocolate sprinkles!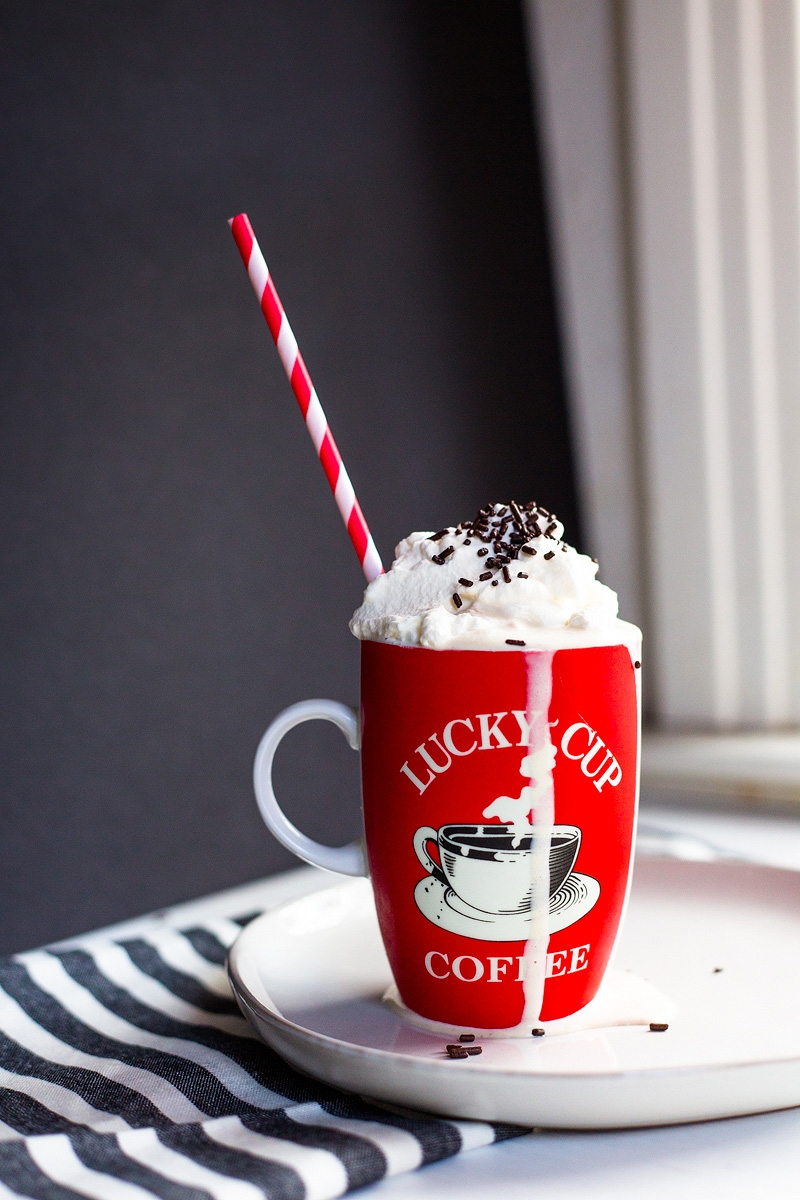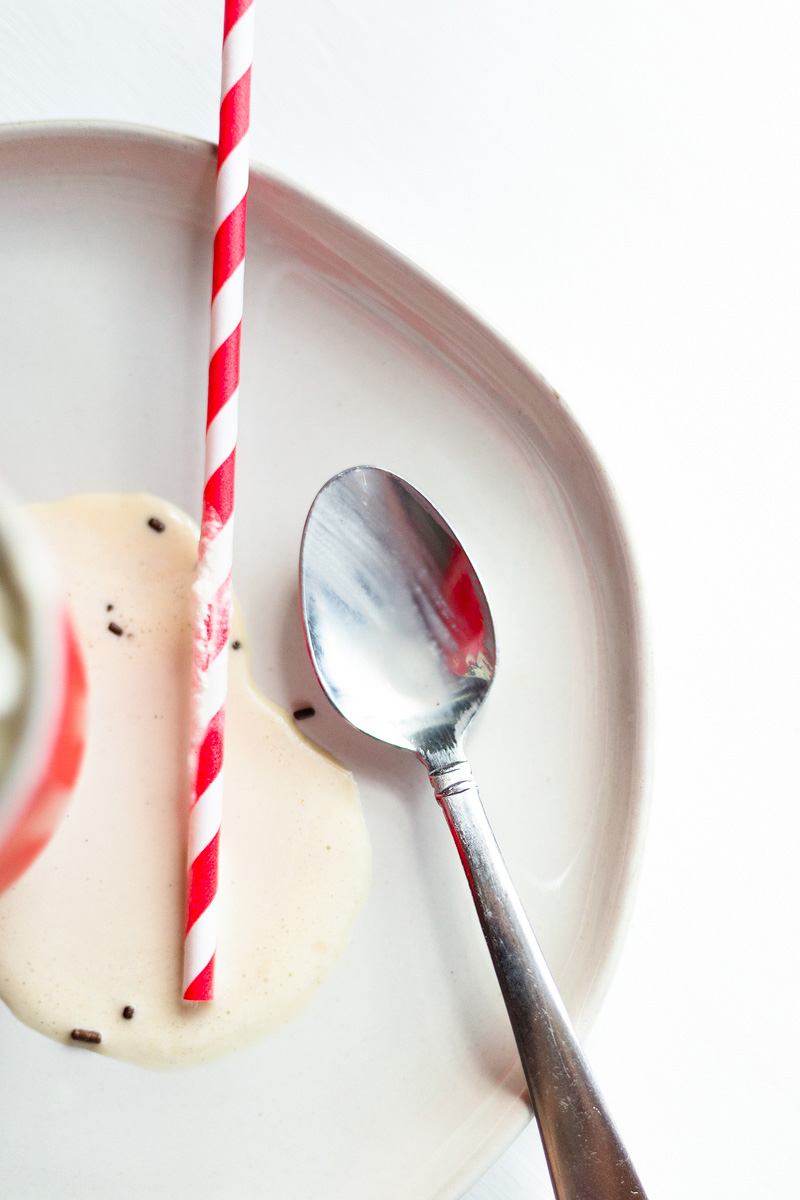 More coffee recipes to love: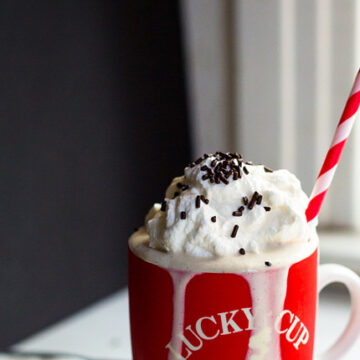 Coffee Milkshake
This creamy coffee milkshake is just the jolt of caffeine you need in milkshake form. It's am espresso dessert recipe that rivals any chocolate milkshake out there.
Ingredients
4

tablespoon

Fine Ground Espresso

¾

cup

hot, but not boiling water

15

oz

French vanilla ice cream

(about 5 scoops)
Instructions
Make coffee in an espresso maker or AeroPress and chill in the freezer until cold (about 10 minutes).

Combine espresso and ice cream in a blender until smooth.

Pour into a glass and top with whipped cream, sprinkles, crushed cookies, brownie pieces or anything else your soon-to-be caffeinated heart desired.
Notes
For this recipe, top as desired! We love some freshly whipped cream and chocolate sprinkles. 
Recipe makes two 8oz shakes.
Tried this recipe?
Tag @foodbanjo on Instagram and share your photos!