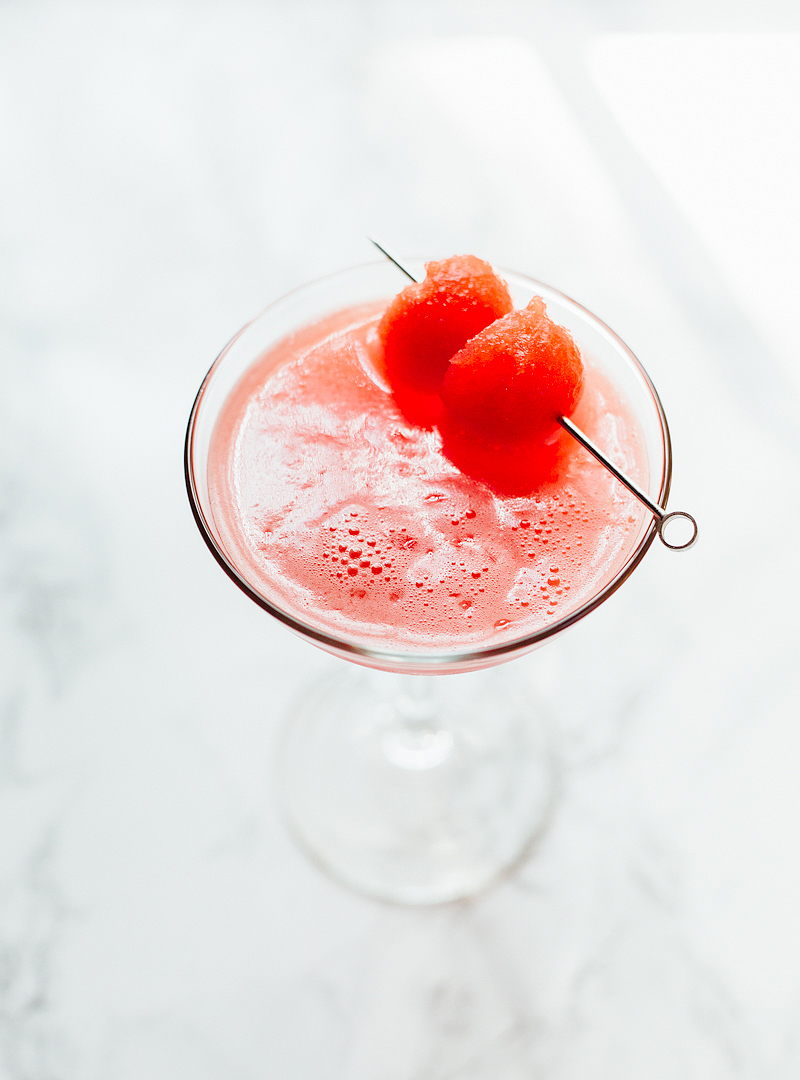 Another day. Another watermelon. Another stolen cocktail recipe.
Back in 2009, we somehow scored tickets to a cocktail contest featuring a half dozen original cocktails made with Tito's Vodka. They were trying to identify the Official Drink of Austin of 2009. For the sponsors of this event, this was a contest to find the best cocktail. For us it was just a simple drinking contest that we both won. The winner of the event was also our favorite. I wish I could remember the other drinks that were in the running, but as I said, we were in the middle of a drinking contest.

This watermelon martini cocktail is adapted from La Condesa's recipe which calls for citrus and originally used gelatin to create a fragrant foam. We've tried our best to keep the flavor of the original while simplifying the recipe a bit.
One ingredient that you can't skip out on is the elderflower liquor. We used St. Germain which is one of the more expensive bottles of alcohol out there, but it goes a long way. If cost is an issue, you can do what we did and split a bottle with your friends. Going in with friends to buy a specialty bottle of liquor may sound odd at first, but it's a great, inexpensive way to build a bar.
This watermelon martini uses fresh watermelon juice (I'm pretty sure canned watermelon juice isn't a thing) but if you have some watermelon fresca, you can use that in place of the watermelon and lime juices.
To Enlightenment!

Looking for more cocktail recipes? Check out some of our favorites:
Enlightened Watermelon Martini
Watermelon Juice
4 cups chopped seedless watermelon
Puree in a blender and strain through a fine mesh strainer into a pitcher. You may need to force the watermelon through the blade using a wooden spoon, or add ¼ cup of water to get it started.
Watermelon Martini
2 ½ oz watermelon juice

1 ½ oz vodka

1 oz elderflower liqueur

½ oz fresh lime juice

ice
Mix all ingredients in a cocktail shaker. Strain into a martini glass. Garnish with watermelon balls.