The aviation with creme de violette is a gin cocktail that has sour, sweet, and tart notes. It has a slightly floral flavor, and is a fancy purple cocktail that always impresses!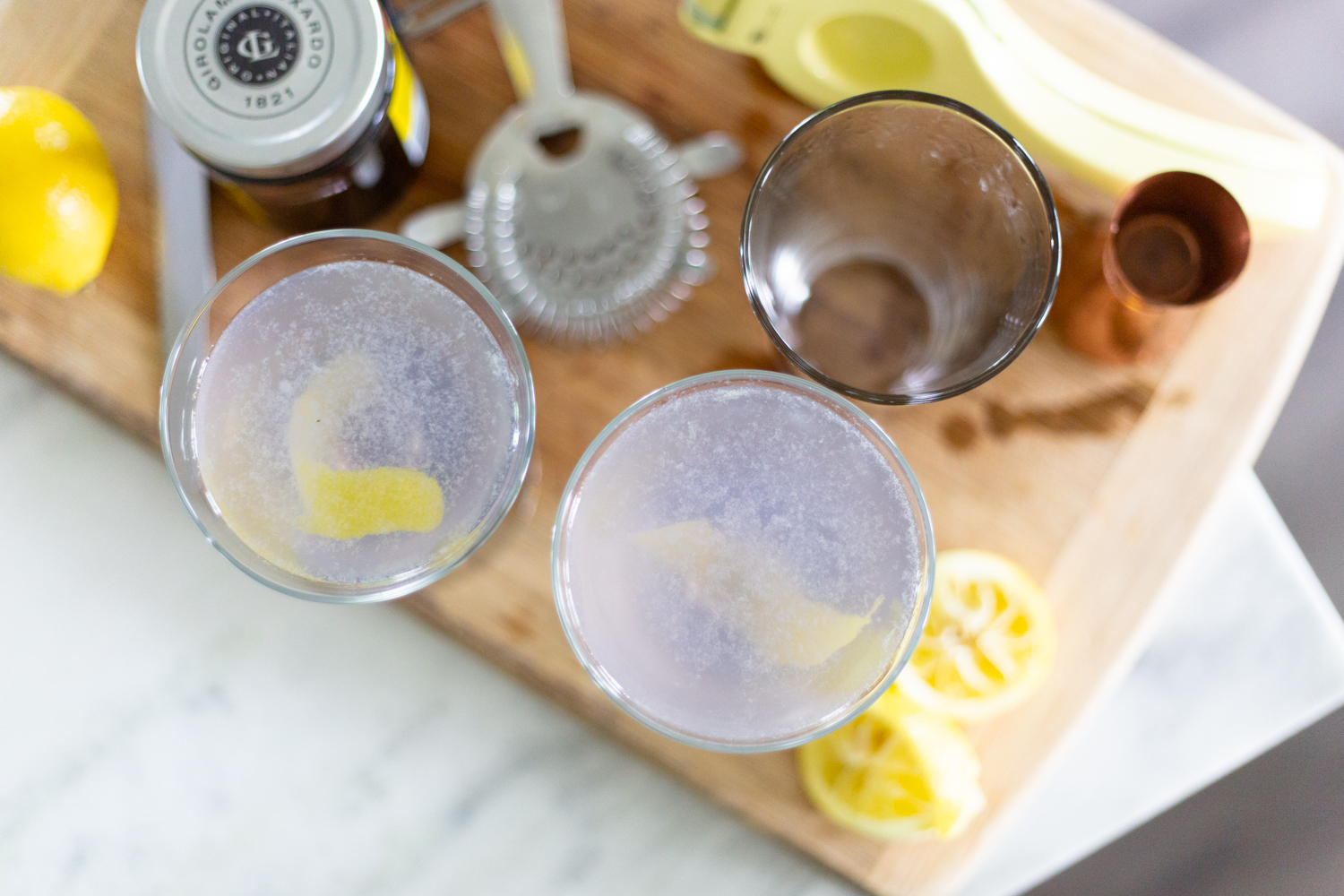 Have you ever made an aviation cocktail with creme de violette? It's so tasty. It's a combination between sour, sweet, and just a touch floral. It's one of our favorite cocktails.
The tartness in the aviation cocktail comes from the lemon, the sweetness comes from the Maraschino Liqueur and the flowery flavor comes from the Creme de Violette. And of course it has gin. We love gin around here.
For a few years, we had a bottle of Creme Yvette around here, so we used that instead of Creme de Violette in our aviation cocktails. (I know, how did we make one bottle last for several years?)
Then we spotted a bottle of Creme de Violette one day and decided it was time for a taste test. Which was better for an aviation?
Creme Yvette vs. Creme de Violette
Creme de Violette is the typical liqueur used in an aviation. It has a purple tint and is a bit more flowery than the Creme Yvette.
The Creme Yvette is a bit redder in tint and while sweet, it is missing the flowery notes of the Creme de Violette and has a bit more of a berry flavor.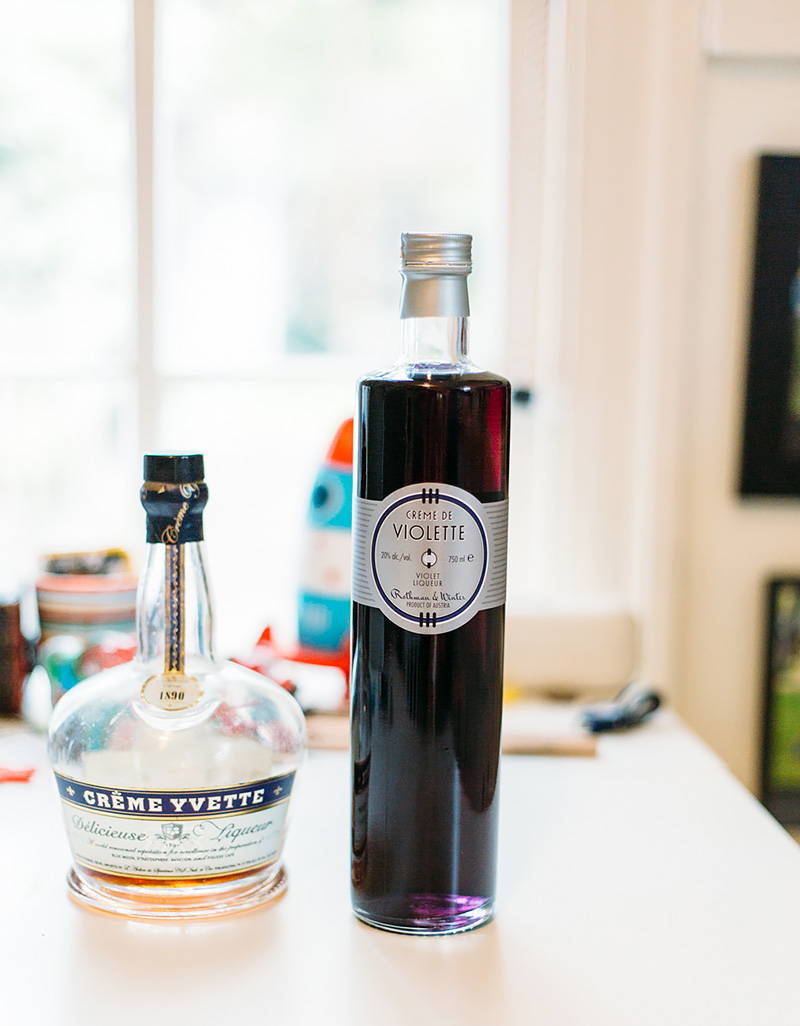 We brought these to a friend's house last fall for a third opinion. Josh whipped up several of each type.
The Creme de Violette definitely added that floral note. On first taste, both our friend and I preferred the Creme de Violette to the Creme Yvette version. Josh was still a fan of the Creme Yvette.
But then, several tastings later, Josh changed his mind. He agreed the Creme de Violette version was a nice balance and wound up preferring it too. So now we make our aviations with Creme de Violette.
Have you tried either version of the aviation cocktail? Or both? I'd love to hear what you prefer!
In the photo above, Creme Yvette version on the left, Creme de Violette on the right.
Now to making them the other day! Josh made two and garnished them with maraschino cherries.
Do you have a bottle of maraschino cherries at your house? If not, GET SOME. They can be pricey, but they will last a long time and are SO WORTH IT. When we run of cherries, Josh pours the syrup over ice cream. Yummmm.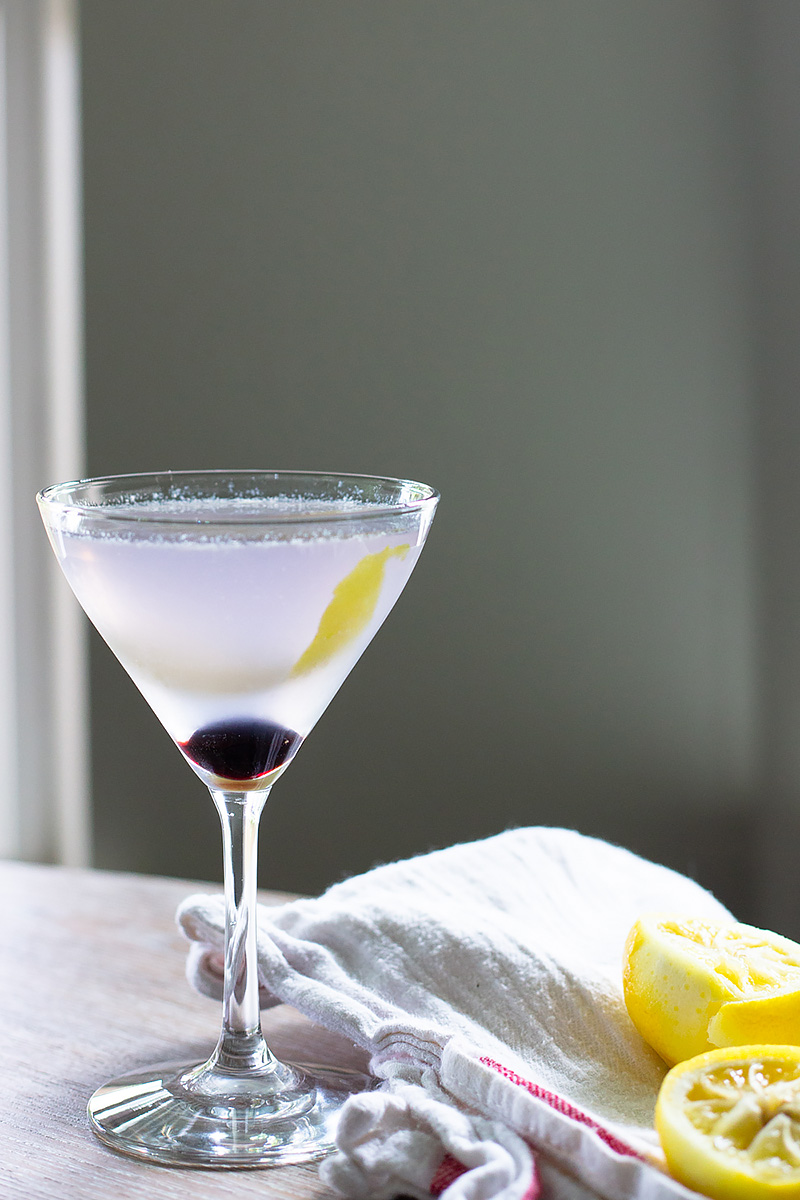 Ingredients
Gin - Use your favorite gin in this cocktail.
Creme de Violette - The creme de violette gives the cocktail its signature purple hue.
Maraschino Liqueur - This is a cherry liqueur that helps give the cocktail a bit of depth and slight cherry flavor.
Freshly squeezed lemon juice - This gives the cocktail its tartness. We use a lemon squeezer like this - it's perfect for lemons and limes!
Lemon Peel - For garnish! If you don't have it, just garnish with the cherry. We use a zester like this! We bought this exact one back in 2018, and it's still going strong.
Luxardo Maraschino Cherry - Do not skimp on this! It's such a lovely finish to the drink.
How to make an aviation with creme de violette
First, add your ingredients to a cocktail shaker.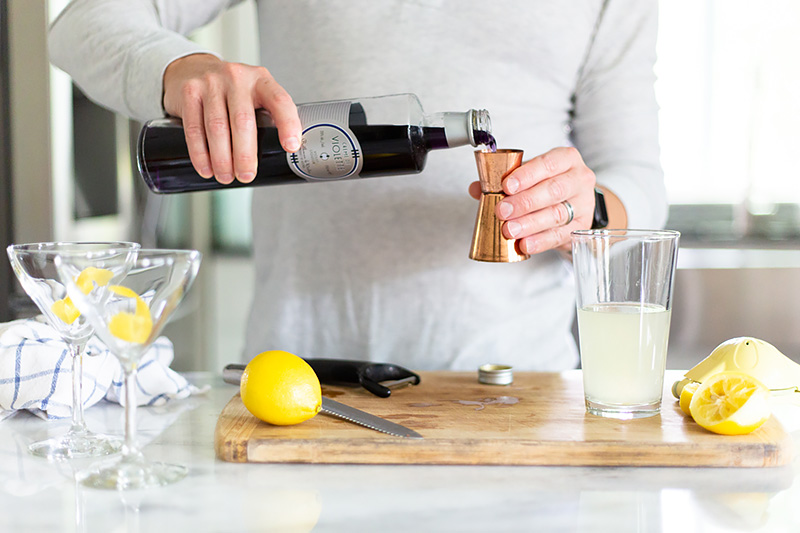 Look at that beautiful color from the creme de violette!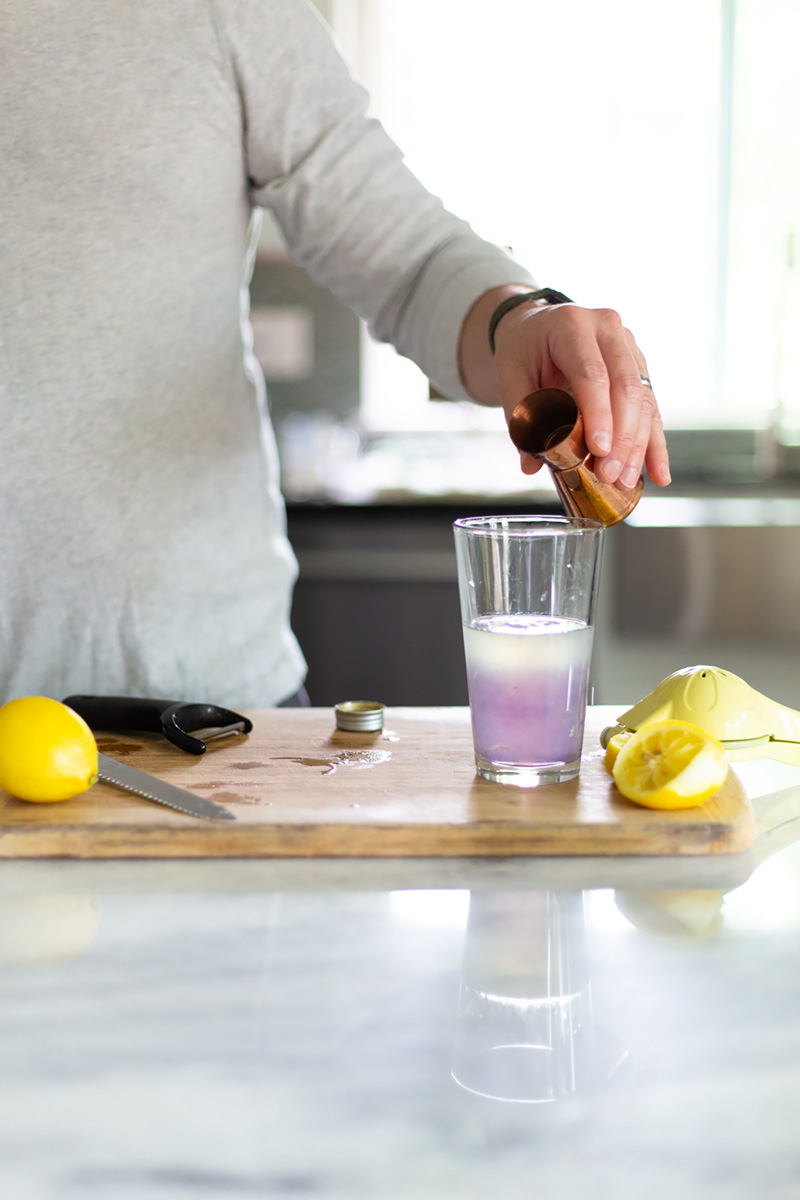 Shake it all together, then strain into martini glasses. Add Luxardo Maraschino cherries for garnish.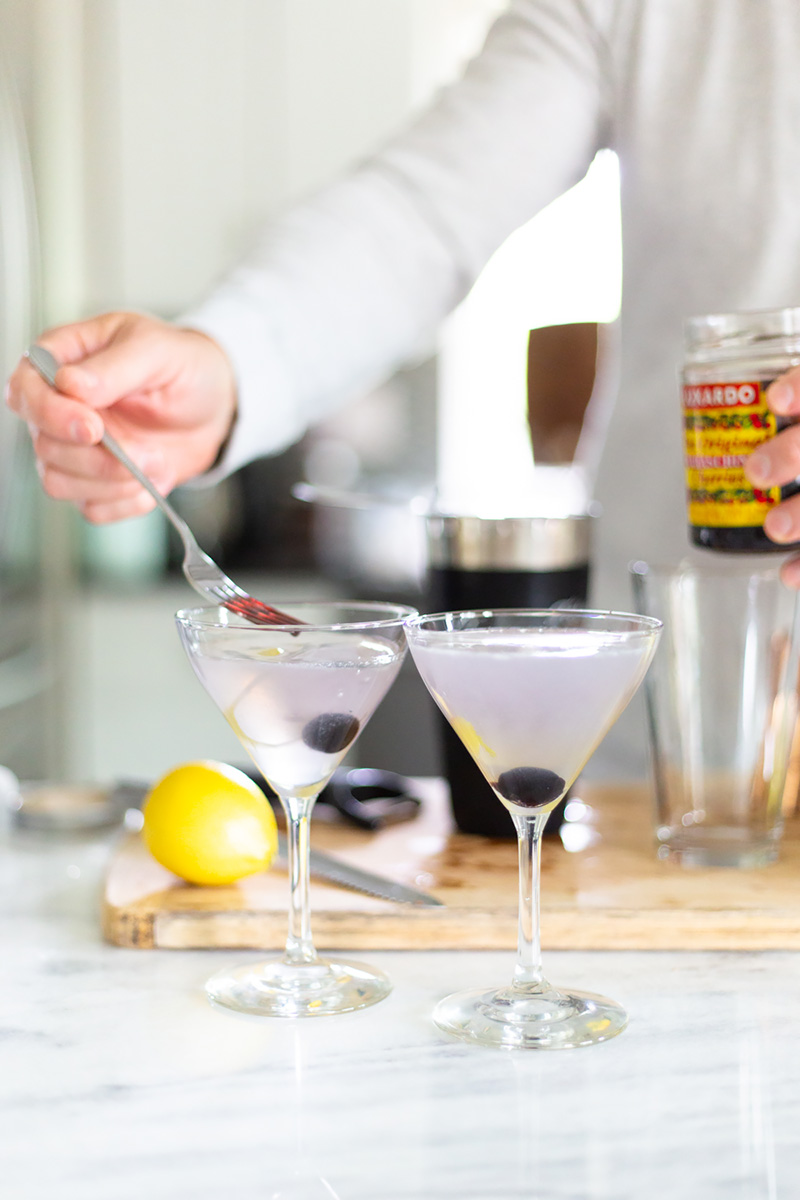 Enjoy!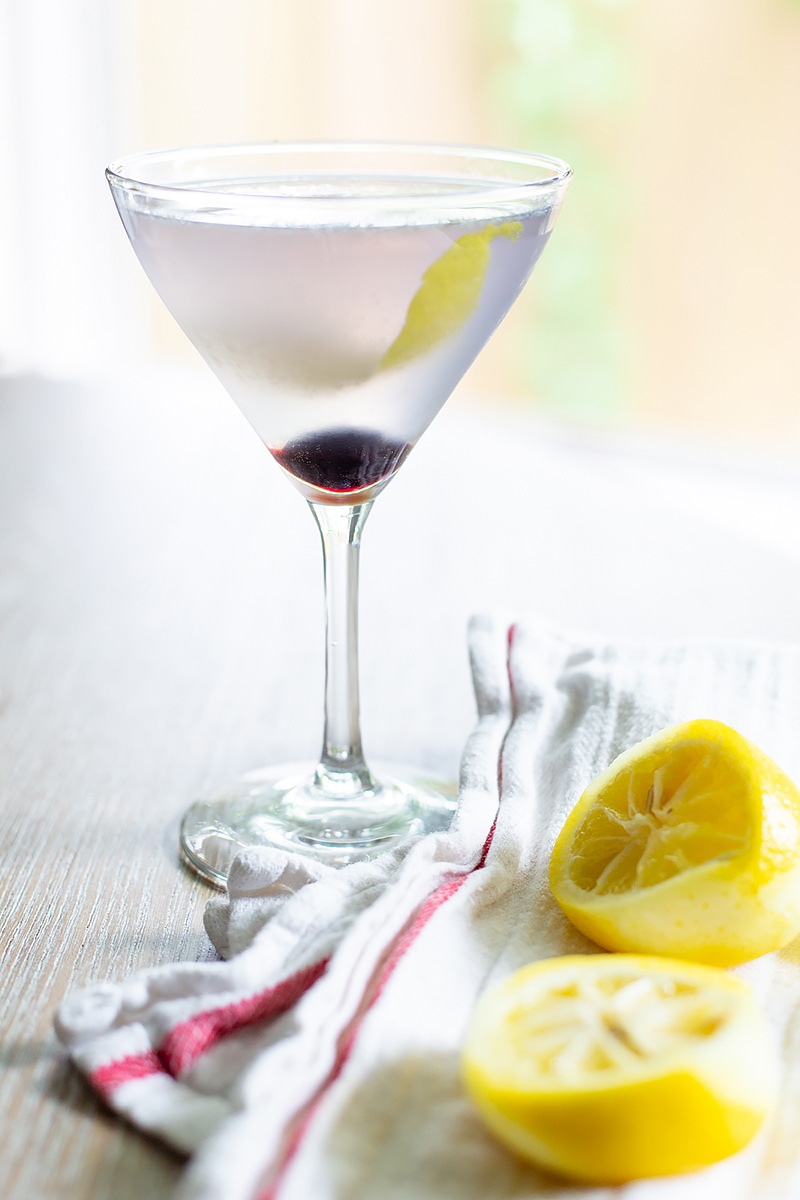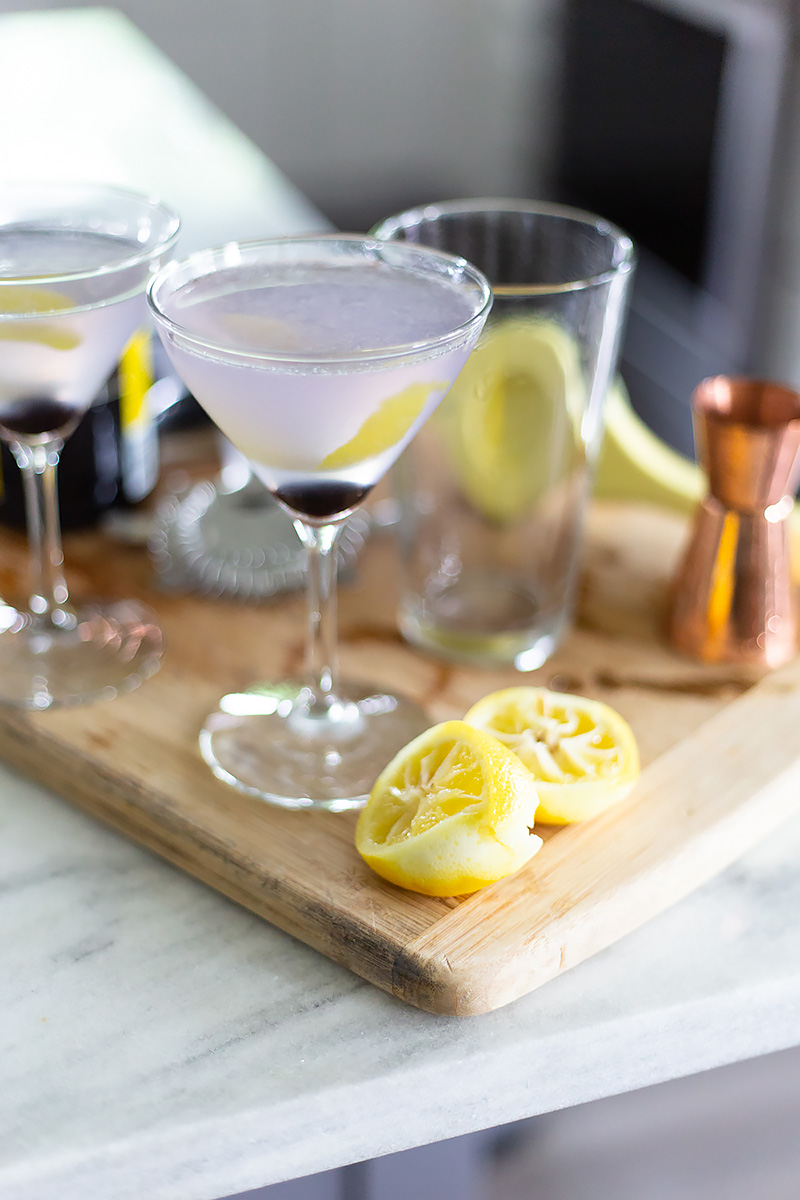 Cocktail recipes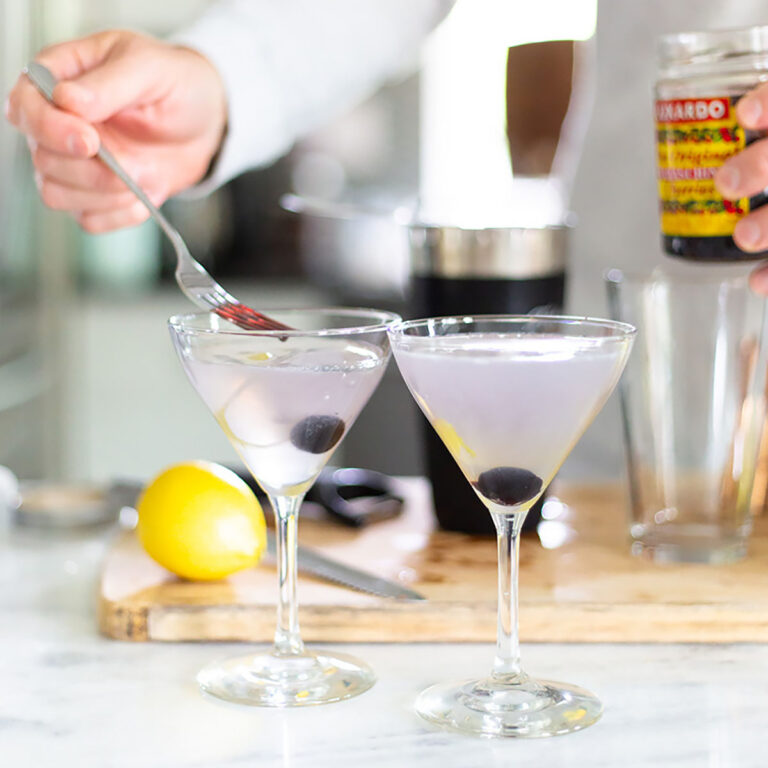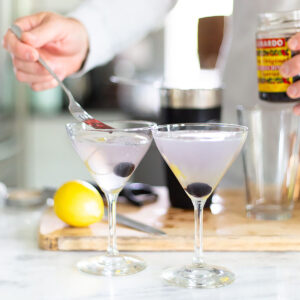 Aviation Cocktail with Creme de Violette
The aviation with creme de violette is a gin cocktail that has sour, sweet, and tart notes. It has a slightly floral flavor, and is a fancy purple cocktail that always impresses!
Ingredients
2

oz

Gin

½

oz

Luxardo Maraschino Liqueur

½

Lemon

¼

oz

Creme de Violette

Ice

for shaking

Lemon peel

for garnish

1

Luxardo Maraschino cherry
Instructions
Into a cocktail shaker, add the gin, Maraschino liqueur, juice from ½ a lemon, and Creme de Violette. Add about ½ a cup of ice and shake.

Strain into a cocktail glass and garnish with the lemon peel and a Maraschino cherry.
If nutrition info is shown, values are based on an online calculator and are estimates. Please verify using your own data.
Tried this recipe?
Tag @foodbanjo on Instagram and share your photos!