These chili lime shrimp are so easy to make. They can be eaten on their own or used in tacos, bowls, salads, soups, or pasta! They're a tasty and flavorful Whole30, keto, and Paleo shrimp dish.
Lately I have discovered the joys of working from home. Being able to throw a load of laundry in the washer, step outside for a breath of fresh air, and not having to work under headache-inducing florescent lights are all huge benefits. But even better than all those things is being able to cook a proper lunch. None of this reheating food in a microwave. At home there is an ACTUAL oven. And a stove! And pots and pans!

However, I don't want to be slaving away in the kitchen my whole lunch break. Or dirtying up a bunch of dishes. That's why I love quick lunches like this Chili Lime Shrimp that is Whole30, Paleo, and Keto friendly! Cook up a bunch of shrimp, toss in seasoning, squeeze some lime on the top. Easy lunch.
I usually use frozen shrimp, because I always try to keep a bag in the freezer. But of course, if you can get fresh shrimp, even better!
Ingredients needed:
Shrimp - You can use fresh or frozen here! If you're using fresh shrimp, they should cook pretty quickly. If using frozen, they will take a little longer.
Chili powder - This is found in your spice aisle of the grocery store! For a slightly different flavor, you can use a chipotle seasoning instead.
Lime - This recipe calls for the juice of half a lime. I highly recommend freshly squeezed lime juice.
Olive oil - I use olive oil to cook the shrimp in, but you can use other types of oil if you prefer.
Ways to enjoy the chili lime shrimp:
The beauty of the chili lime shrimp is that they can be enjoyed in so many different ways! Here are some ideas.
On their own - These are delicious just served on their own as a snack. Or as a main dish paired with some sides.
In a bowl - These would be great in a Mexican-inspired bowl with some rice, veggie, beans, and salsa. Or in a Thai-inspired bowl.
In tacos or in a wrap - These shrimp would be great in tacos with avocado and beans!
On a salad - Have lettuce around? Eat these shrimp on a salad for some nice protein and flavor.
Over pasta - I love shrimp tossed in a creamy pasta sauce.
In soup -  Shrimp are delicious in soup and are an easy addition to soups like this lemon orzo soup.
How to make the recipe:
These chili lime shrimp are so easy to make! You just take out a skillet and heat it over medium heat. Add the olive oil to the pan and let heat for about 30 seconds. Then add the shrimp.
As the shrimp start to turn pink and opaque, flip the shrimp and cook for another 1-2 minutes. Add the chili powder to the pan and toss until shrimp is coated.
Plate, then squeeze half of a lime over the shrimp and enjoy!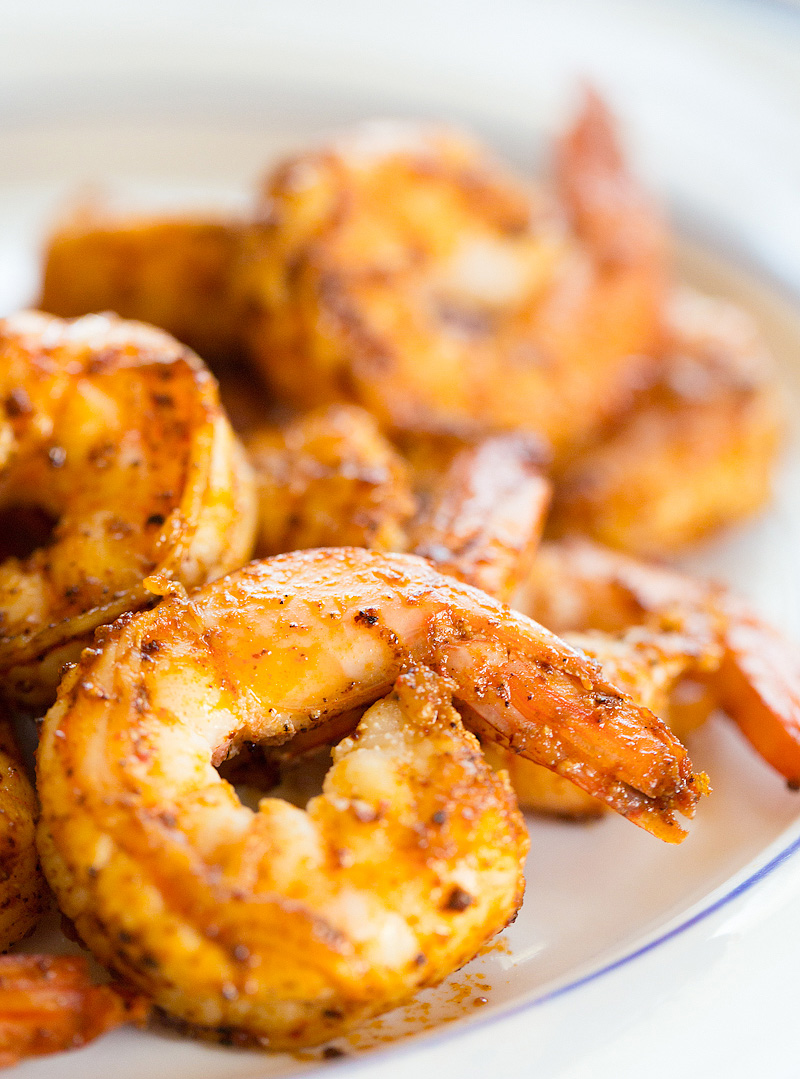 Print Recipe
Chili Lime Shrimp
These Whole30 chili lime shrimp are so easy to make and can be used in a variety of ways!
Ingredients
12

shrimp, peeled and deveined

1

tbsp

olive oil

1

tsp

chili powder

1/2

lime (juice)
Instructions
In a medium skillet, heat the olive oil over medium heat.

Add the shrimp to the pan. Cook until shrimp start to turn pink and get opaque, then flip and cook for another 1-2 minutes until done.

Add the chili powder to the pan and toss with the shrimp (stir in the pan) until shrimp are evenly coated.

Plate and squeeze the juice of 1/2 a lime over the shrimp.
Love this recipe? Check out these!