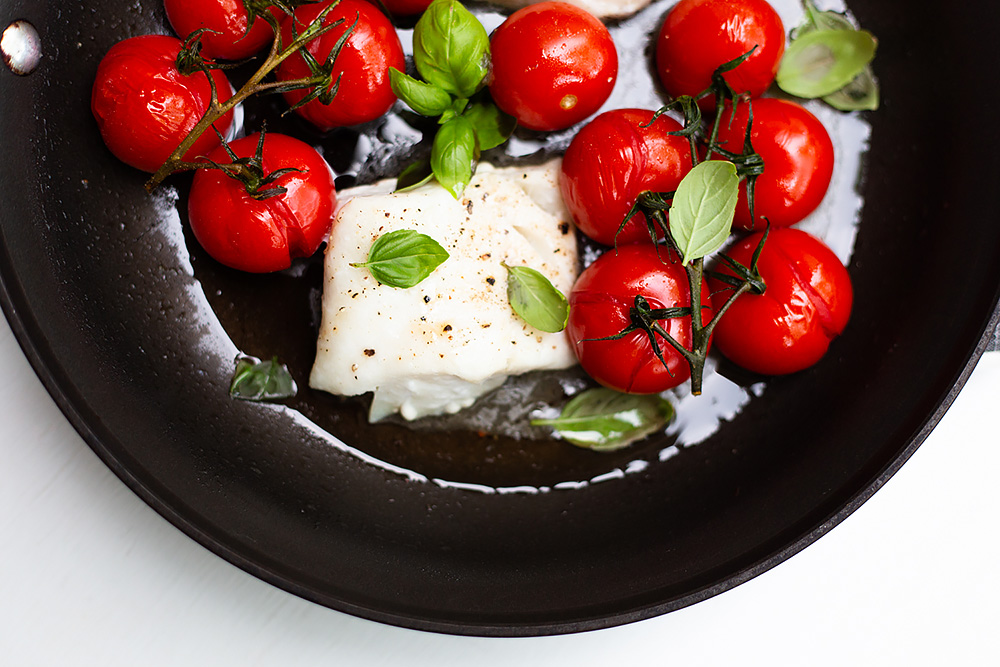 I am always on the hunt for quick, healthy recipes like this baked cod with tomatoes and basil. When I get home from work, sometimes I feel like cooking something elaborate. But mostly, I want something quick and easy.
This cod with tomatoes and basil fits the bill. And even better? It's all cooked in one skillet, which makes clean up so easy. I LOVE that this cod is Whole30 and Paleo-friendly too. If you've done a Whole30, you know how exhausting it can be to cook every night. This is one of those EASY Whole30 meals that takes very little prep and very little cleanup.

Recently, on a Friday, I got home from work. We got our daughter fed, bathed, and off to bed. And I tossed some tomatoes and cod in a skillet with some olive oil and salt and pepper. Baked it all up, then tossed fresh basil leaves on there. SO easy.
I love how the tomatoes get all roasted in the oven, and when you cut into them, they just burst with flavor. Then I gather up some basil leaves, some of that juicy tomato, and a piece of cod and eat it all together. A healthy flavor explosion.
For this dish, I used campari tomatoes, but you can use whatever kind you want. If you want to use cherry tomatoes, those would work great. Roma tomatoes could also work well.
Note that the basil does kinda get a bit weird colored when you throw it on something hot. So you may notice it getting a bit brown where it touches the hot food. Don't worry, that's completely normal.
If you're not doing a Whole30, and want something a bit more hearty, you can always pair it with a rice, orzo, or quinoa.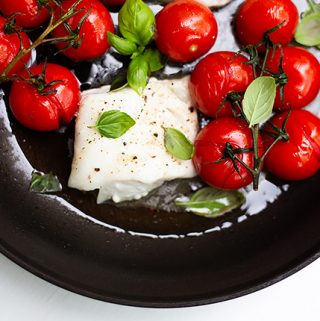 Cod with Tomatoes and Basil (Whole30 and Paleo)
Ingredients
2 8

oz

cod filets

12

campari

roma, or other medium tomatoes

4

tablespoon

olive oil

10-15

medium to small basil leaves

Salt and pepper
Instructions
Preheat oven to 400 degrees F.

In a large skillet, add 1 tablespoon olive oil to the bottom and swirl around until covered.

Add the cod to the pan, and then add the tomatoes.

Pour the remaining 3 tablespoon olive oil over the cod and the tomatoes.

Season with salt and pepper.

Cook in the oven for 15 minutes, then remove and let stand for 2 minutes.

Plate, top with the basil leaves, and season with more salt and pepper if desired.
Tried this recipe?
Tag @foodbanjo on Instagram and share your photos!