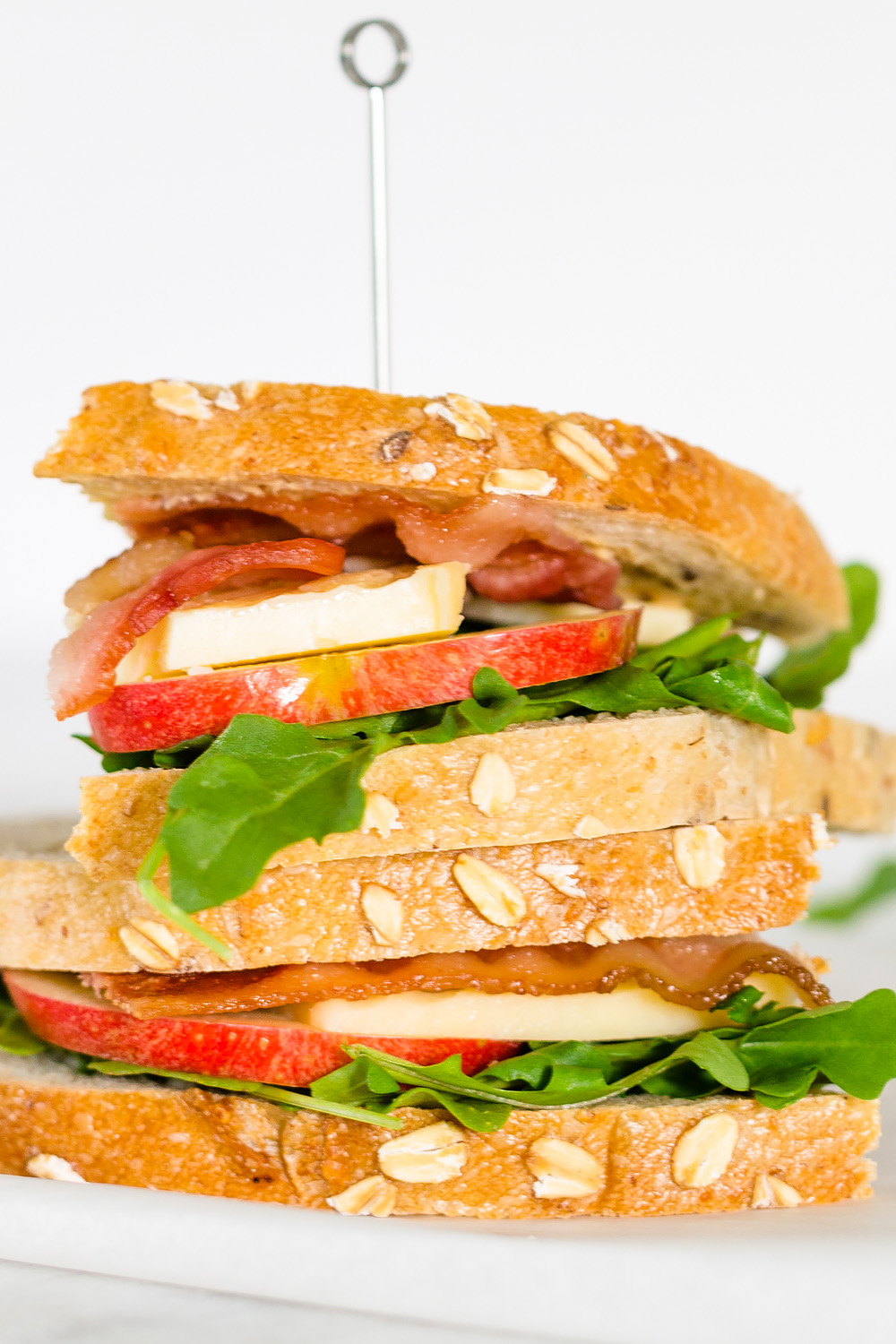 Last week on our Food Banjo Instagram, we announced something big. We're expecting our second baby in October! And while we're SO excited, I'm not excited that I can no longer eat all the things. There are certain foods you're not supposed to eat when pregnant. One of those is deli meat. But I've been craving sandwiches. So instead of using deli meat, I've been making apple, cheddar, and arugula sandwiches with bacon. It thankfully has been satisfying my cravings and makes for a really easy lunch sandwich.
This sandwich holds up so well to bring in lunches. So several days last week I've brought this in my lunch. It's made for a delicious, inexpensive, and (moderately) healthy lunch. Better than picking up fast food!
I even described to Josh why this sandwich is so great on the phone...right after I ate it. Everything just pairs SO well together. The arugula adds a nice bitter flavor. The dijon adds a nice tang. The apple adds freshness and a crispness. The bacon also adds crispness and saltiness. And the cheese adds saltiness and creaminess. Such a delicious combination.
Some tips and notes:
Use whatever type of bread you want! Your favorite kind. I wound up just using a multigrain sandwich loaf, but sourdough would probably be really delicious here too.

I love the arugula on this sandwich, but if you don't have arugula, baby spinach, baby kale, or even just some crunchy romaine would work well.

Let's talk cheese. A really good-quality, sharp cheddar is delicious on this sandwich. A good cheese is something I always look for. English cheddar or Dubliner Irish cheddar are both fantastic options.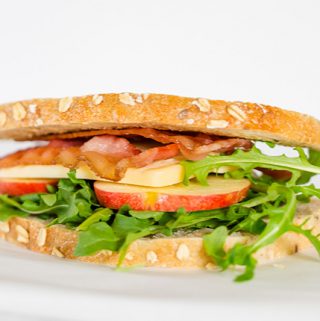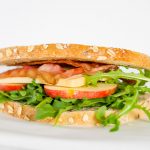 Print Recipe
Apple, Cheddar, and Arugula Sandwich (with Bacon!)
Ingredients
2

slices

of your favorite bread

like sourdough or multigrain

2

slices

cooked bacon

halved

2

slices

of good-quality sharp cheddar cheese

like English Cheddar or Dubliner Irish

Handful of arugula

Half an apple

sliced

2

tsp

dijon mustard
Instructions
Take the bread put a handful of arugula. Add the apple slices, then cheddar slices, then bacon slides.

Spread the dijon mustard on the other slice and place that on top.

Serve whole, or sliced in half.