These crispy french fries are lightly battered with flour that adds a nice additional crunch without being too heavy. This french fry recipe is easy to make and so delicious!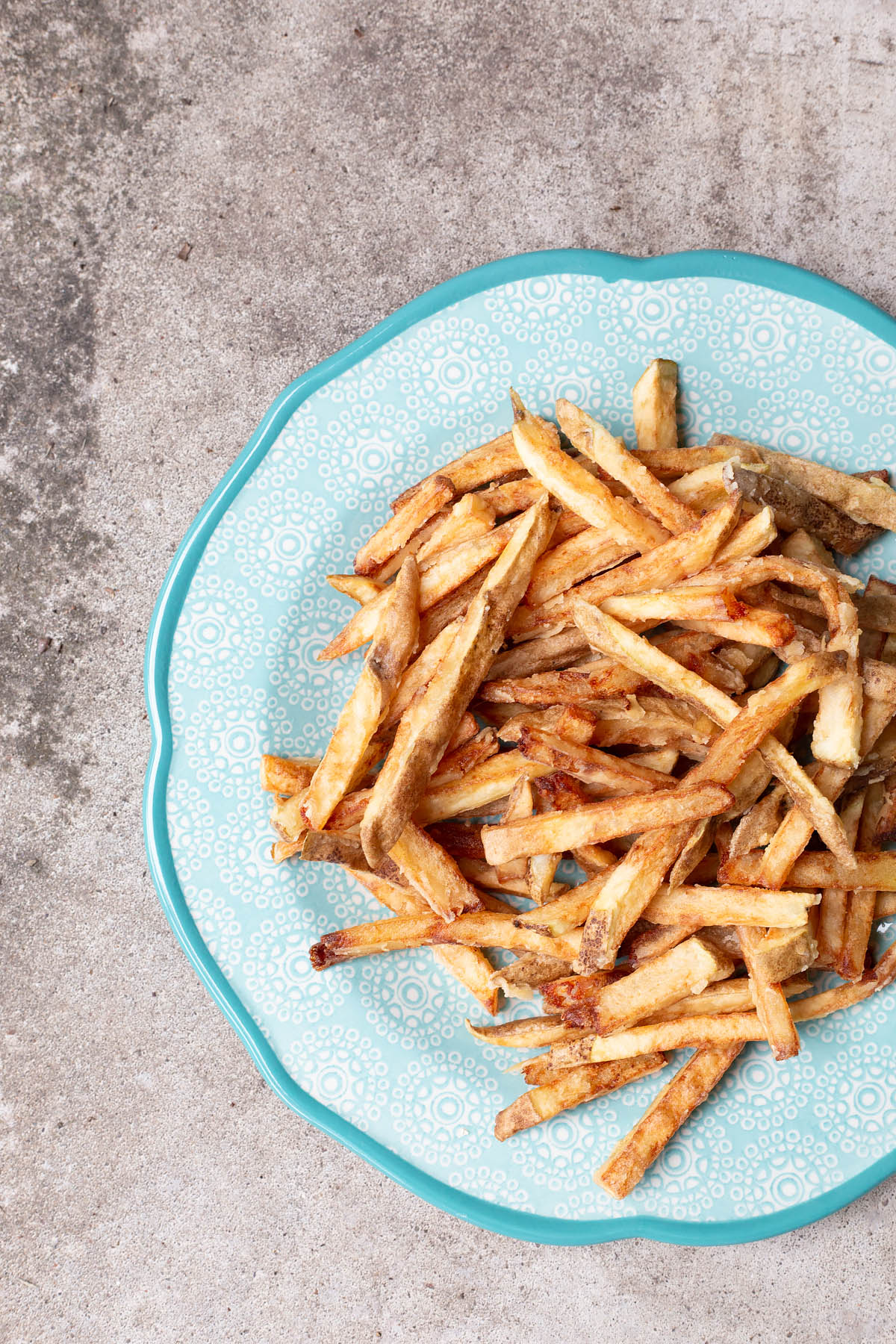 Did your mom have a signature french fry recipe growing up? I guess my mom did, because this is what we equated with homemade french fries. These fries are lightly mixed with flour, which adds a yummy, light coating and crunch.
And they're so easy to make! They only require three ingredients, but they're so easy to customize with more, so you can make these french fries exactly how you want.

Ingredients:
Russet potatoes
Flour
Canola or vegetable oil
After these crispy french fries are cooked, you can easily put whatever seasonings you want on them. In our family, we also tend to let each person salt theirs how they like. For example, Josh won't add salt to his at all, and I may add a touch to mine. Here's some other ideas to customize.
Ideas for seasoning fries:
Salt (the traditional seasoning!)
Smoked paprika - this gives it a bit of smokiness
Parmesan - Grate some fresh parmesan over the top
Garlic and parsley - Some freshly minced garlic and parsley add a unique flavor to fries
Lemon pepper - Either use the lemon pepper seasoning or a lot of pepper with a squeeze of lemon (though note -- adding something like fresh lemon juice can affect the crispiness)
Do you have to peel potatoes to make french fries?
No! I mean, it's up to you. We typically don't though, and save ourselves a little time and effort.
How to make the french fries:
First, cut the russet potatoes into thin strips. As you slice them, add them to a bowl of cold water. This water will help keep them from oxidizing (turning brown), and will also help them to maintain a bit of crispness. The water also keeps them wet, so that the flour sticks to them nicely after you drain the water.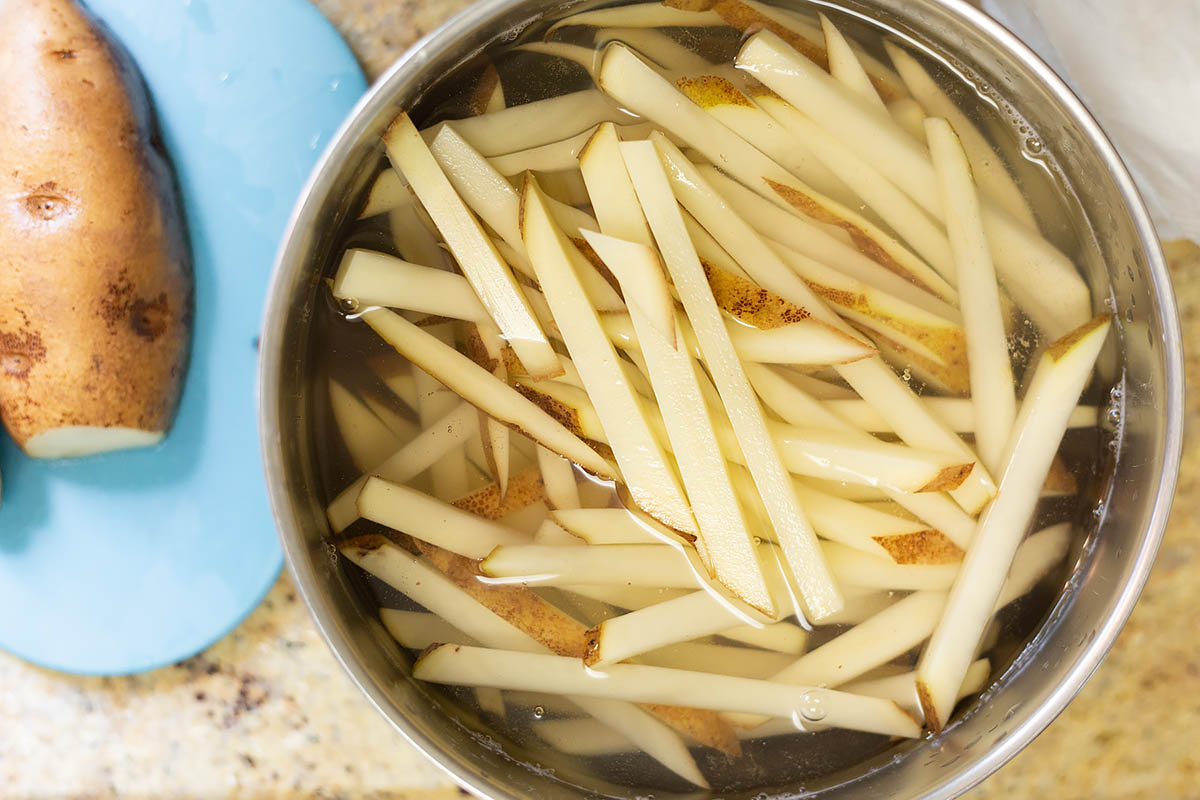 Once you've cut up all your potatoes and added them to the bowl, then drain them. Immediately add your flour to the bowl and mix the potatoes all around (this is easiest if you do it with your hands).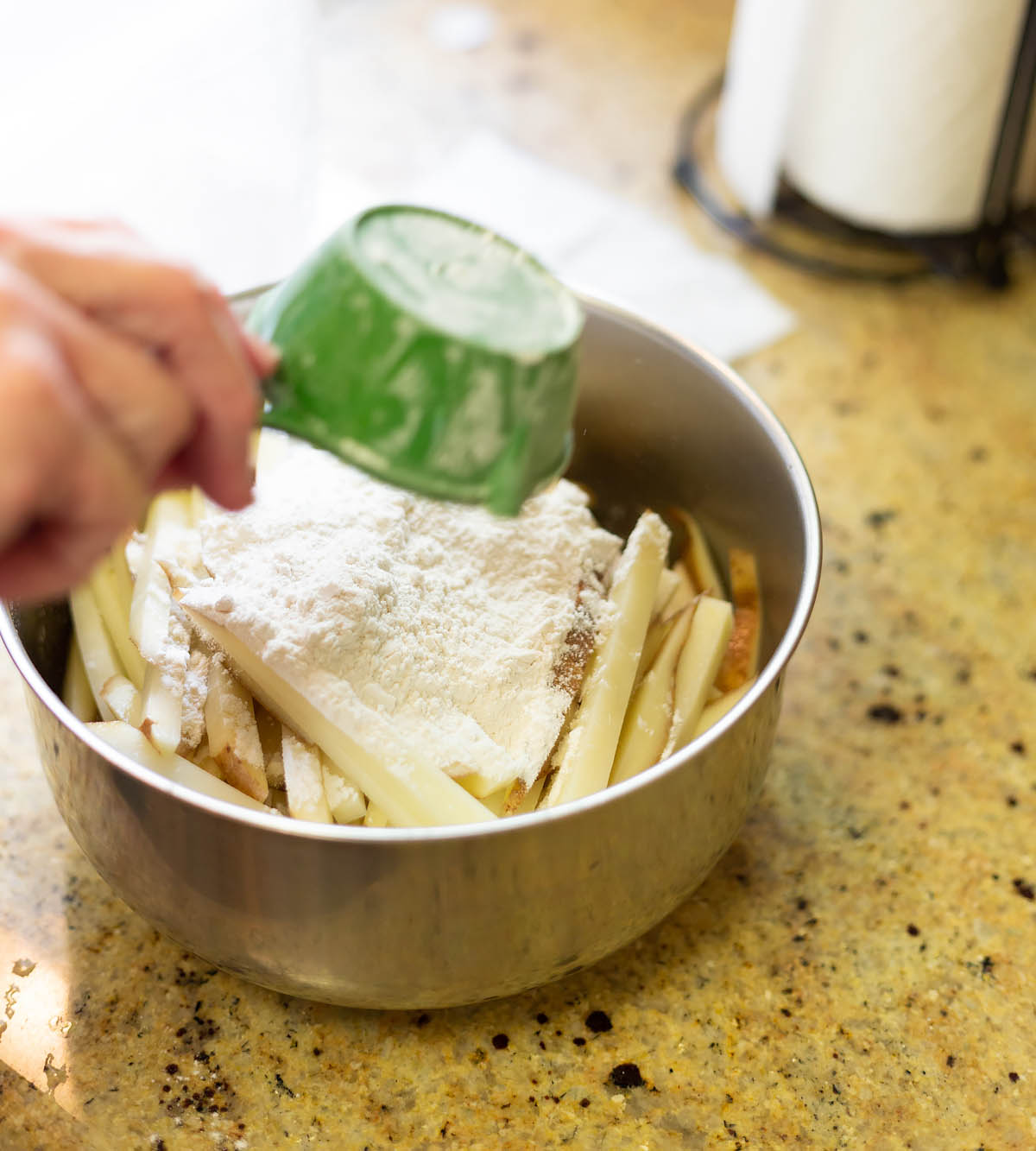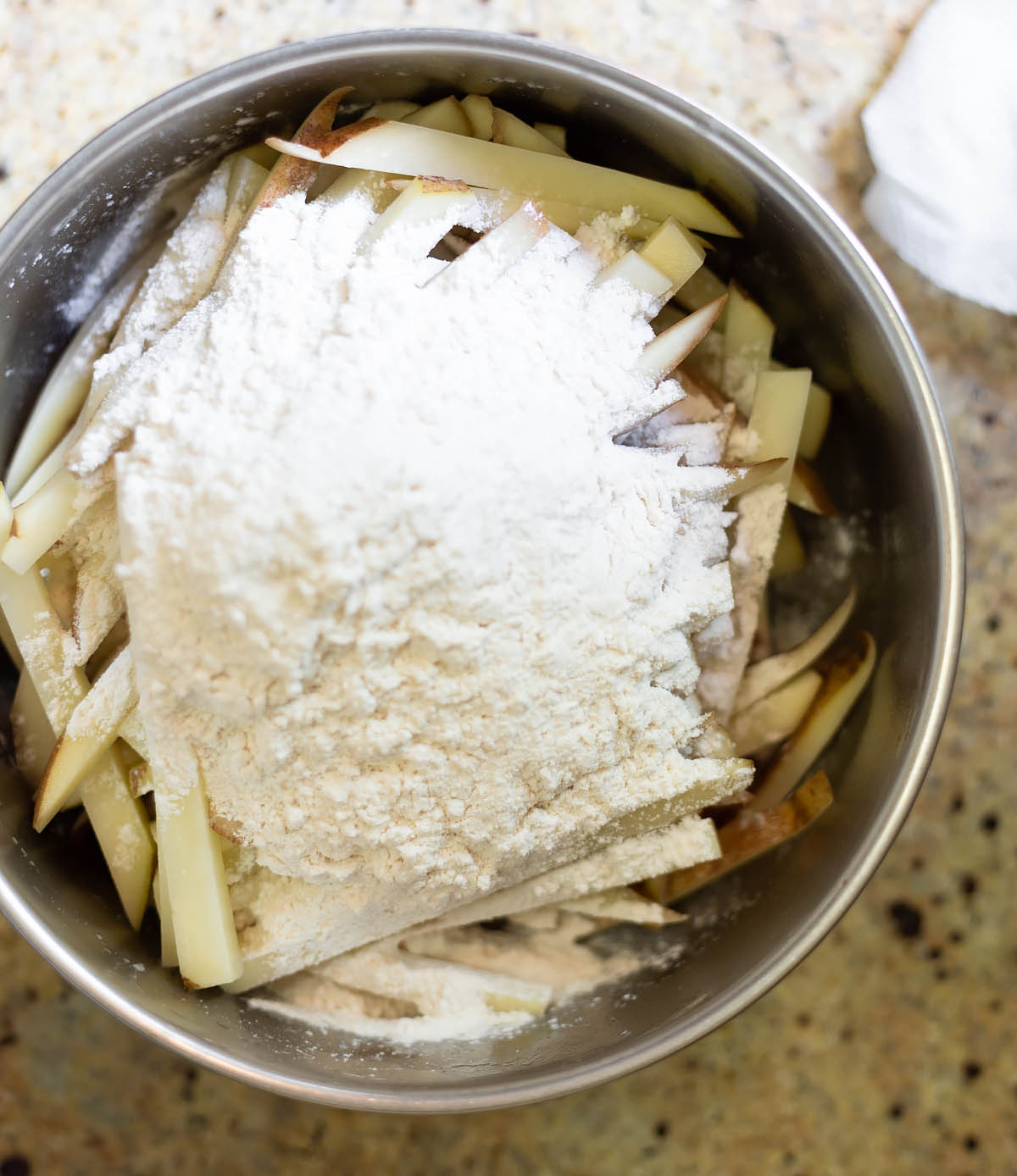 Then they should all be lightly coated and look like this!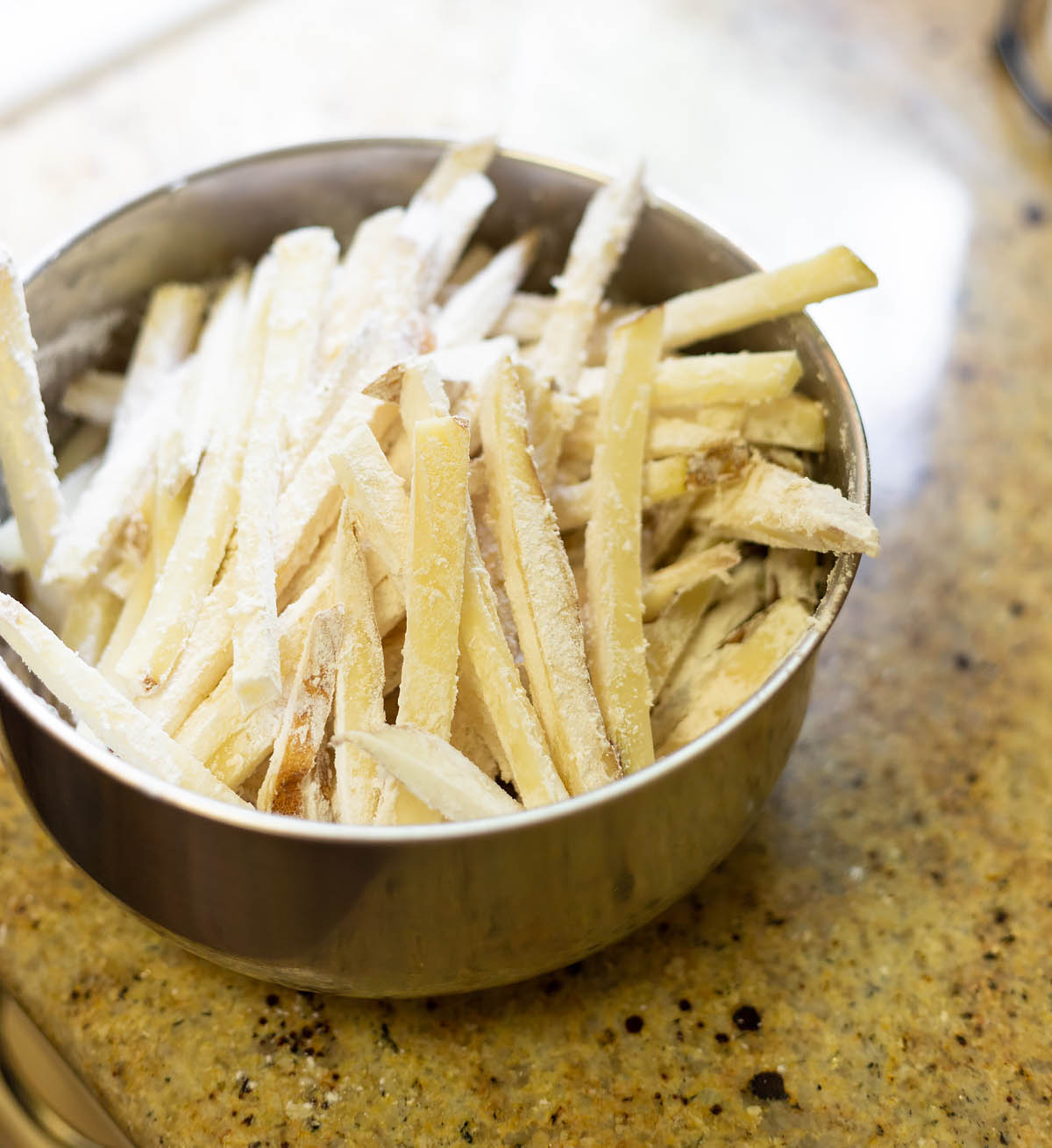 Heat your oil in a large pot. You can add a pinch of flour to the pot to test the heat and see when it's ready. If you add flour to the oil and it sizzles, it's ready.
Once your oil is hot, add the fries in groups to fry them. Don't add too many at a time. Just a handful. When you add the fries, stir them with a metal spoon or utensil to make sure they are separated.
Cook until fries start getting golden brown, then take out with a slotted spoon, spider, or some tongs, and place on paper towels.
Repeat until all the fries are cooked. If using seasonings, season immediately and toss.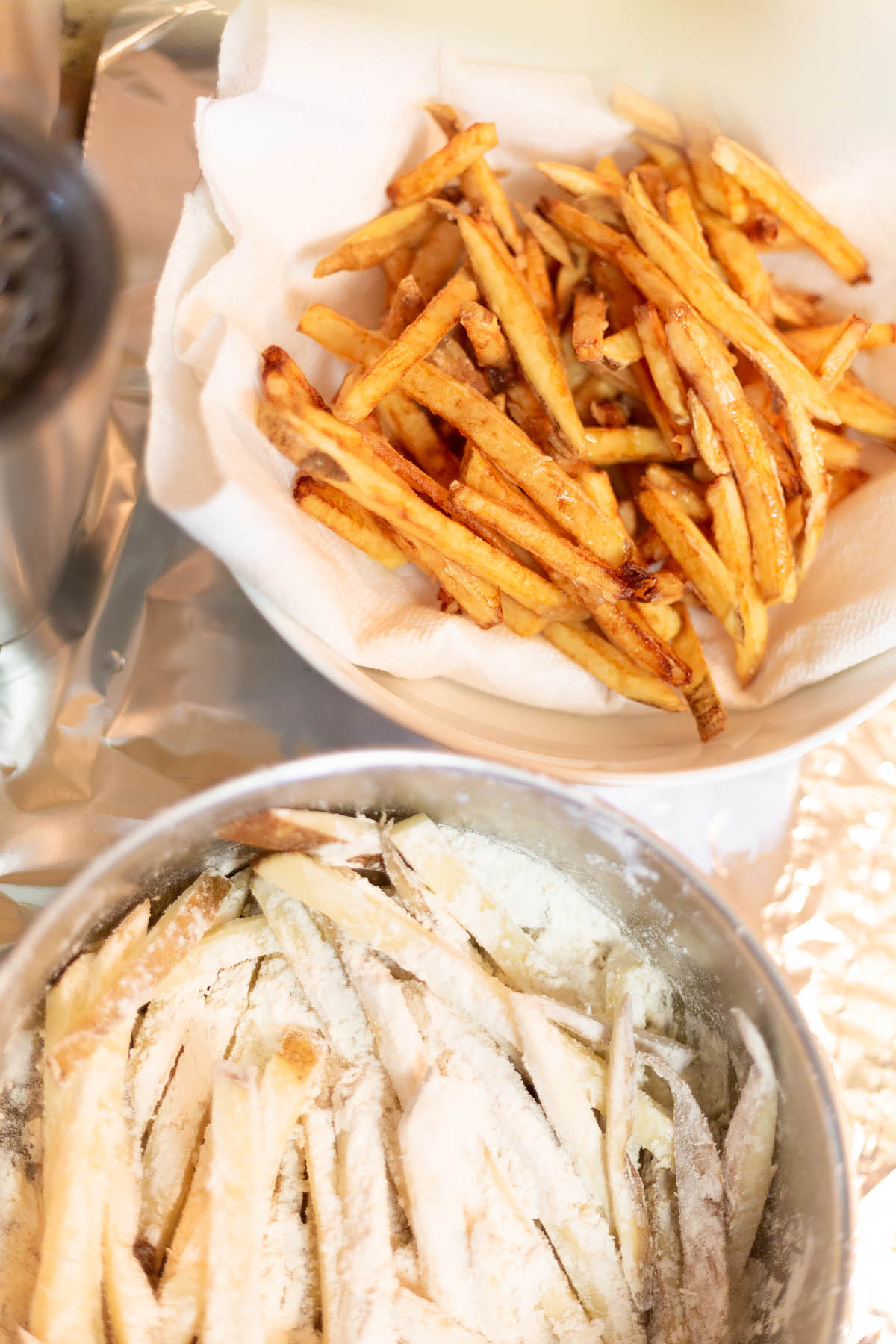 Serve and enjoy!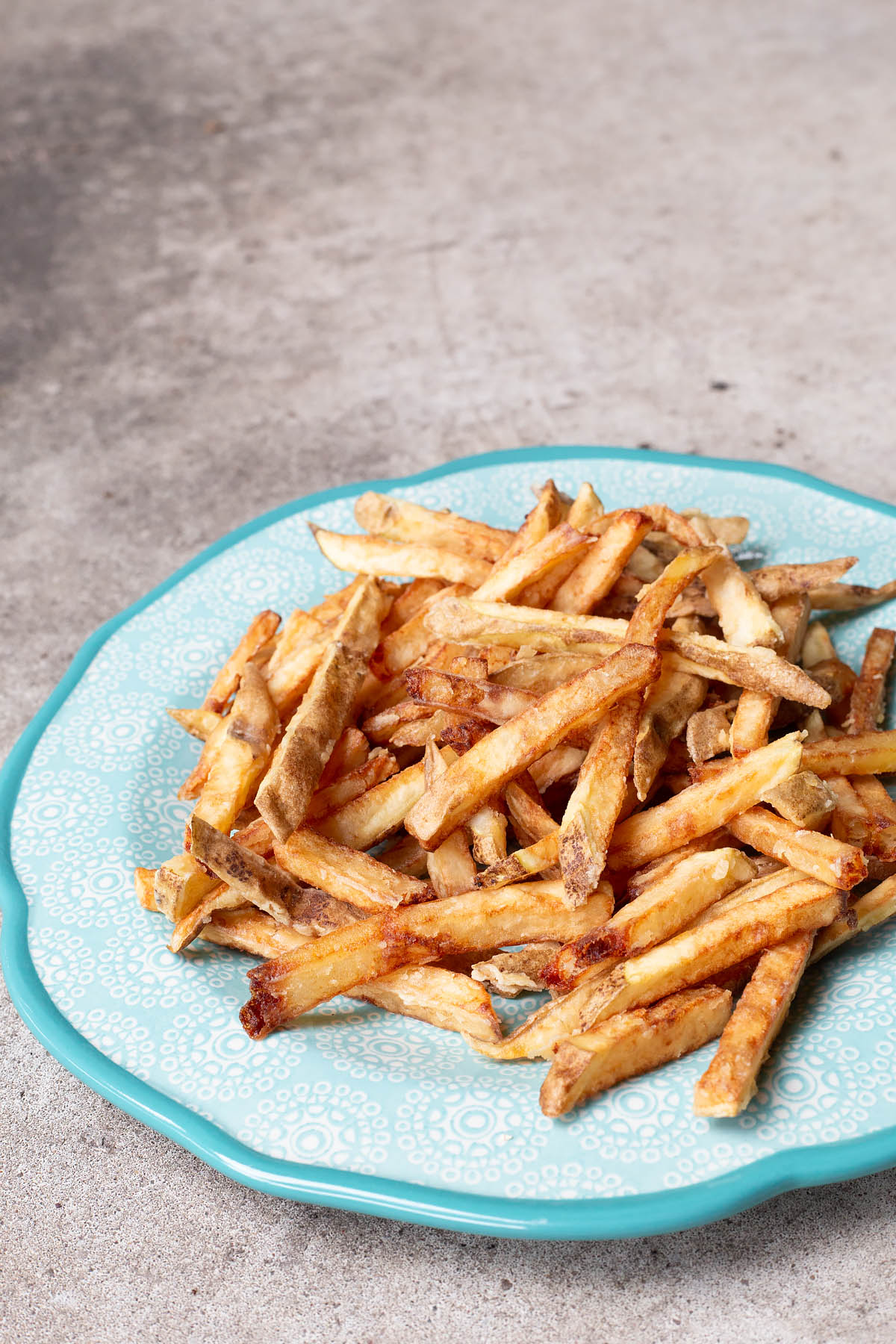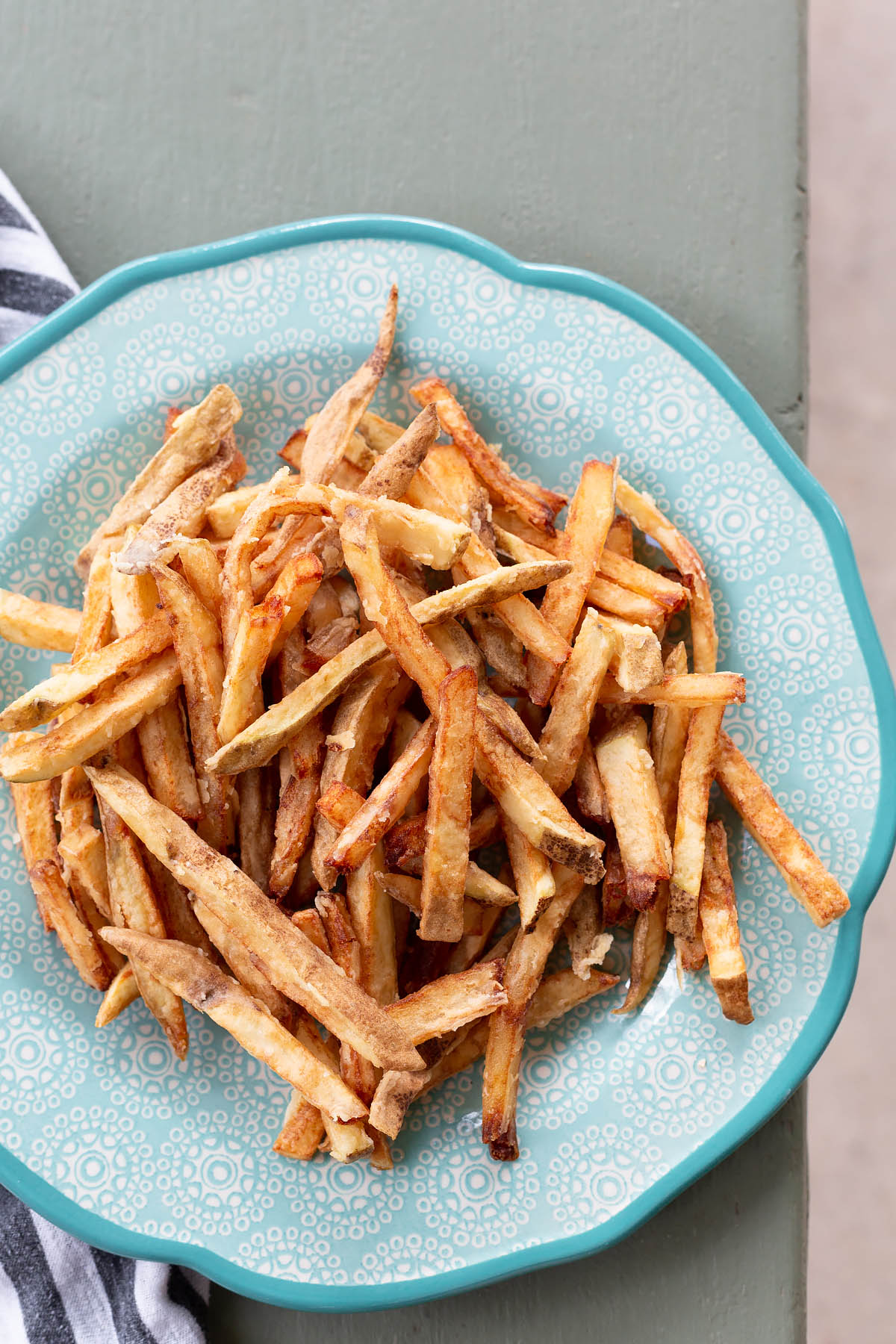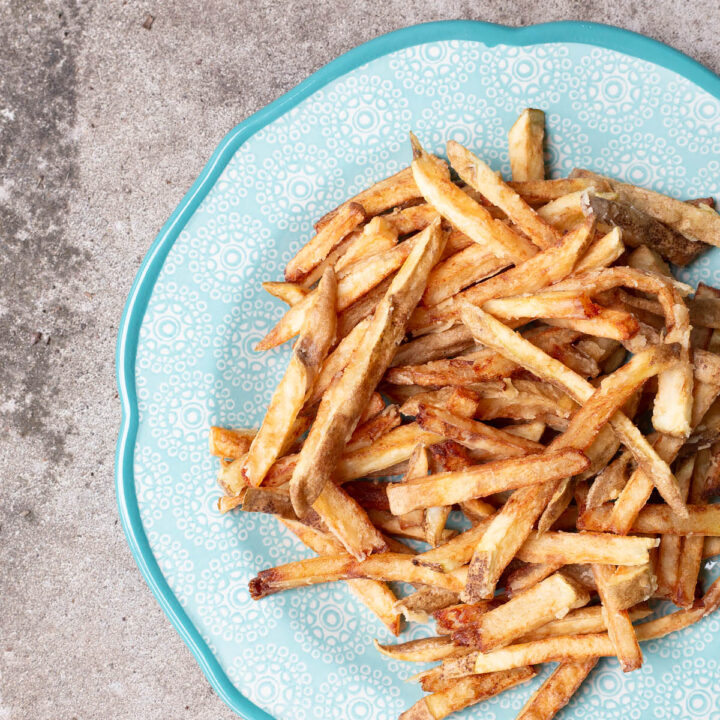 Print Recipe
Crispy Battered French Fries
These crispy french fries are lightly battered with flour that adds a nice additional crunch without being too heavy.
Ingredients
4

russet potatoes

medium to large

1.5

cups

flour

canola or vegetable oil
Instructions
Take the russet potatoes and cut into thin strips (close to the size of fast food fries).

As you cut the potatoes, add them to a large bowl of cold water. Keep cutting until you've sliced all the potatoes into thin strips.

Drain the water, then add 1.5 cups of flour to the bowl. Toss with your fingers, and try to get a light flour coating on all the potatoes. If needed, add another half a cup of flour and toss again.

In a large pot, heat your vegetable or canola oil. Don't add too much oil to overflow your pot, but don't add too little that the french fries won't have enough oil to cook. Typically, fill your pot about ⅓-1/2 of the way with oil.

Once oil is hot, add a handful of fries. Stir, and cook until golden brown. Once fries are cooked, drain on a plate lined with paper towels.

Repeat with the rest of the fries, in batches, until all the fries are cooked.

Season as desired, and serve.