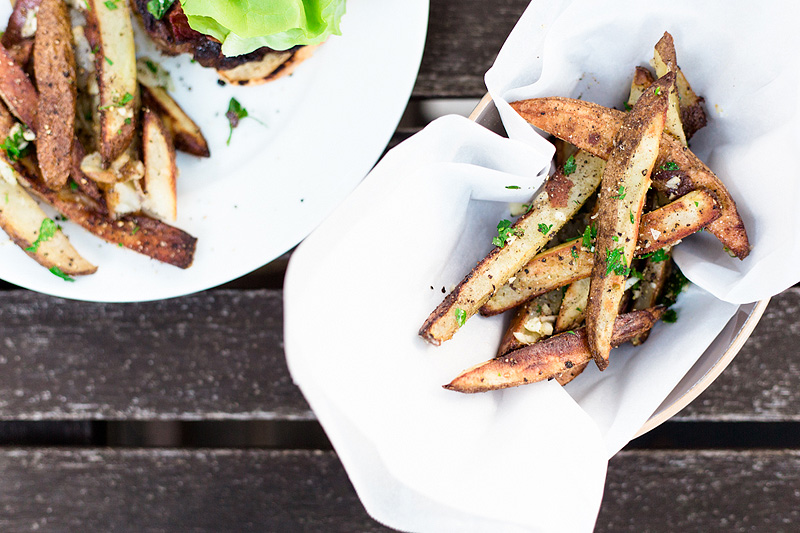 These are my favorite homemade fries, but let's be clear – these are not an attempt to replicate those deliciously crispy and greasy fast food fries that are so, so good. This is a happy compromise between a typical french fry (less mess) and a baked wedge fry (thick and satisfying). Then we top these oven-baked fries off with some raw garlic and parsley, and serve it with a savory ketchup for dipping. The french fries not only taste great, but look great too, with the parsley brightening up a typically brown plate of fried food.

After struggling with cut potatoes sticking to the baking sheet, I discovered that longer baking times actually kept the fries from clinging and made them easier to flip. I bake these in a hot oven for 20 minutes or so before turning over and cooking at a higher temp for just a few minutes more.
We also eat a lot of garlic here, and we rarely cook it for more than 30 seconds, but eating raw garlic doesn't sound like a lot of fun. Tossing the raw garlic with the hot fries heats up the garlic just enough to take away any harshness, while still strong enough to ward off vampires..and the dog. Even if you are wary of raw garlic I urge you to try it just once. We think you'll like it.
We then serve these oven-baked french fries with an savory ketchup. It really spices up an otherwise pretty ordinary condiment. The addition of black pepper, cumin, and lemon juice brightens up the ketchup and takes this simple side of oven-baked french fries to a whole new level.
Tasty and satisfying, these are delicious in summer, especially served alongside our Food Banjo burgers.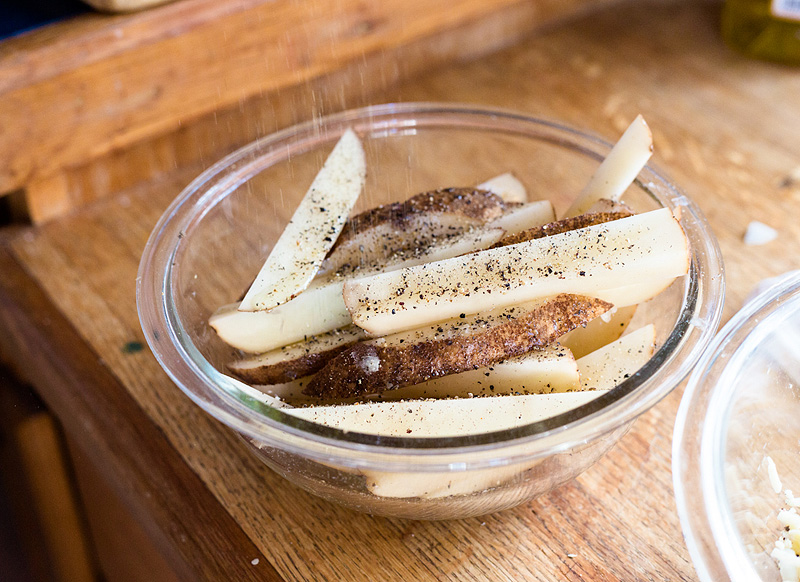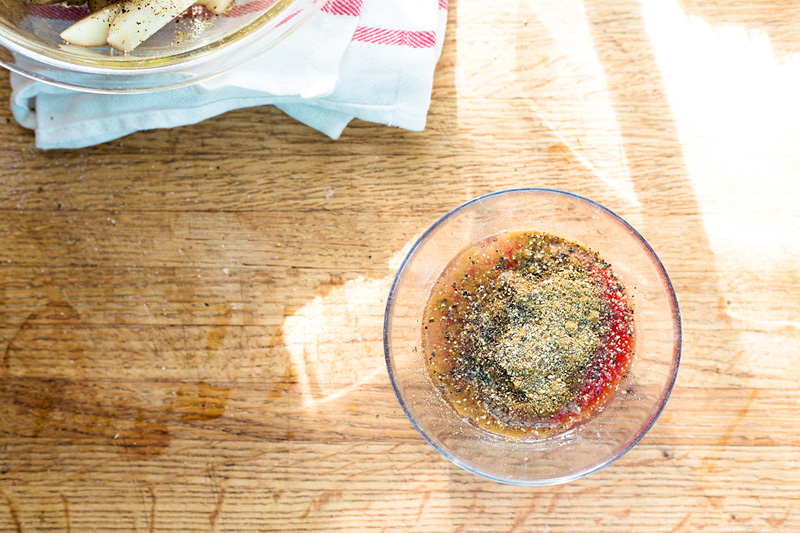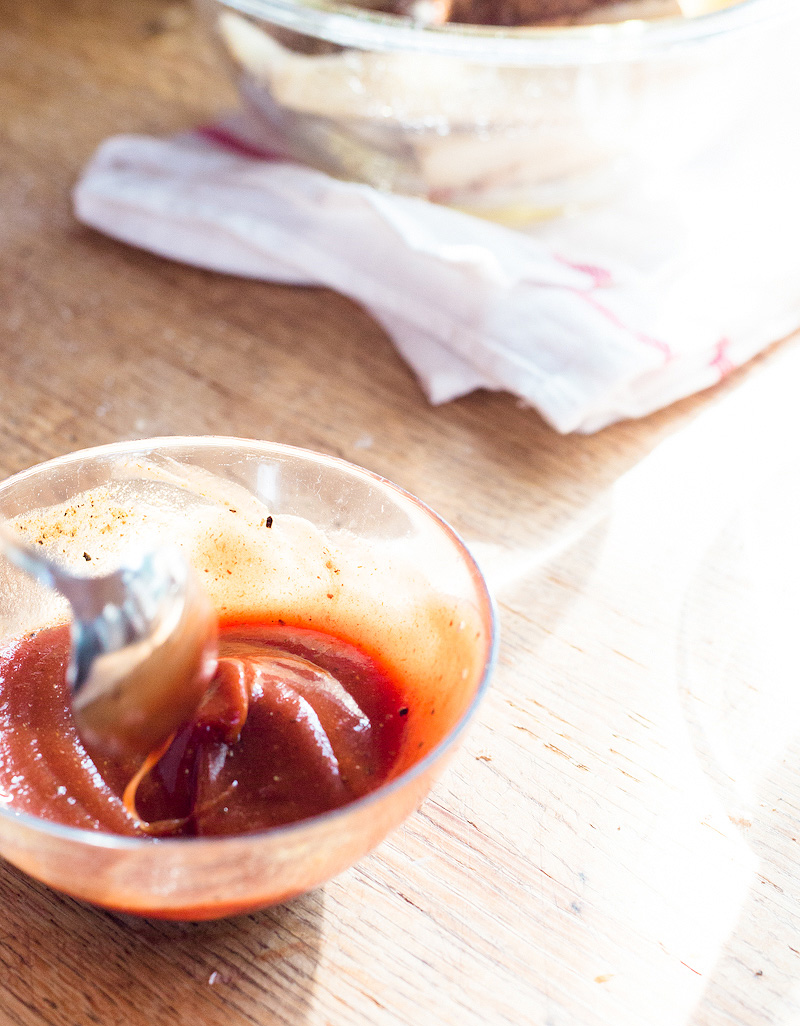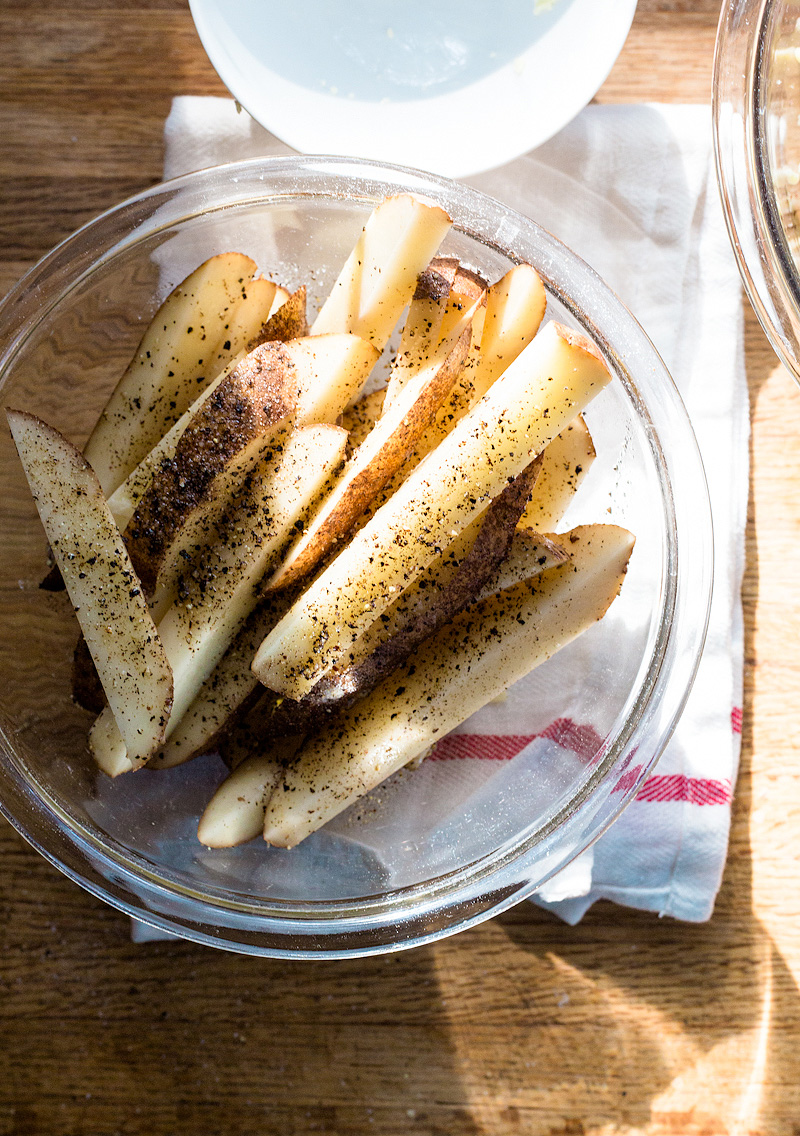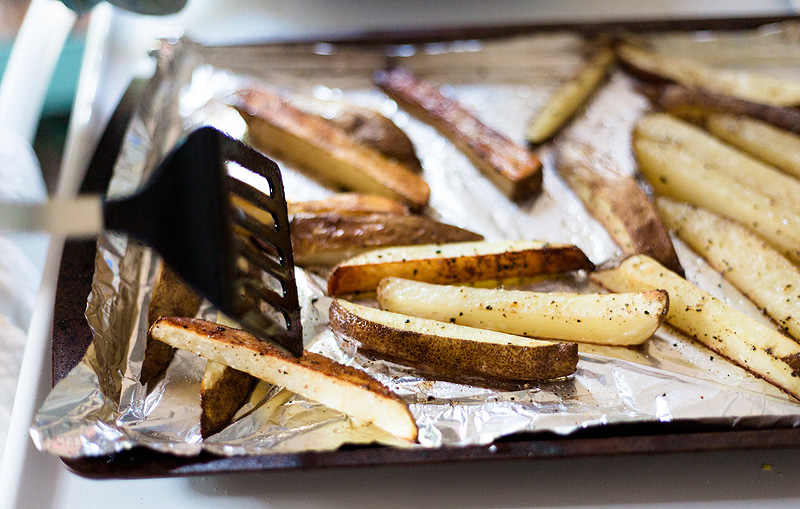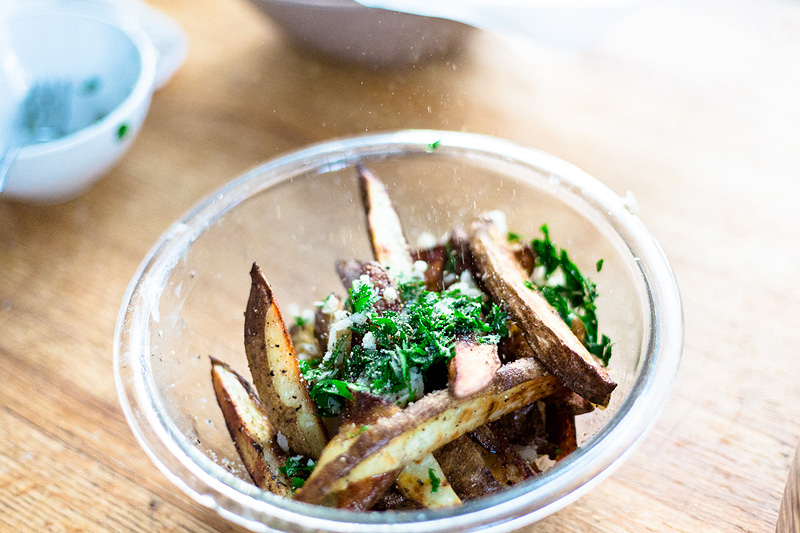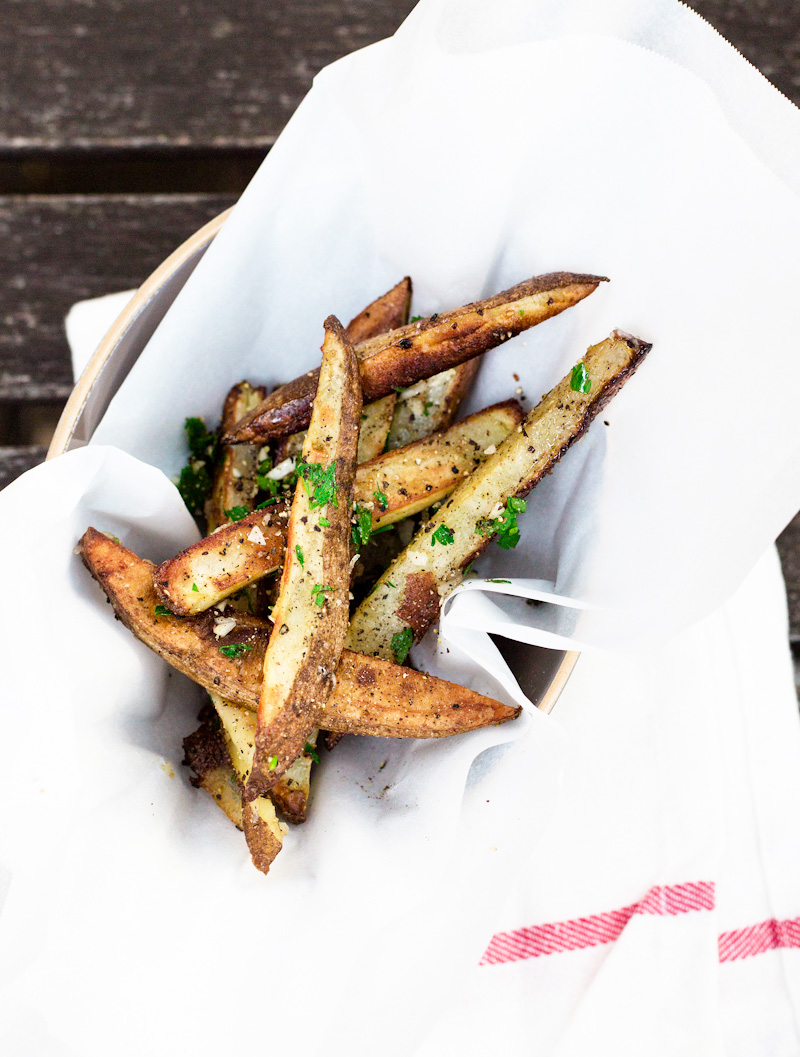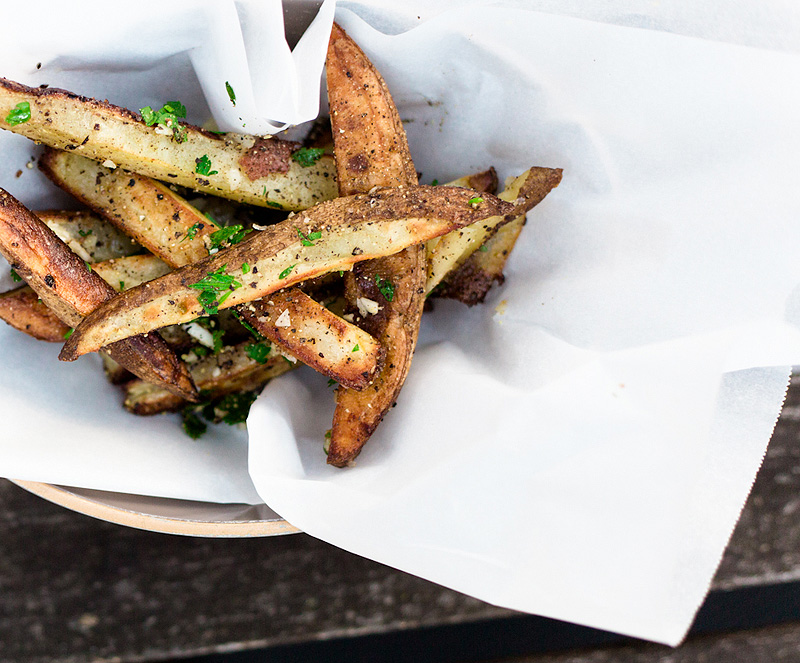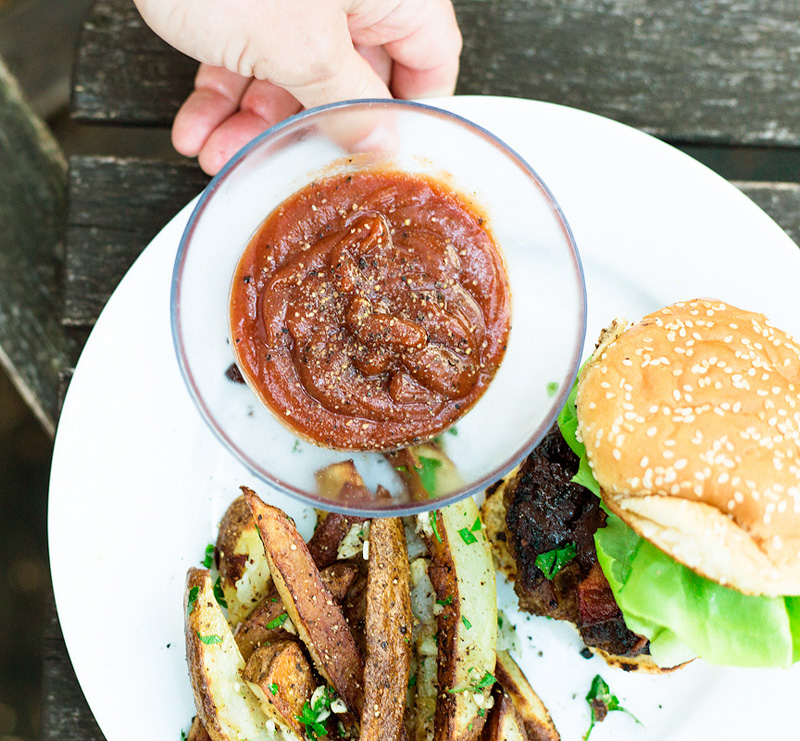 Garlicky Fries
Serves 2-4
Ingredients:
2 russet potatoes, scrubbed and cut lengthwise in ½ inch by ½ inch fries

2 garlic cloves diced

2 Tbsp fresh parsley chopped

3 Tbsp olive oil

salt 'n' pepa
Instructions:
Preheat oven to 475 degrees. Toss cut fries in a bowl with olive oil, salt and pepper and place into a single layer on a foil lined baking sheet. Sprinkle with salt and pepper and place in oven for about 20 minutes, or until fries can be pried off the foil without breaking. Turn up the oven to 525 degrees and flip the fries so the browned sides are facing up and return to the oven for 5 minutes. Toss the cooked fries in a bowl with the garlic and parsley and a drizzle of oil if necessary. Plate and salt to taste.
Savory Dipping Ketchup
Ingredients:
½ cup ketchup

2 tsp ground cumin

½ tsp black pepper

1 Tbsp lemon juice
Instructions:
Mix all ingredients in a bowl and refrigerate until needed.