This easy shepherd's pie makes a bunch, so it's perfect for feeding a family or for leftovers. It's a kid-friendly dinner that everyone loves!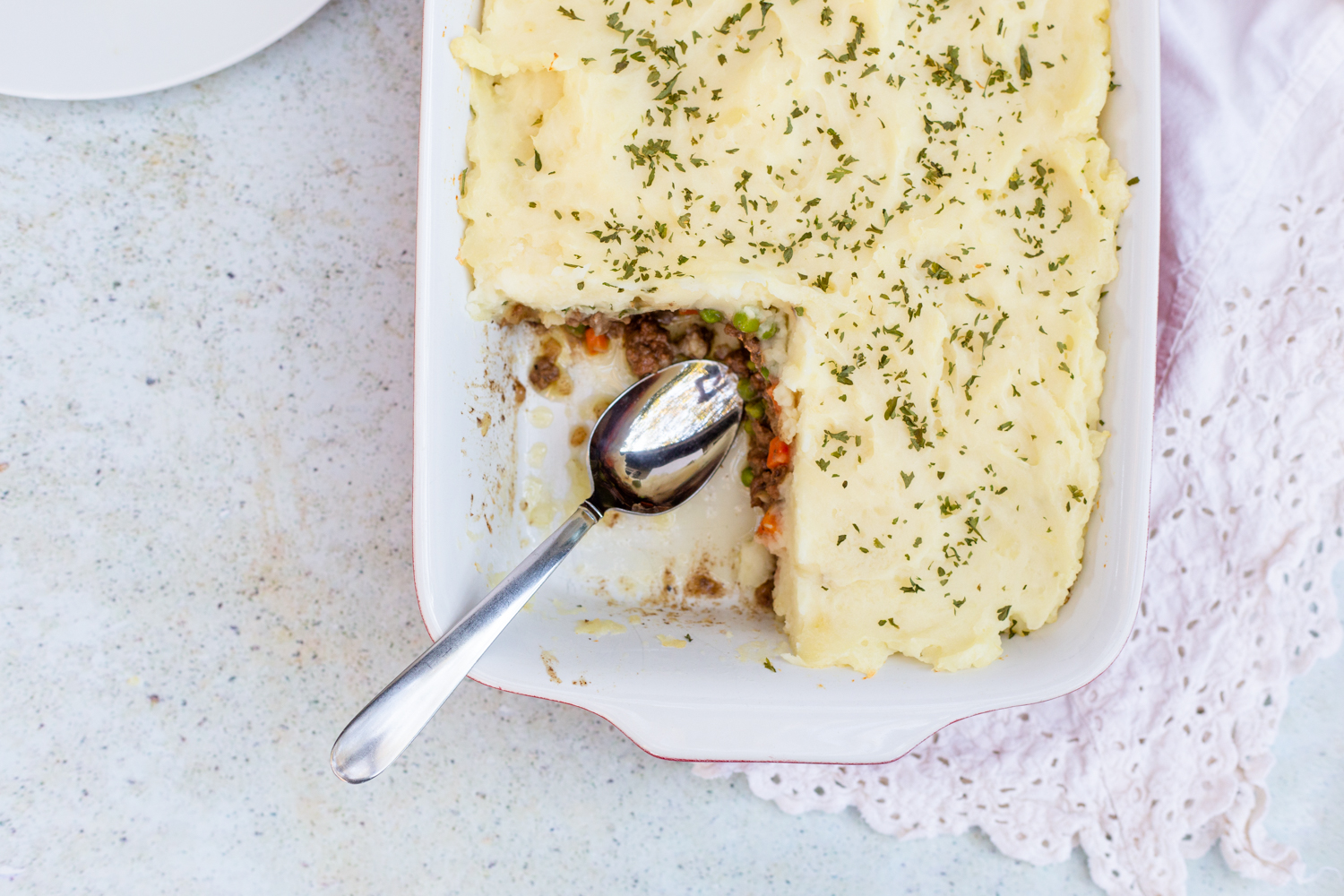 Today I'm here to bring you an easy shepherd's pie recipe that I've been making for years. While it takes a bit of time to put everything together, it's actually really easy and feeds a crowd or makes for leftovers for a few nights! This is a meal I make at least once a month, and will probably make this week. It's comfort food at its finest since it's basically hamburger meat and veggies in a gravy that's topped with delicious mashed potatoes.

Shepherd's Pie Versus Cottage Pie
If you're a stickler for what a shepherd's pie is you may be saying, "Wait... what? Hamburger meat? That's not shepherd's pie! Shepherd's pie uses lamb." And you'd be right, of course. But hamburger meat is REALLY easy to find (and cheap) and lamb is harder to find. The true name for shepherd's pie that uses hamburger meat is actually cottage pie. But if I call it cottage pie here on the blog, maybe 8/10 people will have NO idea what I'm talking about. So I still refer to it as shepherd's pie... with hamburger meat instead of lamb. So please forgive me if you're a stickler on shepherd's pie lingo.
Family friendly!
What I do love about shepherd's pie (or cottage pie) is that it's a family-friendly recipe. There's no weird ingredients here, so toddlers and kids will most likely enjoy it. When we were getting my daughter started on solid foods, pretty much her favorite things to eat were sweet potatoes and shepherd's pie. So I'd make a pan of shepherd's pie and then we'd freeze little portions for her. She liked all of it... except for the peas. She's never been a fan of peas.
Freezer meal instructions:
You can also make this shepherd's pie as a freezer meal! I did that when I was pregnant with Zara, and it was so easy to defrost and cook this shepherd's pie to have after she was born. To make as a freezer meal, you'd cook the potatoes and cook the meat mixture. Assemble in a freezer meal pan and then pop into the freezer for up to 60 days. When you're ready to eat, pop into the refrigerator to thaw, and then cook in an oven on 375 degrees F for 50-60 minutes to make sure it's heated through.
How to make:
Making this shepherd's pie is really easy. The hardest part is peeling the potatoes! So if you can convince a friend, partner, spouse, or parent to do that part, you've gotten the hard work done.
So really, you peel the potatoes, cut them into large chunks, put them in a large pot with cold water, and then start boiling them on the stove. While those cook, you brown the meat and cook the onions, then add seasonings and stock to turn everything into a nice gravy, then add the peas and carrots to cook, and then you have the meat portion done!
Finish up the potatoes by draining them, adding some cream, butter, and seasoning and mashing them all up.
To put it all together, Pour the beef mixture into a 9x13 (or about that size) casserole dish. Then top with the potatoes. Smooth everything out, and sprinkle on a bit of dried parsley. Pop into the oven for a bit and then take out and serve!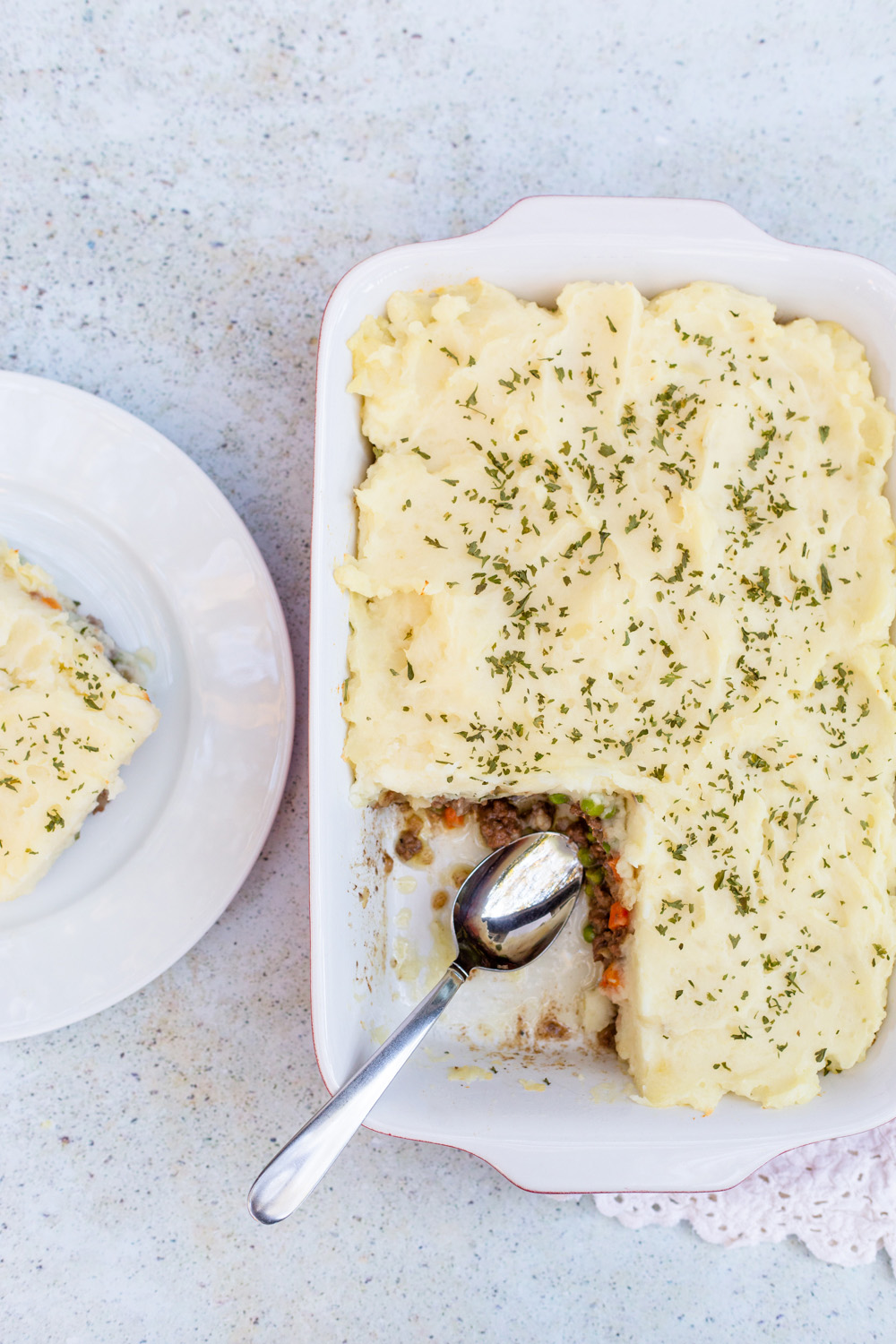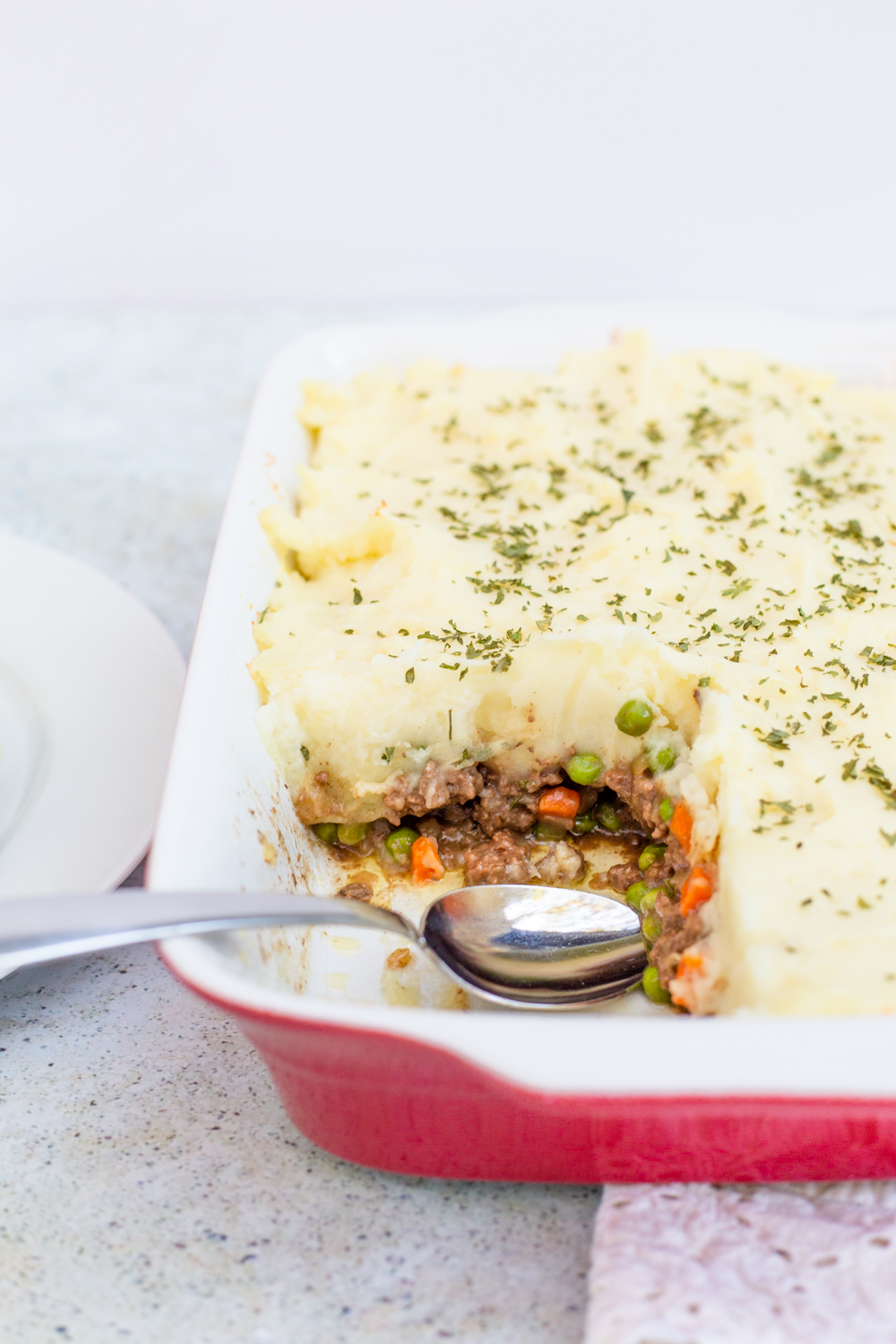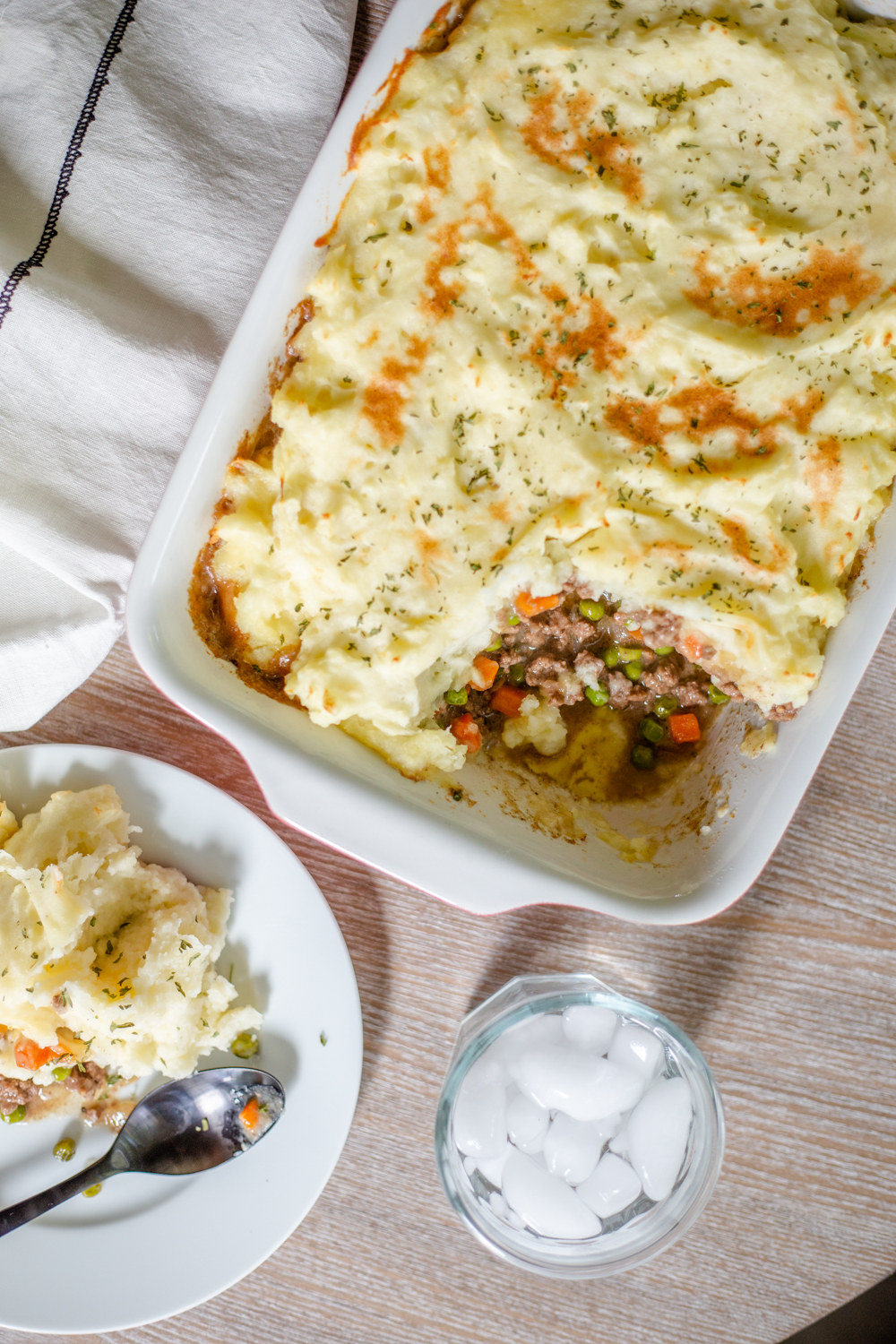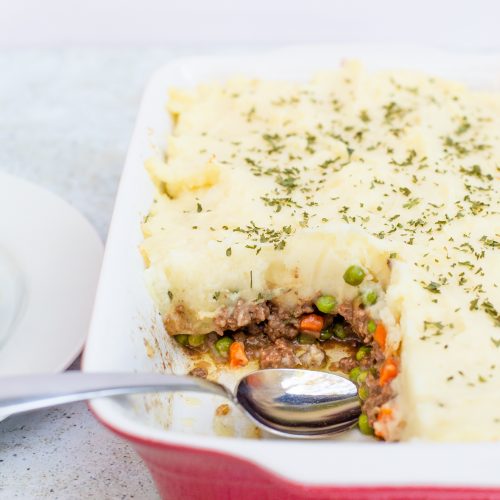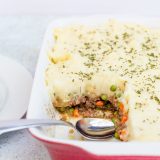 Print Recipe
Easy Shepherd's Pie
Ingredients
1 ½

lbs

ground beef

4-5

large russet potatoes

1

cup

beef stock

1

Tbsp

Worcestershire sauce

2

Tbsp

flour

1

yellow or white onion, diced

2

cups

frozen peas and carrots

1

cup

heavy cream or milk

4

Tbsp

butter, divided

¼

tsp

garlic powder

1

tsp

salt, divided

¼

tsp

black pepper

dried parsley (optional)
Instructions
Preheat oven to 350 degrees F and pull out a 9x13 casserole dish (or similar size).

In a large pot or stew pot, add cold water. Peel and cut the russet potatoes into large chunks and add to the pot. Place the pot on the stove and heat to boiling, then reduce heat slightly (so water doesn't boil over). Boil the potatoes until they are tender when pierced with a fork.

While potatoes are cooking, take the onion and dice it into small pieces.

Heat a large skillet over medium or medium-high heat and add the ground beef and diced onion. Cook, stirring occasionally, until meat is browned. Add ½ tsp salt and ¼ tsp black pepper and stir.

Add 1 Tbsp Worcestershire sauce, 1 cup beef broth, and 2 Tbsp butter to the pan. Cook, stirring occasionally, until butter is melted.

Sprinkle the 2 Tbsp flour over the meat and mix in to thicken broth into a gravy.

Add the frozen peas and carrots and cook for 10 minutes to soften.

Drain the potatoes, return to the pot, and add 1 cup heavy cream OR milk, 2 Tbsp butter, ¼ tsp garlic powder, and ½ tsp salt. Mash with a potato masher until smooth and creamy. (If needed, add more milk/cream/butter).

Into the casserole dish, pour the beef mixture. Then top with dollops of the mashed potatoes and smooth out. Sprinkle with dried parsley, if desired.

Cook in the oven for 25-30 minutes. Remove from oven and serve.
Notes
Some recipe notes:
There are lots of ways to mash up potatoes. I prefer a regular potato masher, (as Josh likes a tiny bit of lumpiness that makes it feel homemade) but if you like your potatoes extra-smooth, you can use a ricer. 
I use the bags of frozen peas and carrots. If you don't have those in your store, or just have separate bags of peas or carrots, that's fine! Just use one cup of peas and one cup of carrots. If you dislike peas or carrots, sub out with another frozen vegetable.