This pepperoni pizza quesadilla is an easy kid-friendly lunch idea! It's a fun twist on the typical quesadilla that is easy to customize for kid and adult tastes. Make it vegetarian, make it meat-heavy, just make it your own!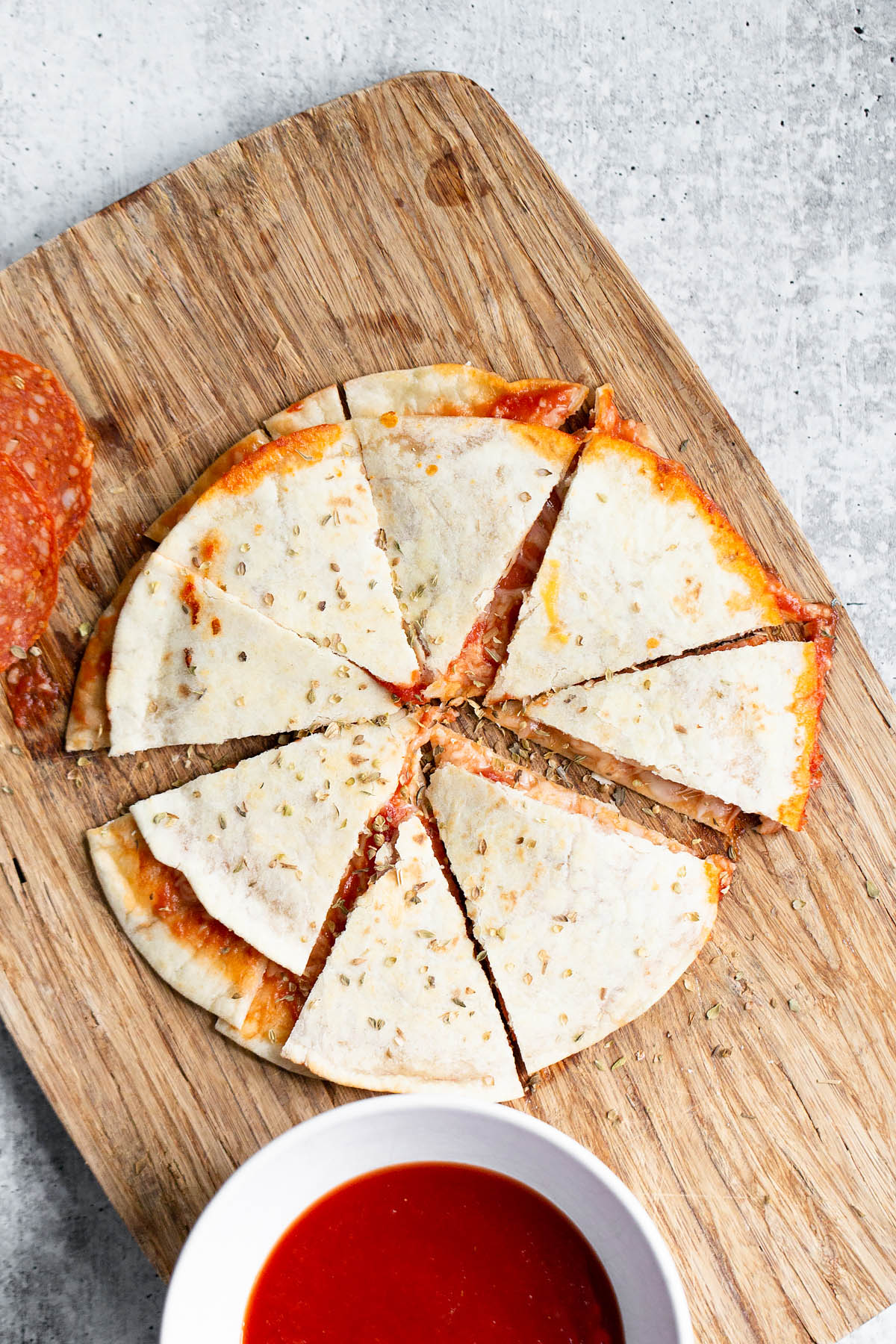 I had been planning to make pizza quesadillas for awhile for my kids. They love quesadillas, and they love pizza, so I thought... why not combine the two?
Apparently, this is not an original idea. I was at my sister's house, and my niece started telling me about the pizza quesadillas they had the previous week. So I figured they were delicious, and I DEFINITELY needed to make these now.
Several days later, I made these for my kids. And I kept sneaking bites of them for myself. And I've made them again and again. So good. Especially when you have tortillas you need to use or you just want to make an easier version of a pizza.
These pizza quesadillas are so kid-friendly, but also tasty for adults! and the wonderful part is... just like pizza... you can customize these for everyone's tastes.
Have a family member that is vegetarian? Just add roasted veggies and cheese to theirs. Someone loves chicken? Add that! Want a meat-lovers version? Add hamburger meat, sausage, pepperoni, and bacon.
Ingredients:
Tortillas - I typically use flour tortilla when I make quesadillas!
Tomato sauce - You can either use just a jar of plain tomato sauce, or you can use pizza sauce if you have it on hand.
Cheese - I used shredded mozzarella when I make pizza quesadillas, but if you or your kids love cheddar, parm, etc. on yours, use that! These pizza quesadillas are easily customizable for what you love.
Pepperoni - Pepperoni is perfect on this pizza quesadilla if you want to make a classic pepperoni pizza quesadilla.
Oregano (optional) - Because I usually just use tomato sauce when making the quesadillas, I add a dash of oregano to give it a bit of spice and pizza flavor.
Twists on the recipe:
One of the great things about pizza is customizing it to your tastes! This recipe gives you a classic pepperoni pizza quesadilla, but here's some more ideas based on what you love!
BBQ Chicken Pizza Quesadilla - To make this quesadilla, swap out the tomato sauce for bbq sauce and use chicken and cheddar and mozzarella on your quesadilla. I love topping mine with green onions!
Hawaiian Pizza Quesadilla - Always a controversial pizza, but if you love pineapple on pizza, you'll love a Hawaiian pizza quesadilla. Just use ham and pineapple in your quesadilla.
Spicy Pepperoni Quesadilla - Make the classic, but add a touch of spice by adding some red pepper flakes to your quesadilla.
Meat-lovers Pizza Quesadilla - Make as is, but add cooked hamburger meat, cooked bacon, and cooked sausage to the quesadilla!
You can also always add cooked veggies to your quesadilla, add some black olives, or really just use whatever you would typically eat on your pizza!
How to make:
First, I love to get out a skillet and layer in the pan. You can also layer on a cutting board and transfer to a skillet! This is a better option if you're making multiple pizza quesadillas.
Add your tortilla to your skillet or surface.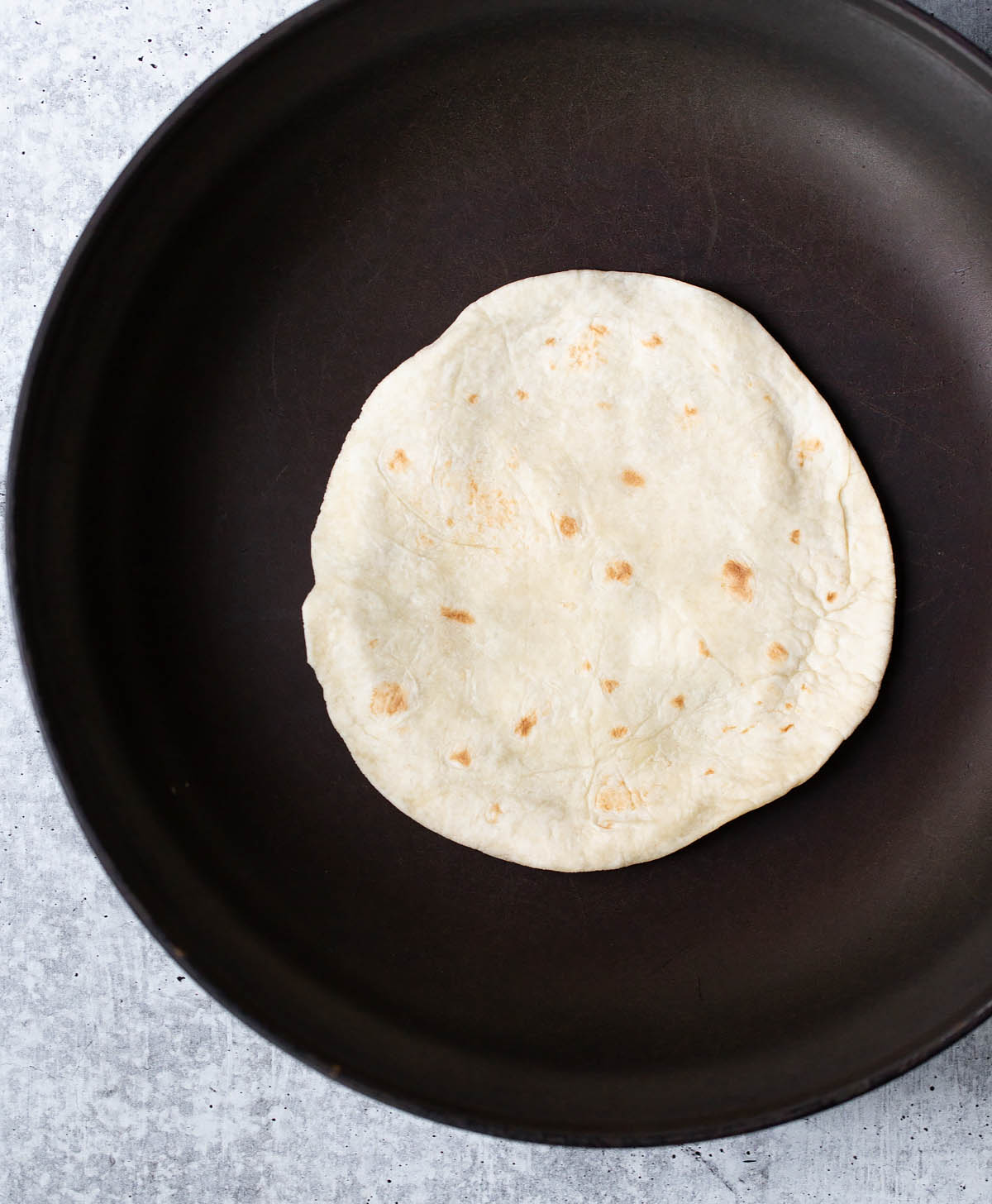 Next, top with your tomato sauce or pizza sauce and make sure it's spread around the quesadilla.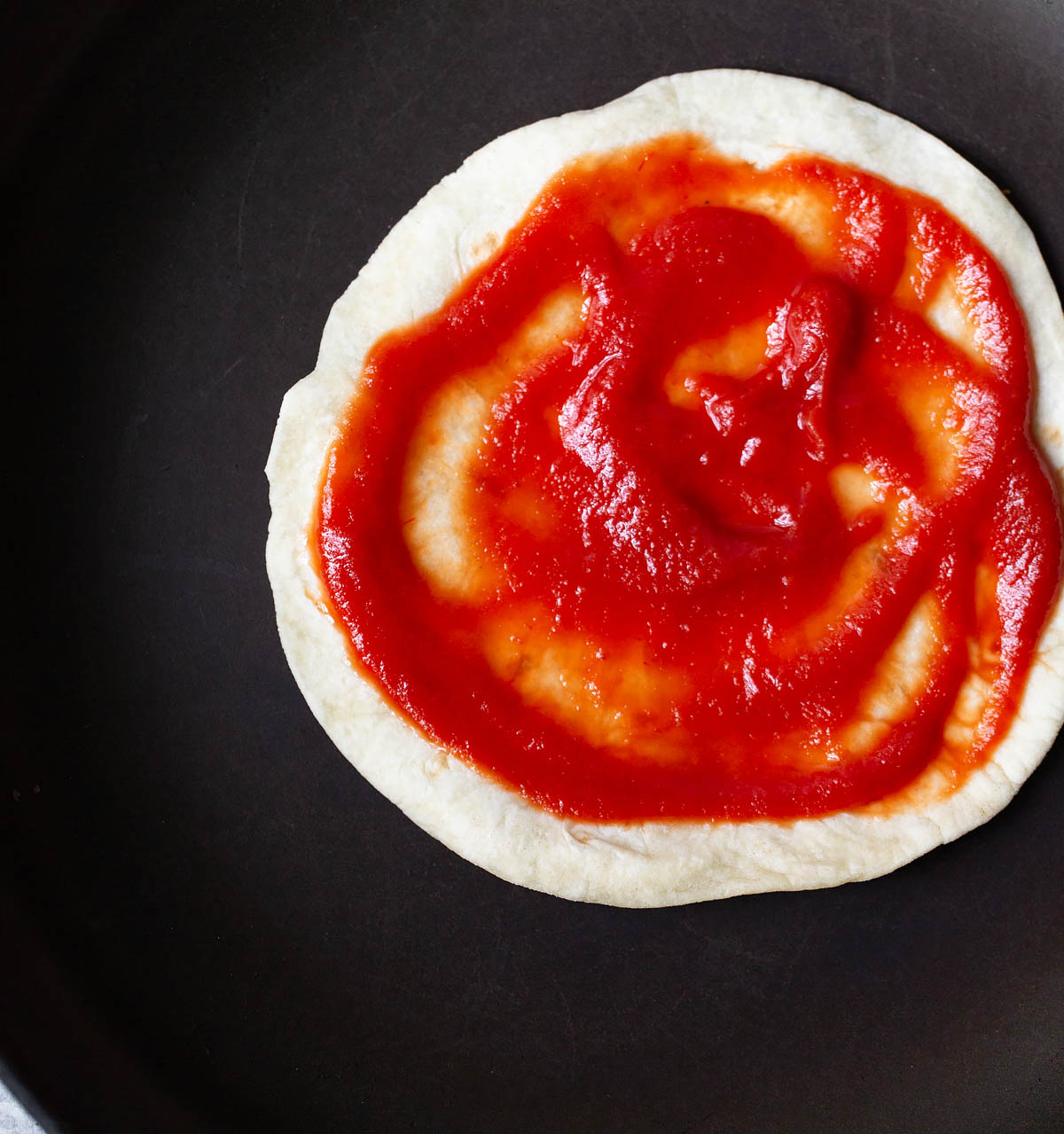 Add your cheese and pepperoni.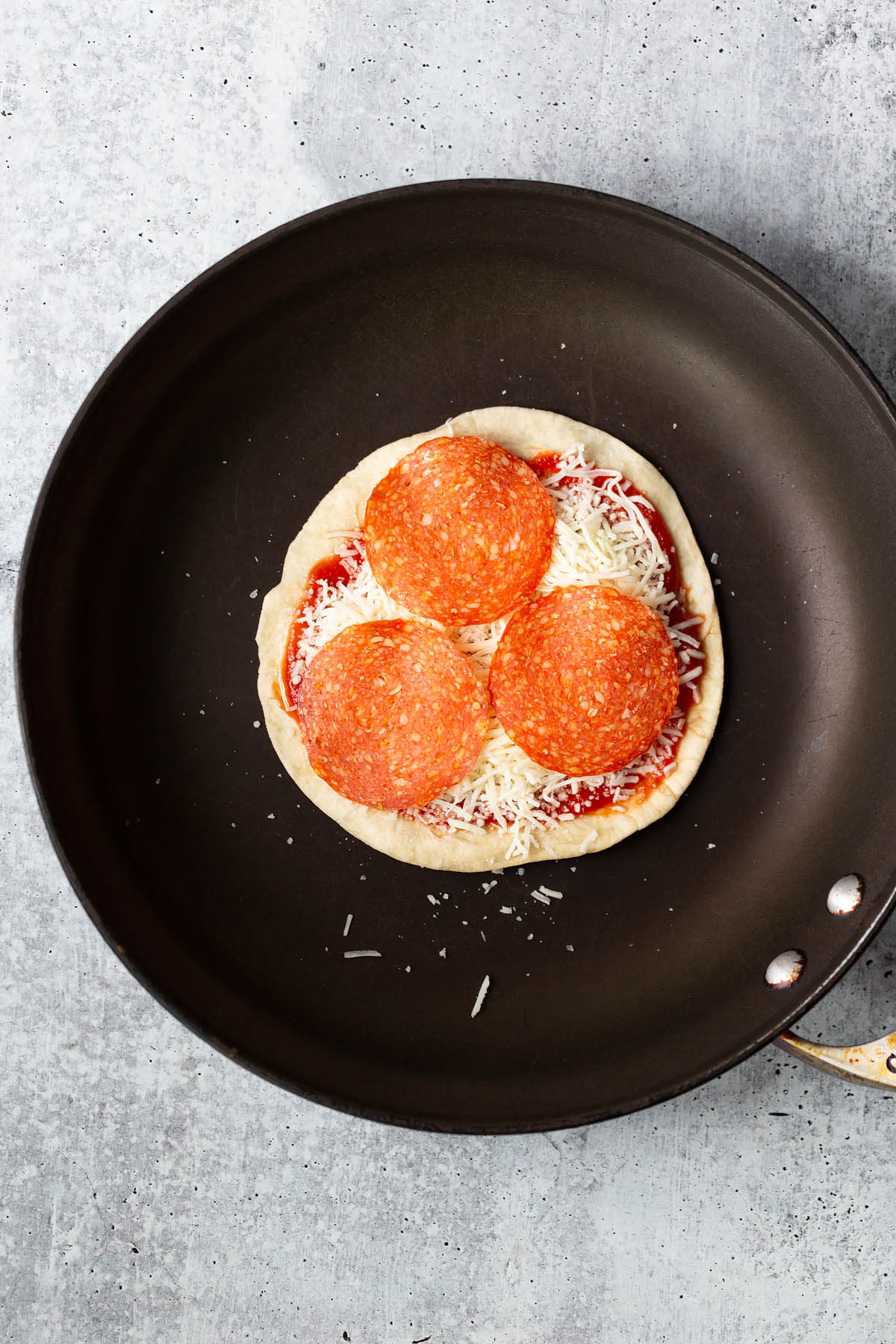 Add a bit more cheese so the top layer of tortilla sticks to the cheese.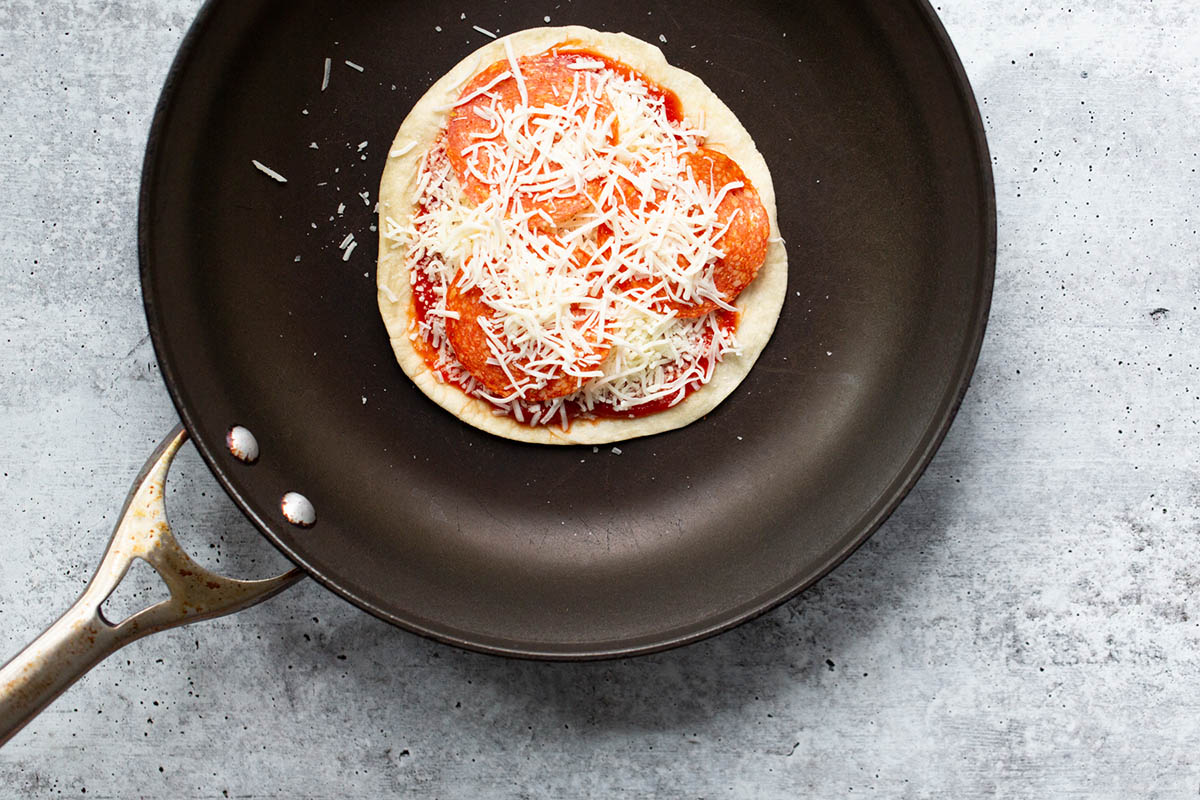 Place another tortilla on top and then add to the skillet (if not in there already), and heat over medium heat until one side is toasted and starts lightly browning. Carefully flip, cook the other side, and the remove from the skillet.
Let cool slightly, then slice into triangles like you would a pizza.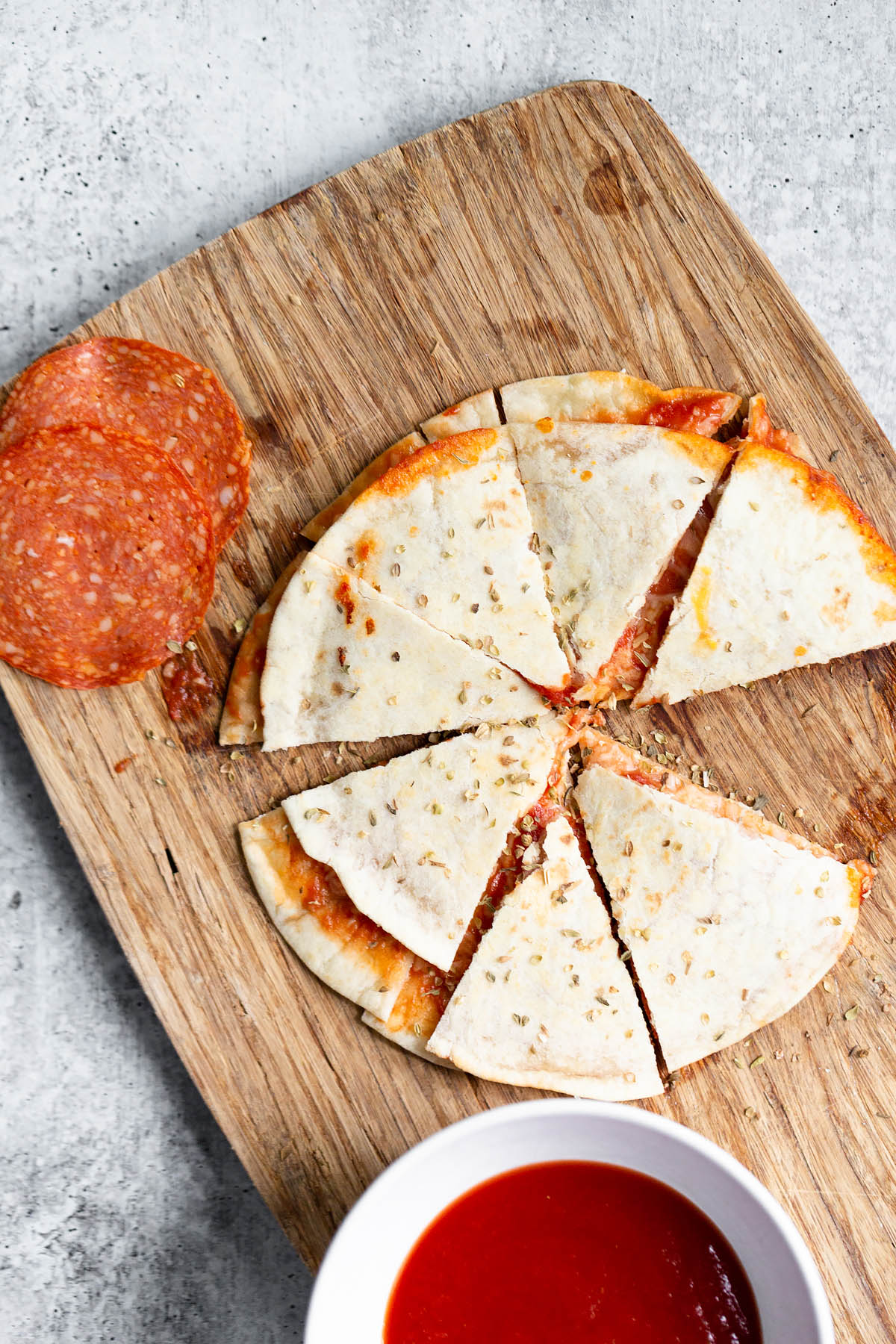 Serve as desired! Top with some dried oregano and more tomato sauce or pizza sauce. Or serve with ranch dressing. You might also decide to serve with some pickled jalapeños or drizzled with some buffalo sauce.
Like this recipe? Try these!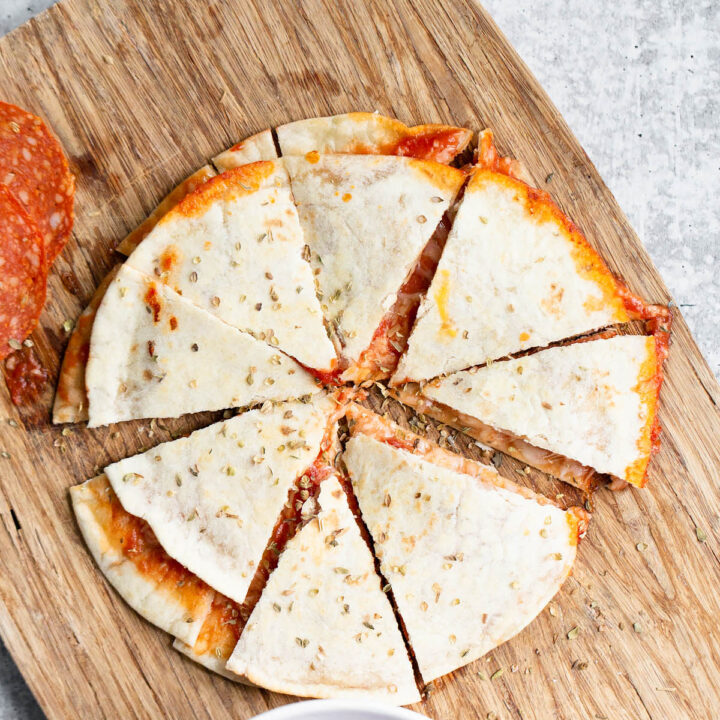 Easy Pizza Quesadilla
This pepperoni pizza quesadilla is an easy kid-friendly lunch idea! It's a fun twist on the typical quesadilla that is easy to customize for kid and adult tastes. Make it vegetarian, make it meat-heavy, just make it your own!
Ingredients
flour tortillas

tomato sauce

mozzarella cheese

pepperoni slices

dried oregano

optional
Instructions
Take one flour tortilla and spread tomato sauce over it

Sprinkle with mozzarella cheese. Then, add pepperoni slices.

Sprinkle with a small handful of more cheese and put another tortilla on top.

Place in a skillet and cook over medium heat 4-5 minutes until lightly browned.

Carefully flip and cook the tortilla for 2-3 more minutes.

Sprinkle dried oregano over the top. Cut into triangles and then plate and serve.

Serve with pizza sauce or other favorite dipping sauce.
If nutrition info is shown, values are based on an online calculator and are estimates. Please verify using your own data.
Tried this recipe?
Tag @foodbanjo on Instagram and share your photos!