According to Aimee, salmon en papillote is the very first dinner I ever cooked for her. I had to break it to her that this was my go-to dish for impressing the ladies. It checks all of the boxes:
Sounds fancy – salmon en papillote just means "salmon in parchment" but when heard in my outrageous French accent just makes your knees weak.

Looks cool – few homemade meals allow for such dramatic presentation. For this dish you plate the bag and the diner tears into it like a present…allowing the steam and savory smells to waft almost magically from the bag.

Looks complicated (but super easy) to make – it uses one pan and a cookie sheet, so clean up is super easy too.

Healthy and light – this recipe uses just 1 tablespoon of butter or oil and salt and pepper to taste.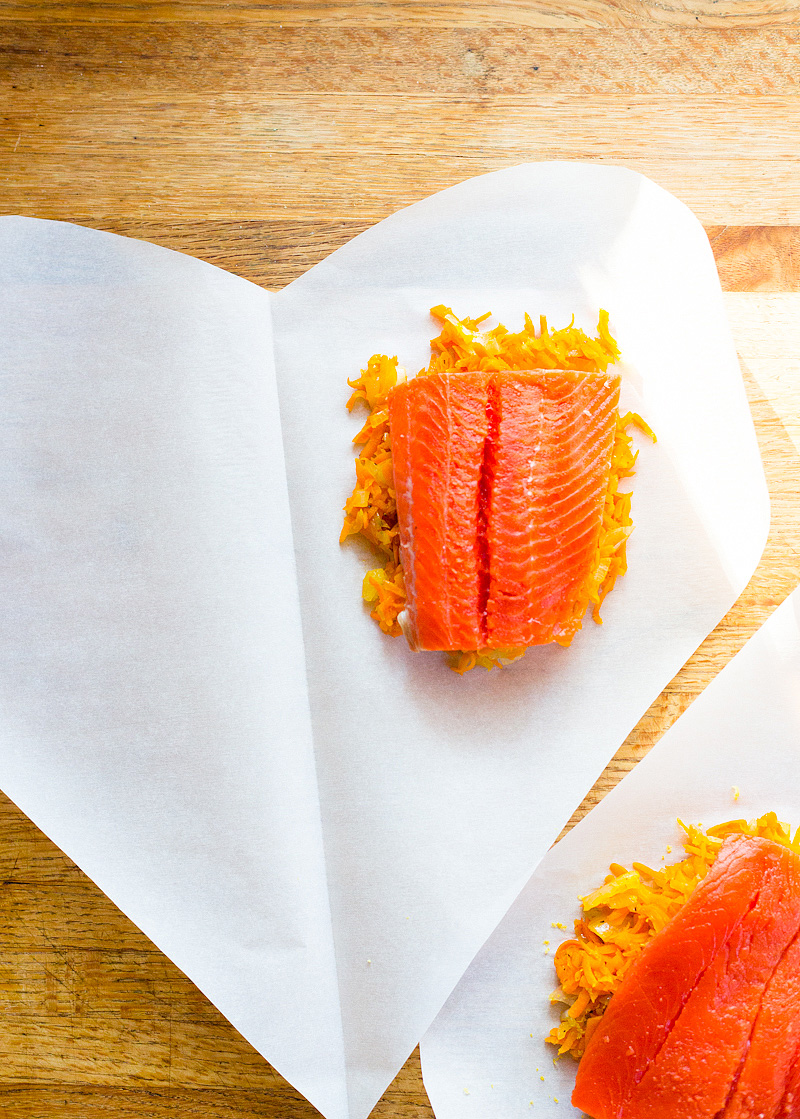 Here you go, a simple recipe for Salmon en Papillote:
Print Recipe
Salmon en Papillote: Fish in a DIY bag
Ingredients
3

carrots shredded

1

shallot chopped

2

salmon fillets

skin and bones removed

1

tbsp.

butter or olive oil

1

tbsp.

lemon zest

2

sheets of parchment cut roughly 15in x 20in
Instructions
Preheat oven to 375 degrees.

Heat butter or oil in a pan over medium heat. Sauté carrots and shallot until soft (3 - 4 minutes) adding salt and pepper to taste.

Fold the parchment in half so it is 15in x 10in and cut a half heart shape so when unfolded it looks like a Valentine's heart.

Divide the sautéed vegetables onto the wider part of the hear parchment, close to, but not overlapping the fold. Place the fish on top of the vegetables. Top with lemon zest, salt and pepper.

Place the left half of parchment over the fish in the same way you cut out the heart.

Folding: Starting at the top inseam of the heart fold over a 1 inch section of parchment toward the center of the heart. Working your way around the open side of parchment ½ inch at a time, continuing to fold the sections making sure you overlap the previous section so that no steam escapes. Once you get to the end, fold the long tail of the heart around a few times and tuck it underneath the bag.

Place the bags in the oven on a cookie sheet for 9 or 10 minutes.

Serve and tear in.