This recipe for pan fried salmon is served with roasted vegetables. It's such a flavorful and healthy pescatarian dish. This salmon is the perfect weeknight dinner, as it's so quick and easy to make!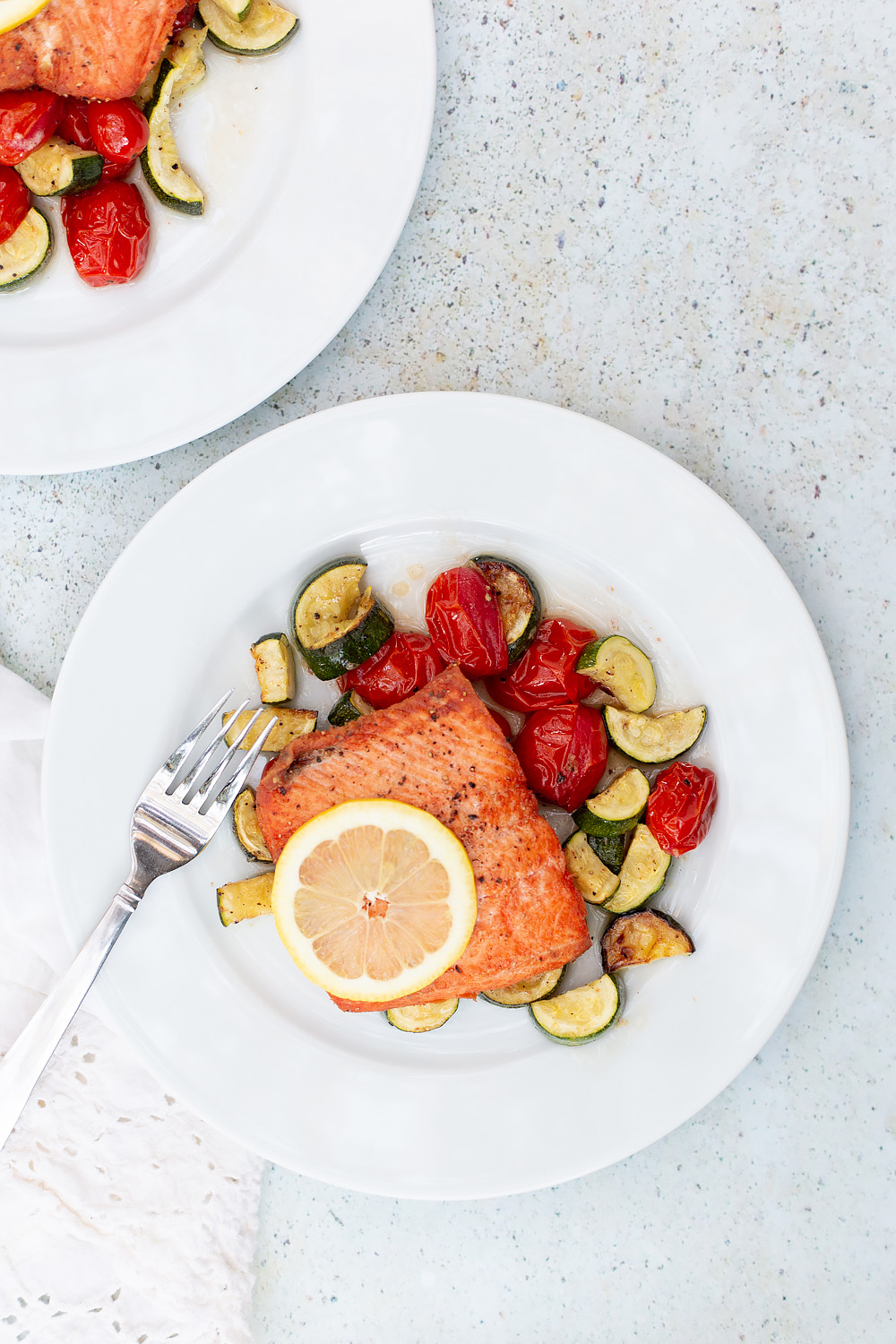 This post contains some affiliate links, which means that I make a small commission off items you purchase at no additional cost to you.
For my birthday earlier this year, we headed to a restaurant where Josh had what looked like pan fried salmon served over some roasted veggies. It looked and tasted SO good. So I decided I needed to make a version to have at home. Requirements: quick, easy, and flavorful. I think I hit it out of the park with this one.
I love how tasty, flavorful, and healthy this recipe is. I always try to use wild-caught salmon. Wild-caught salmon tends to have more flavor, however it's easier to overcook than farm-raised salmon, so you have to keep a close eye on it! And salmon is SO healthy. It's got lots of Omega3s, is high in vitamin B12, and is a fantastic source of protein.
Ingredients:
Salmon filets
Grape or cherry tomatoes
Zucchini
Olive oil
Lemon
Salt and Pepper
Tips for pan frying salmon
If you're pan frying your salmon, you want to put a touch of oil in the pan. Just enough to very lightly coat it. You're not trying to deep fry your salmon. Heat the oil until it's shimmering and hot.
The oil will heat the salmon from the bottom, and you'll start to see the salmon get from dark pink to lighter pink as it cooks. As it is turning lighter pink, you'll flip it ONLY ONCE to cook the other side. You don't want to flip this back and forth.
Also, when you flip your salmon, do it with a spatula away from you. That way you lessen the chance of oil splattering towards you.
Should you fry salmon with the skin on?
Ultimately, it's up to you. This recipe has you remove the skin, but you can certainly cook it with the skin on. If you do that and plan on eating the skin, you'll want to get it really crispy.
Make sure the skin is dried off, and you can even score it with a knife to keep it from shrinking up as you cook it.
When I cook salmon with the skin on, I like to serve it with the skin side up to keep the skin from getting soft after it's cooked.
How to remove the bones from salmon
Any time I'm cooking fish, I check to see if there are any bones left in the fish. I run my fingers lightly over the surface of the salmon and if I find any bones poking out, I remove them with a set of fish tweezers like this. It makes a huge difference!
Can you bake the salmon to make it healthier?
Absolutely! If you don't want to make pan fried salmon and want to make a healthier version of salmon, you can bake it in the oven. Just put on an oven-safe dish that has a little oil in the bottom, season with salt and pepper, and bake for about 8-10 minutes on 400 degrees F. How long you'll bake it depends on how thick your salmon is.
Other delicious seafood recipes:
How to make the recipe
First... wash some cherry tomatoes and cut up zucchini into thick half-moons (see photo below).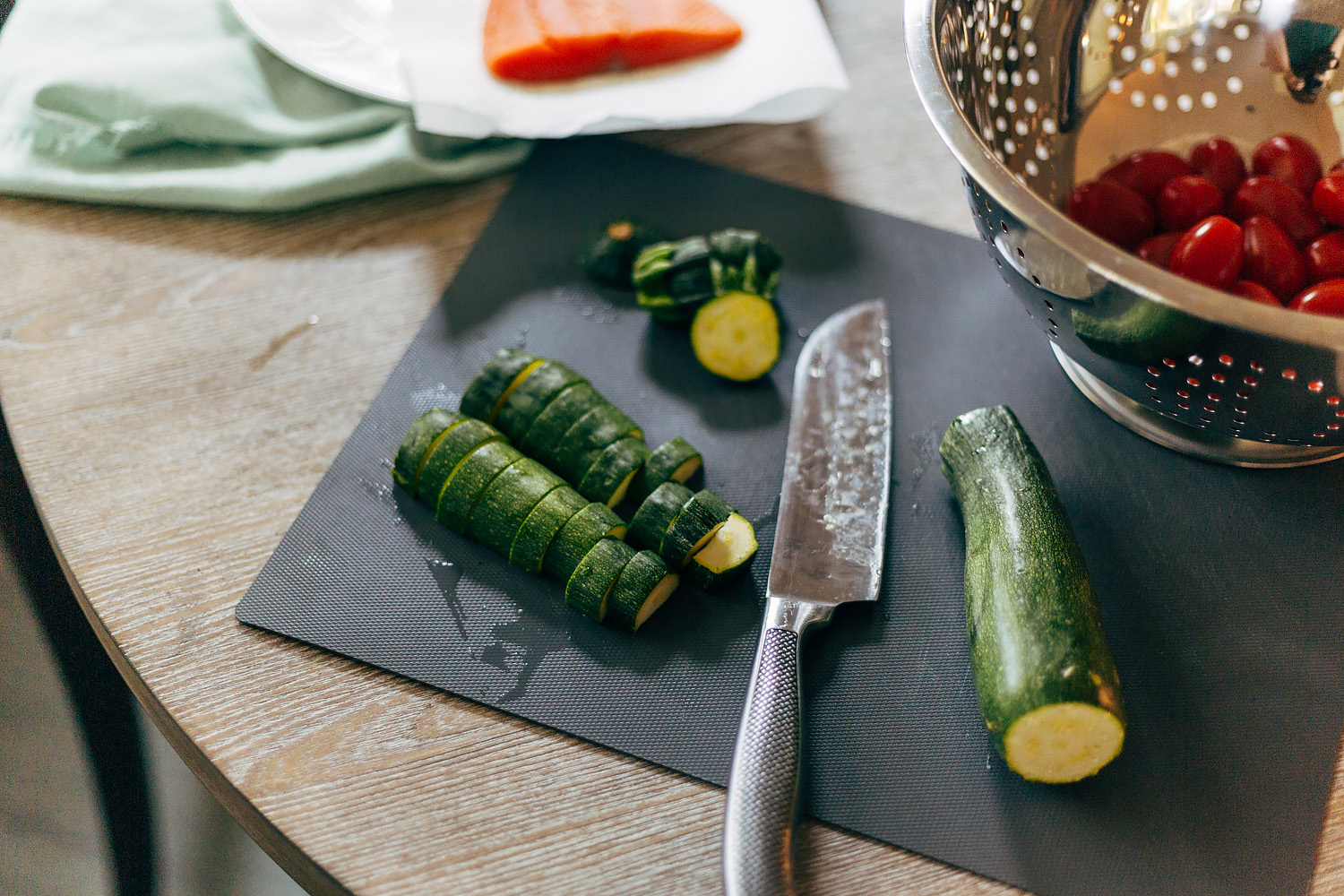 Toss on a sheet pan or foil-lined pan with a bit of olive oil, salt, and pepper.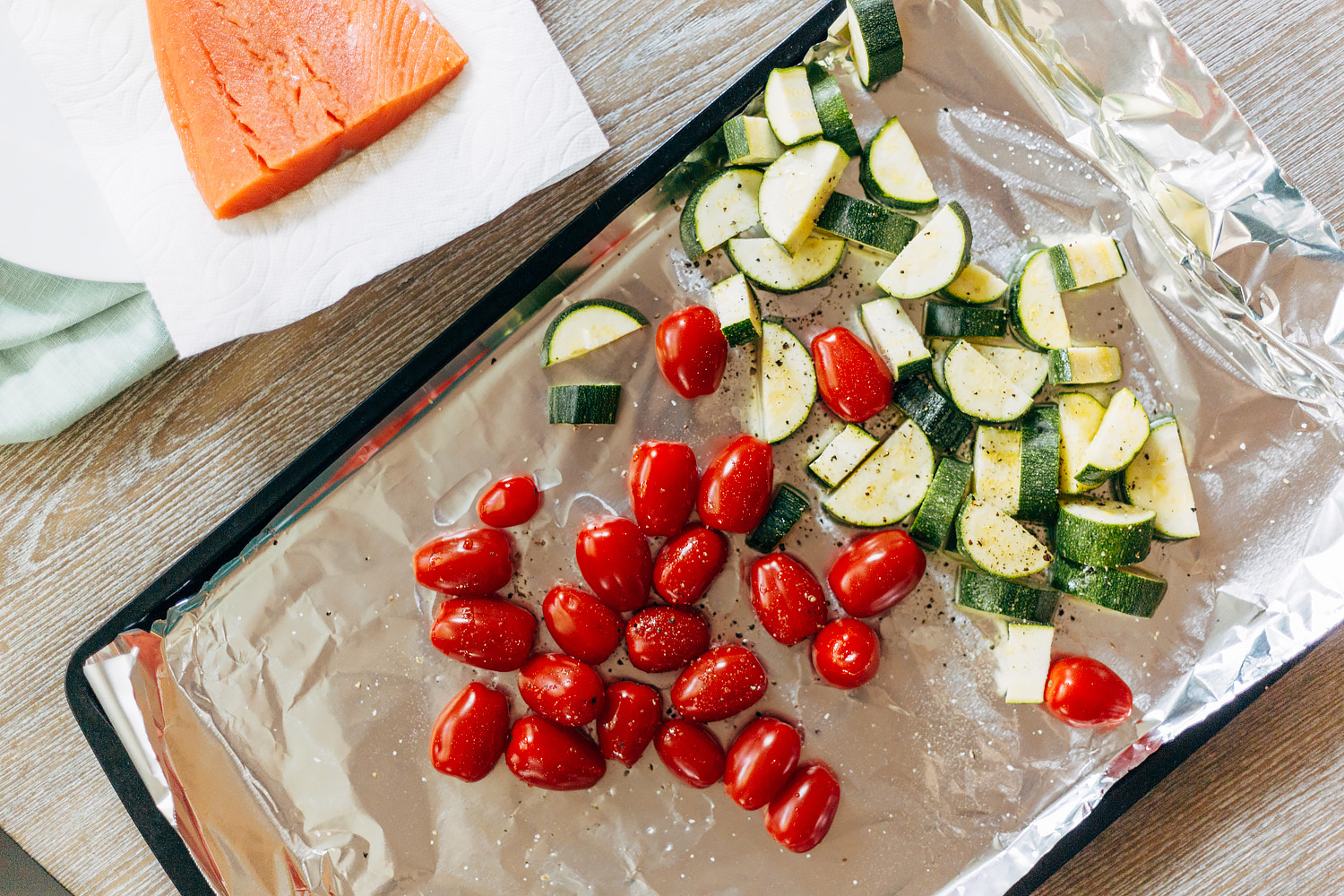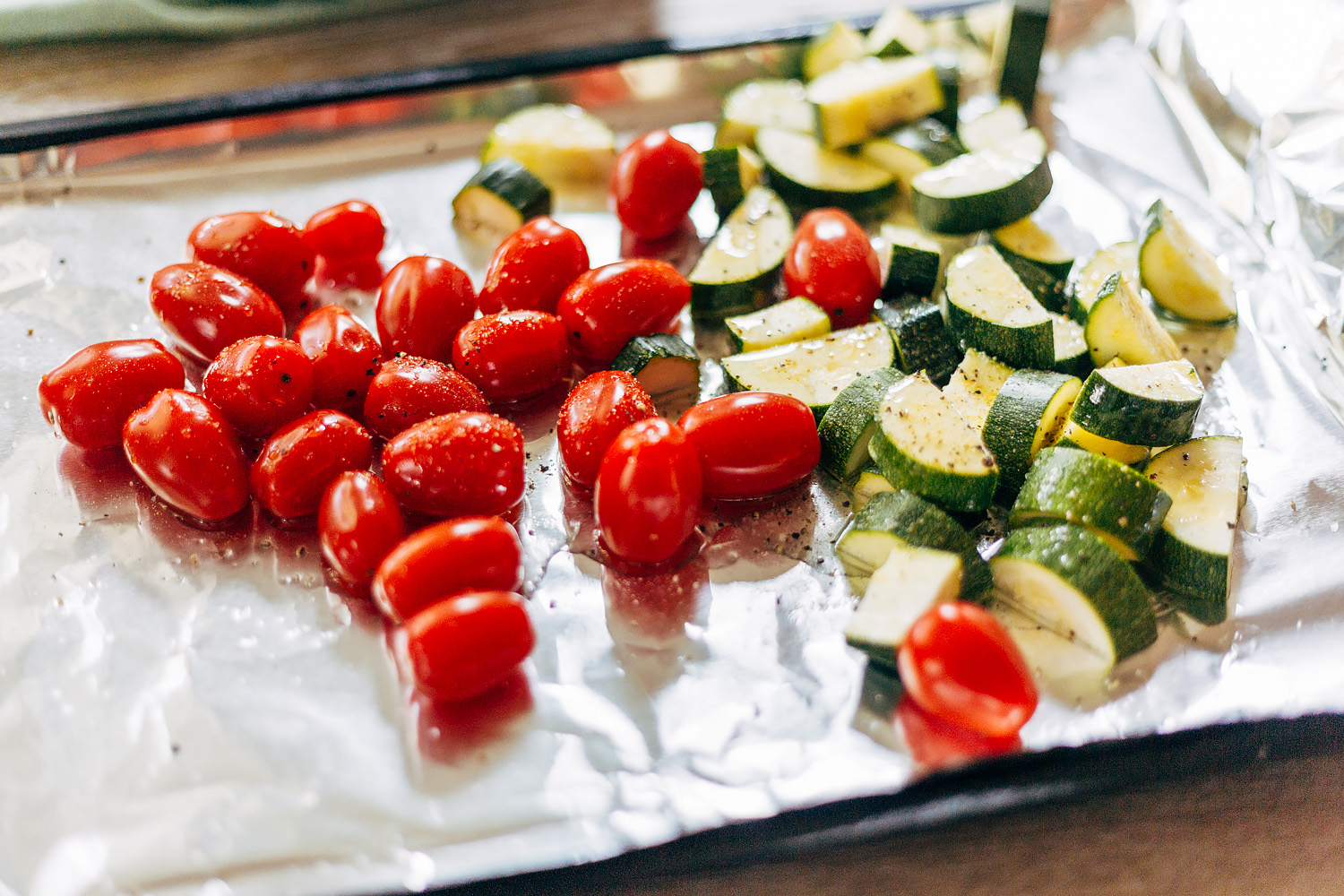 Throw in the oven, then pan fry two salmon filets. Serve the salmon over the roasted veggies with a squeeze of lemon for brightness. Voila! A tasty, healthy meal.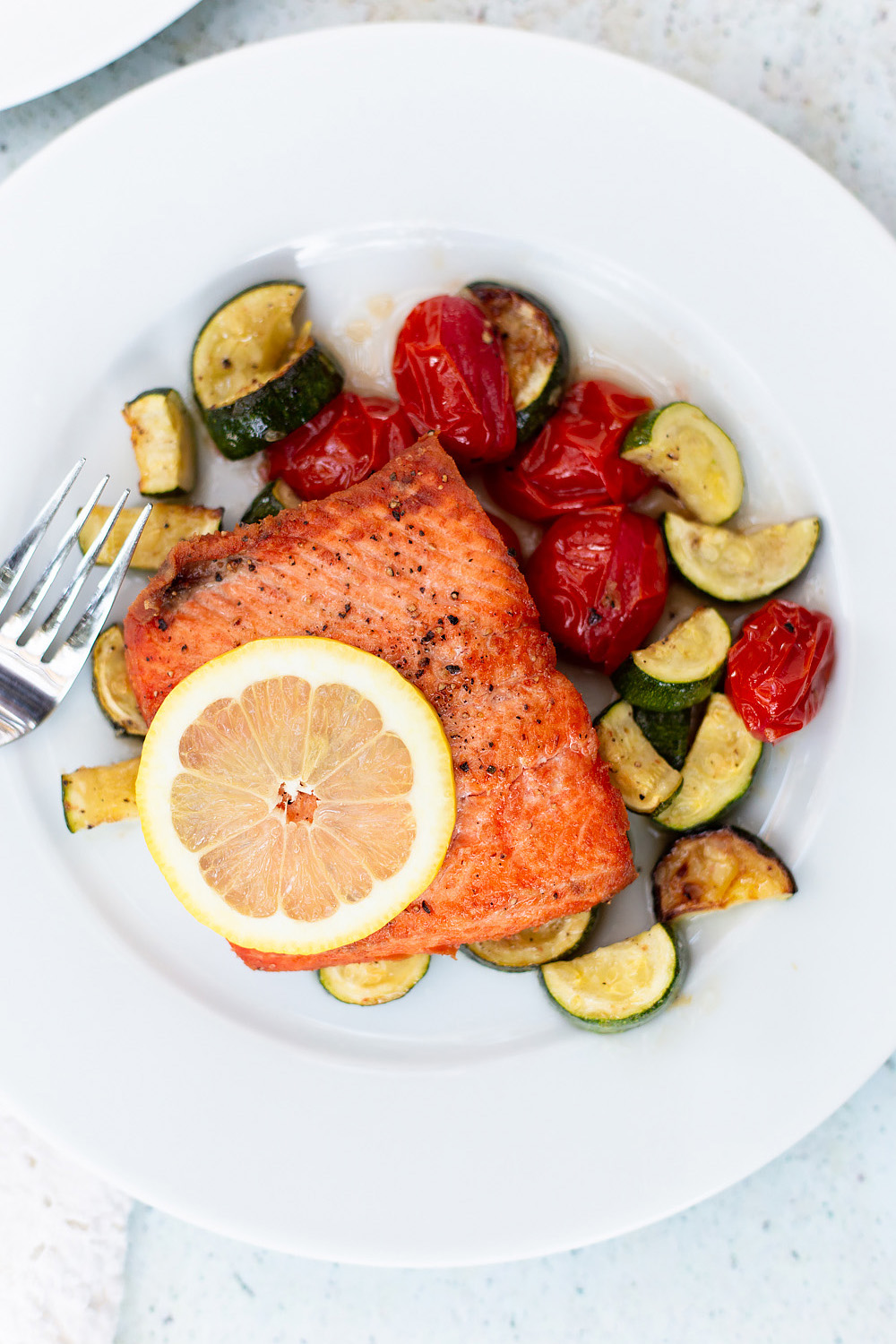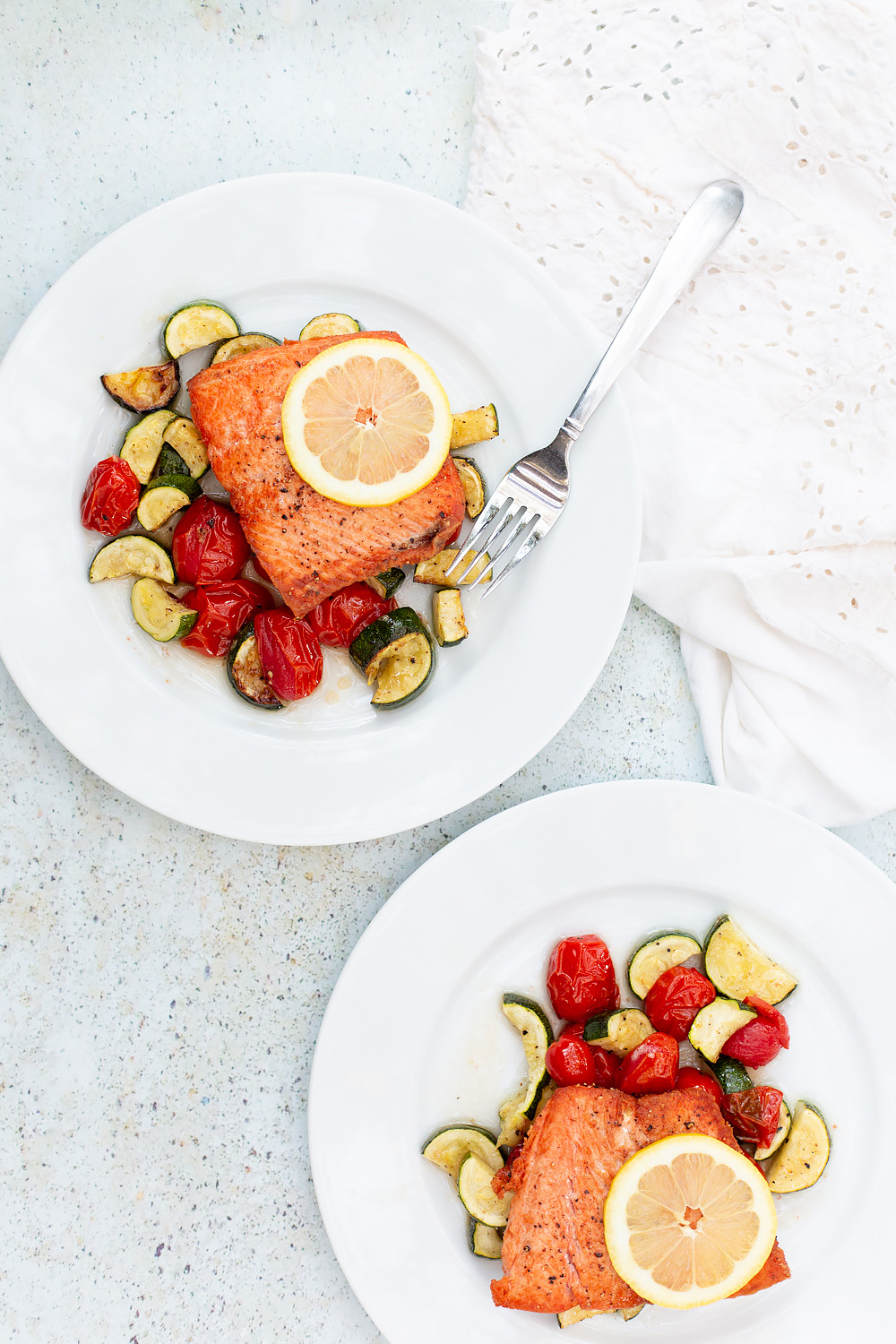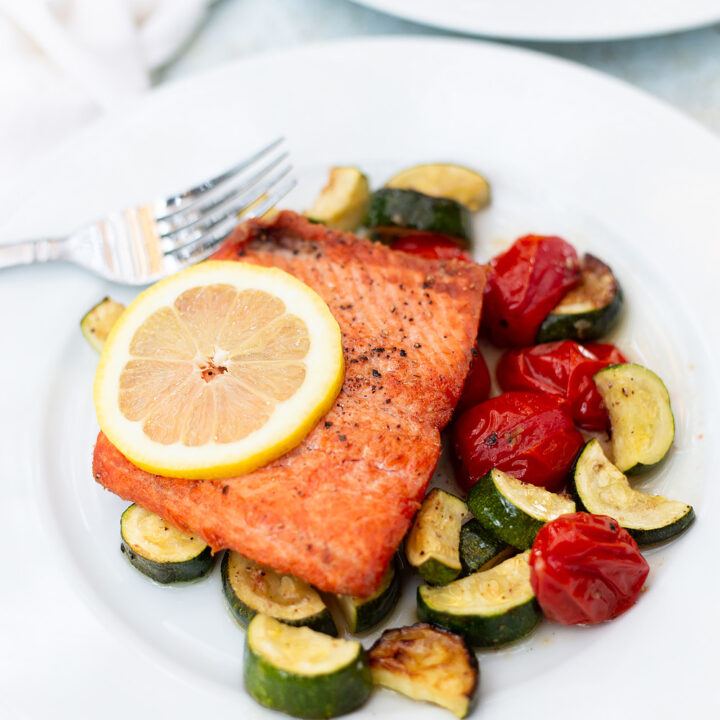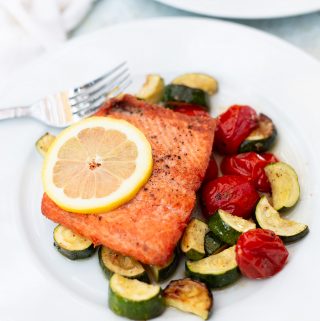 Pan Fried Salmon with Roasted Veggies
This recipe for pan fried salmon is served with roasted vegetables. It's such a flavorful and healthy pescatarian dish. This salmon is the perfect weeknight dinner, as it's so quick and easy to make!
Ingredients
2

6-8oz

salmon filets

deboned and skin removed

10

oz

grape or cherry tomatoes

2

zucchini

4

tablespoon

olive oil, divided

½

lemon

salt and pepper
Instructions
Preheat oven to 400 degrees F.

Rinse tomatoes. Cut zucchini into half lengthwise, then into 1 inch chunks.

Put tomatoes and zucchini onto a baking sheet. Toss with 2 tablespoon olive oil and sprinkle with salt and pepper.

Cook in the oven for 20 minutes, stirring halfway through.

While zucchini and tomatoes are cooking, heat a skillet over medium-high heat. Add 2 tablespoon olive oil. Once oil is hot, add the two pieces of salmon and cook for about 3-5 minutes on each side, until cooked through.

Plate the tomatoes and zucchini, then add the salmon on top. Sprinkle with salt and pepper, then squeeze fresh lemon on top.
If nutrition info is shown, values are based on an online calculator and are estimates. Please verify using your own data.
Tried this recipe?
Tag @foodbanjo on Instagram and share your photos!