Trader Joe's pancake puffs are delicious and easy to make! They come in chocolate chip and maple flavors and are quick to make in the air fryer and come out perfectly cooked. They are soft and fluffy on the inside.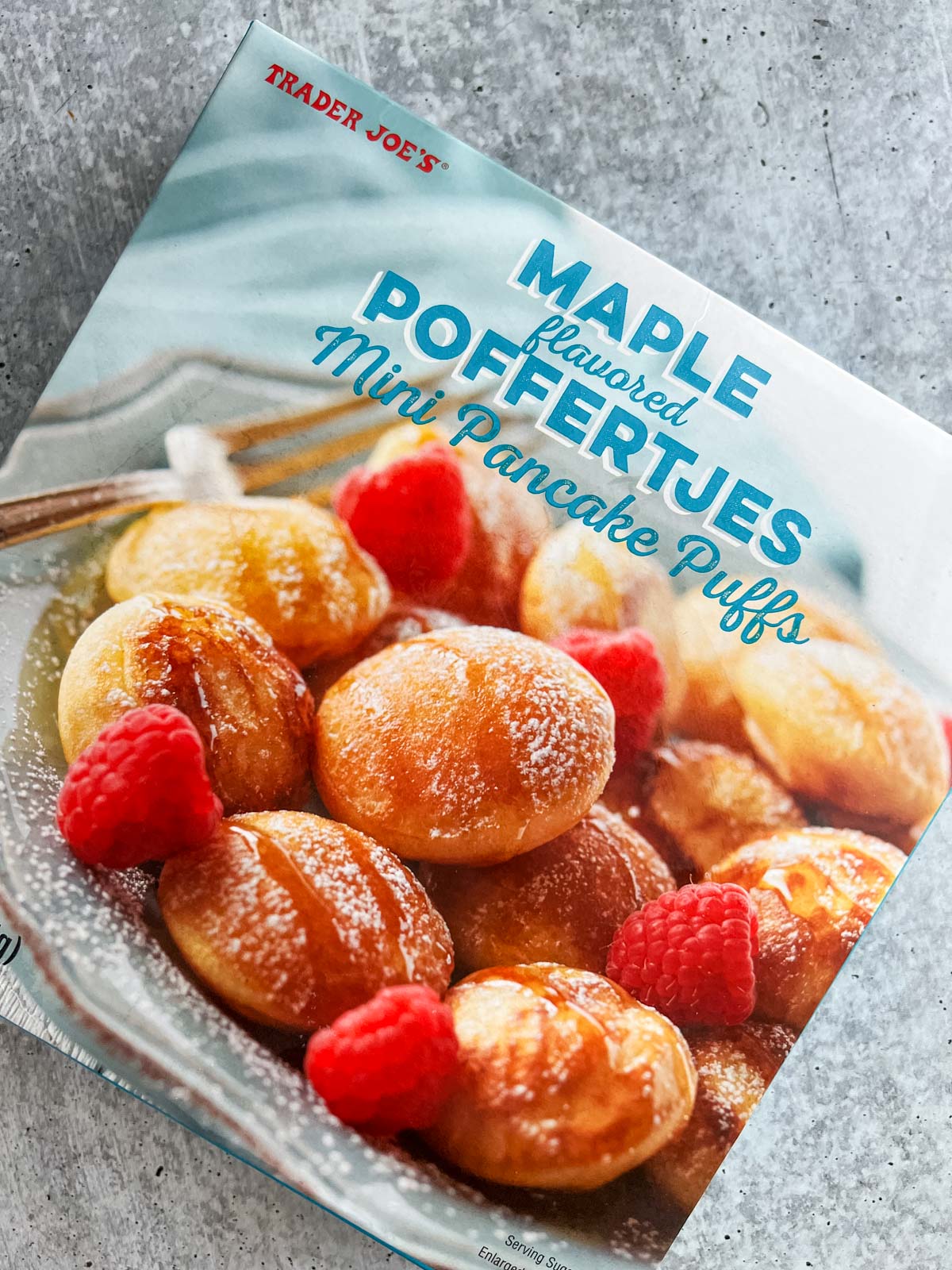 When I was recently at Trader Joe's, I grabbed both flavors of their little frozen pancake puffs -- the Maple Poffertjes and the Chocolate Chip Poffertjes. My daughter has been asking for "something special for breakfast I haven't tried before," and I had a sneaking suspicion she would love these.
And I was right! Both kids gobbled them up. We first went through the chocolate chip box, and now are halfway through the box of maple pancake puffs.
The verdict? They love them. Maybe the chocolate chip ones SLIGHTLY more, but they aren't going to turn down either of them.
There is one problem - the oven instructions have you cook them at 375 degrees F for 8 minutes and you have to preheat the oven. My oven takes forever to preheat. iIn the morning, when I'm trying to get the kids to school, that is not going to work.
So I decided to test making the Trader Joe's pancake puffs in my air fryer. And they turned out great! The insides stayed soft and fluffy and the outside crisped up just slightly.
And so much quicker than the oven, especially with the 15 minutes it takes my oven to preheat.
What are poffertjes?
Poffertjes are puffy Dutch pancake bites. They are like mini puffed up pancakes that are so delicious! These pancake puffs are bite sized and can come in a lot of different flavors.
How to top the pancake puffs
Most of the time I serve the pancake puffs just straight out of the oven or air fryer with no topping on them, because I'm not wanting my kids to have too much sugar in the morning.
But, they would absolutely be delicious dressed up! Here's a few ideas.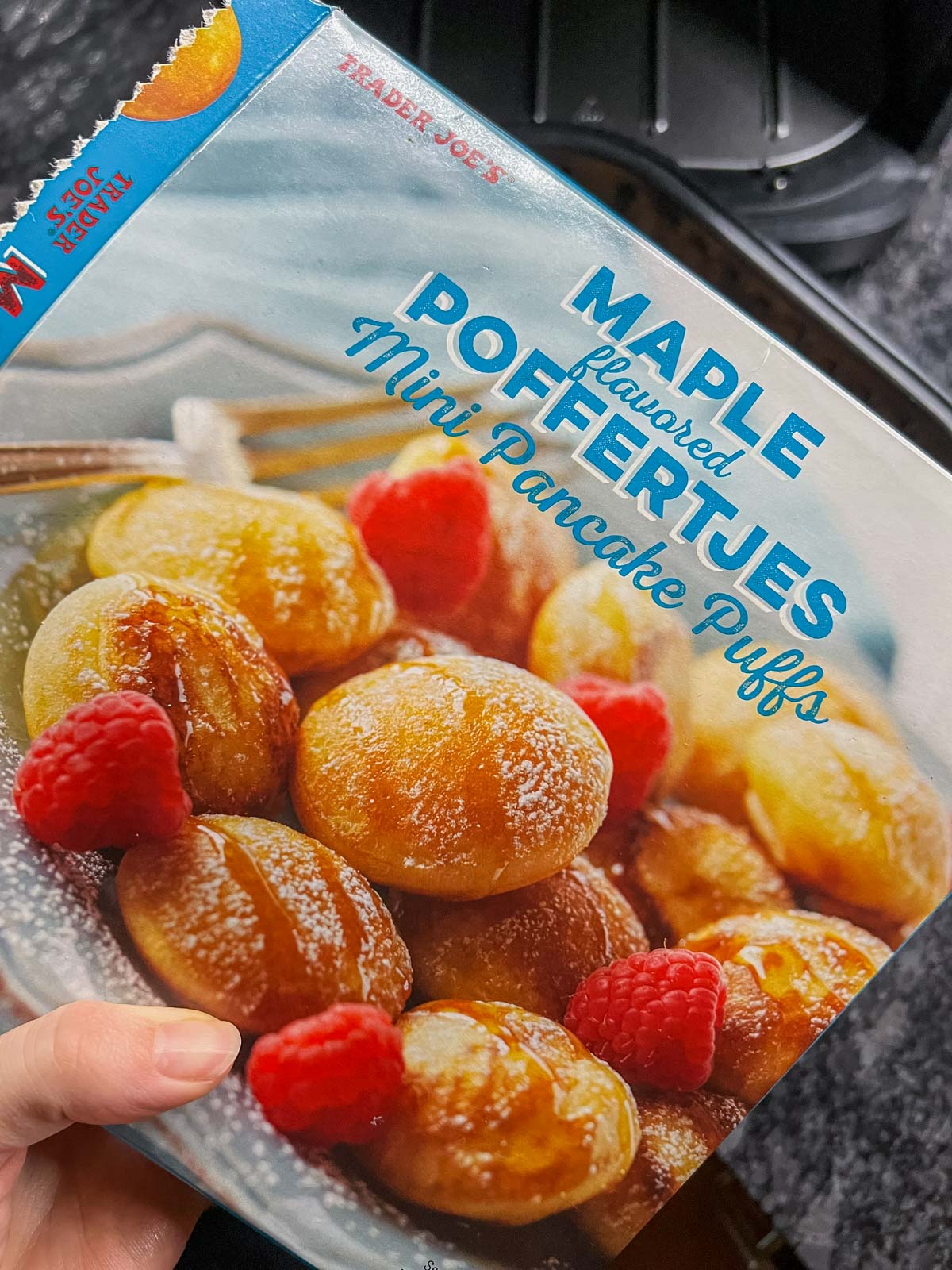 Maple pancake puffs
A drizzle of maple syrup
A dusting of powdered sugar
With fresh berries like raspberries or strawberries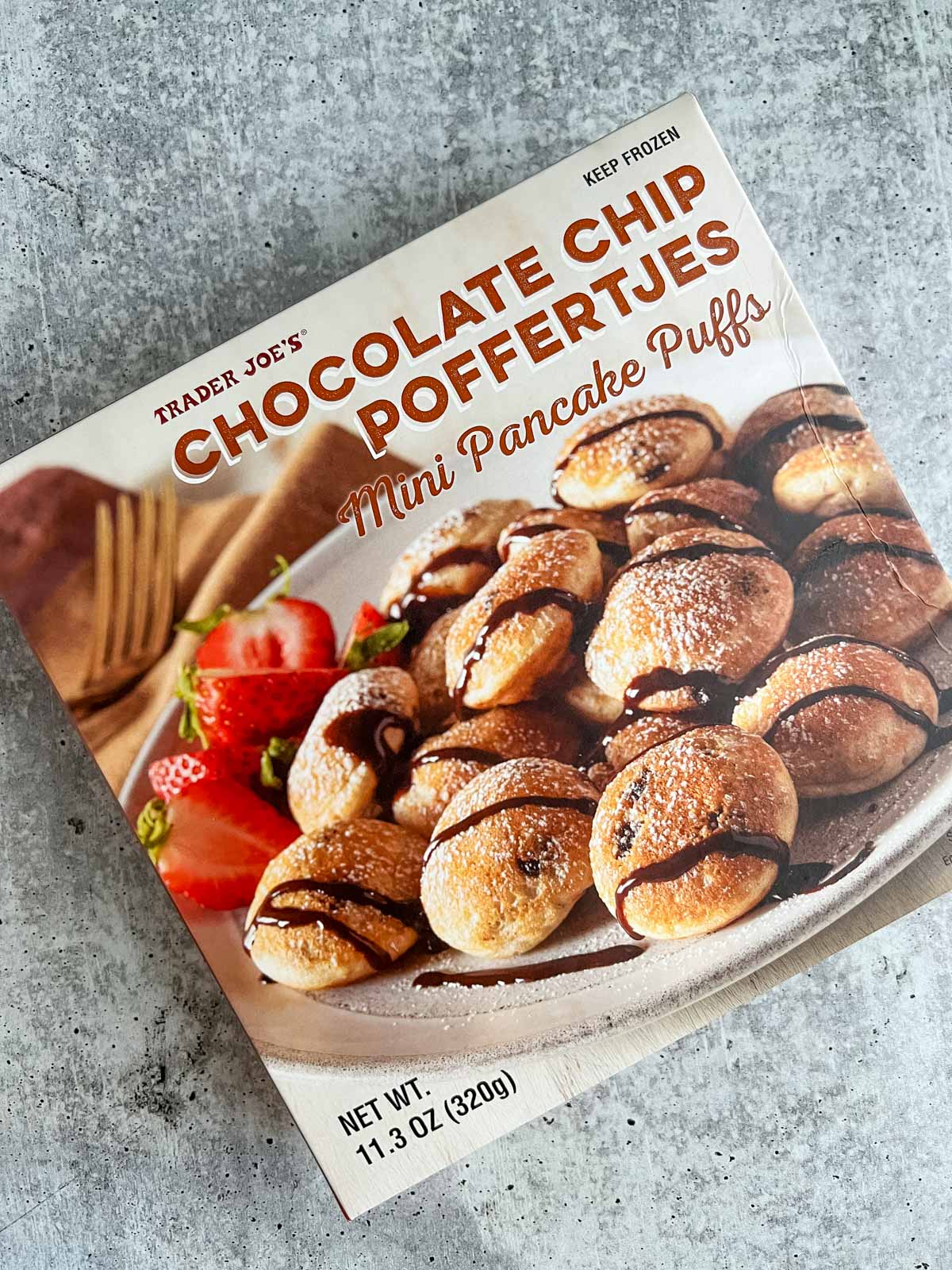 Chocolate chip pancake puffs
With a drizzle of chocolate syrup or dulce de leche
With ice cream for dessert
With fresh berries
With peppermint whipped cream around the holidays!
Where can you find them?
These mini pancake puffs are specific to Trader Joe's! You can find them in the freezer section at Trader Joe's alongside the other frozen breakfast/dessert items.
If you don't have a Trader Joe's close to you or want to try some different kinds, Sprouts has a few different frozen varieties (berry, banana, and maple) as do other grocery stores like Whole Foods.
Air fryer instructions
To make the Trader Joe's pancake puffs in your air fryer, no preheating is needed! Just pop in and cook.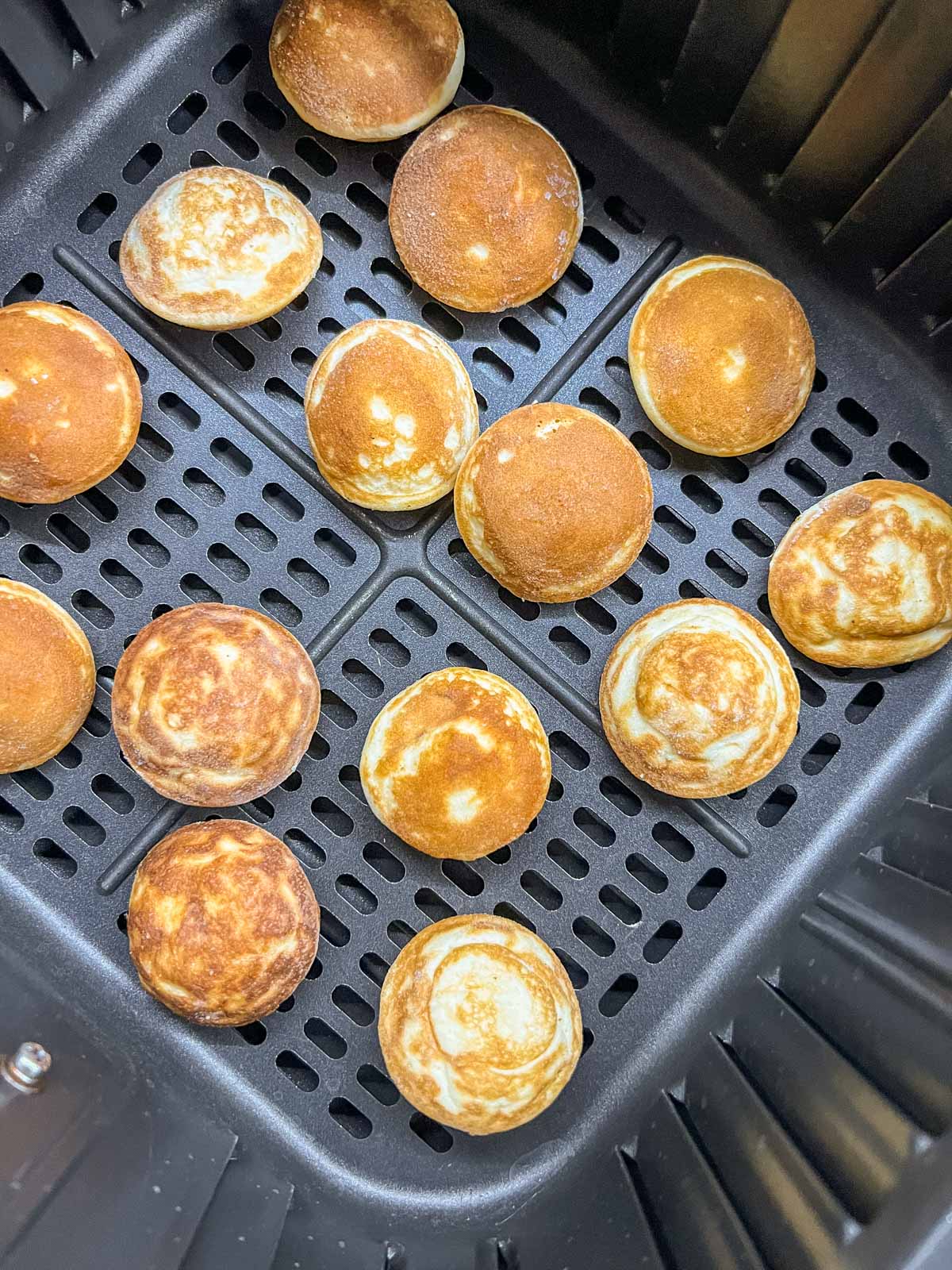 I cooked mine for 5 minutes at 350 degrees F and they came out perfect. If needed, try cutting one open to make sure it is no longer cold in the center before serving.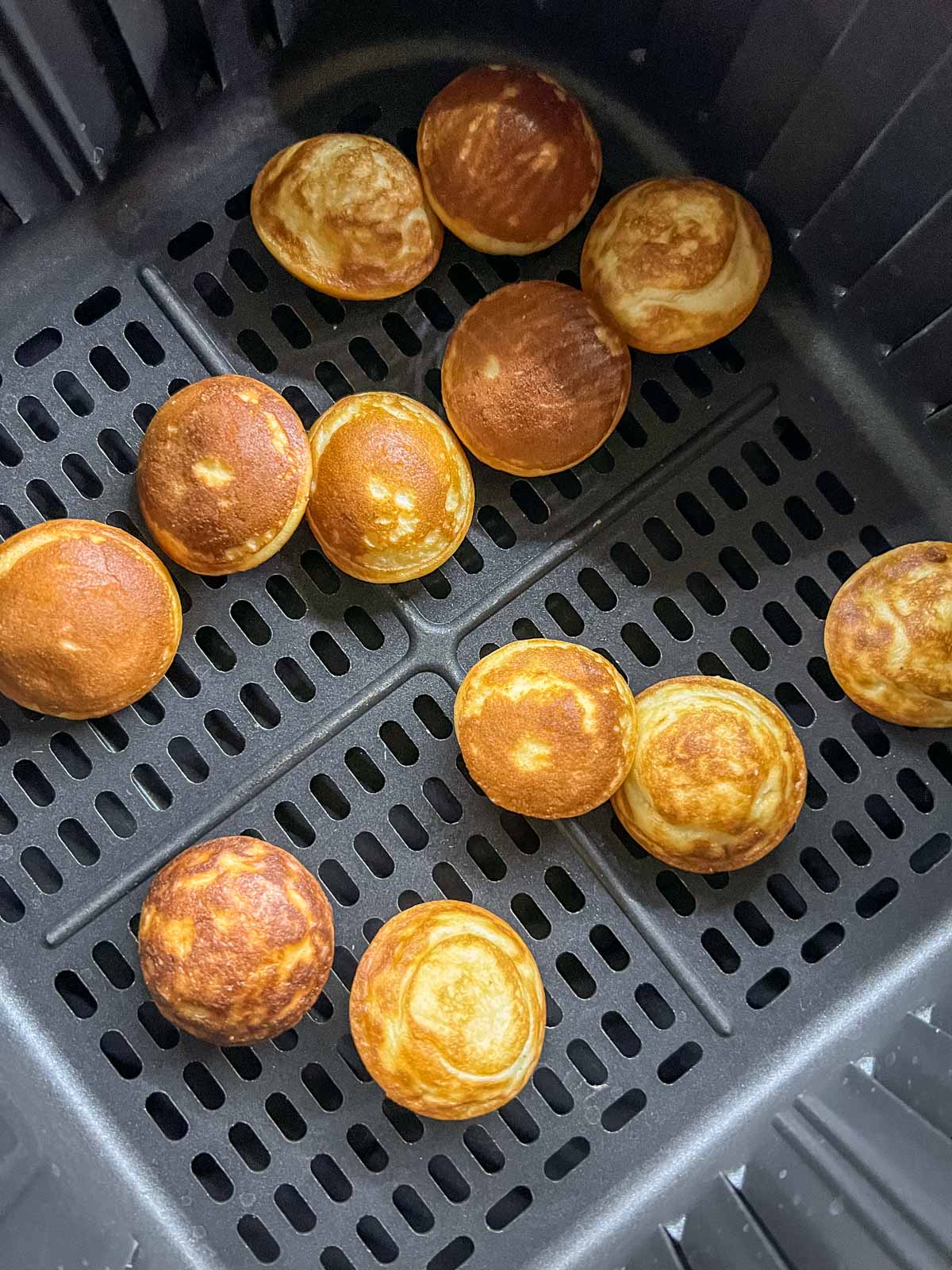 I had tried 4 minutes and mine were still a little cold in the center, so an additional minute seemed to work great!