This no cook cranberry sauce (or relish) only uses a few ingredients to make a perfectly tart and sweet dish. It's delicious on its own, served over ice cream, or even just on a sandwich.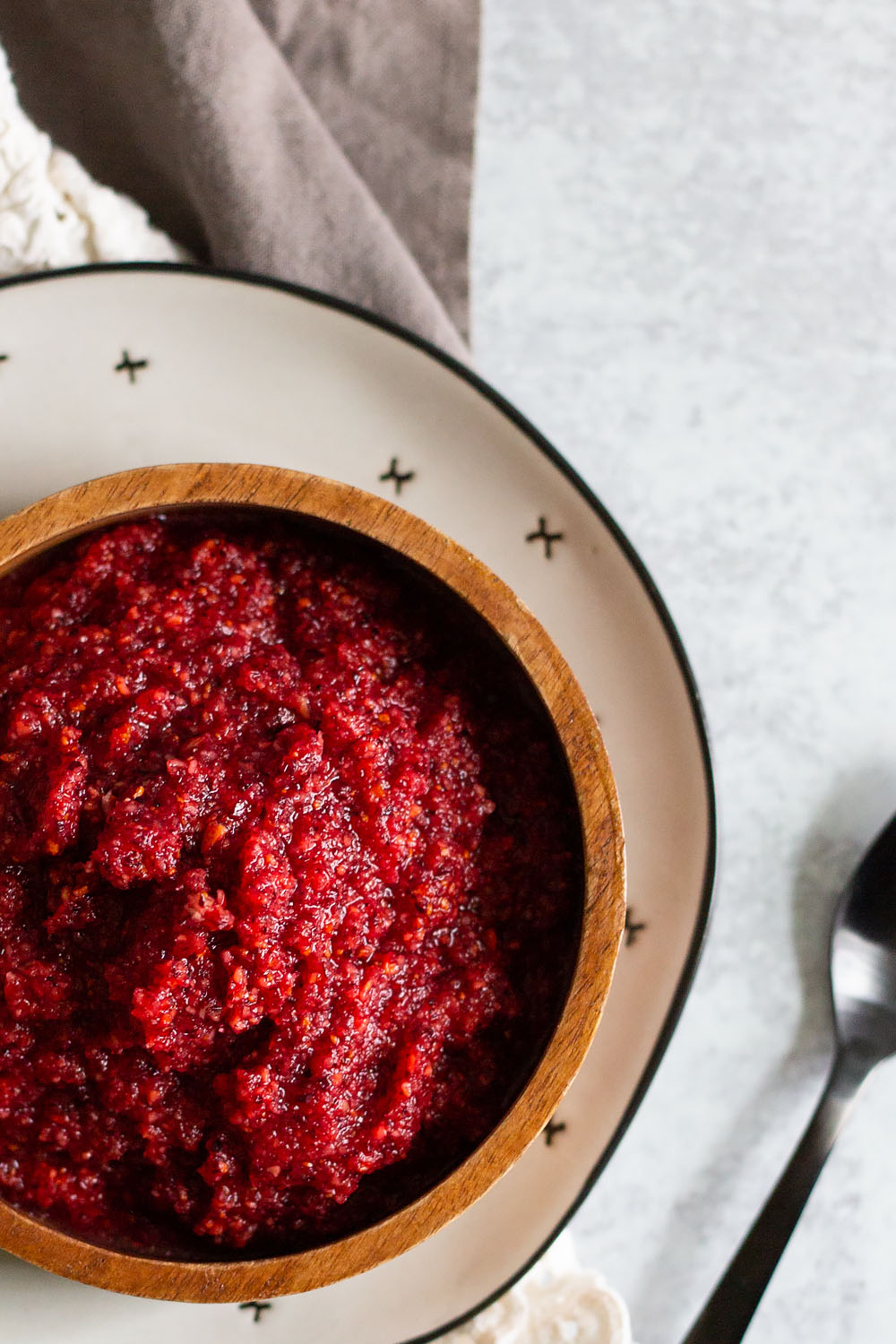 It's cranberry season! Time when everyone seems to break out those cans of jellied cranberry sauce. Honestly, I've never been a fan of those. So I've never really been one to look forward to cranberry sauce over the holidays. Until a few years ago when Josh started making this no cook orange cranberry sauce. It's so amazingly delicious and tart and fresh-tasting.

Technically, this is a cranberry relish. I did a little research and the internets told me that the difference between cranberry sauce and cranberry relish is that cranberry sauce is cooked and cranberry relish is raw. So I guess really, this is a cranberry sauce alternative. And it's so delicious.
And this no cook cranberry sauce (aka relish) is simple to make! You basically take a bag of cranberries, a whole orange, some sugar, and then just blitz it up in a food processor. You're left with a sauce that has some texture and a gorgeous ruby color.
This orange cranberry sauce is nicely sweet and perfectly tart. It cuts through the heaviness of the other items that may be on your plate. And honestly, I love to just eat it on its own as dessert.
One thing that seems to round out the recipe even more is adding a touch of alcohol! Surprise, surprise, make it boozy for the holidays. Here in Texas, we have access to Paula's Texas Orange, which is a delicious orange liqueur made with cane sugar. But if you can't find Paula's in your part of the world, Triple Sec is a great alternative.
This recipe serves a few, but if you're bringing it to a larger gathering, you may want to double the recipe. We tend to double it when we bring it to Thanksgiving!
Ingredients to make cranberry relish:
Cranberries - A bag of fresh cranberries is what you need for this. They are easy to find around Thanksgiving, so grab them!
Orange - For this recipe, you use the whole orange, peel and all! So you may want to choose an organic orange for this.
Sugar - The sugar in this recipe helps balance out the bitterness and tartness of the cranberries and orange.
Paula's Texas Orange - If you don't have Paula's Texas Orange where you live, use an orange liqueur like Triple Sec or Grand Marnier. You can also leave this out if you don't want to include alcohol in the recipe!
How to make the no cook cranberry sauce:
First of all, just look at those gorgeous cranberries.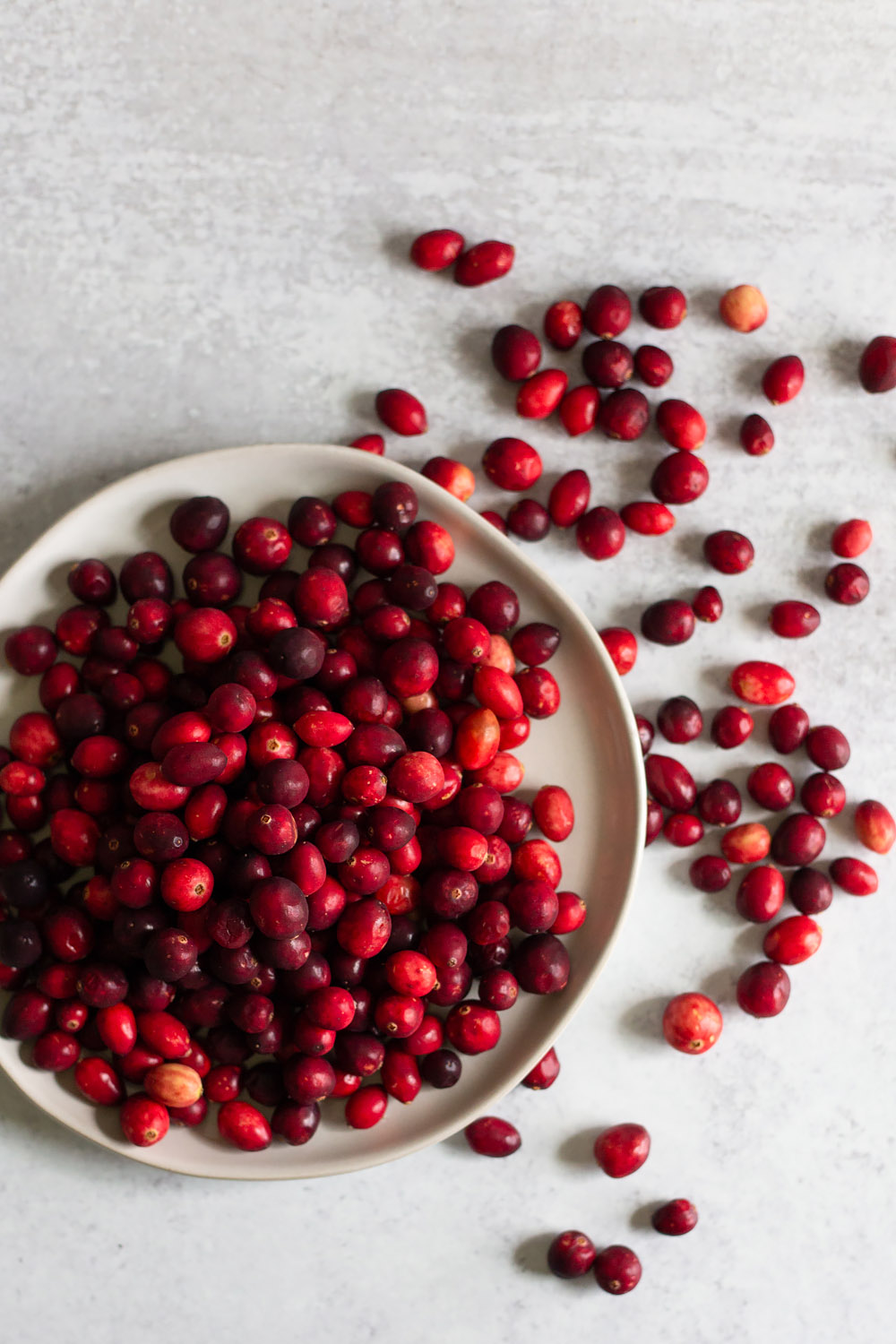 Toss those cranberries in a food processor, cut your orange into wedges and add them in (yes, the skin too!), top it all with some sugar (and the Paula's Texas Orange if you're making it boozy) and blend, blend, blend.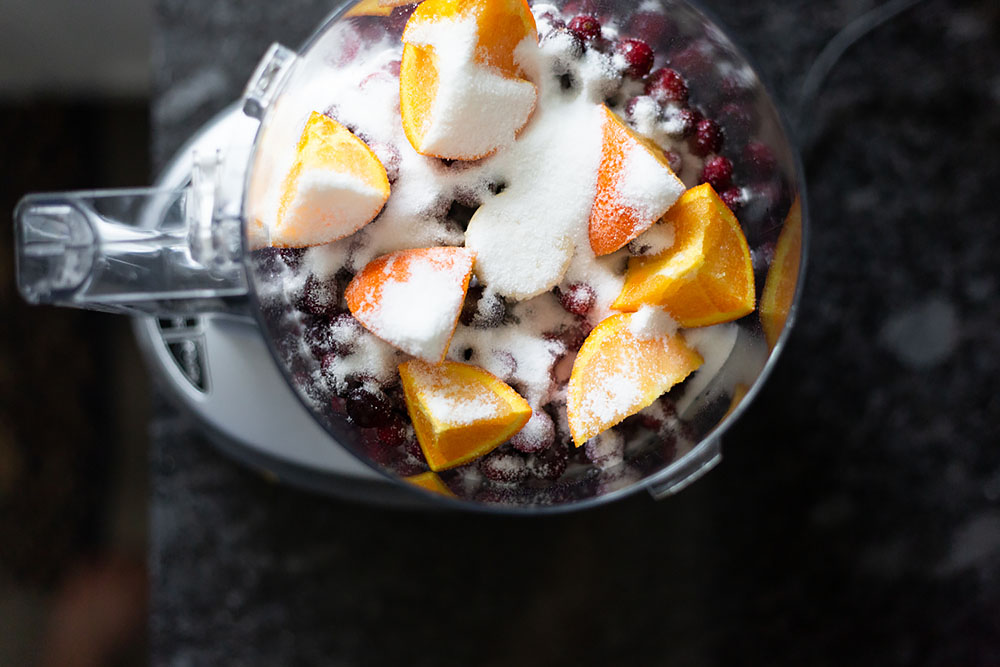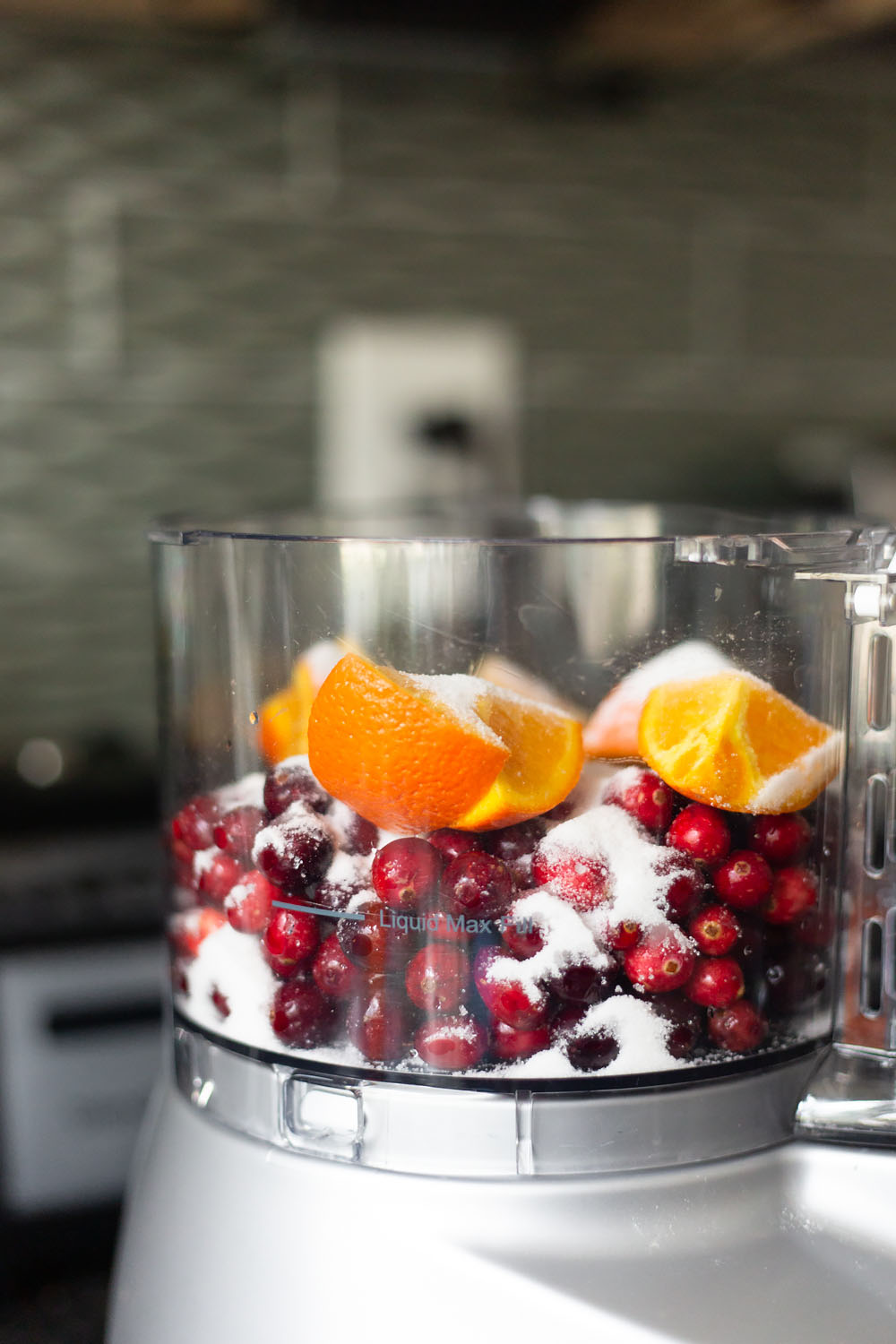 And then you're left with a lovely jewel-colored cranberry relish that's perfectly tart and sweet.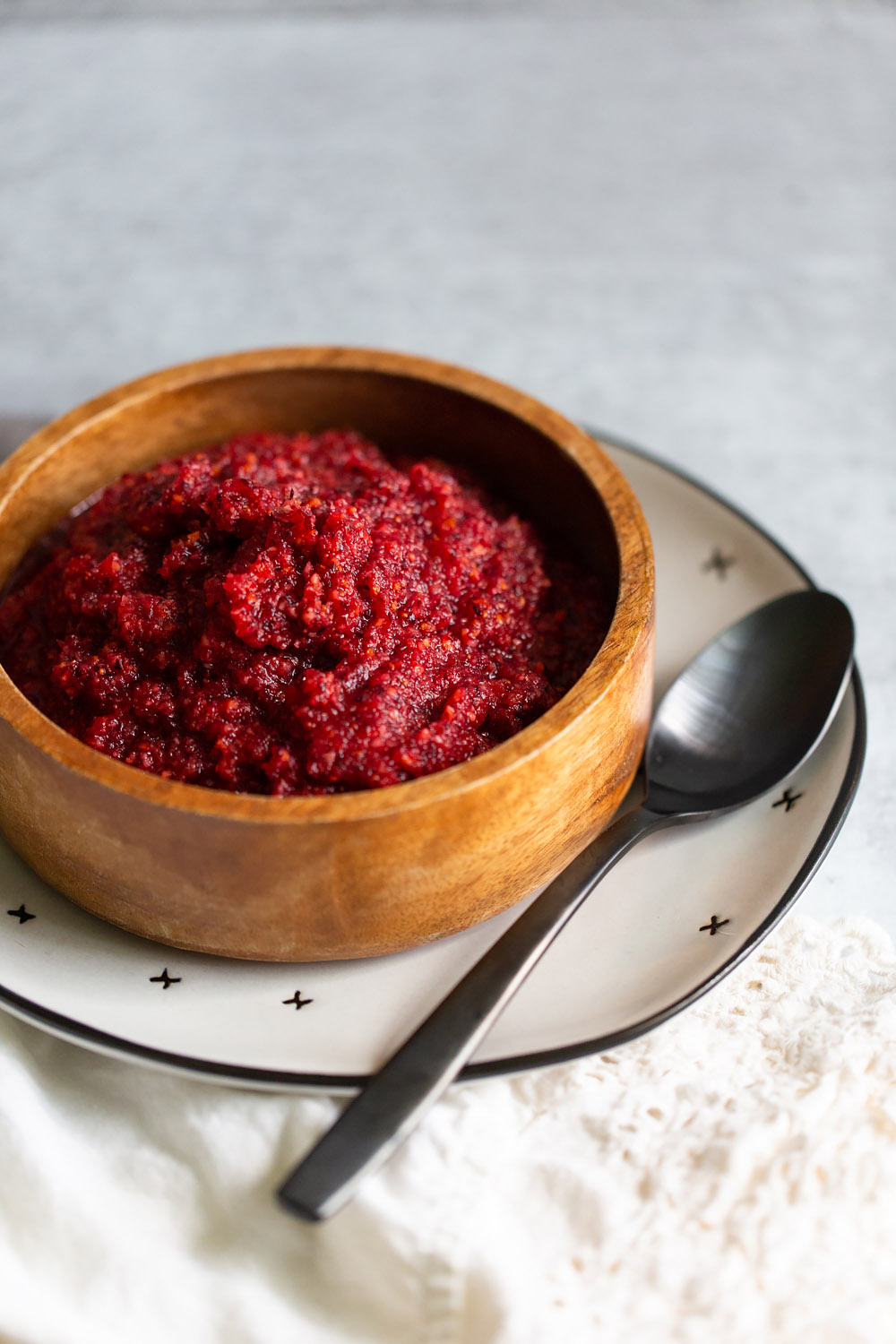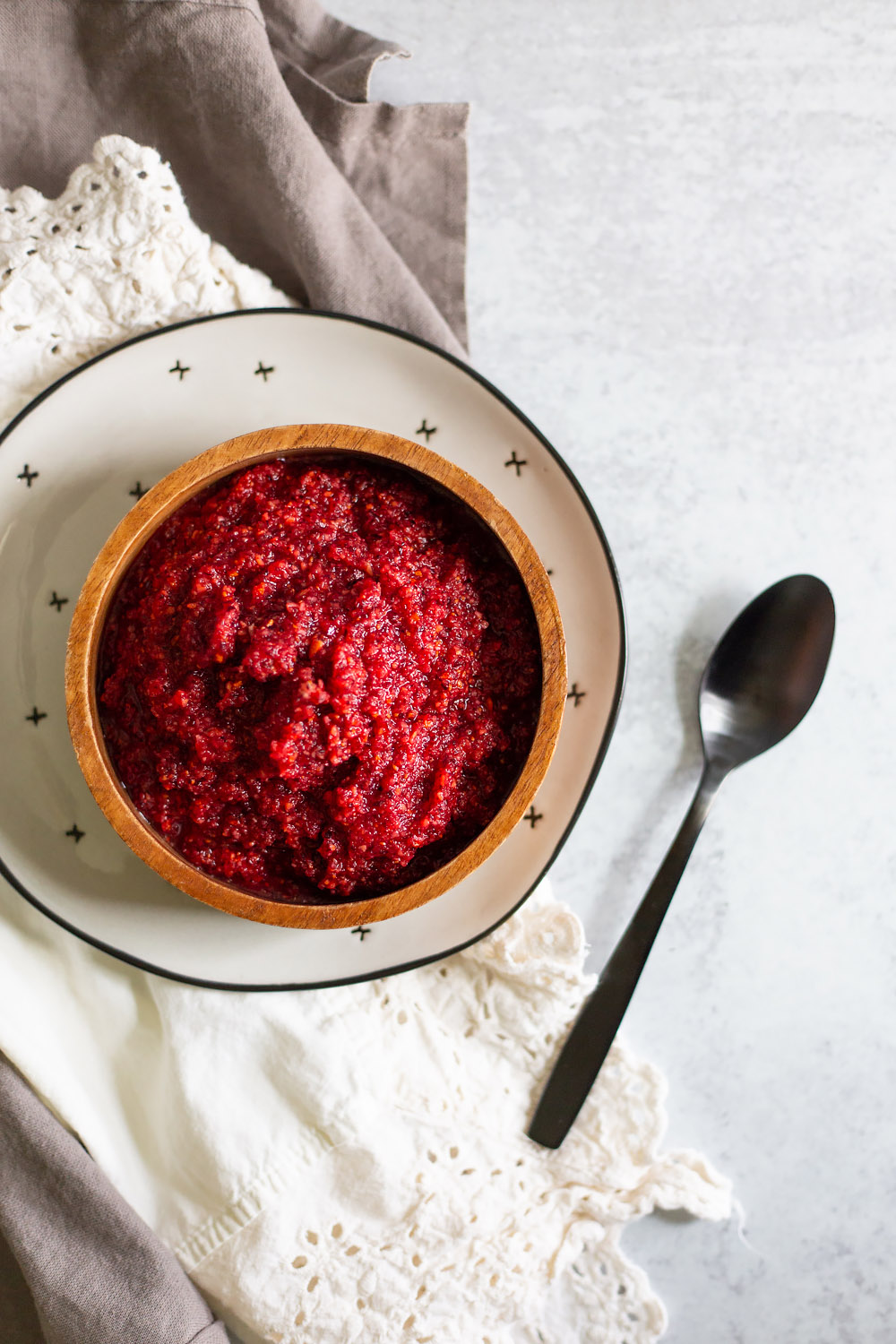 Print Recipe
No Cook Orange Cranberry Sauce
This cranberry sauce doesn't require cooking. It comes together easily in five minutes and is perfectly tart and sweet.
Ingredients
1

bag

cranberries (12 oz)

1

orange, medium

1

cup

sugar

2

Tbsp

Paula's Texas Orange liqueur
Instructions
Wash the cranberries and the orange.

Slice the orange into 8 wedges for easier blending.

Place the cranberries, orange wedges, sugar, and Paula's Texas Orange (optional) into the food processor. Blend/pulse until all ingredients are blended and incorporated.
Notes
The Paula's Texas Orange liqueur is optional. If you want to include a liqueur and can't find Paula's in your area, Triple Sec is a great alternative.
This will last for at least a week in a sealed container in the refrigerator.
Love this recipe? Try these!