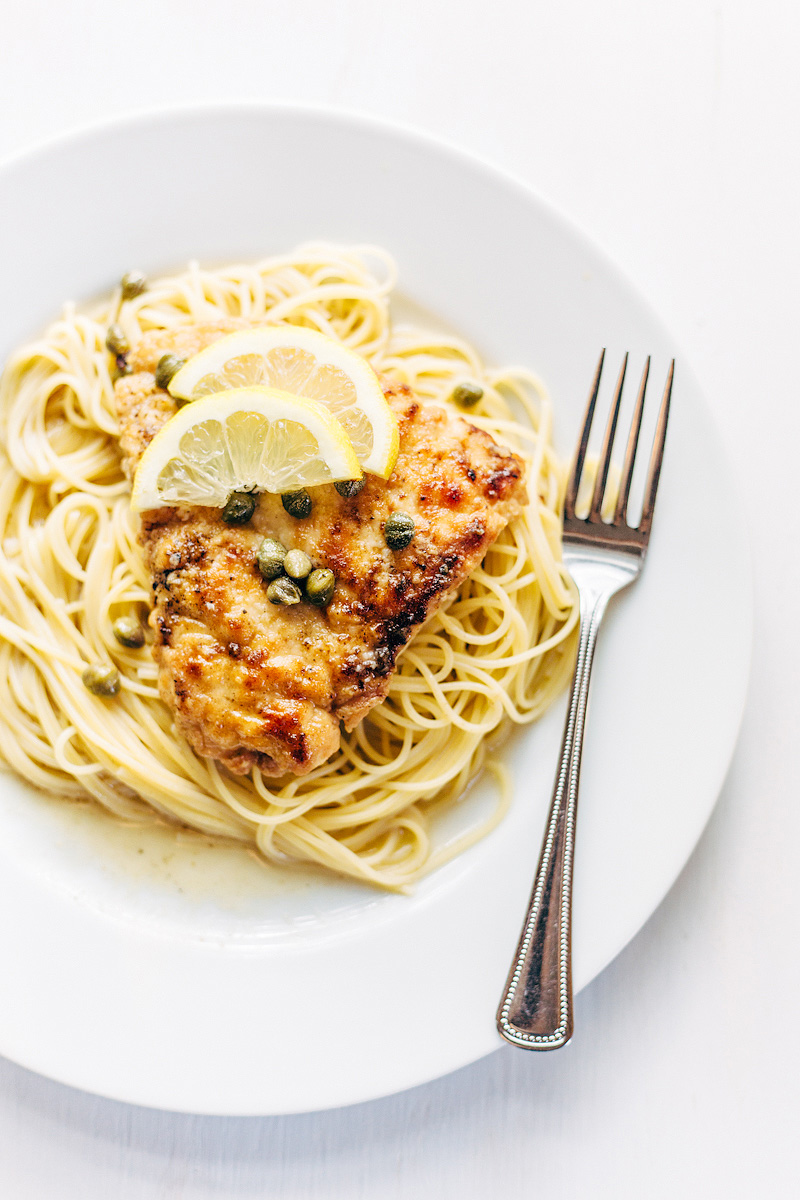 Temperatures here have been over 100 lately. But the last couple of days, we've had a break in the heat! Some are referring to it as a cold front. And while it feels strange to refer to a high of 97 as a cold front, it feels magical compared to 106.
And when it's so hot out, you do not want to turn on an oven and make the house even warmer. Especially not when pregnant and already overheated. This chicken piccata is easily prepared on the stove and is one of my favorite things to make. Boil some pasta? Easy. Bread and cook chicken? Easy. Make a quick sauce with chicken stock, butter, and lemon? Easy.

I also LOVE how the brightness of the lemon and capers makes this dish perfect for any time of year, but especially summer. Smells so good and provides a nice hit of acidity to keep this dish from feeling heavy. Pardon me, I'm drooling over here just thinking about it. I'm about to take some more chicken breasts out of the freezer to thaw so I can make this in a couple of days again.
Print Recipe
Chicken Piccata
Ingredients
1

large or two small chicken breasts

3/4

cup

flour

1/8

tsp

cayenne pepper spice

1/4

tsp

paprika

3

Tbsp

olive oil

1 1/2

cup

chicken stock

1

lemon

2

Tbsp

butter

1

Tbsp

capers

1/3

lb

angel hair pasta

salt and pepper
Instructions
Pound out the chicken with a mallet or heavy pan. Cut into two pieces, if needed.

Heat olive oil in a medium skillet on medium-high heat.

Onto the chicken, sprinkle the cayenne and paprika and season each side with salt and pepper. Dip each chicken piece in flour and shake off the excess.

Fry chicken 2-3 minutes per side. Make sure to check for doneness, as this will depend on how thin you pounded the chicken.

Remove chicken from pan and drain on paper towels. Wipe out excess oil from pan if needed.

Start boiling the angel hair pasta. Cook according to package directions.

Add capers to the pan and fry for 1 minute. Add the chicken stock, butter and stir. Add the juice of 1/2 the lemon. Heat to boiling and then reduce by half.

Add chicken back to pan, and cook for an additional 2 minutes.

Plate the pasta, then top with the chicken breast and some of the sauce. Serve with lemon slices, if desired.