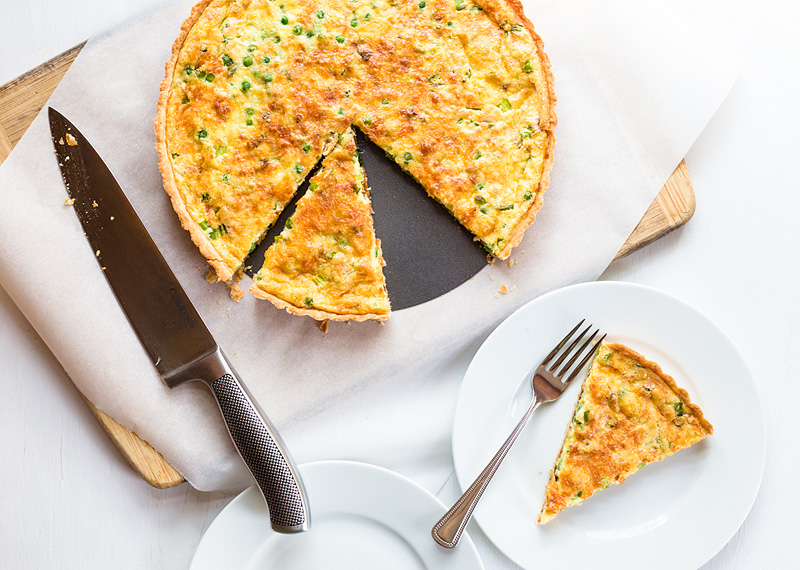 Okay, two days ago was the unofficial kickoff of summer, but technically it's still spring! So I whipped up this spring quiche that has lots of yummy green goodness in it in the form of peas and green onions. Mmmm. Not sold yet? It also has BACON. And shallots. And a lots of sharp cheddar cheese.
Now are you sold?
If not, let me tell you about how fantastically this spring quiche reheats. It tastes just as good reheated as it does right after it was freshly baked. I should seriously start making one of these every Sunday, and then have the leftovers for breakfast throughout the week. That would make for much happier pre-work mornings.

To make this an easy breakfast, use refrigerated pie crust that you can roll out and shape into a tart pan. Josh made this crust from scratch, and while it was sooo delicious, it did mean that we ate the quiche around 3pm while we waited for the dough to do its thing. If you want to be super-adventurous, make your own crust. If you want to keep it simple, the store is your friend.
Regardless, this spring quiche is delicious! My mom was visiting and I reheated leftovers for us for breakfast one day, and she commented on how much she liked it, and she isn't even a fan of peas! So there you have it. This quiche. Turning pea-haters into pea-lovers, one quiche at a time.
Print Recipe
Spring Quiche with Bacon and Peas
Ingredients
1

refrigerated pie crust

the roll-out kind

4

large eggs

1

cup

heavy cream

1/2

cup

all purpose flour

1/2

tsp

salt

1/2

tsp

pepper

5

strips thin-cut bacon

if using thick-cut, use 3 slices

1/2

cup

chopped shallots

1/2

cup

frozen or fresh peas

1/2

cup

chopped green onions

1

cup

grated sharp cheddar cheese
Instructions
Thaw the refrigerated pie crust and press into an 11 inch tart pan.

Follow the directions on the refrigerated pie crust for blind baking the crust. You want a fully baked crust, not a par-baked crust.

Once the crust is baked, removed from the oven, and cooling, start to prepare the mixture. In a medium bowl, whisk together the eggs, cream, flour, salt, and pepper. Set aside.

Chop up the 5 strips of bacon into small pieces. In a medium skillet over medium heat, cook the bacon until bacon is done and still chewy. Remove from pan, drain on paper towels and set aside.

Add the chopped shallots to the pan and cook until caramelized. Drain the shallots on a paper towel to remove any grease.

To the baked crust, add the bacon and shallots, spreading over the bottom of the crust evenly. Next, add the peas, green onions, and then the cheddar cheese. Carefully pour the egg mixture over the other ingredients.

Bake at 375 degrees for 20-25 minutes, until quiche is set.

Remove from oven and cool for 10 minutes before slicing and serving.