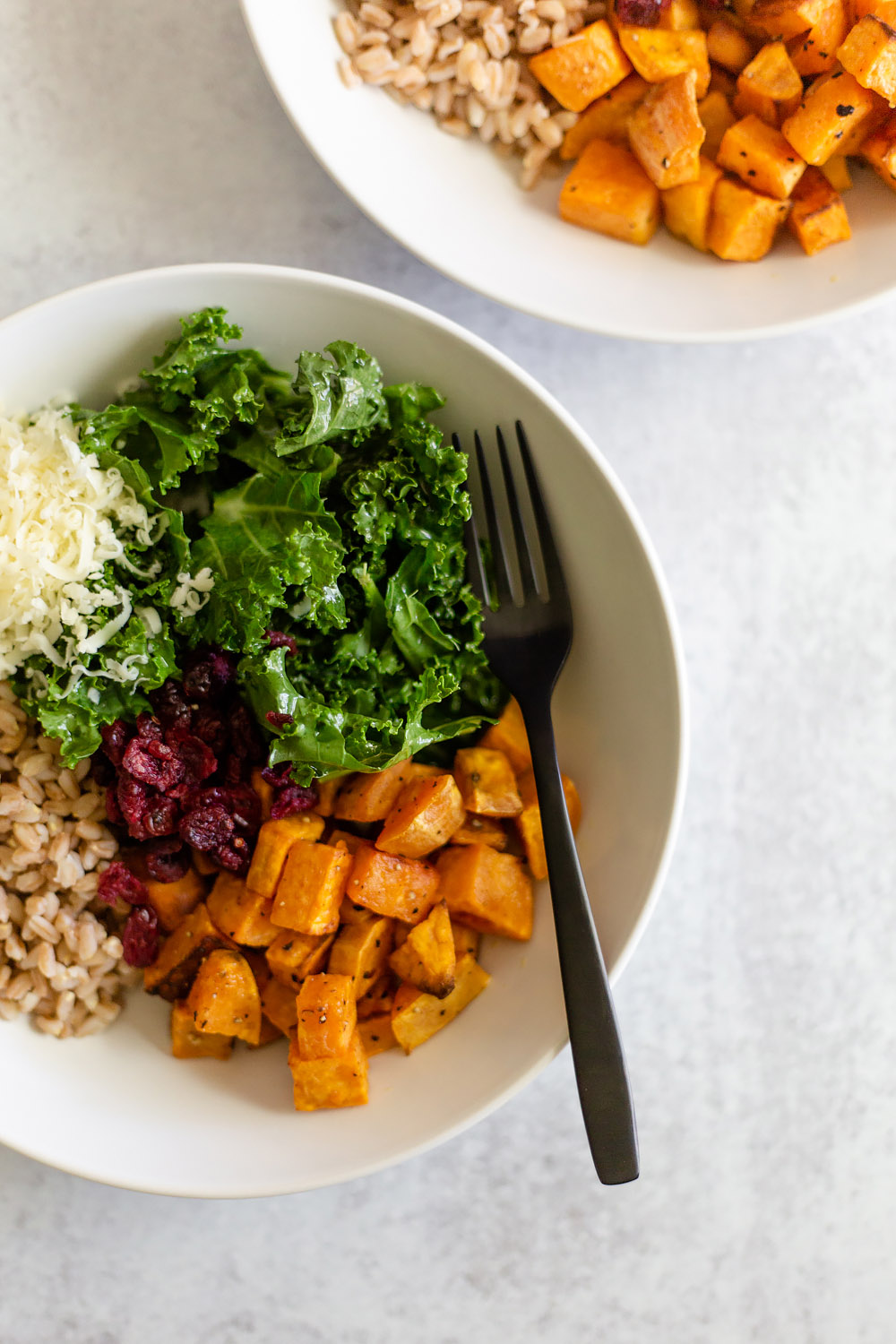 Splashed across my Instagram feed, I see gorgeous photos of grain bowls. They look so fresh and healthy! So the other day for lunch, I whipped up this farro bowl that has kale, sweet potatoes, and cranberries. Verdict? I can see why people love these so much! It was delicious and healthy.
Other grain options:
If you don't have farro around, you can swap it out with another grain. Popular choices for grain bowls include brown rice, quinoa, and couscous. I love farro though. It has a slightly nutty taste, which adds a nice flavor to a grain bowl. It's also pretty healthy and rich in fiber! I was easily able to find a bag of it at my grocery store, and just cooked it according to the package directions.
Kale options:
For this farro grain bowl, I used curly kale, but you could always swap out for Tuscan kale if you have that in your garden or refrigerator. I LOVE Tuscan kale, but it can be a bit harder to find at the store. I like to use this homemade apple cider vinaigrette to toss my greens with, but use your favorite dressing!
Root veggie options:
And if you need a swap for sweet potatoes, butternut squash is another great healthy option with a similar flavor profile! I roast up the sweet potato and get it a little caramelized, which adds a touch of sweetness to the farro bowl.
Additions:
And then, I added dried cranberries for a little more sweetness and a slightly different texture. So good!
I used some shredded sharp cheddar cheese in the bowl for a touch of saltiness and creaminess, but you can always leave out if you want. I preferred the farro bowl with the cheddar cheese, but Josh preferred it without. The nice thing is this bowl is completely customizable!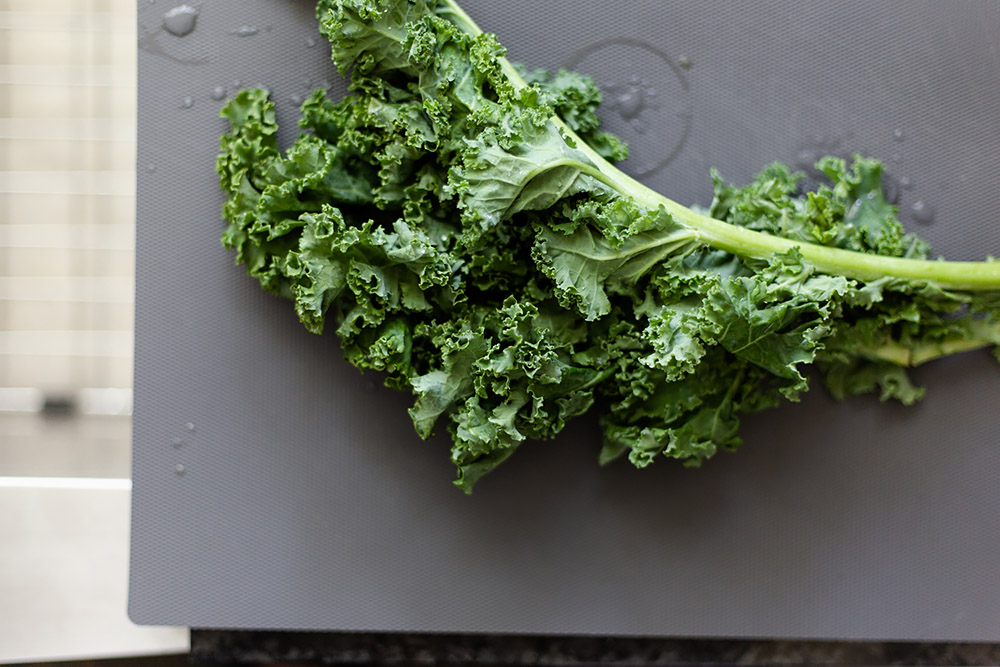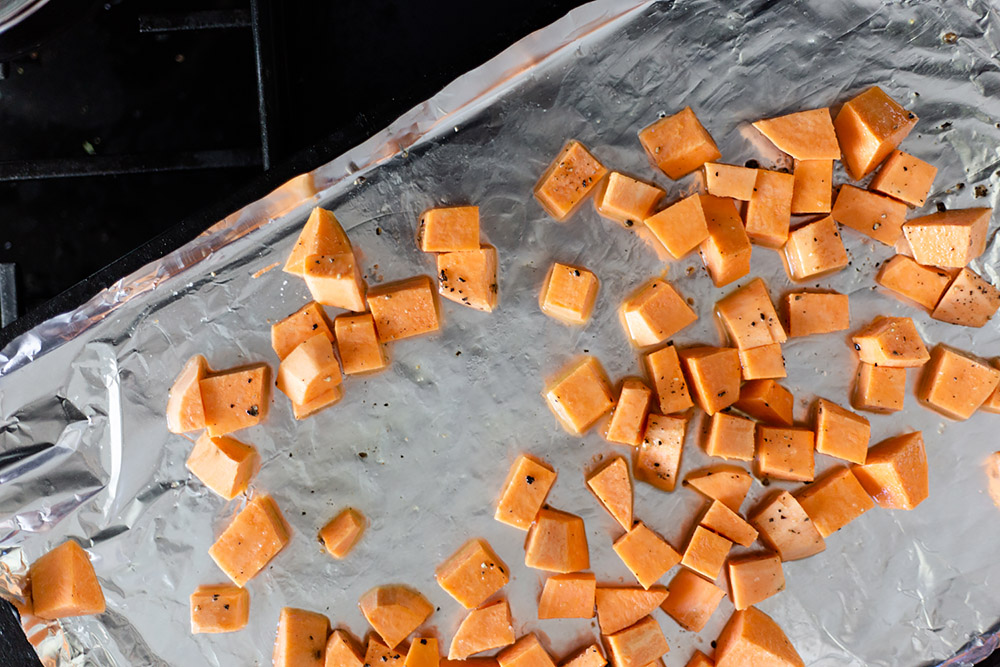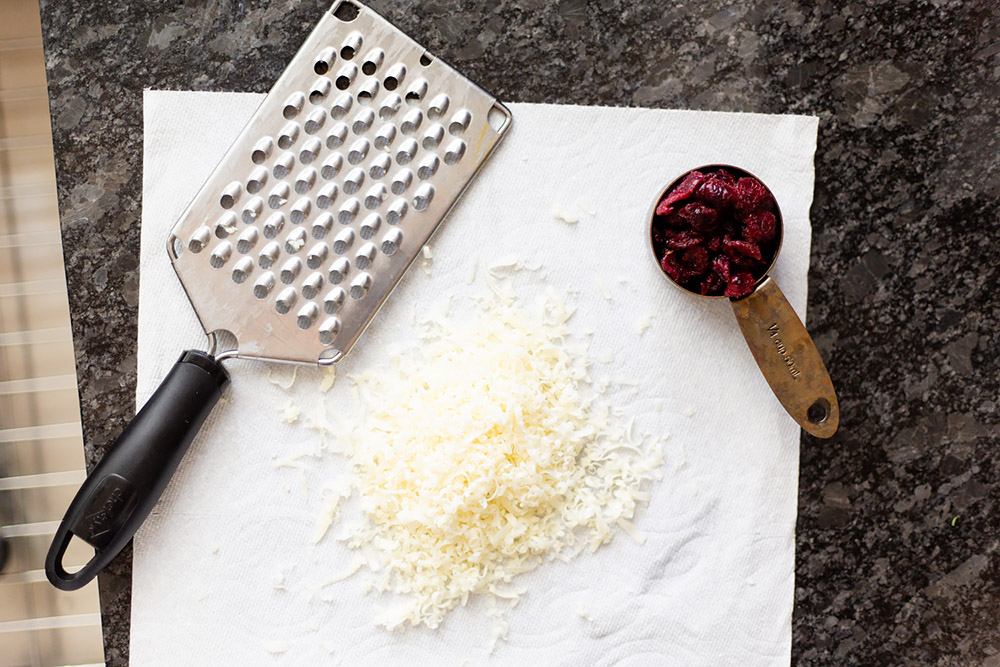 It's fun to serve the farro bowl with all the ingredients separated out. It looks so pretty that way!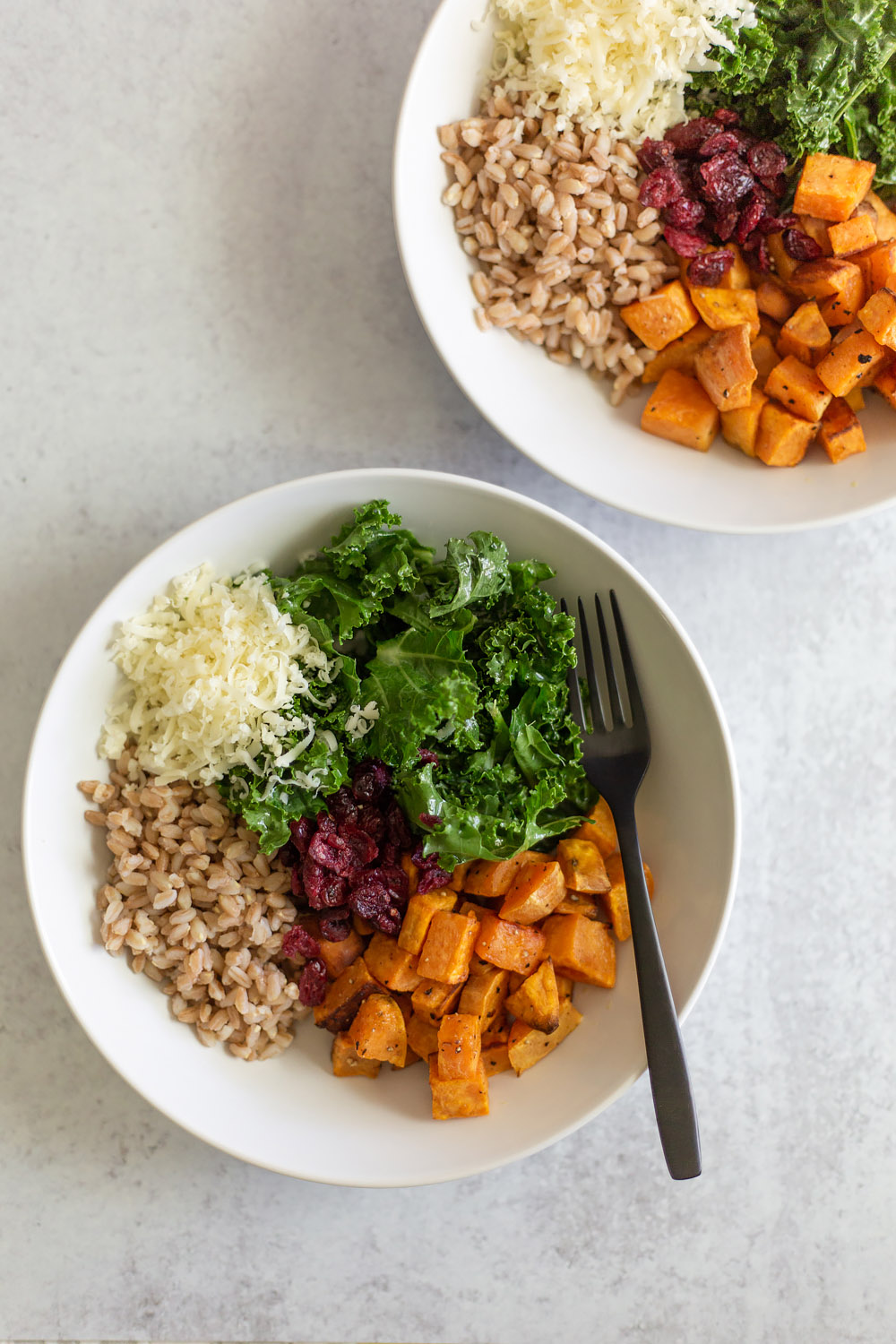 And then mix them all together before eating (or not)! It's completely up to you.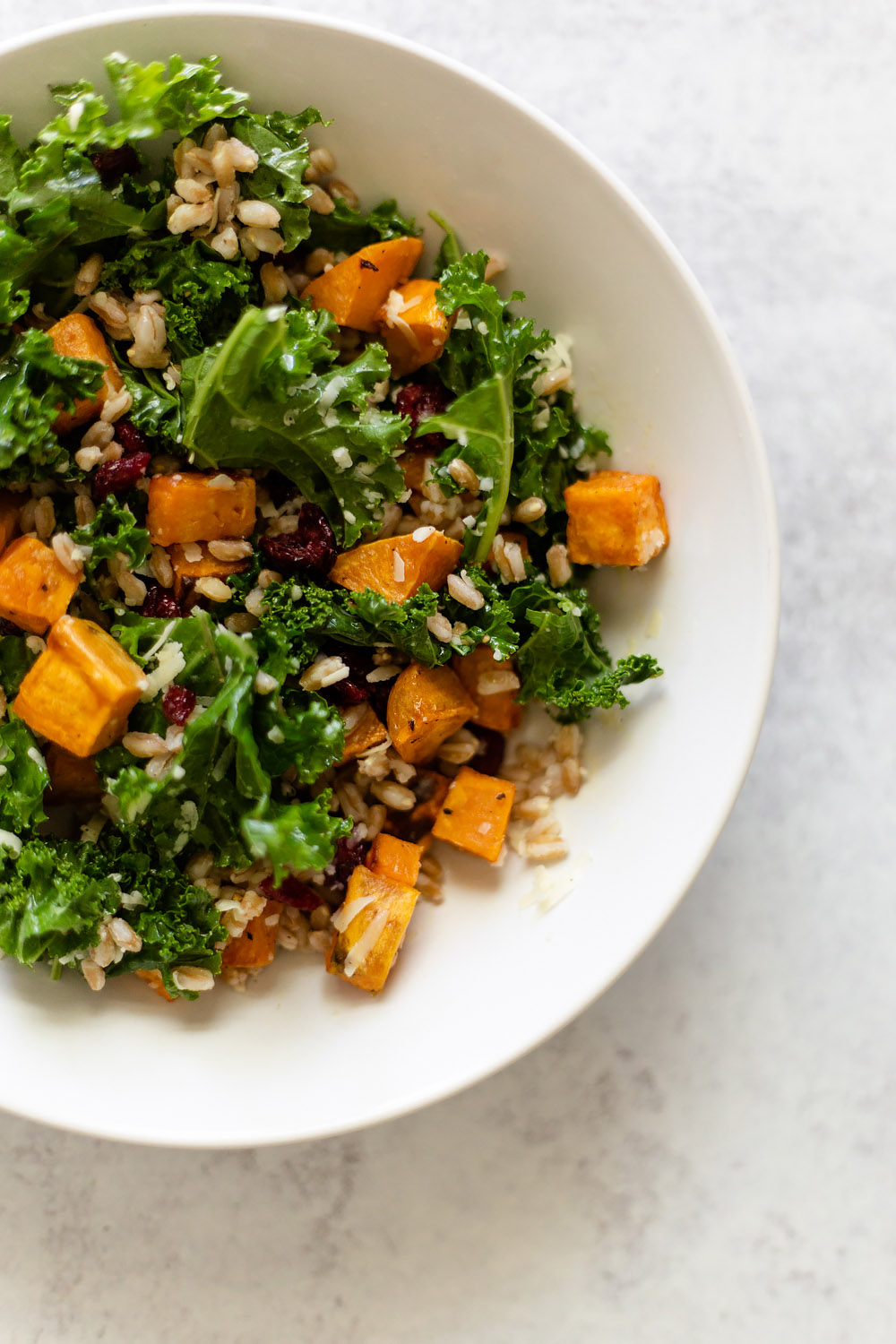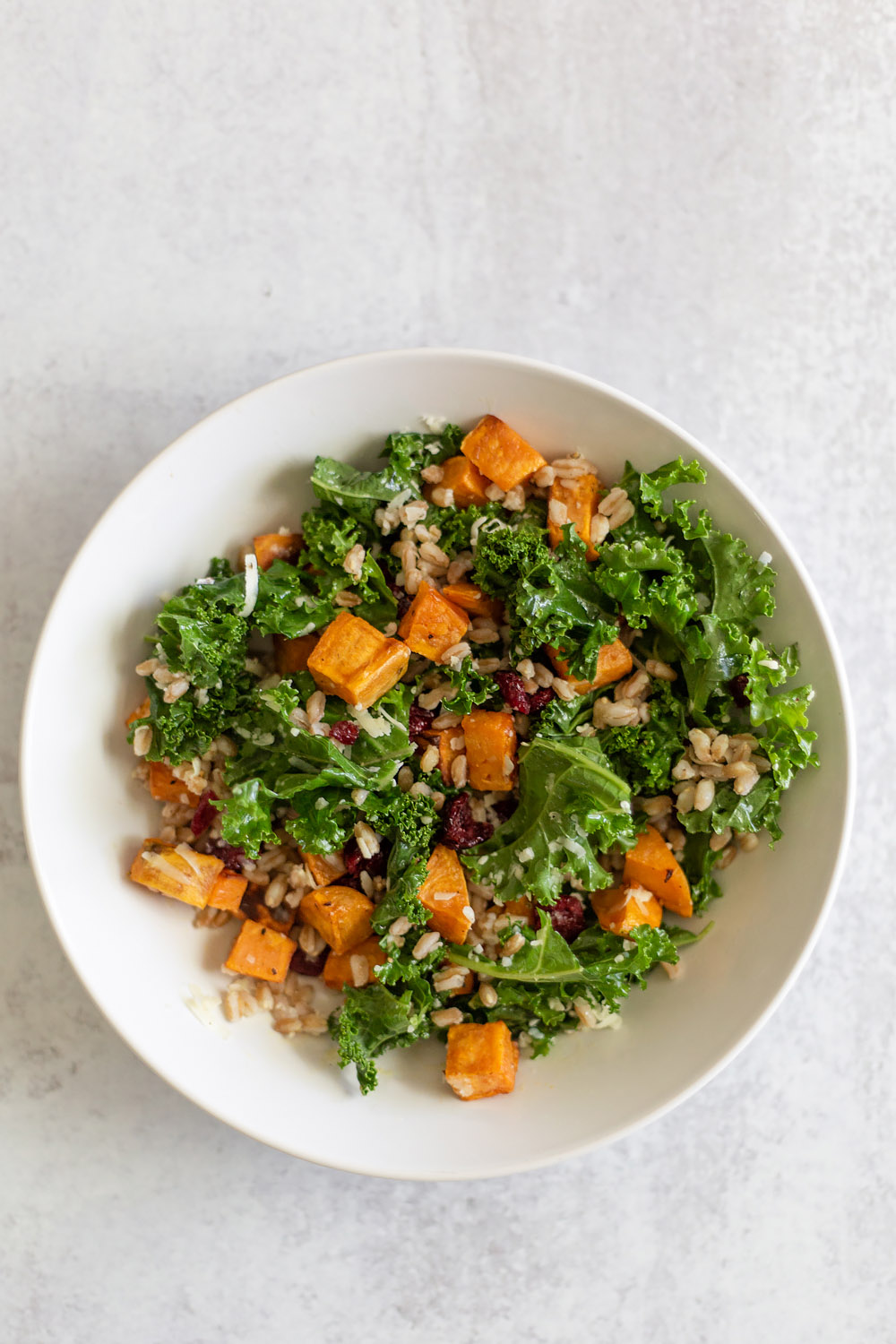 Looking for more healthy recipes? Check these out!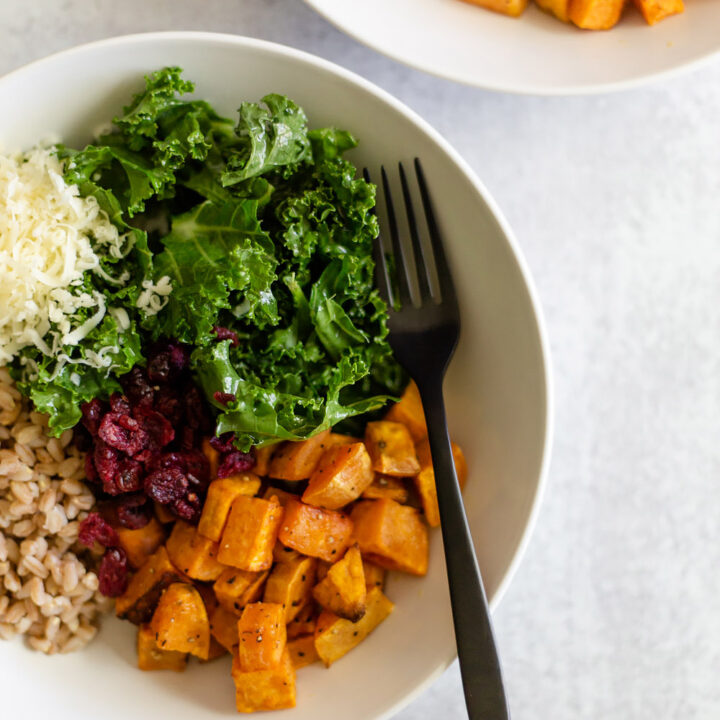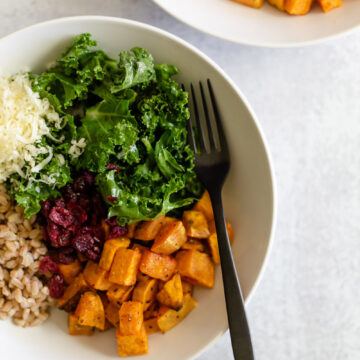 Farro Grain Bowl with Sweet Potatoes and Kale
This healthy farro grain bowl with sweet potatoes and kale is an easy lunch that is perfect for making at home or preparing for lunches to bring to work.
Ingredients
1

sweet potato, medium

1

cup

farro, cooked

2

cups

curly kale, stems removed

¼

cup

dried cranberries

¼

cup

cheddar cheese, grated

salad dressing

olive oil

salt and pepper
Instructions
Cook the farro according to package directions.

Heat the oven to 425 degrees F. Peel and dice the sweet potato into 1 inch cubes. Place on a baking sheet and toss with olive oil and a sprinkling of salt and pepper. Cook for 25 minutes, tossing halfway until soft and cooked through.

Take some curly kale leaves, remove the center stems, and chop into bite-sized pieces. Toss with your favorite salad dressing. (We love apple cider vinaigrette for this).

Into a bowl, place the farro, sweet potatoes, kale, grated cheddar cheese, and dried cranberries. Mix together and enjoy.
Notes
Leave out the cheddar cheese if you desire.
For the dressing for the kale, you can use your favorite dressing. (Though ranch is probably not the best option! We recommend a vinaigrette!) We've been using this apple cider vinaigrette. 
You can also substitute Tuscan kale for the curly kale if you desire.
If you don't want to use farro or can't find it, use brown rice or quinoa.
Tried this recipe?
Tag @foodbanjo on Instagram and share your photos!