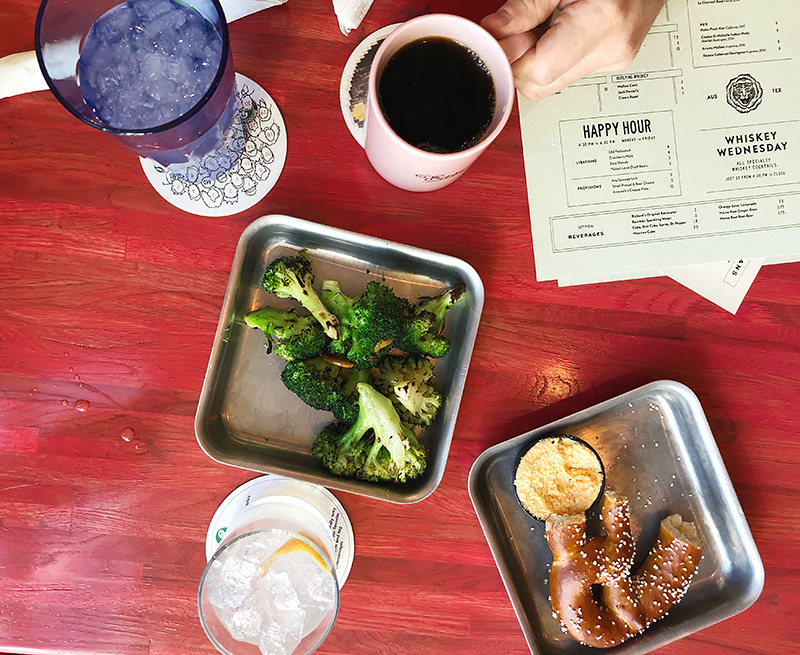 Awhile back we were invited to the new Easy Tiger at the Linc for complimentary bites and drinks. Whenever I get an invite from Easy Tiger for anything it's like "YES, SIGN ME UP!" I love them so much.
This location is incredible. The space is so nice. I love the brightness indoors, and their little bakery area is filled with delicious looking and tasting pastries, cookies, and breads. Their outdoor area is huge and filled with tables. Definitely a place to hang out when you want some fresh air and delicious bites and drinks.
We were even able to bring Zara along with us for her first restaurant tasting! She was a huge fan of the charred, roasted broccoli, the pretzel, and the lamb sausage. A one-year old with excellent food taste.
What about us? Josh started with coffee in the CUTE Easy Tiger pink mug. (I NEED one of these). We shared the broccoli and pretzel with beer cheese. Then he got the lamb sausage on a pretzel bun. See photo below. How delicious does that look? I got a yummy salad. Then we HAD to try cocktails. We each had one and then split the third. I wish I could remember the names, but I can't find a cocktail list online. Be warned though, all three were FANTASTIC, so anything you order should be tasty and maybe a little dangerous if you drink too many.
Now to plan our next visit back... Thank you, Easy Tiger for the invite and always being one of our favorite places in Austin!