Air Fryer Jammy Eggs are so easy to make. The eggs come out perfectly cooked with a nice, soft, jammy center.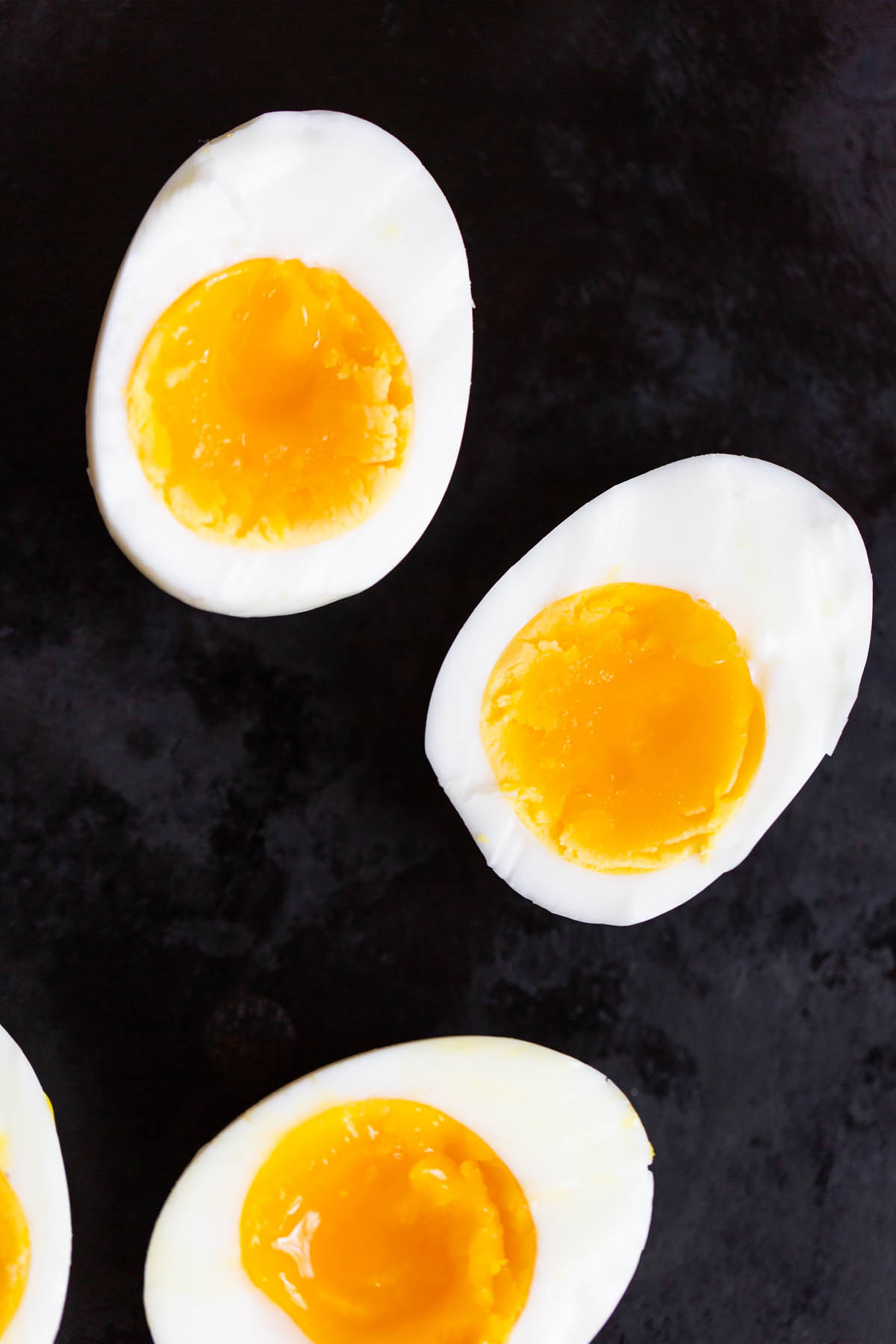 What's your favorite way to boil eggs? I love a good soft-boiled or hard-boiled egg, but even more so? I like the jammy eggs. Where the insides aren't too liquidy, but also aren't completely solid.
Maybe it's because I'm a middle child. I like that in-between. That balance.
So I've been working to perfect a perfectly jammy egg in the air fryer. And these air fryer jammy eggs are so good.
There's so many ways you can eat them. Simply sprinkled with salt and pepper. Or with toast. Or topped with a variety of seasonings. On a sandwich. Or even in a bowl or ramen! Jammy eggs have so many possibilities.
What does "jammy" mean?
A jammy egg is one that's not completely liquid in the middle, but also not completely set. When you cut into it, the yolk mostly stays in place, but has a jammy quality, similar to... jam.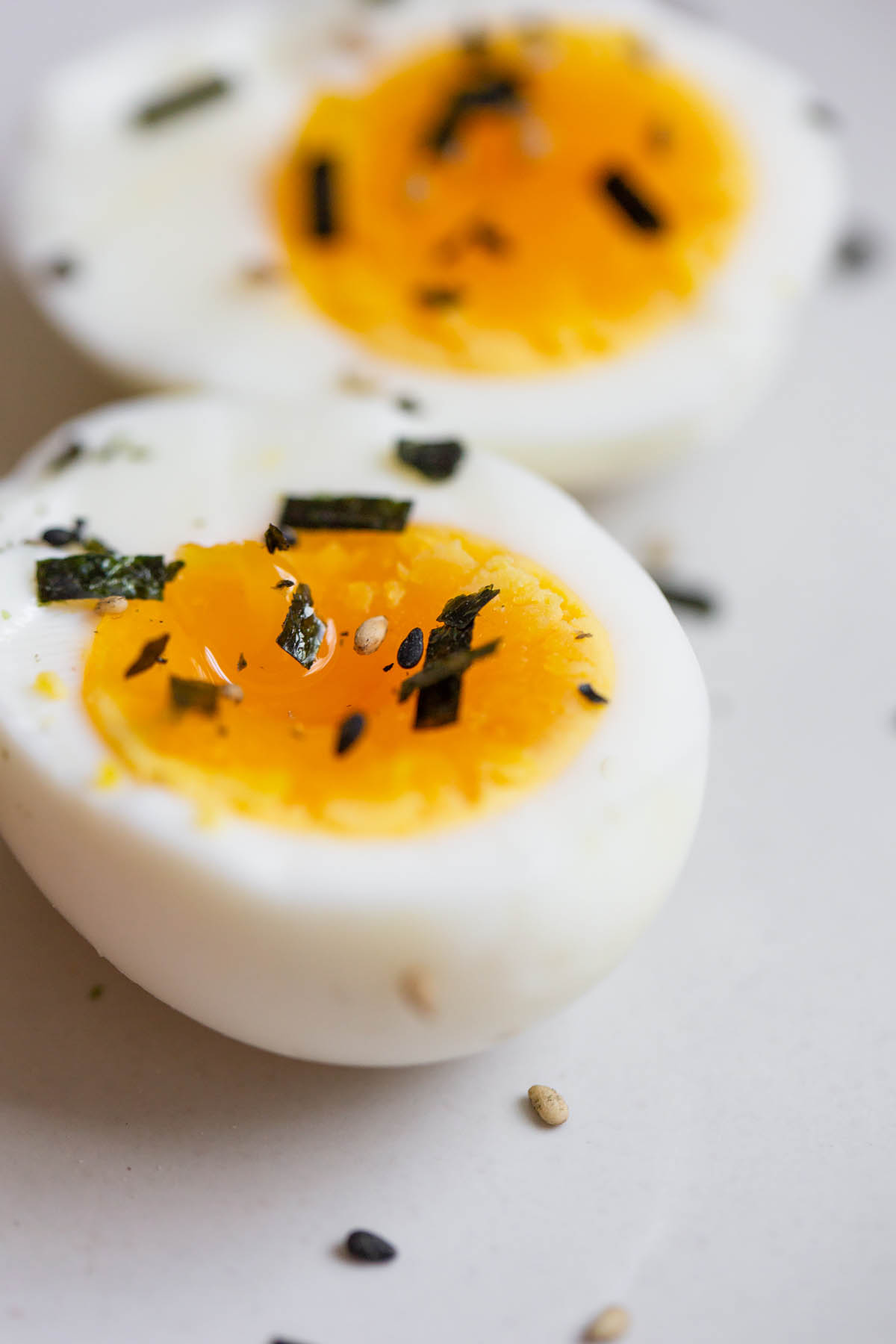 Cooking times:
For soft-boiled: 9-10 minutes
For jammy: 11 minutes
For hard-boiled: 15-16 minutes
How to best peel eggs:
To peel these eggs, first I place them in a bowl of ice cold water. Yes, that is water with ice cubes in it. That helps cool down the egg so you can peel it without burning your hands.
Next, lightly tap it onto your countertop or cutting board and then roll it around so that the shell gently cracks. Then, slowly peel the shell off.
Don't get too overzealous! Gentle works best, so you wind up with a perfectly peeled egg.
However, if it's not perfectly peeled, don't worry. It's still delicious, and that's what matters, right?
How to make the air fryer eggs
Simply remove your eggs from the refrigerator and place into your air fryer basket. You can actually do as many eggs as you want, as long as they fit in a single layer in the tray and have space around them for the air to circulate.
Next, place in the air fryer on 270 degrees F for 11 minutes. This is the magic time for getting my jammy eggs how I love them.
However, if you like them a little firmer, aim for 12-13 minutes. If you're going for hard-boiled, aim for 15-16 minutes.
This is what eggs look like after 11 minutes: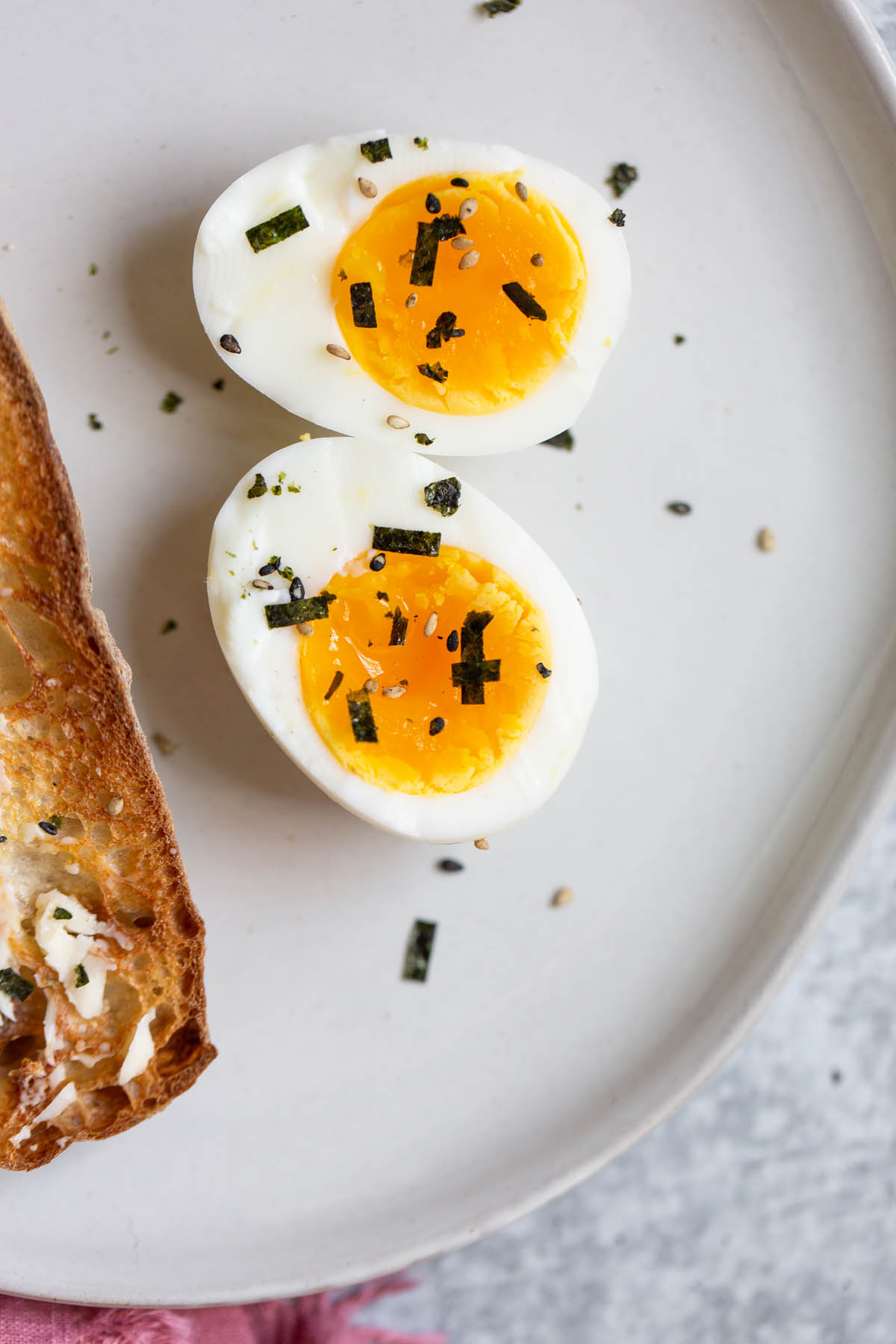 This is what eggs look like after 13 minutes. Slightly more set and less jammy (but still delicious!)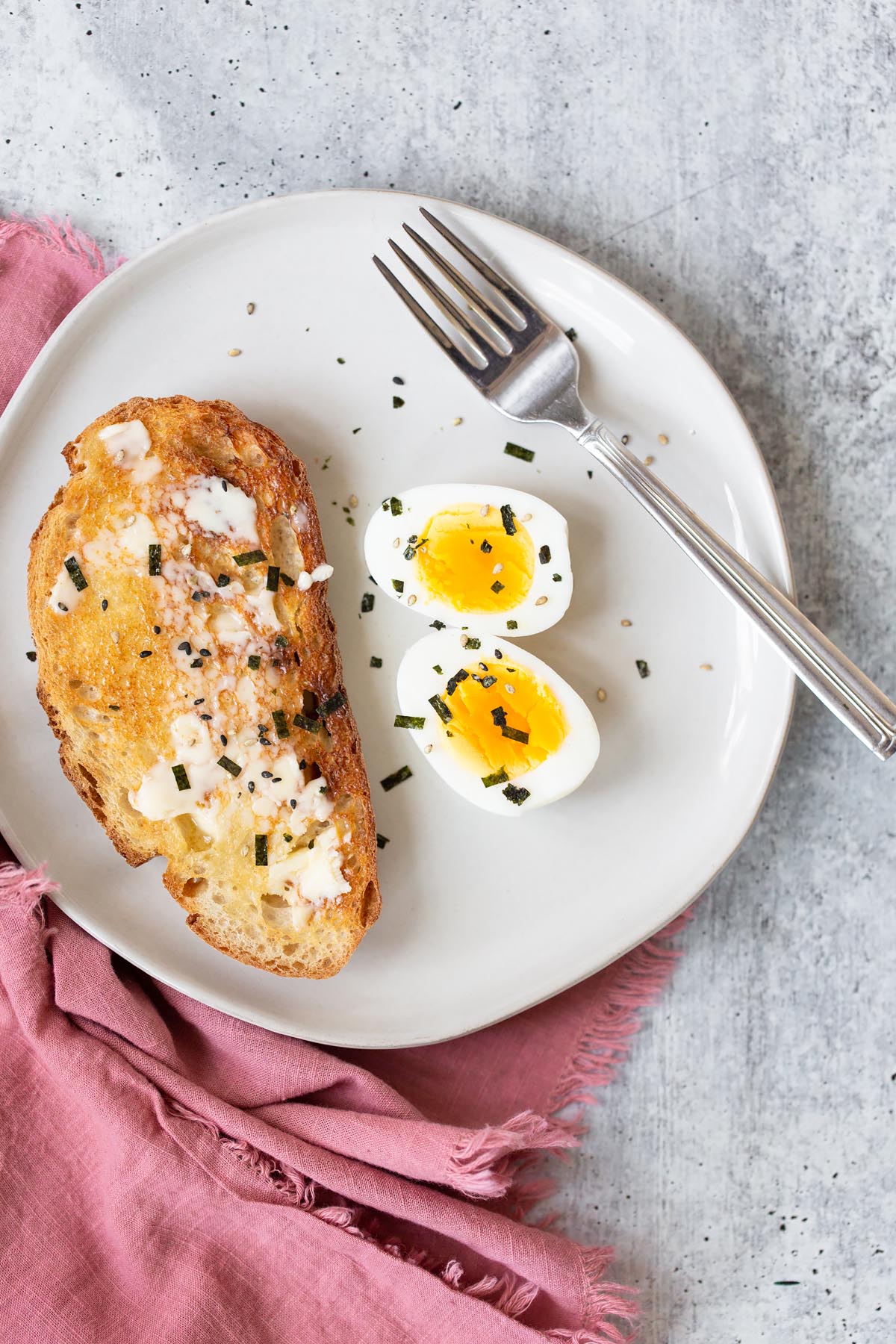 What to eat with the eggs
I love eating these with a slice of toast or a side of potatoes. Air fryer breakfast potatoes are delicious as are these roasted sumac potatoes. And Calabrian potatoes if I want a little spice!
Not sure if an air fryer is right for you? Check out air fryer pros and cons.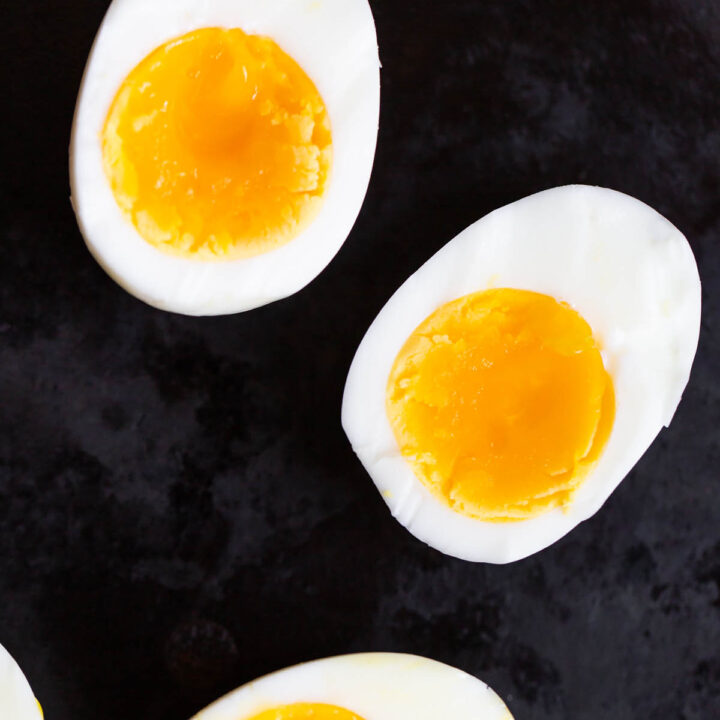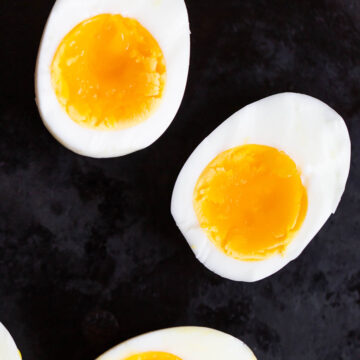 Air Fryer Jammy Eggs
Air Fryer Jammy Eggs are so easy to make. The eggs come out perfectly cooked with a nice, soft, jammy center.
Instructions
Place the eggs in the basket of your air fryer.

Cook eggs on 270 degrees F for 11 minutes.

Remove from the basket and place in a bowl of ice water for 3 minutes before cracking and peeling.

Serve with toast, sprinkled with salt and pepper, or however you wish!
Notes
All air fryers cook differently. Your air fryer may require slightly less or slightly more time to get the perfect jammy egg.
You can do as many eggs at a time as you want! Just make sure to leave room for air to circulate around them in your air fryer.
For our eggs, we topped them with salt, pepper, and furikake (which is a Japanese seasoning typically made with seaweed, sesame seeds, salt, and sugar).
If nutrition info is shown, values are based on an online calculator and are estimates. Please verify using your own data.
Tried this recipe?
Tag @foodbanjo on Instagram and share your photos!