Calabrian chili paste is a must-have in any pantry. But when you find yourself without, it's important to know the best substitutes for Calabrian chili paste and their flavor profiles.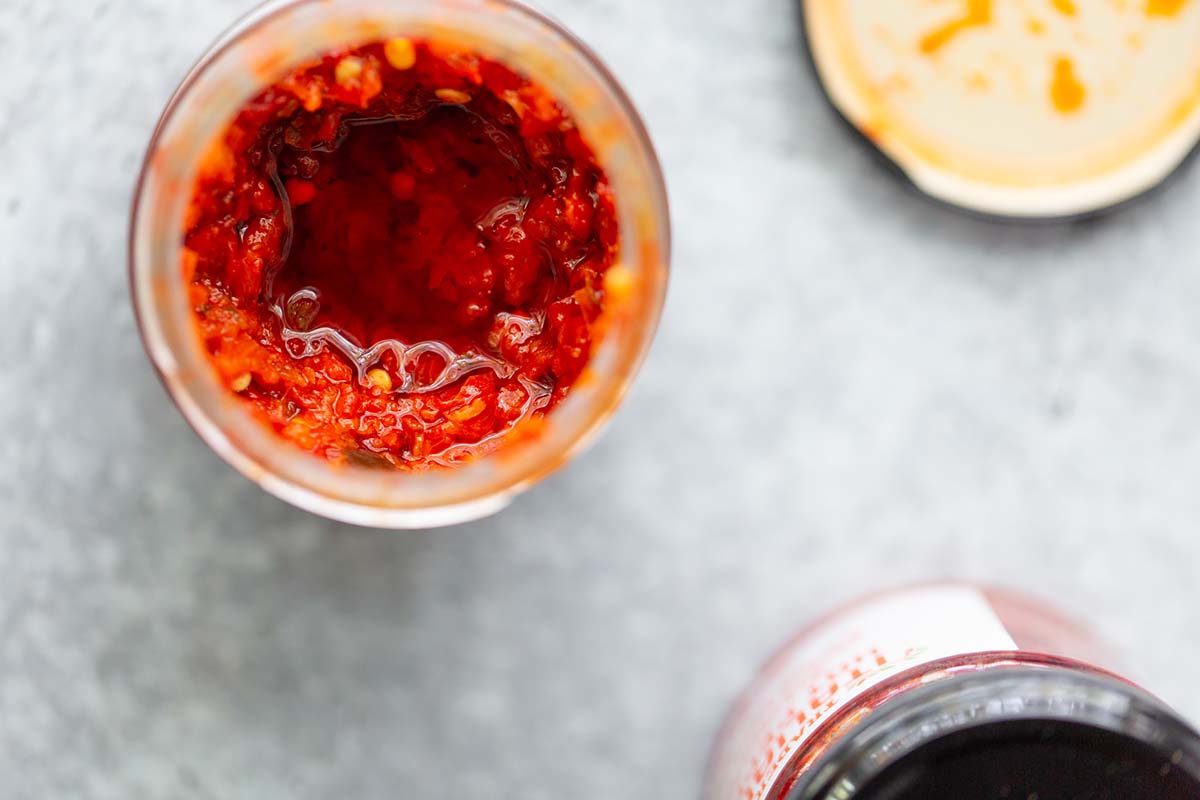 I love a bit of spice in my food and Calabrian chili paste is probably my favorite one. It adds such a delicious depth of flavor to anything I throw it in.
It's a little citrusy, vinegary, and definitely spicy.
I ALWAYS have a jar around, and usually a backup just in case. But there are times when life happens. And I find myself without Calabrian chili paste.
So if you're in a similar boat, here's some substitutions you can use.
What is Calabrian chili paste?
Calabrian chili paste is a spicy and flavorful condiment made from a variety of small red chili peppers that are native to the southern Italian region of Calabria (at the bottom of the "boot").
To make the chili paste, peppers are first dried in the sun before being ground into a paste with the addition of salt, vinegar, and sometimes olive oil.
This paste is highly versatile and can be used in a variety of dishes, from pizza and pasta to seasoning shrimp and seafood. You can even use it mixed in with butter!
One of the standout characteristics of Calabrian chili paste is its intense heat, which can range from mildly spicy to extremely fiery depending on the specific variety of chili used. A little goes a LONG way when it comes to Calabrian chili paste.
However, the paste also has a distinct sweet and slightly smoky flavor that adds complexity to any dish it is used in.
Its vibrant color and rich flavor make it a popular ingredient in many Italian and Mediterranean dishes, and it is becoming increasingly popular in other cuisines around the world.
You can get a variety of brands, and Trader Joe's Bomba Sauce is also a great option if you have a Trader Joe's in your area!
Best substitutes
Harissa
Harissa is a North African chili paste made from roasted red peppers, chili peppers, garlic, and spices. It has a similar heat level to Calabrian chili paste and can be used as a substitute in recipes that call for it.
I think harissa is one of the best substitutes for Calabrian chili paste, as they both are used in the Mediterranean area in similar ways. However, harissa has a slightly different flavor profile due to the addition of spices.
Also, the spice level may vary based on the heat level of your harissa, so it's not a perfect substitute. (Note: here are some harissa substitutes)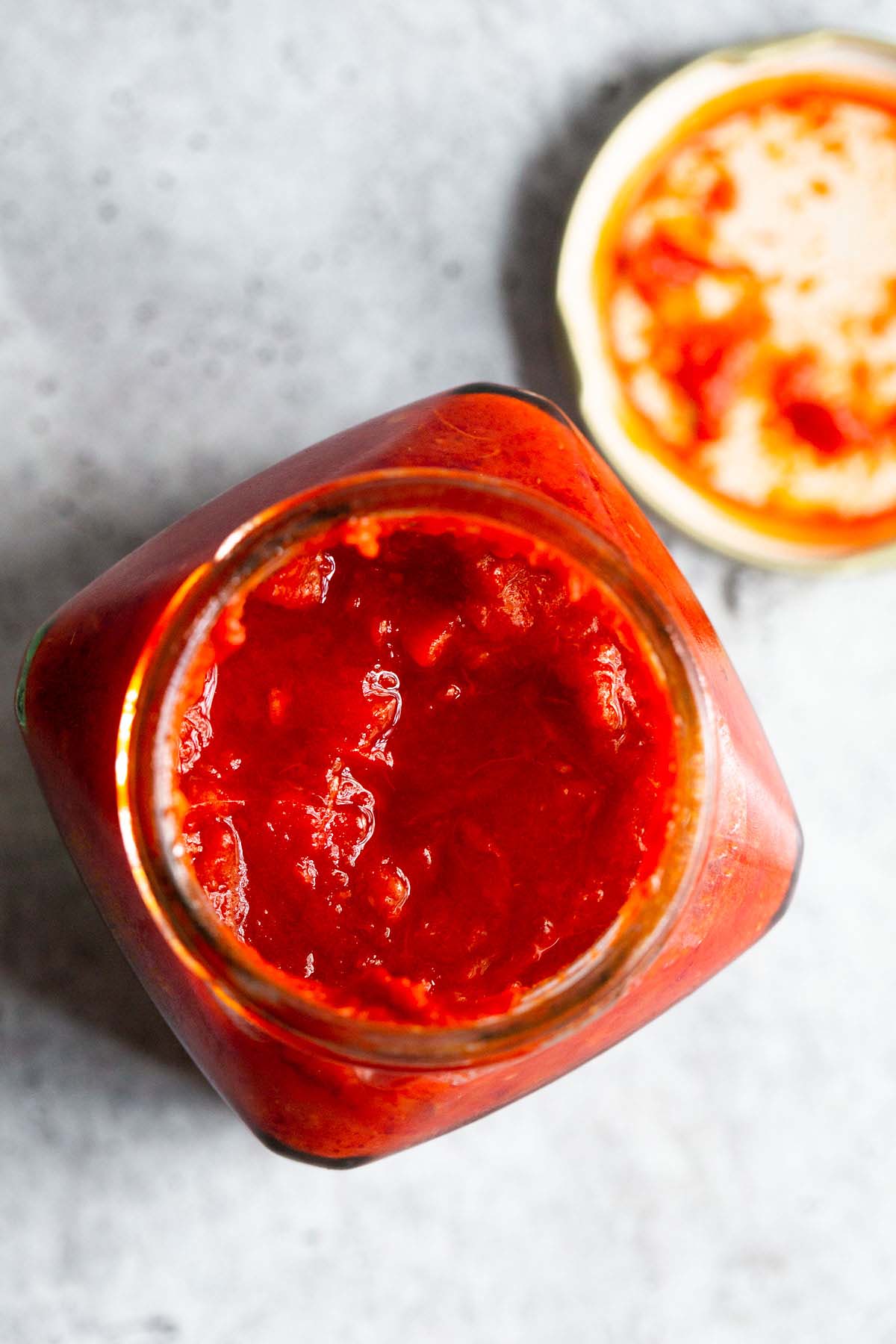 Sriracha
Most of us are probably familiar with sriracha! It's the one with the rooster on the bottle and the green lid.
Sriracha sauce is a popular hot sauce made from chili peppers, garlic, vinegar, and sugar.
While it is not as thick as Calabrian chili paste, sriracha has a similar level of heat and can be used in many of the same ways. It also has a slightly sweet flavor that can add depth to your dish.
Sriracha is typically much smoother in texture than Calabrian chili sauce, which has definite chili flakes in it.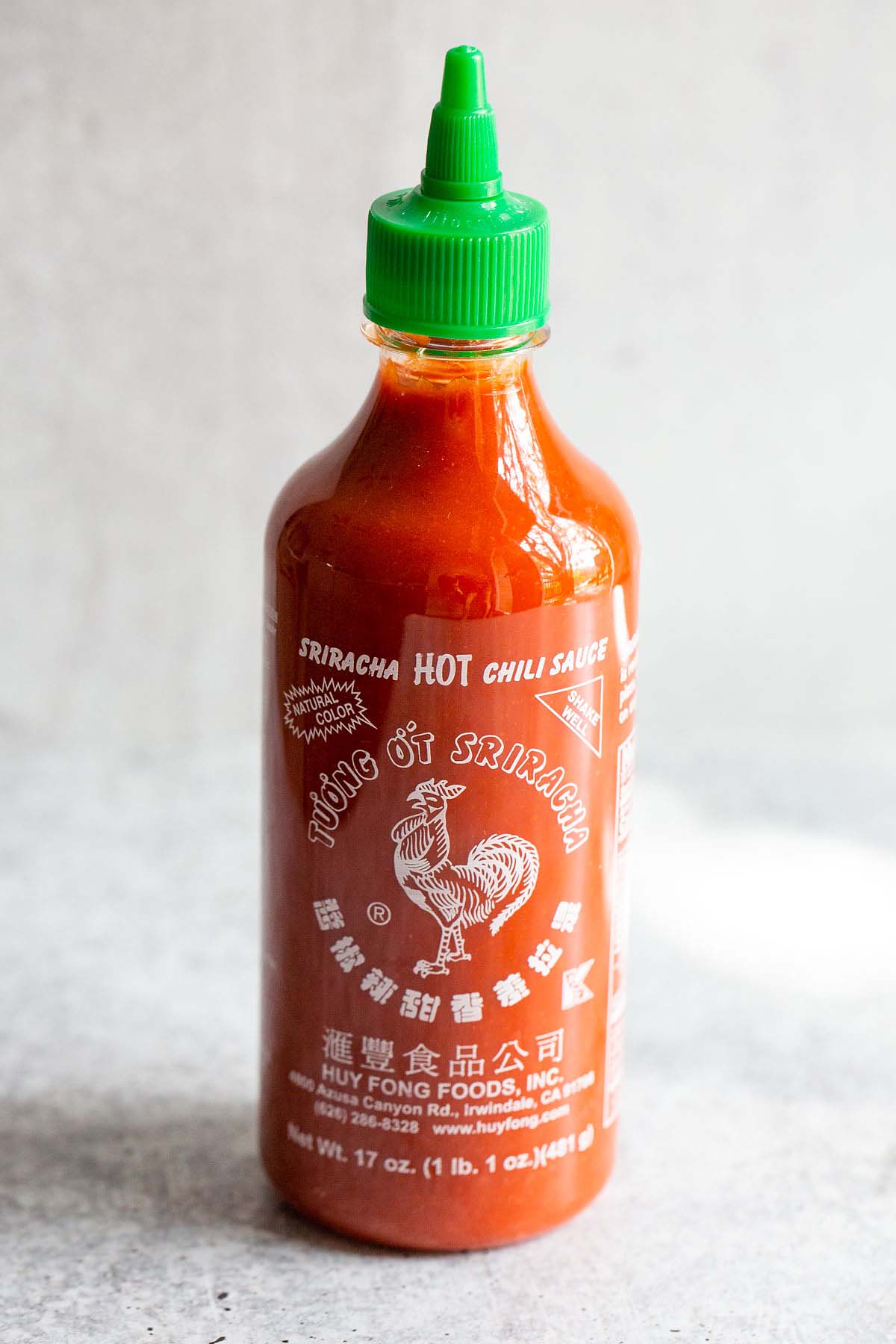 Sambal oelek
Sambal oelek is a chili paste commonly used in Indonesian and Malaysian cuisine. It is made from fresh red chili peppers, salt, and vinegar.
It has a similar consistency and heat level to Calabrian chili paste, but lacks the smoky and slightly sweet flavor. It is a good substitute if you are looking for a pure chili flavor.
Red pepper flakes
This is perhaps the most readily available substitute for Calabrian chili paste. I know I always have a jar in my spice drawer!
Red pepper flakes are made from dried chili peppers that have been crushed into small flakes. While it lacks the smoky and slightly sweet flavor of Calabrian chili paste, it does provide a similar level of heat.
A key difference is red pepper flakes are dried and served as a spice, whereas Calabrian chili paste is jarred with oil and other liquids and stored in the refrigerator after opening.
How to use Calabrian chili paste
Calabrian chili paste has so many uses! I love it to flavor pastas and pasta sauce, like in this Creamy Calabrian pasta.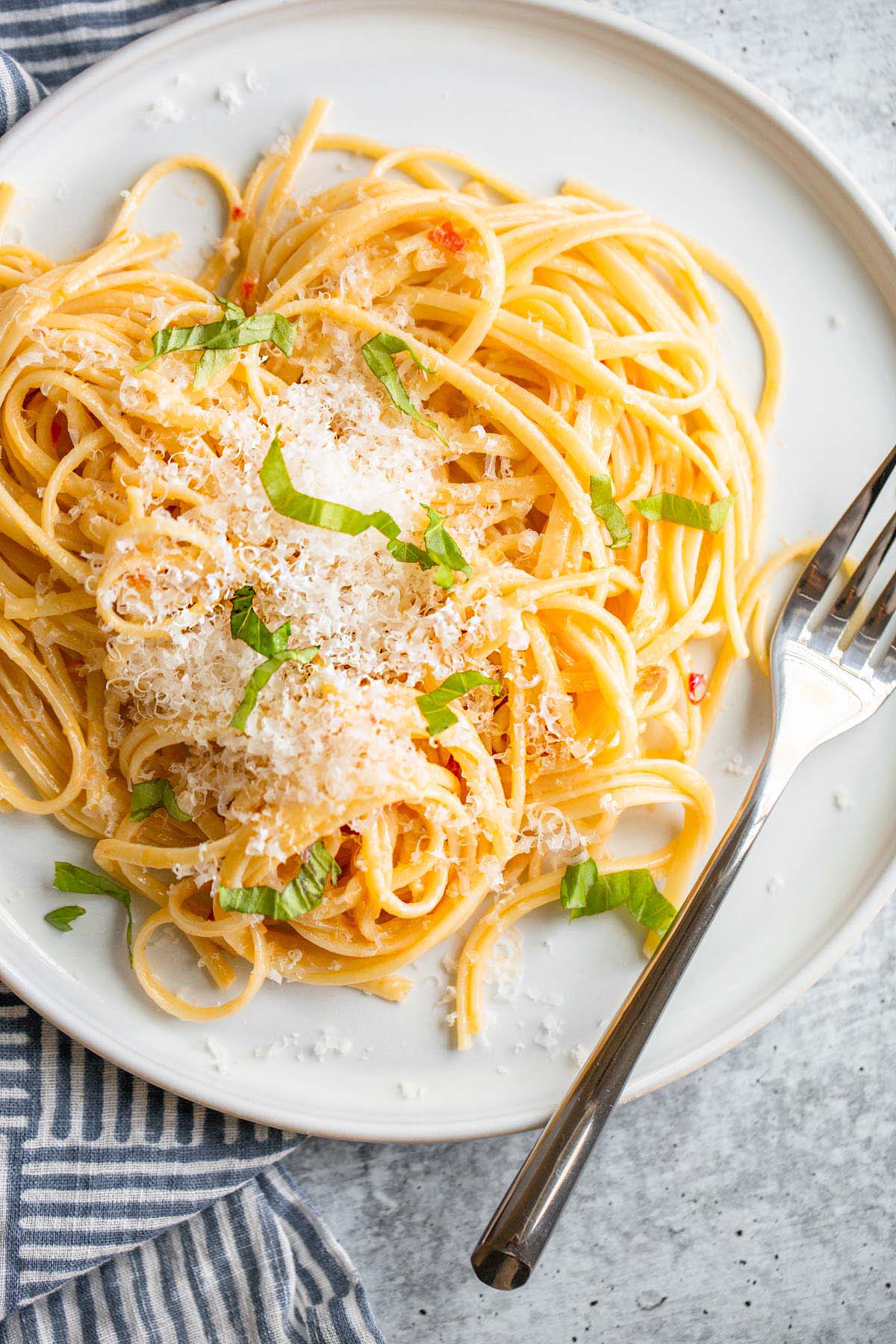 It's also delicious on chicken or shrimp! It adds a nice spicy flavor to this Calabrian Chicken or Spicy Calabrian Shrimp (AKA one of my favorite dishes ever).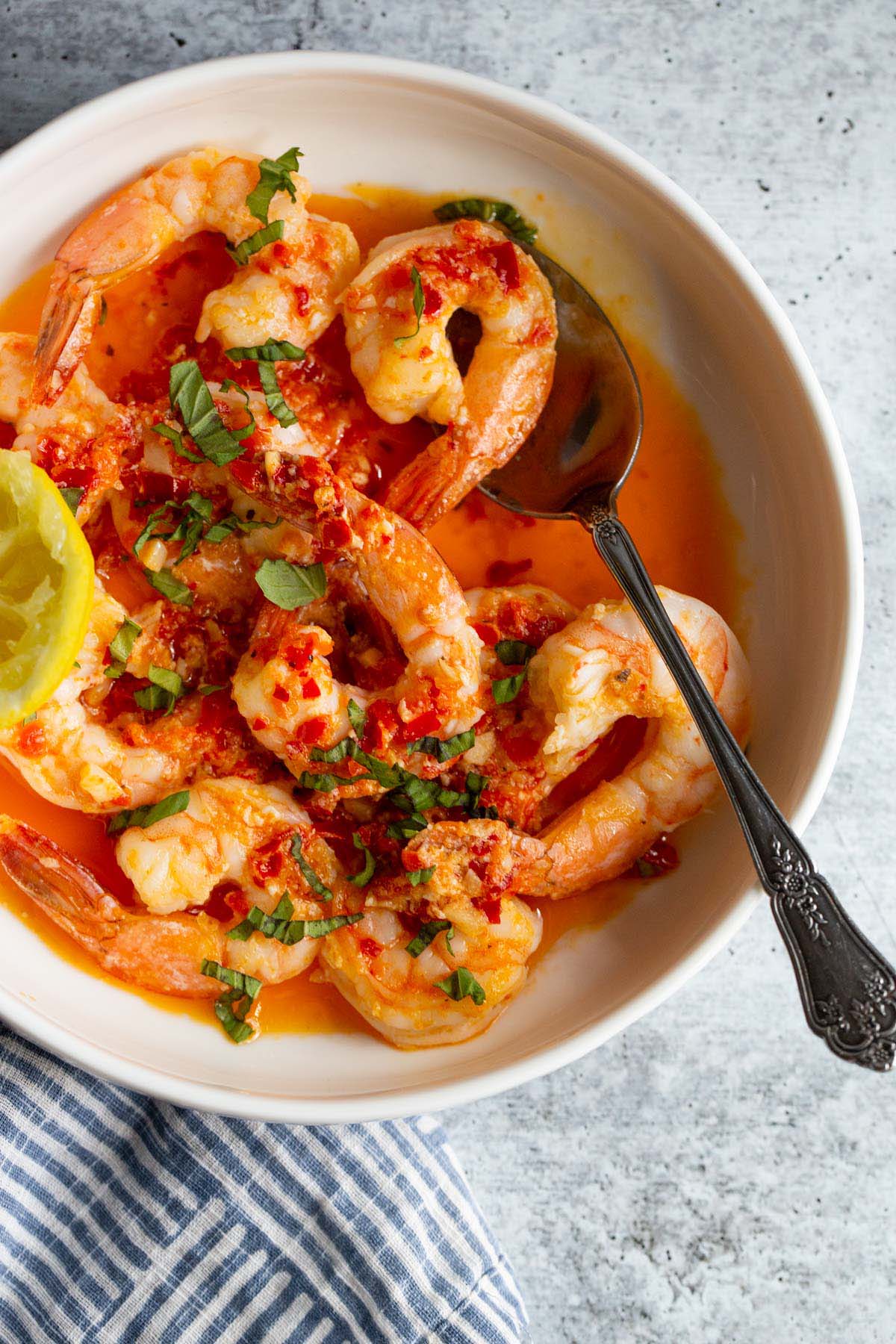 And you can also use it to flavor vegetables! I like pairing it with a variety of vegetables, like these Calabrian potatoes.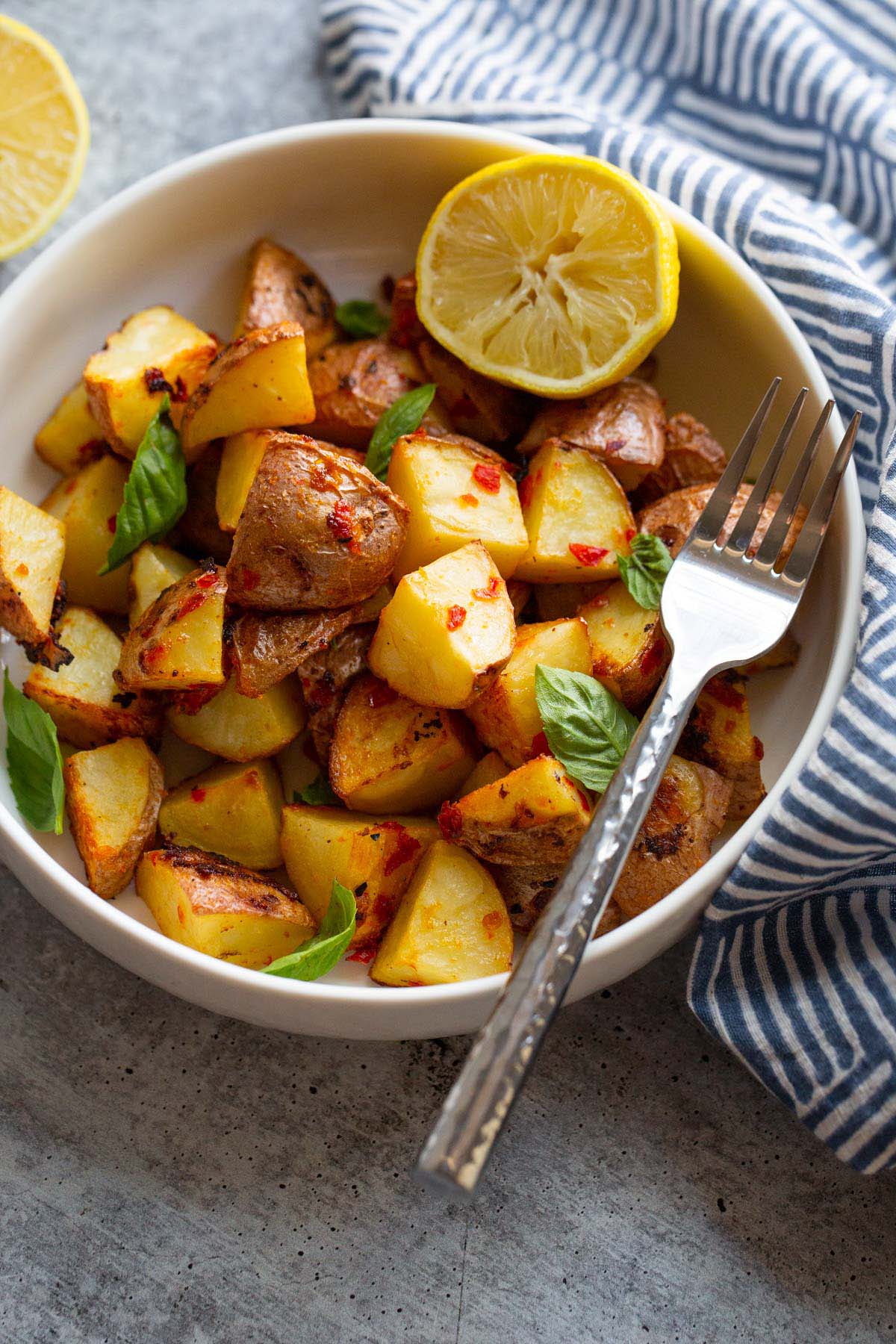 And finally, it is delicious when used as a compound butter. This Calabrian chili butter is one of my favorite things to make, and then I used it in eggs, on potatoes, or to top steaks.