This beef stew over cheesy polenta is comfort food. The beef is so tender, and the polenta is the perfect pairing that makes this dish feel restaurant quality.
It's pretty chilly here in Austin today. Bundle up with a coat, mittens, and a scarf-type of weather. And that winter citrus salad I posted earlier this week? Not gonna keep you warm. But this beef stew over cheesy polenta? Yes! Warming, filling, and so very tasty.
I first made this beef stew with polenta a few years ago. I remember the weather being very similar. It was cold. I didn't want to do anything but stay indoors. And luckily, I had prepared ahead of time and gotten all the ingredients I needed to make this beef stew. And oh. It was so good. I've made it again and again and again since that date. And now I want to share it with you. So you can make it again and again and again.

The only bad part about this recipe is the attention the polenta needs. You're basically standing at the stove for 30 minutes, stirring. This is where it's handy to have a significant other or friend to help you if you get tired. I also take my iPhone over to the stove so I can scroll through Instagram or Facebook while I'm stirring. But I will say... on cold days, it's nice to be right by that stove getting all toasty. And when you're done, you have a delicious beef stew and a cheesy, delicious polenta to warm you up.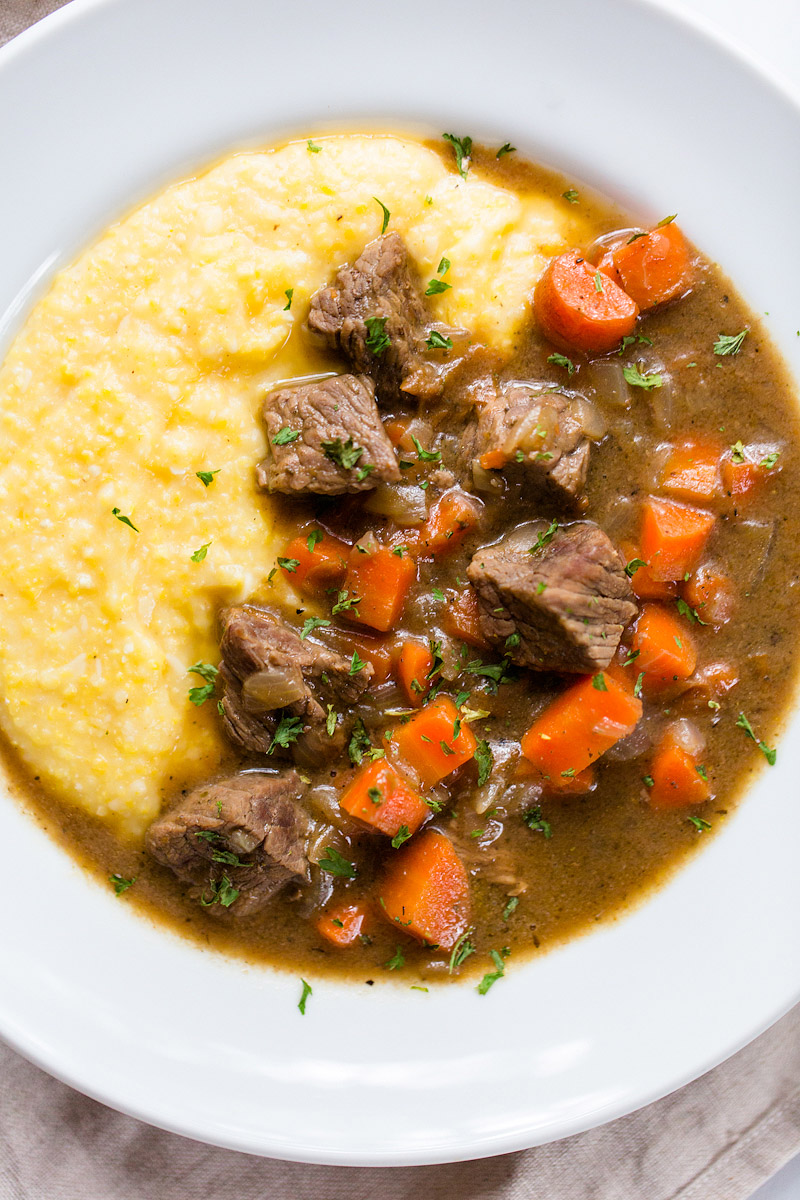 Beef Stew with Cheesy Polenta - Serves 4
For the Beef Stew
1 tbsp olive oil
2 cups diced carrots
1 cup diced white or yellow onion (1 small onion)
1 1/2 lbs top round beef roast, trimmed and cut into chunks
1/8 tsp celery salt
1/2 tsp herbs de provence
1/2 tsp dried sage
3 cups beef broth
1 tsp cornstarch
2 Tbsp water
salt
pepper
dried parsley
For the Polenta
2 cups chicken stock
2 cups water
1 cup yellow cornmeal
2 tbsp butter
1/2 cup grated parmesan cheese
1/4 cup grated sharp cheddar cheese
pepper
Instructions:
Heat the olive oil in a large skillet or stew pot over medium heat. Add the carrots and onion, and cook 5-7 minutes until onions are translucent, stirring frequently.
Add the chunks of beef and cook, until all edges are browned and no longer pink. Season with celery salt, salt, and pepper and add the herbs de provence and dried sage and stir to combine.
Add enough beef broth to cover the meat (about 3 cups). Heat until boiling, then reduce to a simmer (med-low heat). Cook uncovered for 2 hours. In the last 10 minutes, combine the cornstarch with the water and mix. Then add to the beef stew and stir. This will help the stew thicken slightly.
After 1.5 hours of the beef stew simmering, start the polenta.
Add the water and chicken stock to a large pot and heat until boiling.
Whisk in the cornmeal, then lower the heat to med-low. Stir constantly with a wooden spoon for 20-25 minutes, until polenta has thickened considerably. Remove from heat and add the butter, parmesan cheese, cheddar cheese, and a healthy amount of black pepper.
Spoon the polenta into a bowl and top with the beef stew. Sprinkle dried parsley over the top, if desired.