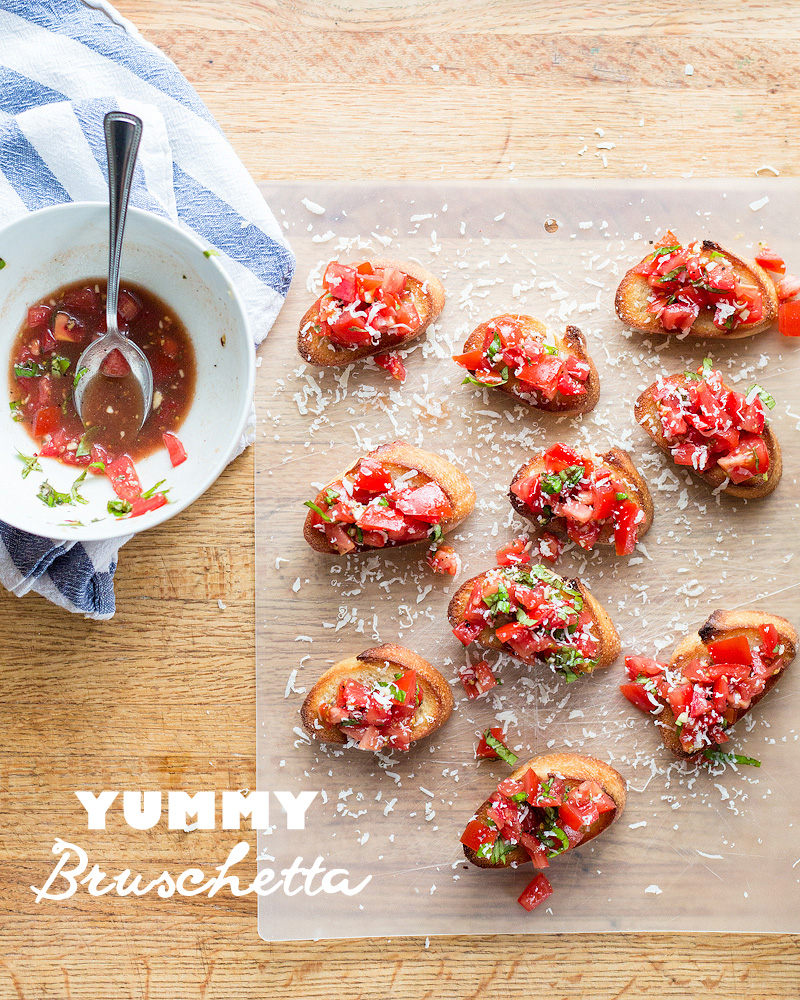 I love this time of year. It's actually the perfect time in Austin where it's not too hot and not too cold. The weather is getting warmer, and staying warmer. And eating fresh ingredients becomes the norm. Goodbye to soup, hello to raw veggies and fruits! This easy tomato bruschetta feels like the perfect way to ring in spring. Tomatoes, basil, garlic, warm toasted bread… what's not to love?

The great thing about this tomato bruschetta is that it is a perfect appetizer, snack, or part of a meal. To make it part of a meal, just serve alongside some chicken or pasta. When we made this bruschetta, we also cut up a rotisserie chicken and called it lunch. So easy. Honestly, the most time-consuming part of this dish is chopping all the tomatoes, but if you have a great helper (like my husband), those tomatoes are chopped in no time!
And before we move onto the recipe for this easy tomato bruschetta, let's just talk briefly about the pronunciation of the word bruschetta. I keep pronouncing it broo-sheh-tuh. And Josh keeps correcting me, saying it's broo-sket-uh. Who's right? Apparently he is. Regardless, it is a delicious and yummy creation.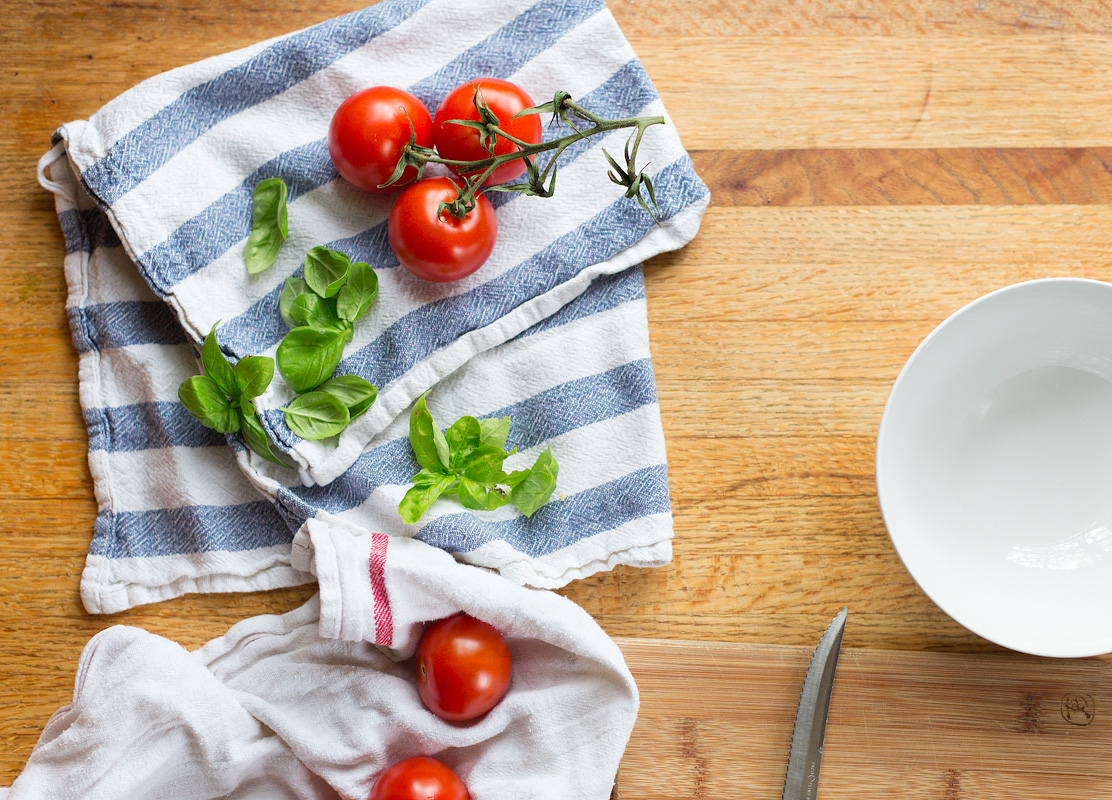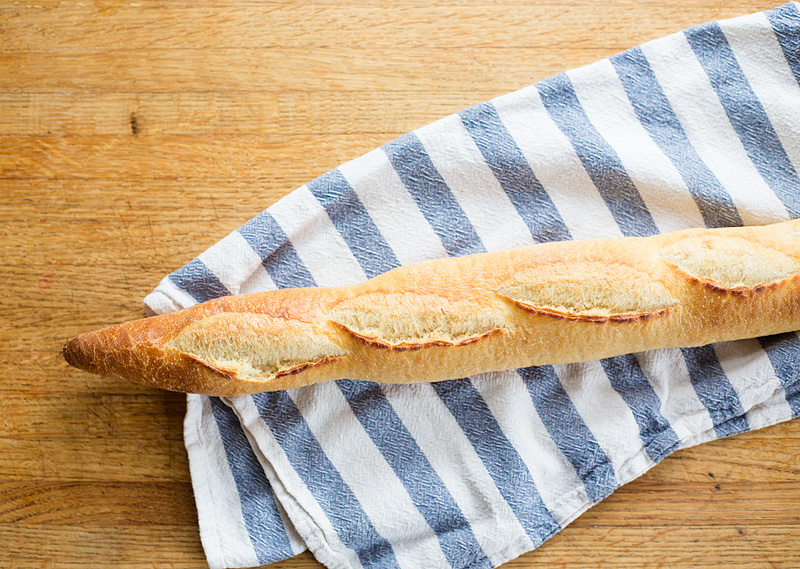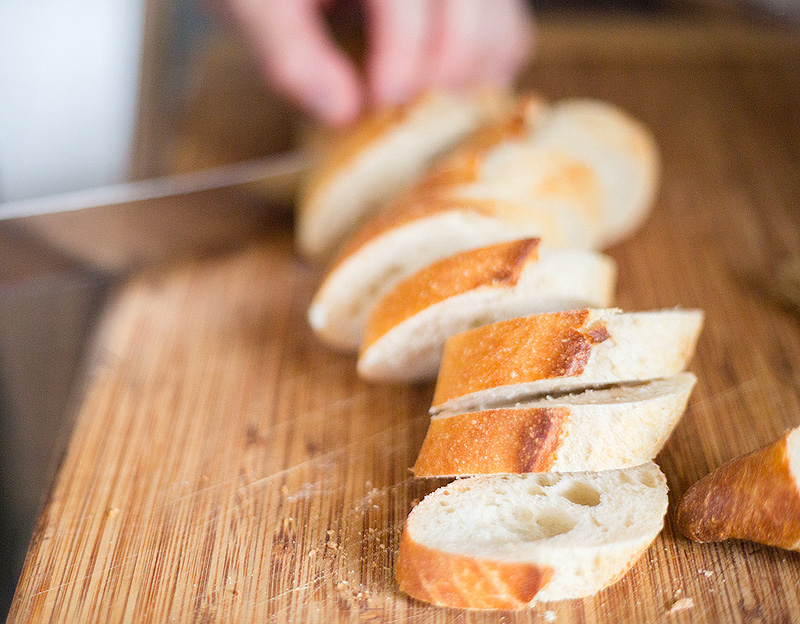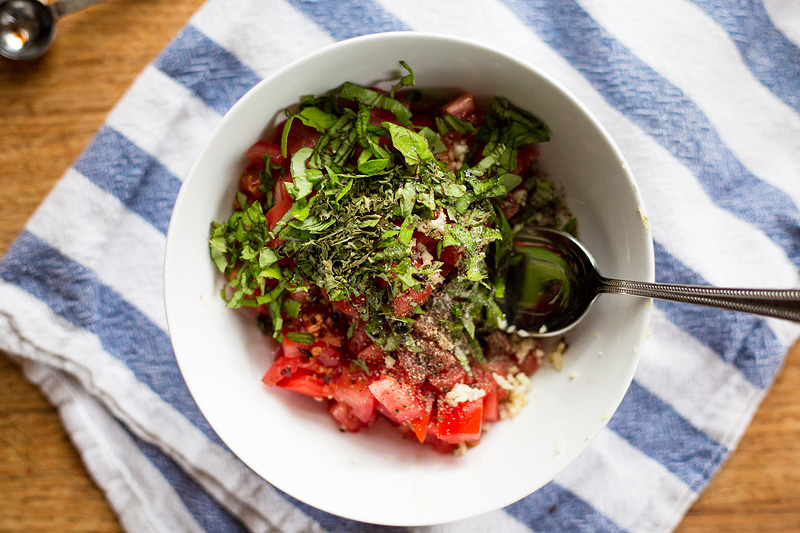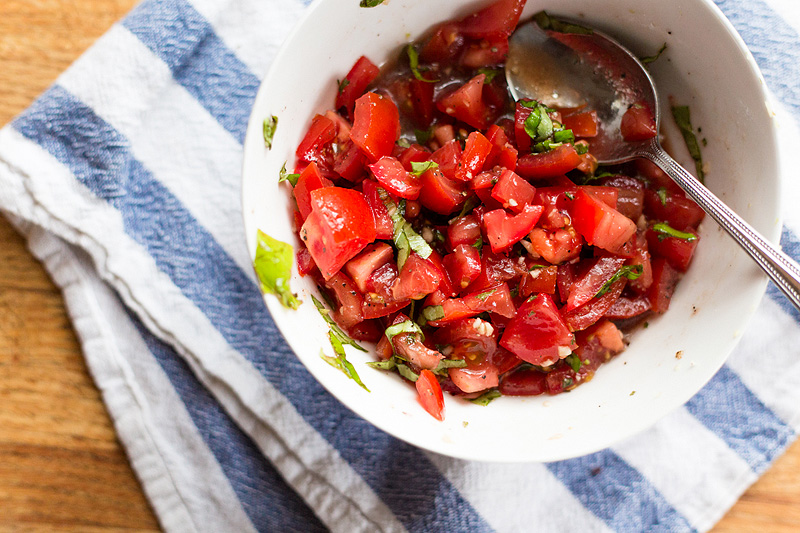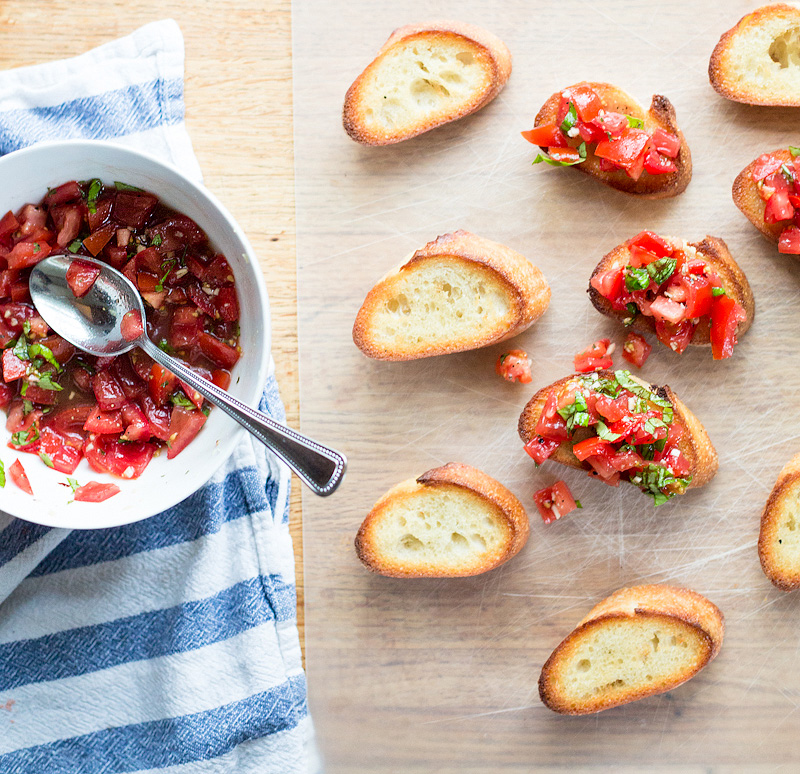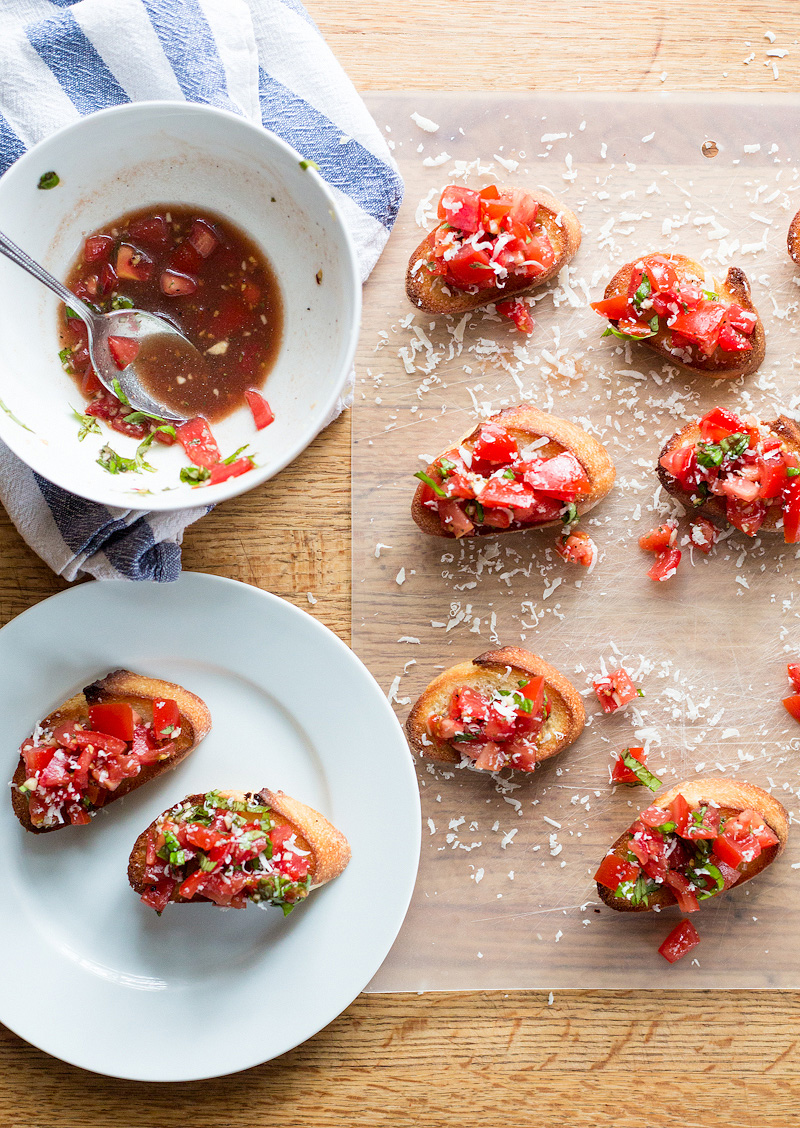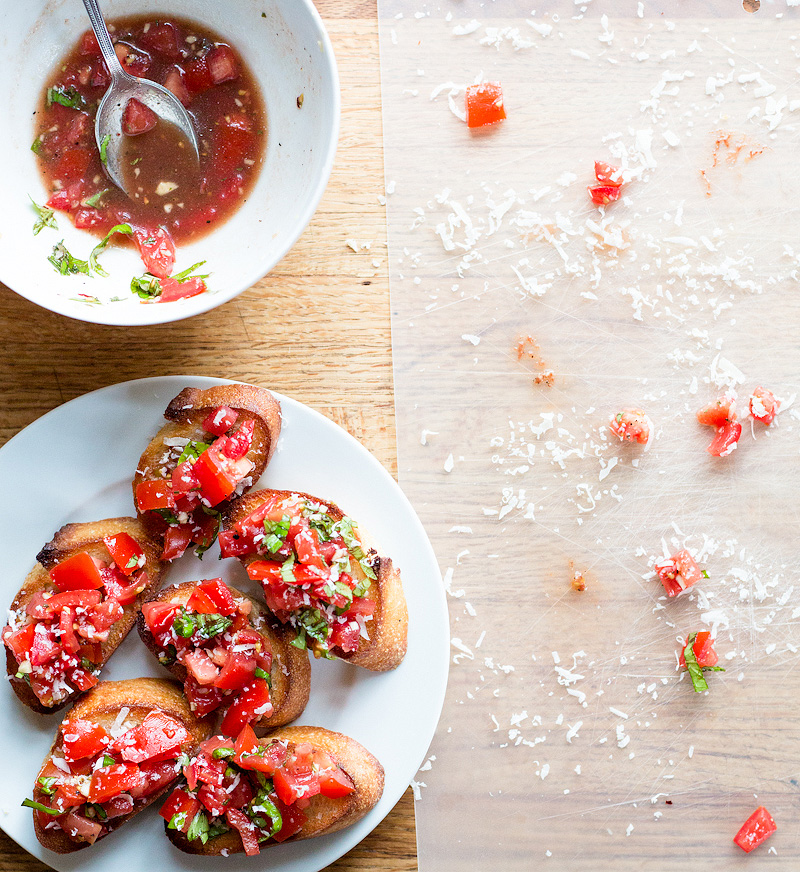 Print Recipe
Yummy Bruschetta
Ingredients
1/2

loaf french or ciabatta bread

6

campari tomatoes

1

clove

garlic

1/8

cup

loosely packed basil

1

tsp

dried parsley

1

tsp

olive oil

plus more for brushing onto bread

1

tsp

balsamic vinegar

salt and pepper to taste

Parmesan cheese

optional
Instructions
Dice the tomatoes and put into a small mixing bowl

Finely mince the clove of garlic and add to the bowl

Chop the basil into thin ribbons and add to the bowl

Add the parsley, 1 tsp olive oil and balsamic vinegar to the bowl

Add a little salt and black pepper

Stir ingredients together. Taste and add additional salt and pepper if needed

Set aside and let flavors marinate together

Turn on oven broiler

Cut half of the loaf of bread into about 1/2 inch slices

Place onto baking sheet and brush olive oil onto one side of the bread slices, making sure to get the edges

Place under broiler until nicely browned. Cooking time will vary based on your oven, so just keep an eye on it! You want the bread to be crisp, but not burned.

Remove bread from oven and evenly spoon and distribute tomato mixture over the bread slices.

Grate Parmesan cheese over the top, if desired.