This smoked salmon and goat cheese crostini is a delicious appetizer! The flavors of the goat cheese and salmon pair together nicely topped on the crispy crostini.
I love getting food inspiration from places I visit.
Back in 2009, Josh and I lived in Seattle. We decided to take a week-long road trip from Seattle down to different parts of California. One of the first places we visited was San Francisco. There, at a small wine bar in Nob Hill, we ordered this crostini and some potato and leek soup. The restaurant itself was small and quiet that evening. But that food has remained a vivid memory.

Taking inspiration from that delicious meal, Josh and I frequently make this for snacking. It's so perfect if you have some leftover bread hanging around. I like to use ciabatta baguette, but a regular French baguette works great too!
What are crostini?
Crostini are little slices of grilled or toasted bread. You can make then on a grill (or grill pan). My favorite way to make them is to spread olive oil on them and then stick them under the oven broiler. It's quick and easy!
Ingredients needed:
A loaf of ciabatta bread or a baguette
Olive oil
Smoked salmon
Goat Cheese
Black pepper (optional)
Variations:
Goat cheese and honey crostini - Not a fan of smoked salmon? Then why are you reading this post? Just kidding. Kinda. But if you don't like smoked salmon, we like a version where we leave off the smoked salmon and instead drizzle honey over the goat cheese.
Add capers - Want a little brininess to your crostini? Top with capers!
Add cucumbers - Cucumbers add a nice freshness to crostini! If adding them, we like them thinly sliced.
Cream Cheese - If you don't like goat cheese, you can swap it out for cream cheese.
How to make the smoked salmon and goat cheese crostini:
First, take your goat cheese out of the refrigerator to soften up a bit. Then, take your loaf of bread and cut into thin slices (about 3/4 inch thick). Place the slices on a cookie sheet. Turn on the broiler on your oven.
Put the olive oil in a small bowl.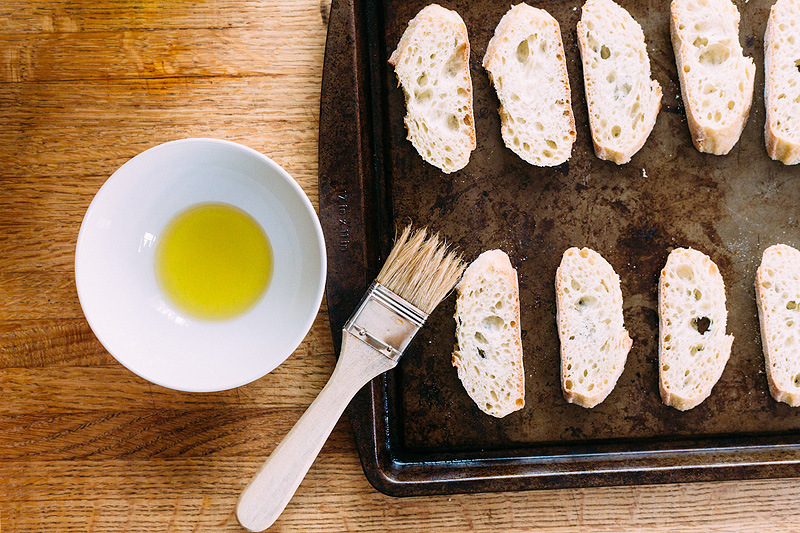 Using a brush (or a spoon or your fingers in a pinch), brush the olive oil on the crostini. Make sure to get all the way to the edges of each slice!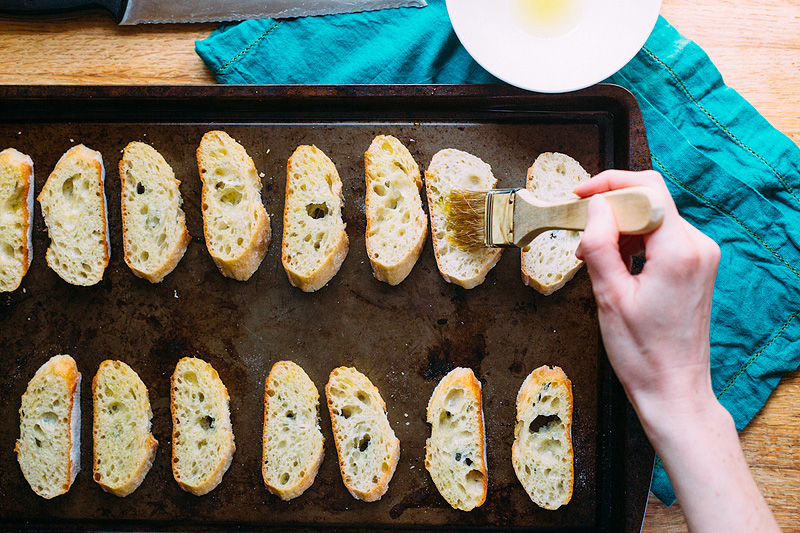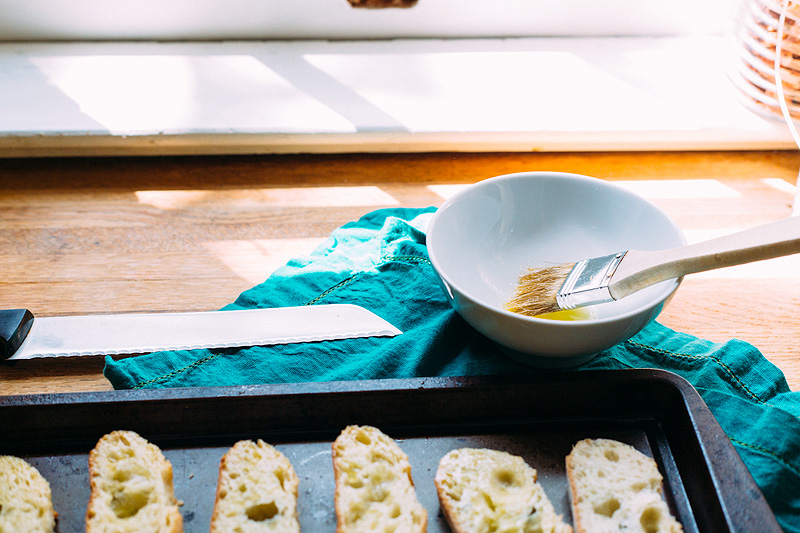 Put the crostini into the oven until nicely browned and crisp.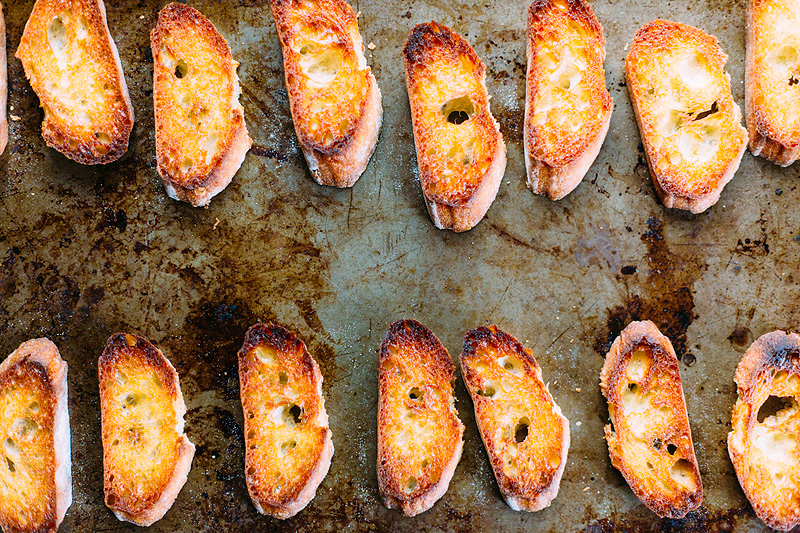 While the crostini is still warm, spread the goat cheese on each slice. The warmth helps the goat cheese to soften and helps it spread better.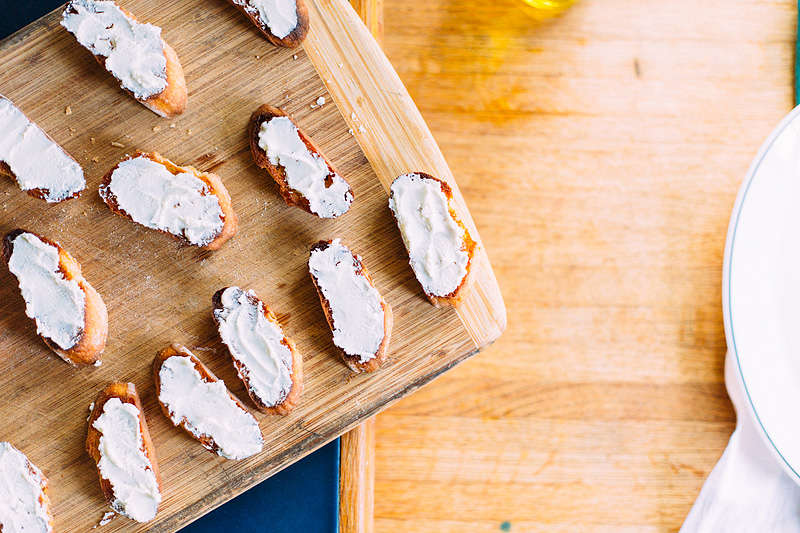 Top with slices of smoked salmon, then sprinkle black pepper over each slice. Enjoy with wine or your favorite drink!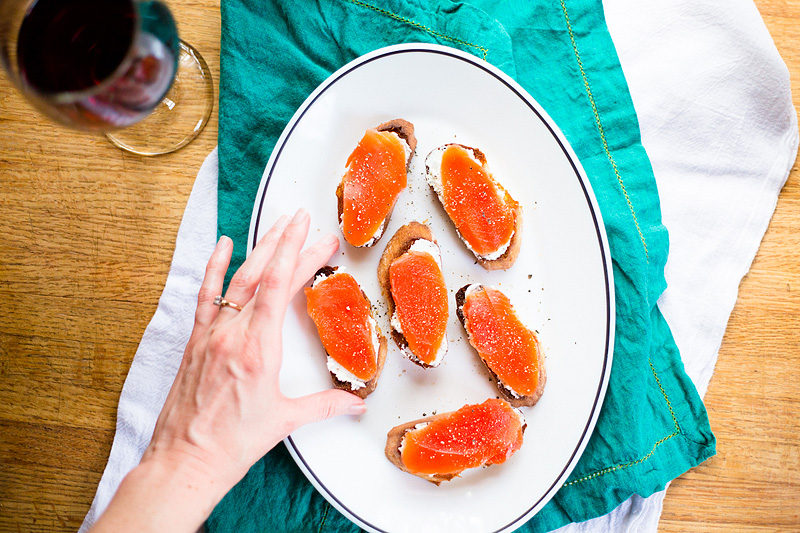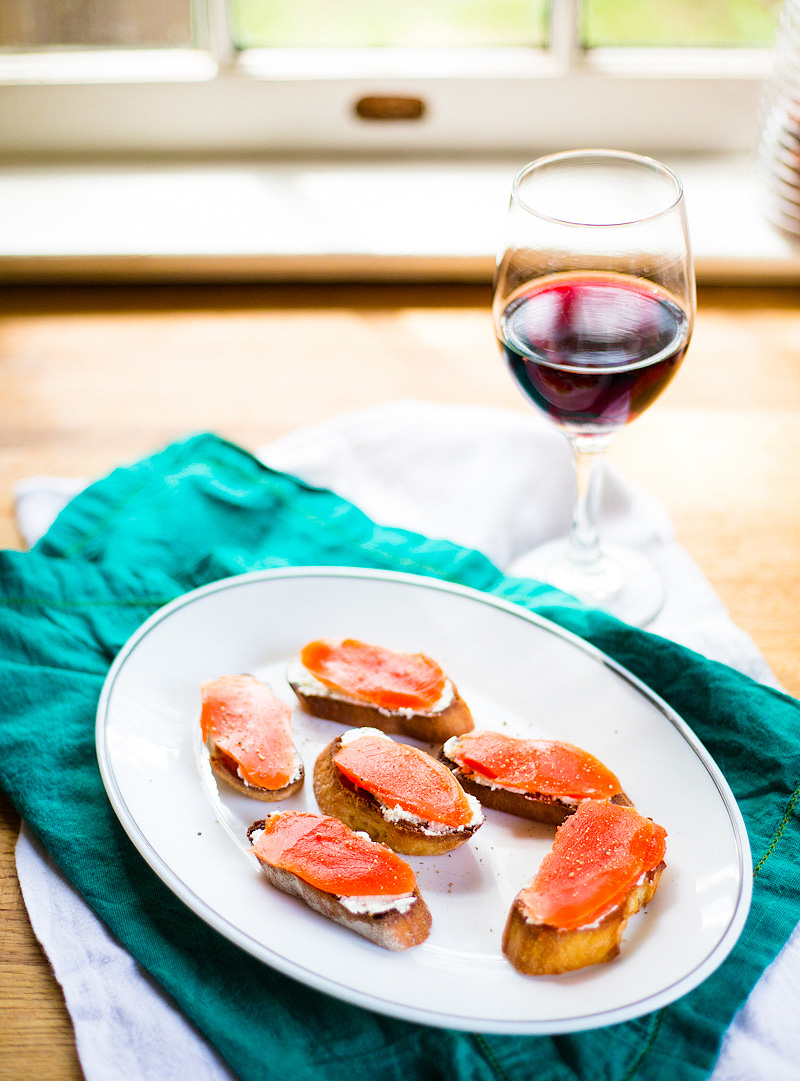 Print Recipe
Salmon and Goat Cheese Crostini
Ingredients
1/2

baguette of ciabatta

4

oz.

smoked salmon

4

oz.

goat cheese

you will most likely have a bit left over

2-3

tbsp

olive oil

black pepper

if desired
Instructions
Remove the goat cheese from the fridge to start warming.

Preheat your broiler.

Cut the baguette into slices about 3/4 inch thick.

Spread onto a cooking sheet.

With a pastry brush, brush olive oil onto the face-up side of the toast. Make sure to get the edges, as this will prevent over-charring of the edge.

Place under the broiler, and watch carefully. Different broilers will cook more quickly. Remove from the broiler when the toast is crisp and dark brown, but not burnt.

Immediately spread a little of the goat cheese onto each slice. (The goat cheese will warm up from the hot crostini, and will be easier to spread.) Once you have put goat cheese on all the crostini, go back and spread the goat cheese onto the entire slice.

Cut or tear the smoked salmon into pieces that will top the crostini. Place a small piece on top of each slice of crostini.

Plate, and then add a sprinkling of fresh black pepper to the top of each crostini, if desired.

Serve alone as a snack, or as an appetizer before a meal.
Love this recipe? Check out these: