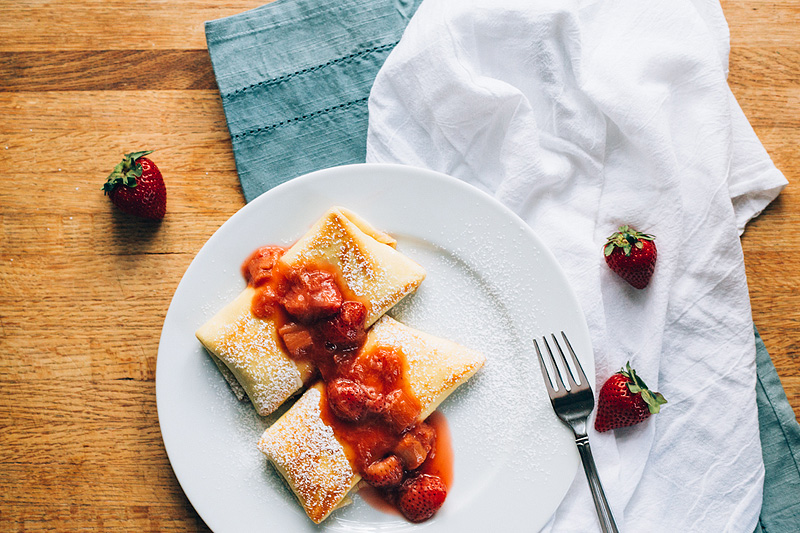 I love my mom, and every few years my birthday appropriately falls on Mother's Day. When that happens we'll avoid the Mother's Day mayhem and I'll make one of our favorite brunch dishes at home - blintzes. Blintzes are basically crepes wrapped around an almost cheesecake-like filling.
Traditional blintzes are stuffed with ricotta. This recipe also uses mascarpone and farmer cheese for a silkier, dessert-like quality. (Mascarpone can be found with ricotta in the soft cheese section of the store, while farmer cheese is a pressed cottage cheese that you can find in the hard cheese section).

What really makes these blintzes great is a sweet and sour rhubarb compote. The addition of balsamic vinegar really brings out the strawberry flavor. If you don't think you like rhubarb, I'm betting this recipe will change your mind.
This recipe has three easy components that come together in an impressive dish, and can be made up to a day in advance and finished in 20 minutes.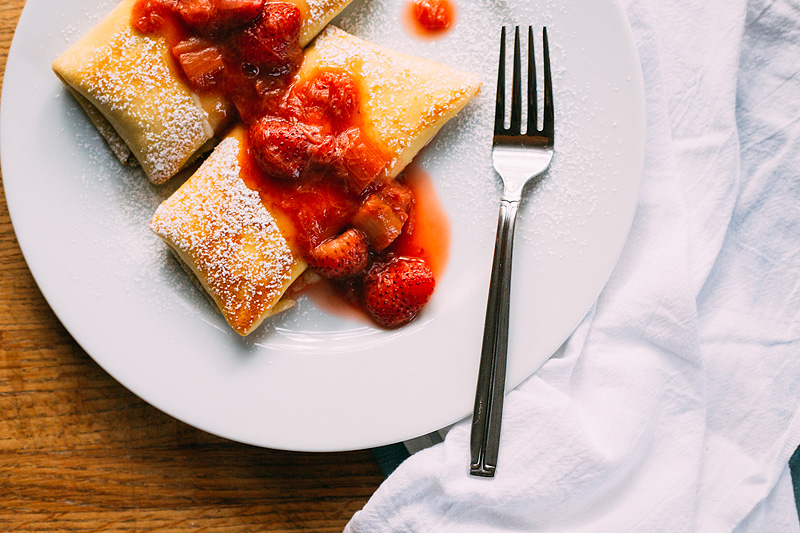 Print Recipe
3 Cheese Blintzes with Strawberry Rhubarb Compote
Ingredients
Crepes:

1

cup

milk

3

eggs

1

tsp

vanilla

2

tbsp

butter

melted

1

cup

flour

1

tbsp

powdered sugar

Filling:

1

cup

ricotta

1

cup

mascarpone

1

cup

farmer's cheese

2

egg yolks

¼

cup

sugar

1

tsp

vanilla

½

tsp

salt

zest of 1 lemon

Compote:

3

rhubarb stalks

washed and cut into ½ inch slices

16

oz.

fresh strawberries

hulled and halved

¼

orange juice

1/3

cup

sugar

1

tbsp

balsamic vinegar

For cooking:

2

tbsp

butter

melted

1

tbsp

vegetable oil
Instructions
For the crepes combine the milk, eggs, vanilla and melted butter in a blender and pulse. Add flour and powdered sugar and pulse until mixture is completely blended. Refrigerate mixture for 15 minutes to remove air bubbles.

While the batter is chilling, combine the filling ingredients in a standing mixer or in a large bowl with a wooden spoon, being sure to break up the harder farmer cheese so that it is evenly distributed in the filling. Don't stress about any remaining chunks of farmer cheese as they will melt in the oven. Refrigerate while you make the crepes.

To make the crepes heat an 8-inch non-stick pan over medium heat. When the pan is hot, lightly brush it with melted butter. Pour ¼ cup of your batter into the middle of the pan and quickly rotate the pan to evenly coat the bottom. After about a minute the bottom of the crepe will be a nice brown color. Run a flexible spatula under the crepe and lay it flat on a plate – cooked side up. You can stack the rest of the crepes on each other this way.

To make the blintzes, place a crepe cooked-side up and spoon 3-4 tablespoons of filling lengthwise in the middle of the crepe. Fold one long side of the crepe over the filling, then fold the two short sides in, and fold the remaining side over. Place the blintzes seam-side down in a baking dish for 30 minutes. At this point the blintzes can be wrapped and refrigerated up to a day in advance.

While the blintzes chill, add the sliced rhubarb, orange juice and sugar into a medium pot and cover. Cook over medium heat for 5 to 6 minutes, stirring occasionally. When the rhubarb has softened, add the strawberries and continue cooking uncovered for another 5 minutes. Stir in the balsamic vinegar and cook for an additional minute and remove from heat.

Preheat the oven to 325 degrees. Heat a large pan over medium-high heat and add a tablespoon of vegetable oil. Fry the blintzes, two or three at a time, starting with the seam side down, until they are brown on both sides (about a minute per side) placing them side-by-side in a large casserole dish when done. Bake the blintzes in the dish for about 12 minutes to firm them up.

Plate the blintzes, generously spoon the compote over them and dust with powdered sugar if you like.