Curry roasted cauliflower is an easy and flavorful side dish. It's roasted in the oven, so it's easy to prepare and gets caramelized and delicious. This cauliflower is healthy and Whole3-friendly.
Cauliflower is such a diverse vegetable. Just think of all the ways it's used. Cauliflower rice. Cauliflower gnocchi. Cauliflower pizza crust. But one of the easiest ways to use it is to roast it. That caramelized texture it gets when it's been roasted to perfection is divine. Just look at that photo above! It gets soft and crispy at the same time.
This curry roasted cauliflower packs a flavor punch. I also add a dash of turmeric, because, why not? It's so easy to cut up a cauliflower (or buy a bag of pre-cut cauliflower if you're feeling lazy), add a bunch of spices and oil, mix to combine, and roast! It makes the perfect side dish.
This recipe for roasted cauliflower is so easy, and it's Whole30-friendly, paleo, and keto!
How to cut up a cauliflower
To cut up a cauliflower head, take the head and place it on a cutting board. Slice down the middle. You should be able to see the core. Cut off the florets from the core, and make sure to remove the leaves as well. The florets are what you'll want to use in this recipe.
Ingredients needed
1 Cauliflower head - The star of the dish! Grab this is the produce section of your grocery store.
Curry powder - This is where your big flavor will come from! A word of advice -- no curry powders are created equal. I have tried a lot, and I find some are milder, and some pack a punch. Find one you love and stock up on it to use in recipes.
Ground turmeric - Turmeric is one of those spices you hear about that is so healthy. I love including it in recipes, and it pairs nicely with the curry powder
Paprika - Paprika is one of my favorite spices. You can use regular paprika, or if you want a touch of smokiness, you can use smoked paprika
Olive oil - I just use regular olive oil here, and save the extra virgin olive oil for things like salad dressings
Salt
Pepper
How to cook the curry roasted cauliflower
To make the curry roasted cauliflower, first cut up the cauliflower into florets.
Place the florets in a bowl, and then throw it the seasonings and toss together.
Spread the cauliflower out onto a baking sheet.
Roast in the oven, then enjoy!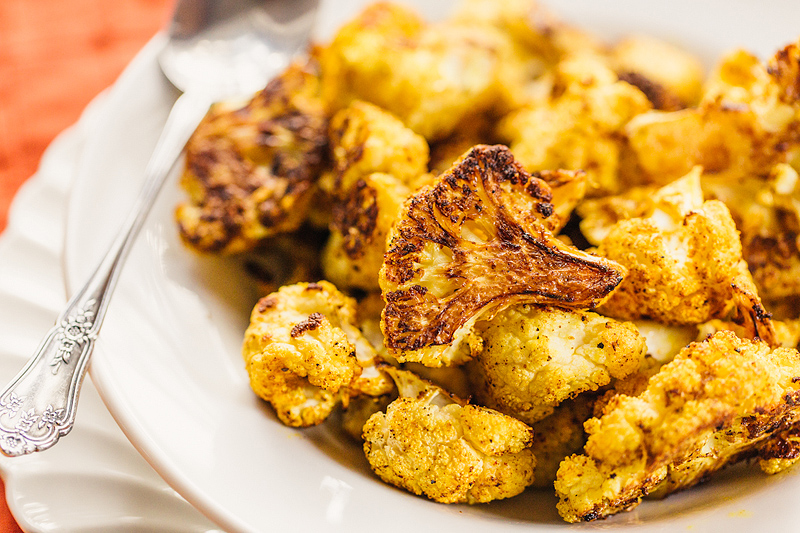 Print Recipe
Curry Roasted Cauliflower
Ingredients
1

head cauliflower

1/8

cup

olive oil

1/4

tsp

curry powder

1/8

tsp

turmeric

1/8

tsp

paprika

salt and pepper to taste
Instructions
Preheat oven to 400 degrees F

Trim leaves of head of cauliflower if needed

Cut cauliflower into florets and place into mixing bowl

Add olive oil to the bowl and gently toss cauliflower to coat

Add the spices and toss to coat

Spread onto baking sheet

Cook for 20-25 minutes, mixing once about halfway through

Remove from baking sheet, add more salt and pepper if needed and enjoy!
Love this recipe? Try these other healthy recipes!