Here are the thoughts I used to have about cauliflower:
What is this white vegetable pretending to be broccoli?
Who uses this?
Blah.
Now here are the thoughts I have about cauliflower:
Cauliflower and broccoli are so different!
Hey, I can use this in so many ways!
Mmmm.
I do love how versatile cauliflower is. But one of the easiest ways to use it is to roast it. That caramelized texture it gets when it's been roasted to perfection is divine. Just look at that photo above! It gets soft and crispy at the same time. This curry roasted cauliflower packs a flavor punch. I also add a dash of turmeric, because, why not? It's so easy to cut up a cauliflower (or buy a bag of pre-cut cauliflower if you're feeling lazy), add a bunch of spices and oil, mix to combine, and roast! It makes the perfect side dish.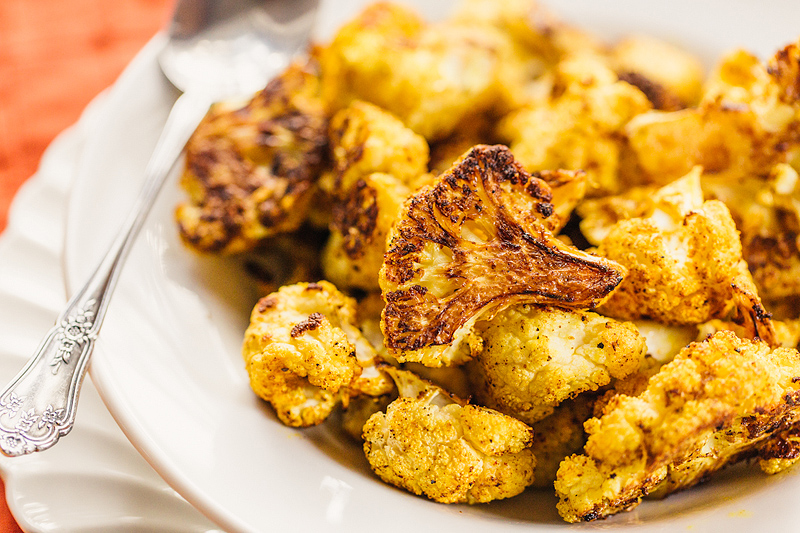 Print Recipe
Curry Roasted Cauliflower
Ingredients
1

head cauliflower

1/8

cup

olive oil

1/4

tsp

curry powder

1/8

tsp

turmeric

1/8

tsp

paprika

salt and pepper to taste
Instructions
Preheat oven to 400 degrees F

Trim leaves of head of cauliflower if needed

Cut cauliflower into florets and place into mixing bowl

Add olive oil to the bowl and gently toss cauliflower to coat

Add the spices and toss to coat

Spread onto baking sheet

Cook for 20-25 minutes, mixing once about halfway through

Remove from baking sheet, add more salt and pepper if needed and enjoy!