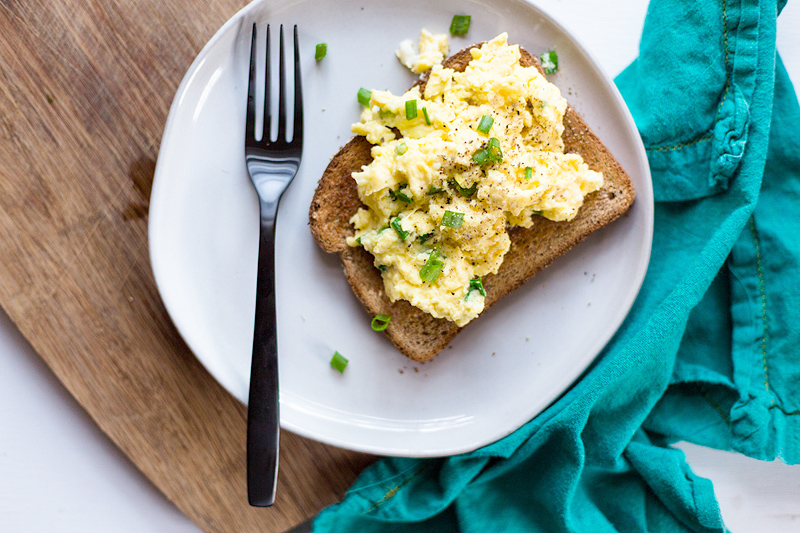 Sometimes simplicity is best. I love recipes that aren't overly complicated. Especially now with a new baby that is still demanding the majority of my attention. If I can whip something up in 5 minutes? Perfect.
Enter these scrambled eggs. They are light, fluffy, and the green onions add something special.
What inspired this recipe was a trip to the farmer's market here in downtown Austin. We wound up spotting these beautiful green onions. They were so fresh, and I knew they would accompany scrambled eggs perfectly. A match made in breakfast heaven.

In this recipe, I cooked some green onions with the eggs, and then topped with a few more. Maximum green onion flavor without being too overpowering.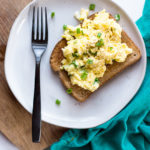 Print Recipe
Soft Scrambled Eggs with Green Onions
Ingredients
2

eggs

1

Tbsp

heavy cream

1

Tbsp

butter

½ for toast, ½ for pan

1

slice

of bread

1

Tbsp

green onions

sliced (with more for garnish, if desired)

salt and pepper
Instructions
Crack the eggs into a small bowl. Add the heavy cream. Whisk together. Add the green onions and stir. Set aside.

Heat a small nonstick pan over medium heat. Add ½ Tbsp butter to the pan.

While waiting for butter to melt, add a piece of toast to the toaster and toast.

Once butter is melted, swish around the pan so that the bottom is covered. Pour the eggs into the pan. With a rubber spatula, stir the eggs. Keep stirring every 30 seconds or so, until eggs are cooked through.

Remove the toast from the toaster and spread ½ Tbsp butter on it. Top with the cooked eggs and any additional green onions. Add salt and pepper to taste.