This recipe for homemade pumpkin pie pop tarts is easy to make with pie dough, a homemade pumpkin pie filling, and a delicious glaze. Make them festive with green and orange sprinkles!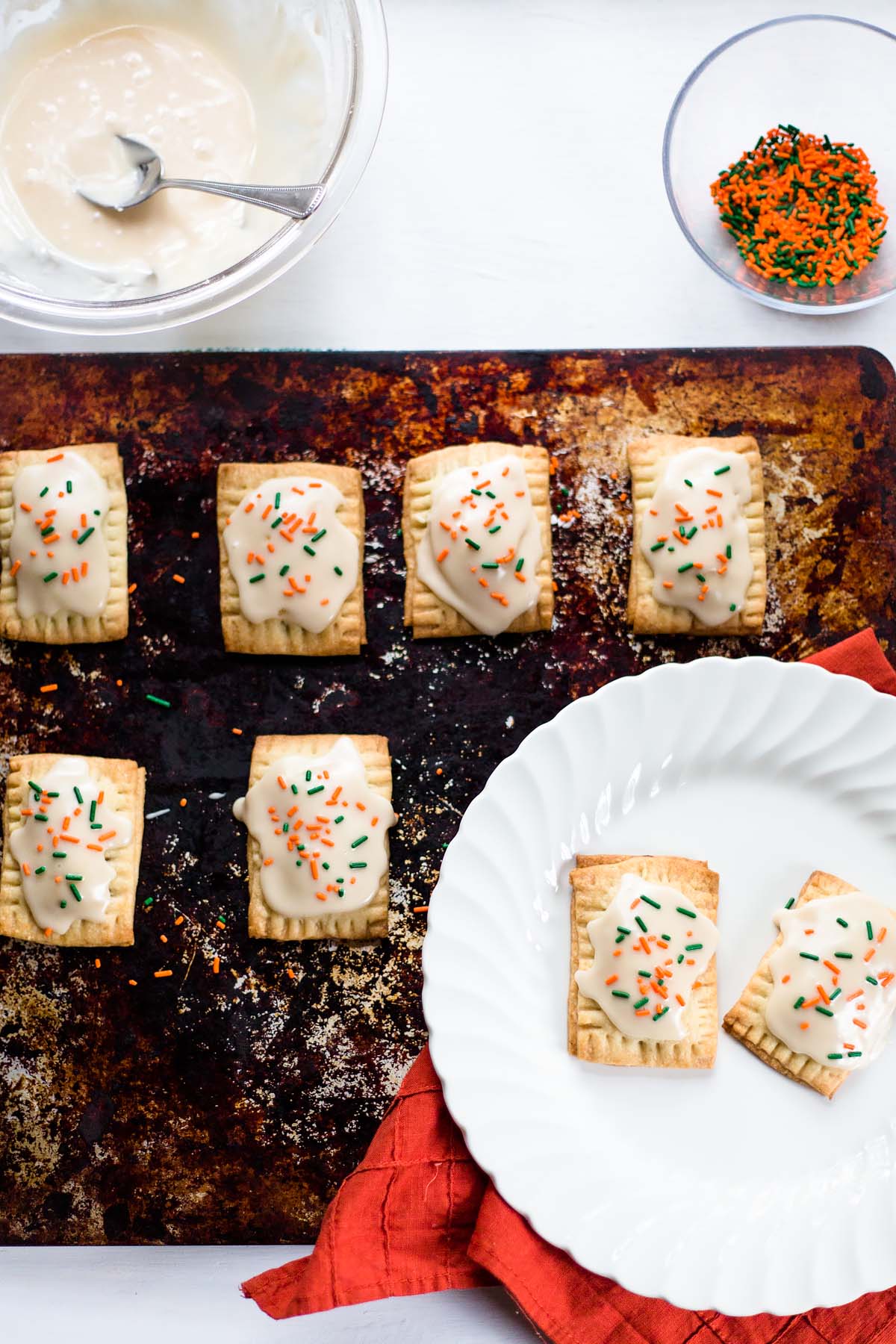 I don't know what better way to kick off autumn than with some homemade pumpkin pie pop tarts. Remember the easy pop tarts I made? I just had to make a pumpkin pie version of them! They really do taste a lot like pumpkin pie, but look a LOT cuter. Especially in mini versions!
However, you can make these pumpkin pie pop tarts in any size you want. I like doing mini versions for this recipe, which wind up being slightly bigger than 3 inches by 2 inches. I wouldn't recommend making them much smaller than that, because it will be hard to get a good amount of filling in there while still getting the edges closed.
This recipe should make quite a few pop tarts (depending on which size you make them). If you want to only use half of the can of pumpkin, halve the recipe!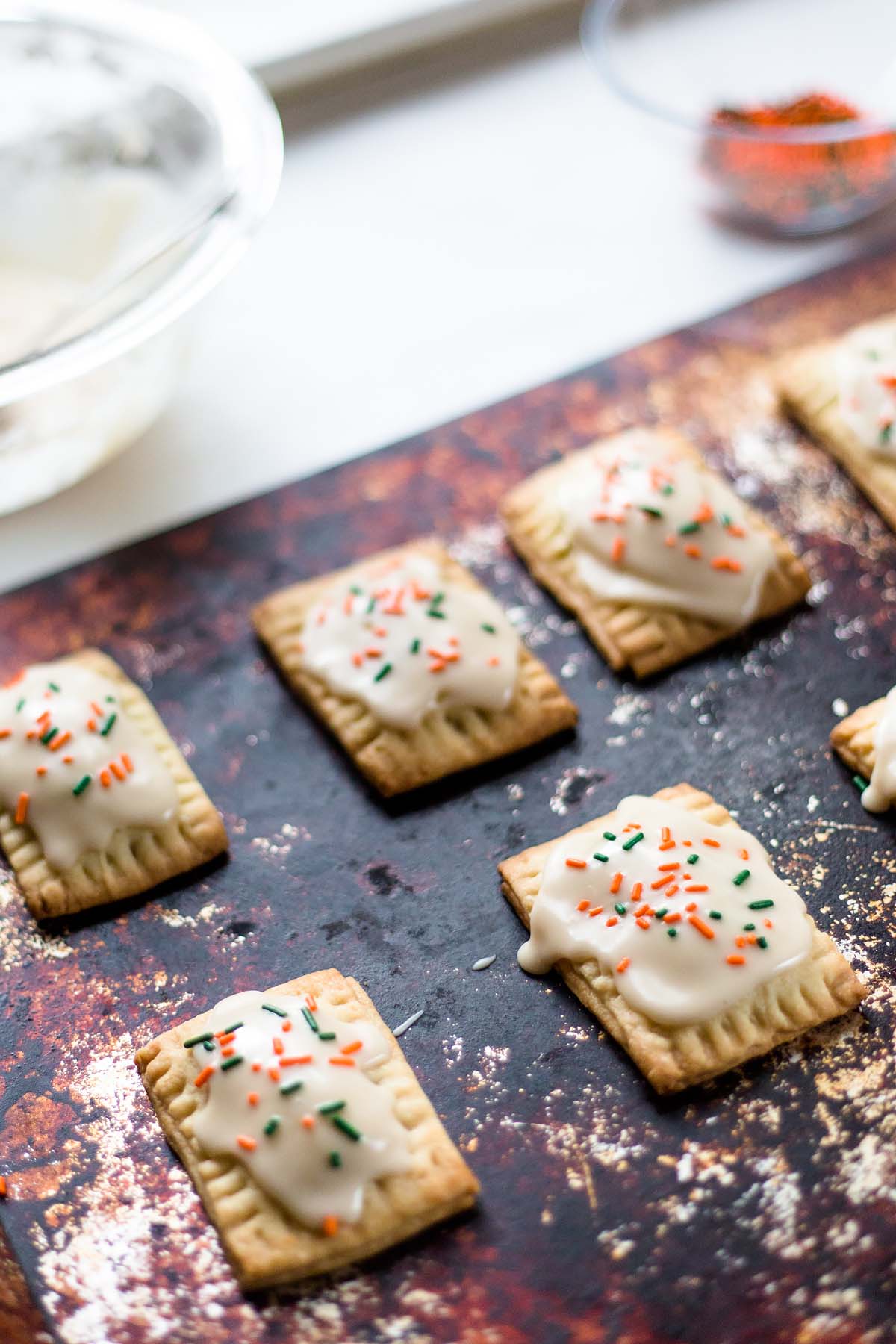 Looking for other fall dessert ideas?
Instructions:
Making these homemade pop tarts are pretty easy! First, make your your pie crust is thawed. Then, preheat your oven and get started on the filling!
Mix together your canned pumpkin with the brown sugar, cinnamon, nutmeg, allspice, cloves, ground ginger, and salt. Mix until it's all combined.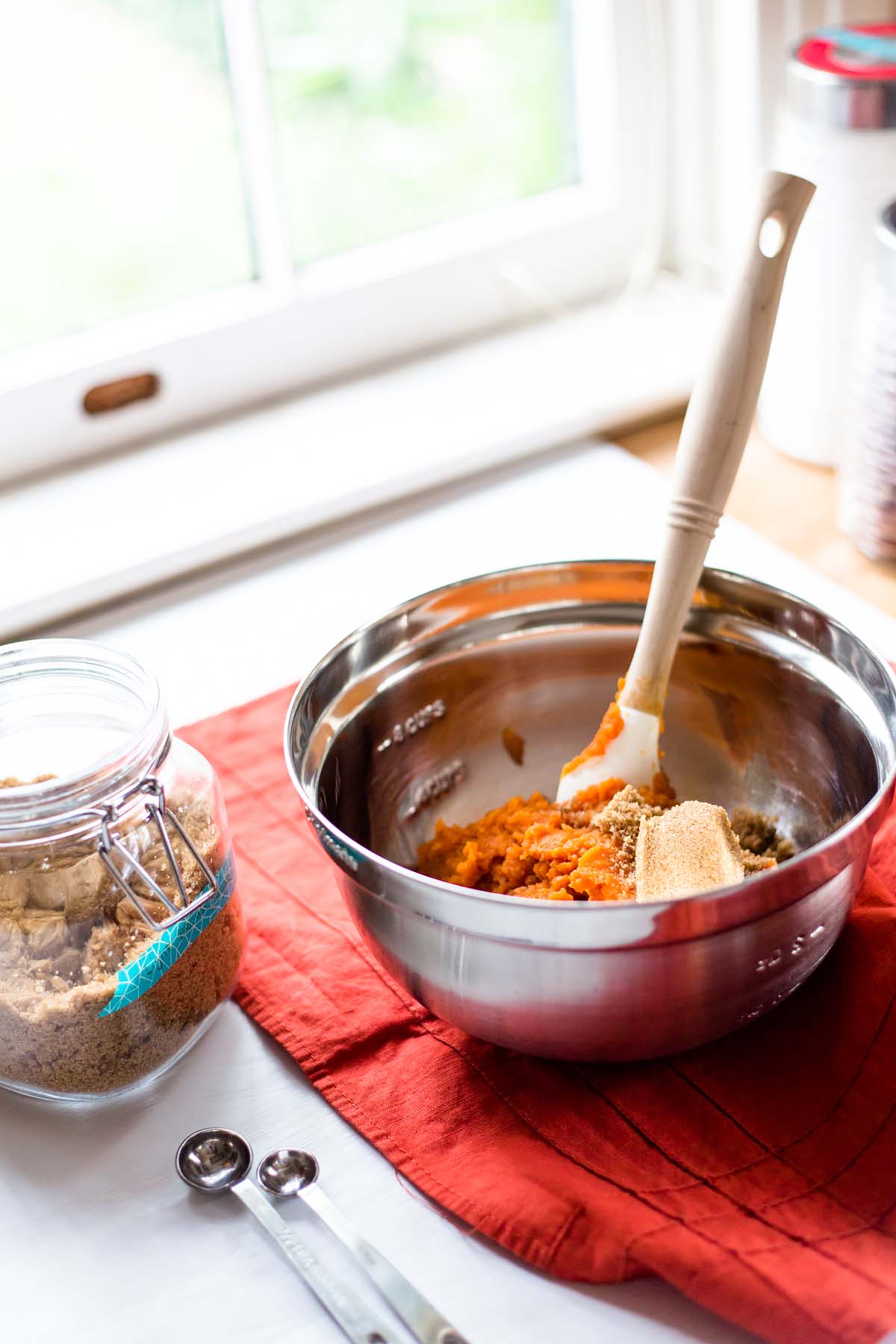 Take a large sheet of parchment, and roll out a piece of pie crust. If needed, roll slightly thinner. Cut the pie crust into equal sizes of rectangles, depending on how big you want to make the pop tarts.
Then, you'll take a piece of pie crust, put a spoonful of filling on it, then top it with another pie crust. Try not to put too much filling inside or it will escape and won't close properly! Press on the edges with a fork to seal the pop tart so the filling doesn't escape. Then, poke a few holes in the top with a toothpick. Keep repeating until you have a tray of these ready to pop into the oven to bake!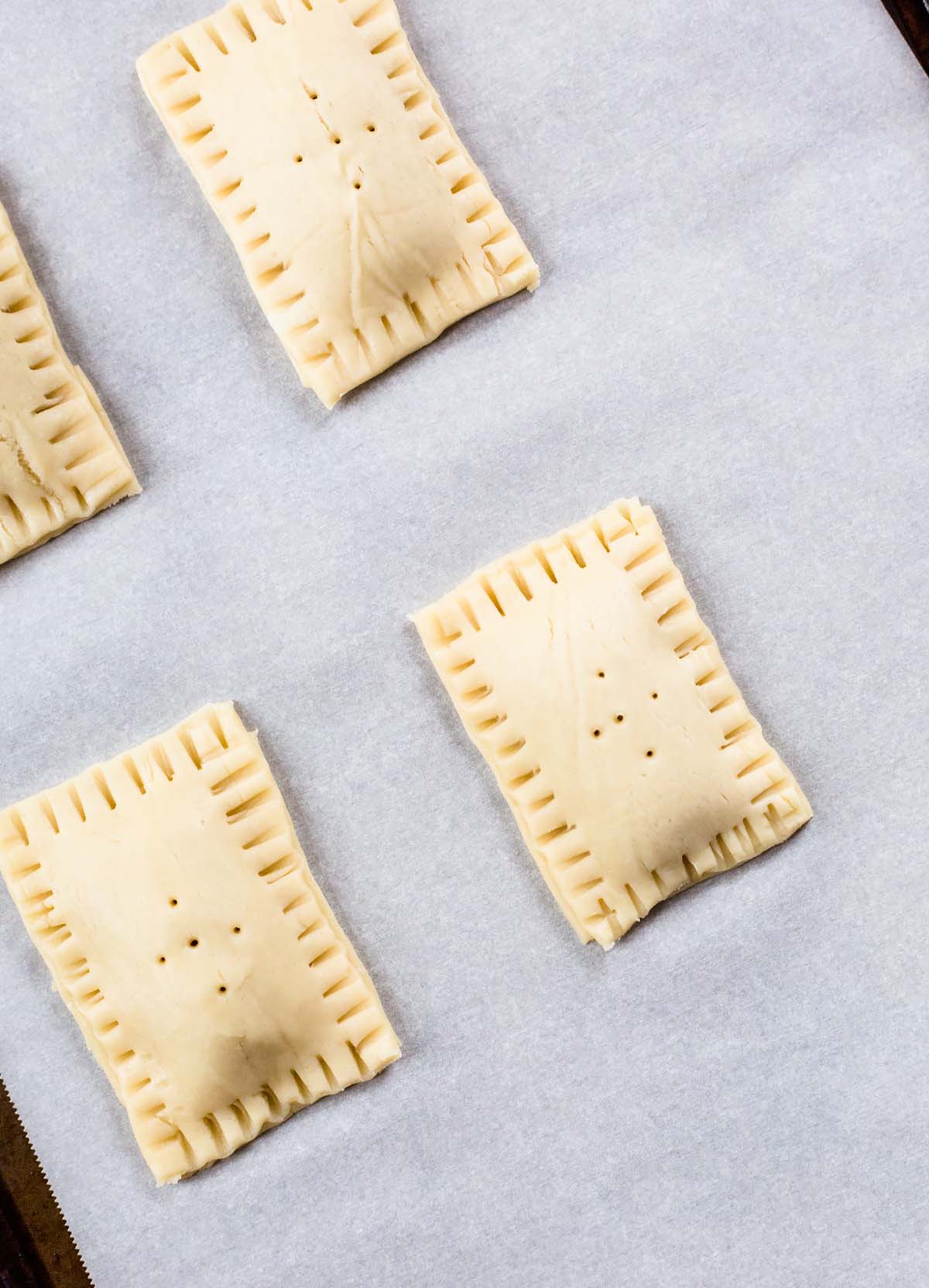 Once the pumpkin pop tarts have baked, place the pop tarts on a wire rack to cool. Mix up the powdered sugar, milk, and vanilla extract in a bowl to form the glaze. Spoon a little glaze over each pop tart, then top with sprinkles.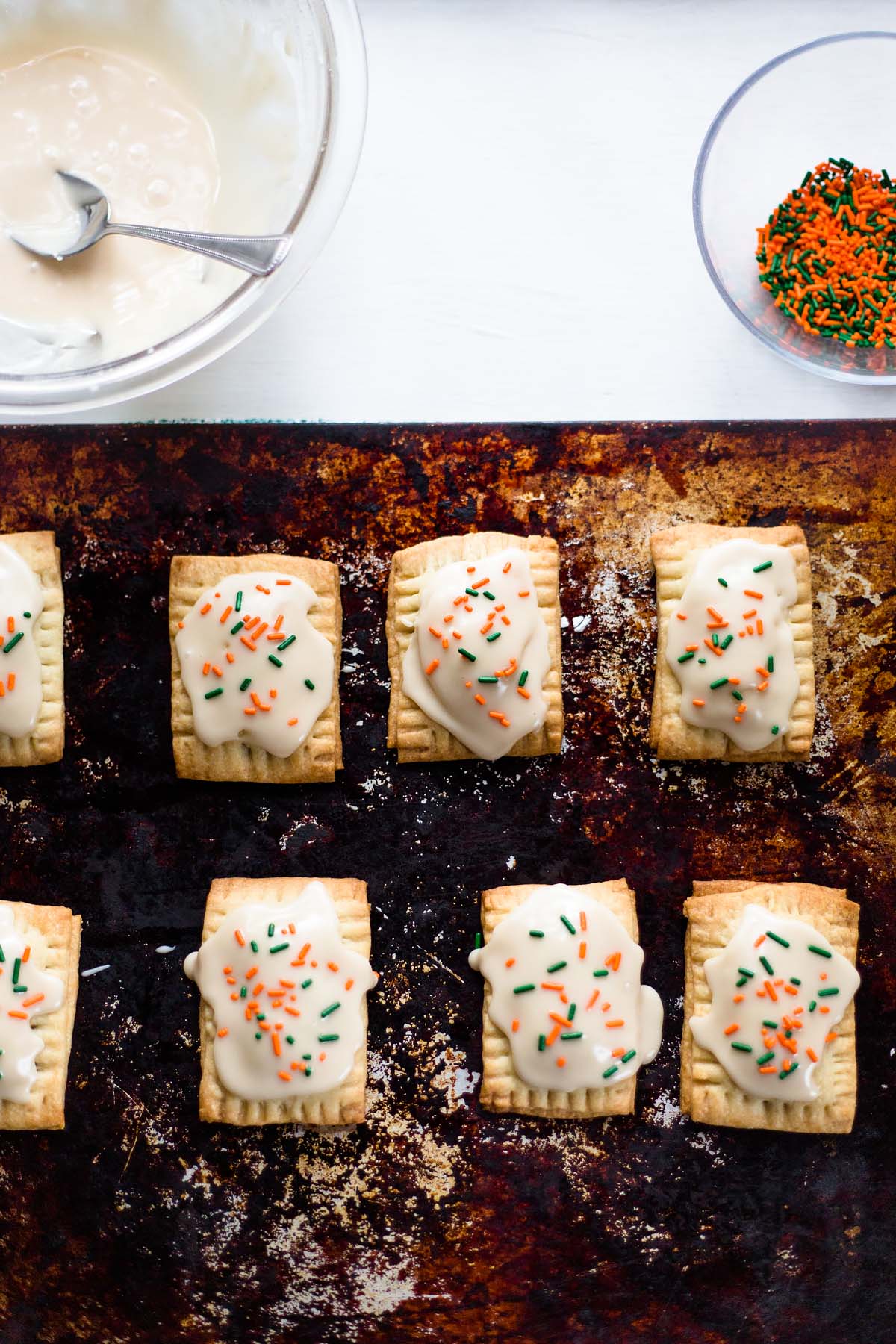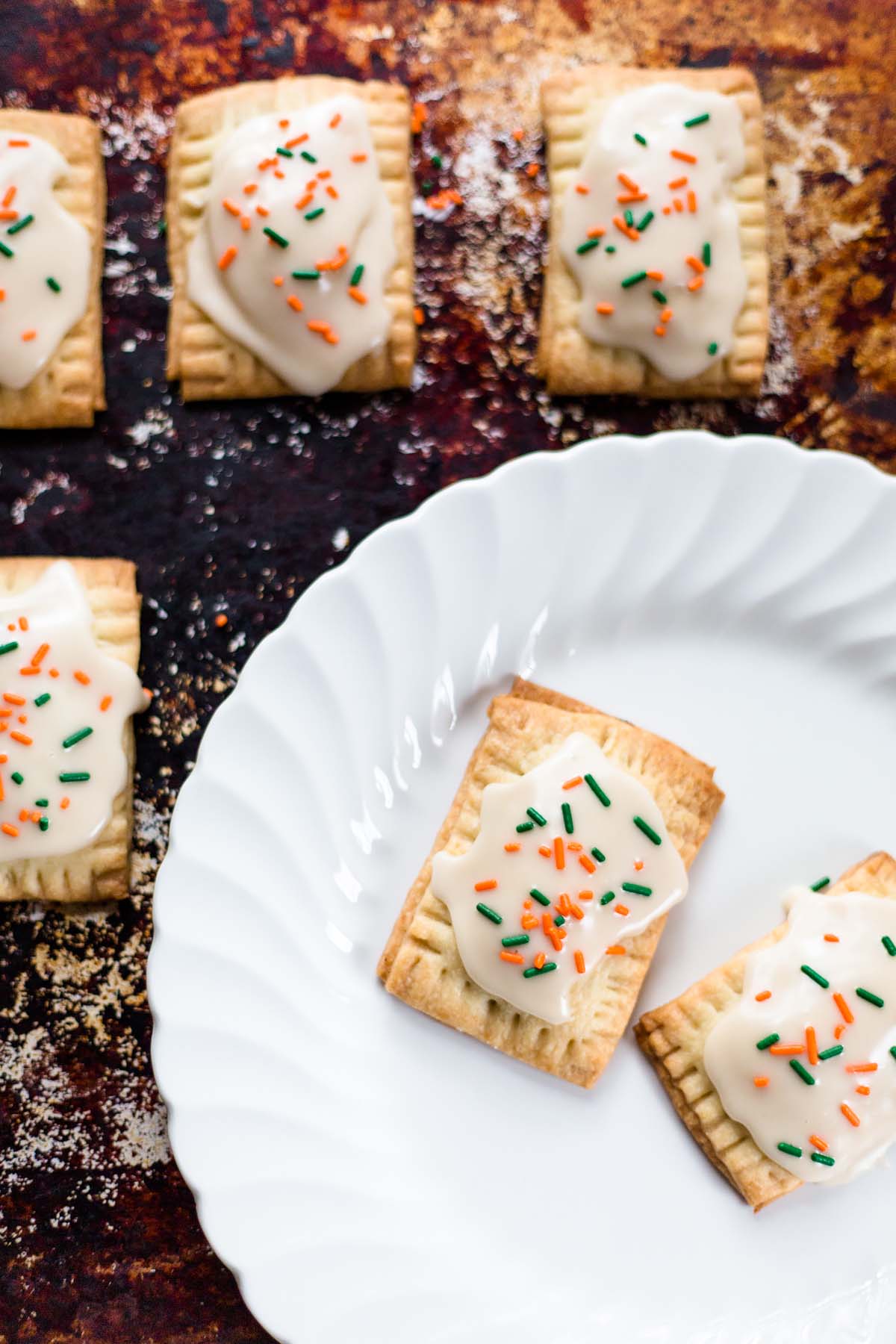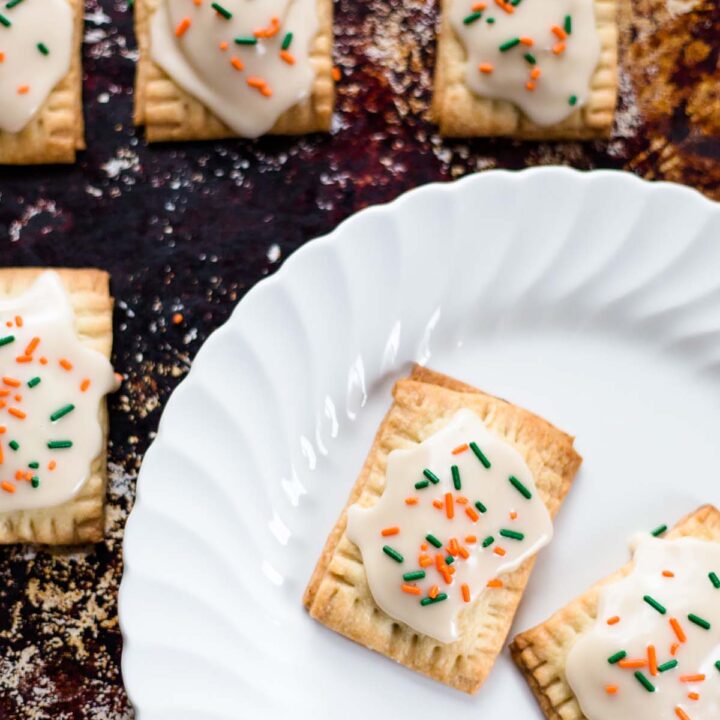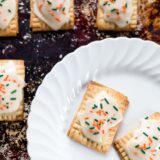 Print Recipe
Mini Pumpkin Pie Pop Tarts
This recipe for homemade pumpkin pie pop tarts are easy to make with pie dough, a homemade pumpkin pie filling, and a delicious glaze.
Ingredients
4

pie crusts

thawed

1 15

oz

can canned pumpkin

¼

cup

brown sugar

1

tsp

cinnamon

¼

tsp

nutmeg

¼

tsp

ginger

¼

tsp

allspice

¼

tsp

salt

⅛

tsp

cloves

2

cups

powdered sugar

sifted

5

tbsp

+ ¼ tsp milk

2

tsp

vanilla

sprinkles
Instructions
Thaw the pie crust as instructed. Preheat the oven to 425 degrees F and prepare a baking sheet with a sheet of parchment paper.

In a medium mixing bowl, add the pumpkin, brown sugar, cinnamon, nutmeg, ginger, allspice, salt, and cloves. Stir to combine.

On a sheet of parchment paper, roll out the pie crust. Cut into even rectangles with a knife, depending on which size of pop tart you want.

Place one half of each pop tart pastry onto the baking sheet, leaving room in between each one, like you would with cookies.

Place a row of pumpkin mixture in the very center of the pop tart and down the middle. Do not get the mixture close to the sides or too high or the pop tart will be overfilled and hard to close.

Cover each pop tart with the other half of the pastry. Push down on the edges of each tart with your fingers, so the pastry squishes together. Then crimp the edges with a fork. Finally, poke 4-6 holes in the top of each pastry with a toothpick to let the steam escape when cooking.

Place the tarts in the oven to bake for 12 minutes. When done, remove from oven and cool on a wire rack.

Sift the powdered sugar into a large bowl. Add the vanilla and whole milk and stir until combined.

Spoon over the top of the pop tarts to glaze them. Add sprinkles while glaze is still wet.